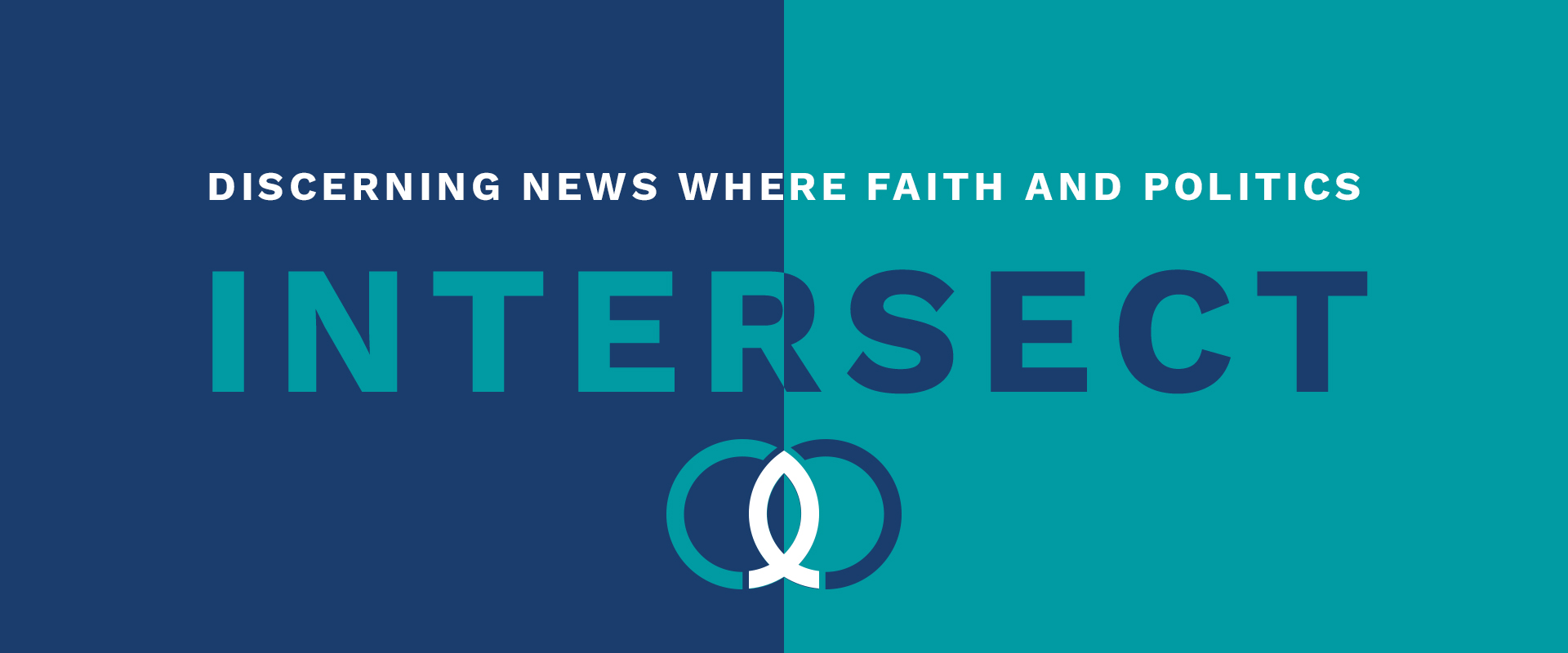 WEEKLY NEWS SUMMARY - July 31, 2019
In this week's Intersect, read about:
---
Detroit Debate: Liberal 2020 Democrats Focused on Defense, 'Medicare-for-all,' and Immigration
It was a battle for the soul of the Democratic Party on stage in the Motor City. Senator Bernie Sanders and Elizabeth Warren - the presidential primary field's liberal standard-bearers -- were pulled into what was essentially a two-and-a-half-hour fight with their more moderate rivals Tuesday night at the second round of Democratic nomination debates. The result was the party's divide on full display, with the center-left (and lower-polling) contenders fiercely arguing that policies like "Medicare-for-all" and the Green New Deal will "FedEx the election" to President Trump, and the higher-profile candidates on the left flank just as fiercely arguing that their policies are the kind of bold solutions America needs. With the Democratic National Committee raising the thresholds for the third and fourth rounds of debates -- in September and October -- the showdowns this week may be the last chance for many of the lower-tier candidates to make a splash in front of a prime-time national audience. read more
THINK.
The candidates were all very clear on what they were fighting against: President Donald Trump, large insurance companies and the NRA. But they were not on the same page on the approaches they would take on issues of healthcare, immigration, climate change, education, foreign policy and more. The stakes are high for all the candidates, and the candidates who are not likely to win the nomination cautioned against large-scale, impractical measures, while the leading candidates tried to paint a vision of what Senator Elizabeth Warren calls "big structural change." Senator Bernie Sanders said it this way, "I get a little tired of Democrats afraid of big ideas." Mayor Buttegieg argued, "It's time to stop worrying about what the Republicans will say. It's true that we embrace a far left agenda, they're going to say we're a bunch of crazy socialists. If we embrace a conservative agenda, you know what they're going to do? They're going to say we're a bunch of crazy socialist. Let's stand up for the right policy, go up there and defend it." Congressman John Delany argued, "I think Democrats win when we run on real solutions not impossible promises, when we run on things that are workable not fairy tale economics." Senator Klobachar warned that solutions need to be "grounded in reality." And Governor Hickenlooper believes, "If we're going to force Americans to make these radical changes, they're not going to go along." In the coming months the Democratic Party will learn just how far left the voters are willing to go. And in the meantime, Christians need to continue faithfully praying for our leaders and those who are running for office.
PRAY.
Pray for God to give you and Christians across the nation His wisdom as we listen to all of the proposals and policies presented by the presidential candidates (James 1:5). Pray for Christians to think about issues not from a partisan perspective but from a biblical perspective.
ACT.
Did you watch the debate last night, or do you plan to watch the debate tonight? Regardless of your party affiliation, it's important to stay informed on the various ideologies candidates are presenting to the American people. We encourage you to either watch or read about the debates so that we are prepared to have conversations with our neighbors, friends and family about the issues important to our faith.
---
China Orders Towns to Count How Many Citizens 'Believe in God' and Then Monitor Them
China's central government has intensified its crackdown on Christianity in recent months by pressuring local government officials to keep a count on the number of citizens who believe in God and to monitor them, according to a new report. The CCP (Communist Party of China) even is threatening the officials in towns and villages with repercussions if the number is wrong. Three government officials in Yongcheng city in Henan province were suspended in April when their report to the government was too low. "The government is taking the matter of religion very seriously now," an unidentified local government official in the province of Henan told Bitter Winter, a watchdog that monitors religious freedom in the country. "Every day, they ask us how many people in our village believe in God. If we say there aren't any believers, they claim that we're concealing what we know and failing to report it. "If it is determined that we didn't report the situation truthfully, we will be punished. Now, we have to report our work to the township government twice a day. We also need to fill out a form in the evening. We're so busy that we don't have any free time at all." read more
THINK.
The persecution for our brothers and sisters in Christ in China is intensifying. Just this week, a Chinese Pastor committed suicide after becoming exhausted with the government's control. According to Faithwire, "in his suicide note, Pastor Song said he tried to convince the Chinese authorities to open up a way for the every church movement to in order to improve the wellbeing of churches, unregistered or not, and to bridge the divide between the two. This goal, he said, became impossible to achieve, with officials remaining committed to criminalizing Christians who refused to bow down to the government." Children in China are being taught by the government-controlled schools to "hate God." Since China implemented their new regulations on religious affairs last year, the control and persecution have only grown. Children are not only being encouraged to question those who believe there is a God but to report any family members or those closest to them to the authorities if they are a Christian. Matthew 5:10-12 says, "Blessed are those who are persecuted for righteousness' sake, for theirs is the kingdom of heaven." Christians in China are experiencing persecution today, but we know that their eternal glory will far outweigh this momentary affliction.
PRAY.
Please pray for the persecuted Christian church in China. Pray for them to have courage and for God's peace to reign in their hearts. Also, pray for President Trump and our leaders in America to take note of this horrific religious persecution in China and to put pressure on the Chinese government to end these oppressive practices.
ACT.
Consider taking a few minutes today to write a letter of encouragement to a Christian in prison in China. China Aide has made it easy for you to take action and let Christians on the other side of the world know you are praying for them.
---
YouTube Blocks Ad with 'Christian' Keyword, Labels it 'Unacceptable Content'
The founder of an organization that serves military veterans suffering from post-traumatic stress disorder says that Google-owned YouTube barred him from running an advertisement that used "Christian" as a keyword but allowed him to run the same ad using "Muslim" as a keyword. Chad Robichaux, a former Marine and professional mixed martial arts fighter who founded the Mighty Oaks Foundation, complained on Twitter about what he considered to be a "clear bias" shown by the video streaming platform. "We ran a YouTube ad for our veterans ministry outreach for those in need & it was denied for the word 'Christian.' Insane!" Robichaux wrote in a tweet. "Censorship should terrify every American; conservative or liberal, Christian or Muslim. This bias is a dangerous course for America." Robichaux's tweet included a screengrab of a notification from YouTube alerting him that Christian is "unacceptable content as keyword." YouTube responded in a tweet from its @TeamYouTubeAccount explaining that the platform does not allow advertisers to target users on the basis of their religion. "Beyond that, we don't have policies against advertising that includes religious terms like 'Christian,'" the @TeamYouTube tweet read. That answer did not sit well with the 43-year-old Robichaux. "We ran the exact same ad with the keyword 'Muslim' & it was approved but 'Christian' was not," he responded in another tweet. "Additionally, we've ran ads with the keyword 'Christian' for years. This year alone we had 150,000 impressions on that word in our ads. As per your support line this is a new restriction." read more
THINK.
Days after this story made headlines in the national media, YouTube restored the use of the keyword "Christian." Chad Robichauz wrote on his Facebook page, "This is a major victory in the on-going battle against censorship that affects those of all faiths and political affiliations." In South Dakota, another victory for religious freedom has taken place. Thanks to a new law that took effect this month, all 149 public schools in the state will be required to display our nation's motto "In God We Trust" on their school campus. But the battle to keep God in our communities is still taking place across the country. In South Carolina, a memorial marker for fallen police officers was removed from a local police station because it was inscribed with a scriptural message where the word "Lord" was used three times and was engraved with the Bible verse Matthew 5:9. After the city received complaints, they covered up the word "Lord" but eventually took the memorial down. The memorial was recently restored to include the word "Lord" and returned to its rightful place; however, the verse was not included. Also in South Carolina a U.S District Judge, Bruce Hendricks appointed by President Obama, issued a decision preventing Greenville County Schools from allowing "prayer, blessings, invocation, benediction, inspirational reading, or otherwise - as part of the official program for a graduation ceremony" in response to a lawsuit from an atheist organization. Judge Hendricks even went as far as to prohibit any religious music, "The district also shall not include an obviously religious piece of music as part of the official program for a graduation ceremony." While our communities and nation try to ignore the existence of God and refuse to acknowledge Him in our public square, we know that one day God will make himself known to all the nations (Ezekiel 38:23, 1 Kings 8:60, Psalm 9:20).
PRAY.
Pray for the state of South Carolina and for Christians to speak up in defense of our Christian faith and our Constitutional First Amendment right to freely practice our religion. Pray for God to give you boldness to live out your Christian faith in your community.
ACT.
It's important for us to support like-minded Christian organizations who are bringing faith into their ministry work. Check out the Mighty Oaks Warrior Programs and the incredible work they are doing to help our military members struggling with PTSD find peace through Jesus Christ.
---
'Incredibly Disheartening': 3 Killed, 15 Wounded in Gilroy Garlic Festival Shooting
A shooting at the Gilroy Garlic Festival rattled families at a popular Northern California event, injured 15 people and killed three Sunday, authorities said. Police shot and killed one gunman shortly after he began firing a rifle, but a possible second suspect is still at large, Gilroy Police Chief Scot Smithee said at a press conference. Witness reports indicate a second suspect supported the gunman, Smithee said, adding that police are still investigating and have no identifying information on him. The gunman cut through a fence to get into the festival, police said, avoiding metal detectors at entrances. "It's incredibly sad and disheartening that an event that does so much good for our community has to suffer from a tragedy like this," Smithee said. read more
THINK.
Is this the new normal? Yet again, shooters have enacted terror and turned a festive gathering into a crime scene. Tragedy always intrudes, and it is never welcomed. The ripples of the shooting emanated at a Garlic Festival in California but reverberated in every heart. If this is the new normal, what norms should change in our lives to keep people safe? Approximately 7,452 people die every day in the U.S. Every 12 seconds, someone loses their life and countless others lose a friend. Christian apologist Lee Strobel has an informative article explaining why God allows evil and suffering. He provides three points of light; first, God is not the creator of evil and suffering. Second, though suffering isn't good, God can use it to accomplish good. And third, the day is coming when suffering will cease and God will judge evil. We must remember these three biblical truths as we mourn the loss of lives in California.
PRAY.
Pray for the Lord to bring comfort and grace to those involved in this tragedy (James 4:14, Phillippians 2:13, Psalm 90:12). Pray that God would impress an urgency on our hearts to share the Gospel with a lost and suffering world because eternity is at stake.
ACT.
Lee Strobel conducted a national survey and asked people what question they'd ask if they could only ask God one thing. The number one response was "Why is there suffering in the world?" Do you know how to answer that question? Take some time today to firm up your faith and watch Ravi Zacharias answer this common question.
---
My Faith Votes—is a nonpartisan movement that motivates, equips and activates Christians in America to vote in every election, transforming our communities and influencing our nation with biblical truth. By partnering with national faith leaders, My Faith Votes provides resources to help Christians Pray, Think, and Act to create an America where God is honored in the public square.
Website | www.myfaithvotes.org Twitter | @MyFaithVotes Facebook | My Faith Votes
---
React
---
Comments