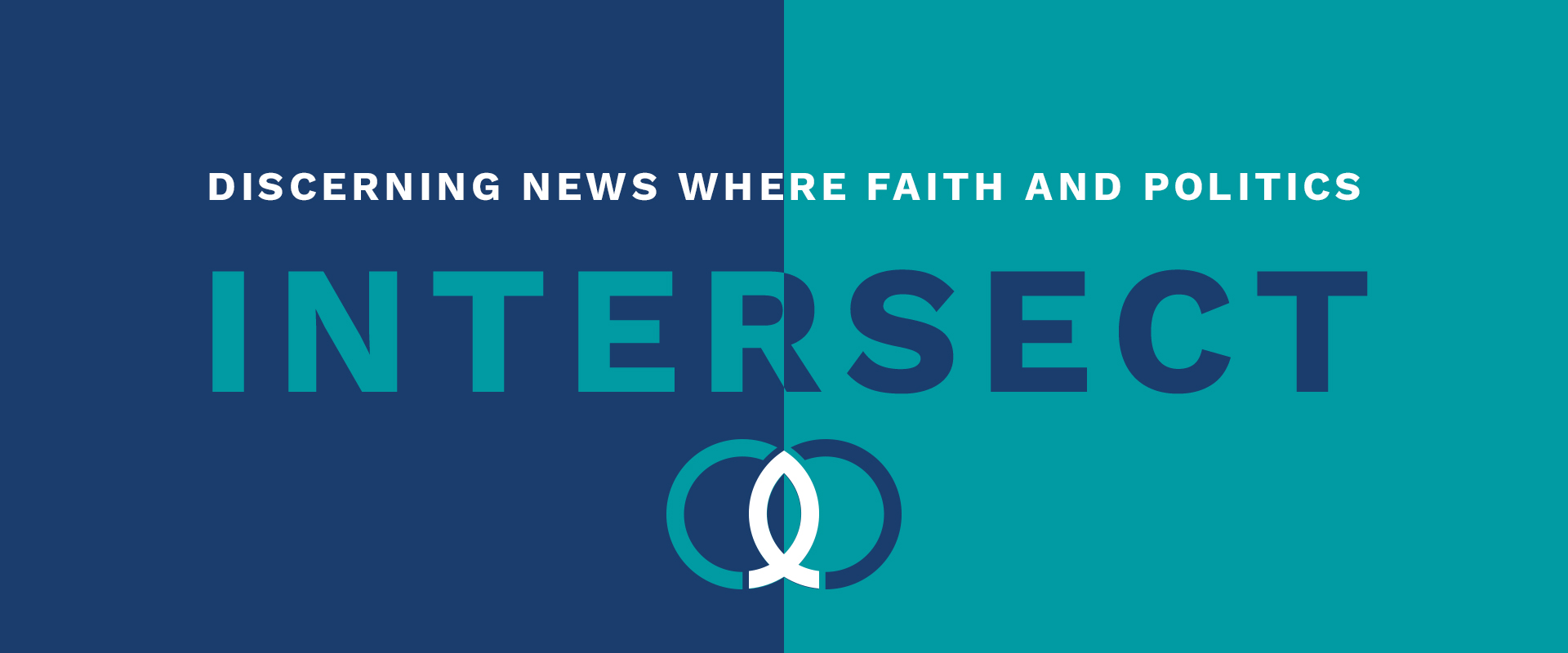 WEEKLY NEWS SUMMARY - JULY 29, 2020
In this week's Intersect, read about:
---
My Faith Votes Initiative Seeks to Increase Evangelical Vote in November: 'Churches Alone Can Make All the Difference'
Our Church Votes, an outgrowth of My Faith Votes, is a bipartisan nationwide campaign that seeks "to encourage church attendees to register to vote in upcoming national and local elections and to educate themselves on the issues most important to people of faith." We don't tell people who to vote for, but we do tell them they have a moral obligation to vote," Jason Yates, CEO of My Faith Votes, told Fox News. "For many Christians, 2016 was about the Supreme Court. Well, 2020 is also about the Supreme Court. As we have seen with the court's recent decisions, the bench has not been settled. "Additionally, many Christians are concerned about renewed threats against religious freedoms, revealed by the pandemic," Yates added.
The group is trying to inspire more believers to put their faith in action, claiming that one out of every four Christians does not vote in presidential elections and even more skip state and local elections. "Voting is non-negotiable for Christians because that's how we keep faith and freedom in the heart of America. The minimum thing any church must do is to facilitate voter registration even if they don't speak of any issues. In many states important elections are decided by fewer than 10,000 votes," Yates said. "Churches alone can make all the difference." read more
THINK.
When we learned the statistic that 25 million Christians do not vote, we were stunned. It's why My Faith Votes was established; to equip and motivate the millions of Christians who sit on the sidelines, to take action and vote. When we dug deeper into those numbers, we learned that voter turnout has some interesting trends. "States that have high church attendance have low voter turnout – and states with low church attendance have high voter turnout," Jason Yates, My Faith Votes CEO, summarizes. "We're asking every church across America to engage their congregation in voting," Yates informs. "It's the number-one topic in our nation, and we should all be bringing the influence of our faith into elections." Apathy does not define a loving church. Together, we can empower Christians to take action and vote. If just one church congregation in every community committed to voting, the impact would be greatly felt.
PRAY.
Lord, we pray that your people will be awakened. Let them realize that while politics is not their salvation, their response to you requires that they be politically active. Awaken your people to know that they are not called to be a sect fleeing the world but rather a community of faith renewing the world. Awaken them that the same hands lifted up to you in prayer are the hands that pull the lever in the voting booth. (download the rest of the Election Day Prayer here)
ACT.
Your church can make a difference in your community. We have created a comprehensive, non-partisan toolkit with everything you need to equip and motivate your church to hold a voter registration drive, both in-person and online. There are even teaching resources for pastors. Sign-up to download your free toolkit at Our Church Votes and share the resource with others as well.
---
Supreme Court Rejects Nevada Church's Appeal to Lift State's Limits on Worship Gatherings
The Supreme Court has rejected the plea of a Nevada congregation to suspend state-imposed restrictions on in-person gatherings that only apply to faith communities and not secular entities. In a 5-4 decision, Chief Justice John Roberts joined liberal justices to deny an appeal of Calvary Chapel Dayton Valley in Lyon County, whose plea had been rejected by lower courts, according to The Wall Street Journal. The church argued that Democratic Gov. Steve Sisolak's public-health orders gave casinos and other secular businesses greater leeway than houses of worship, which are prohibited from conducting in-person worship services with more than 50 people. Calvary Chapel wanted to hold services for up to 90 members, 50% capacity, while fully complying with social-distancing rules and other required measures. The judges made no comment while rejecting the appeal. This is the second time that Chief Justice Roberts has joined liberal justices to uphold restrictions on churches during the coronavirus pandemic. In a one-page dissent, Justice Neil Gorsuch wrote: "In Nevada, it seems, it is better to be in entertainment than religion. Maybe that is nothing new. But there is no world in which the Constitution permits Nevada to favor Caesars Palace over Calvary Chapel." read more
THINK.
The Supreme Court has ruled, for the second time in the last two months, against a church that sought exemptions from statewide restrictions on houses of worship during the Covid-19 pandemic. Yet Calvary Chapel Dayton Valley v. Sisolak, a decision handed down on Friday night, is a different case than the California South Bay United Pentecostal Church v. Newsom, the decision from May in which the Court also ruled against a church that objected to state public health rules. Both decisions were 5-4, with Chief Justice John Roberts joining his four liberal colleagues, but the church in Calvary Chapel presented a much stronger legal argument than the church in the earlier case. Justice Kavanaugh, who also wrote his own dissent, said the current pandemic does not provide a "blank check for a state to discriminate against religious people, religious organizations, and religious services." He also said that with the current state rules, "Nevada is discriminating against religion." The different rules for casinos and churches, not lost on the dissenting justices, also was brought up in a July 27 statement by Alliance Defending Freedom, the Georgia-based group representing the Nevada church. "It's clear that Nevada Gov. Steve Sisolak is playing favorites. And while slot machines and blackjack tables make the cut, churches do not," they said. Relating to the religious liberty of churches amidst the pandemic, Pastor John MacArthur with Grace Community Church in Sun Valley, California made a bold statement Friday, saying the state mandates restricting worship services are an overreach of governmental authority and his church would continue to meet. Pastor MacArthur explained that God created the biblical framework for humankind which has three foundations: the family, the state, and the church, and each has its own limitations. "Each has a sphere of authority with jurisdictional limits that must be respected. A father's authority is limited to his own family. Church leaders' authority (which is delegated to them by Christ) is limited to church matters," he said. "And government is specifically tasked with the oversight and protection of civic peace and well-being within the boundaries of a nation or community. God has not granted civic rulers authority over the doctrine, practice, or polity of the church." You can read his full statement here.
PRAY.
Pray for the Lord Jesus to compel us as the church to proclaim His truth and preach His message. It will not always be easy, and it may not be convenient. But His words are life to us. As scripture says in 2 Timothy 4:2 says, "Proclaim the message; persist in it whether convenient or not; rebuke, correct, and encourage with great patience and teaching."
ACT.
SCOTUS recently finished the current session's term and is now in its summer recess. There were several significant rulings in the last few weeks. We've highlighted four cases in our latest SCOTUS Watch here.
---
In Landmark Speech, Pompeo Says China is World's Biggest Threat
Secretary of State Mike Pompeo on Thursday identified China as the world's greatest threat and called on Western nations to unite against Beijing as part of a global effort to eradicate the Communist Party's growing control of the international order. In one of his most significant foreign policy speeches since taking office, Pompeo railed against the Communist Party's gross human rights abuses, cyber espionage operations, and routine bullying of Western nations. Pompeo said the world must immediately act to ensure that Communist China's vision for world dominance is not realized. Pompeo spoke frankly about the dangers Communist ideology poses to the world and sought to reestablish America's democratic principles, saying the country will never bow before Beijing. "If we don't act now, ultimately, the CCP will erode our freedoms and subvert the rules-based order free societies have built," Pompeo said during his remarks at the Richard Nixon Presidential Library and Museum in California. "If we bend the knee now, our children's children may be at the mercy of the CCP, whose actions are the primary challenge to the free world. If the free world doesn't change Communist China, Communist China will change us. There can be no return to past practices just because they're comfortable or convenient." read more
THINK.
Secretary Pompeo, like Ronald Reagan, recognizes that the intent of communist leaders is always to dominate, not to coexist. As Karl Marx bluntly stated in the Communist Manifesto, "The Communists disdain to conceal their views and aims. They openly declare that their ends can be attained only by the forcible overthrow of all existing social conditions." One of these "social conditions" is religion, which is considered to be a hindrance to Communist control. In addition to the rampant persecution of Christians in China, it has been reported that over one million Muslims belonging to the Uighur ethnic group have been detained in "reeducation camps", many separated from their children. Seeing the oppression of a Communist government on the Chinese people should motivate us to expose Communism in America, where its Marxist ideology is gaining popularity. In particular, the Black Lives Matter organization states several goals on its website that coincide with Marxism, including disrupting the "Western-prescribed nuclear family structure". And in a 2015 interview, one of the founders, Patrisse Cullors, stated that she and another founder are "trained Marxists". As Christians, we have a duty to "destroy arguments and every lofty opinion raised against the knowledge of God, and take every thought captive to obey Christ" (2 Corinthians 10:5). As we do so, let us be encouraged by this advice from Richard Wurmbrand, a Romanian pastor who spent fourteen years in prison in the Soviet Union for his faith. He wrote, "I have known many Communist leaders personally. They are heavily-laden men, and only Jesus can give them rest."
PRAY.
Pray that the leaders of the Black Lives Matter organization would indeed come to know the peace of Jesus. Pray for endurance for our brothers and sisters in China, and for salvation for the Muslims who are also being persecuted. Lastly, pray for discernment for the churches in America.
ACT.
The Bible is a dangerous thing to possess in China. Years ago, this video circulated of Chinese Christians receiving a physical Bible for the first time, and it has always stuck with me. My Faith Votes founder, Sealy Yates, played an instrumental role in the historic smuggling of 1 million Bibles into China in the early '80s called "Project Pearl." Read the fascinating story here.
---
Violent Deaths Lead Chicagoland Pastor to Organize Prayer Walks
Shaken by the reality of death, the city of Chicago desperately needs the message of Christ's hope, according to Edgar Rodriguez, pastor of New City Fellowship. In the last few weeks, Chicago has been riddled with violence, including the tragic deaths of a 41-year-old, a 10-year-old and a 1-year-old, as reported by the Illinois Baptist Newsjournal. Burdened by the need for healing, Rodriguez began to organize prayer walks in the evenings, stretching across deeply affected neighborhoods. "My heart behind it is (that) the truth of the Gospel and God's people being salt and light, would be able to engage these places," Rodriguez said. "Potentially me calling people to march and walk would spur them on to not only just do it as a one-time thing, but in their rhythm of everyday … (to) engage, pursue and be present in these places especially where these shootings were taking place, in hopes that the kingdom of God would invade these spaces." On July 13, Rodriguez and two other men started walking at 6 p.m. They started in Humboldt Park and ended in an area with a large population of homeless people and others. Rodriguez said walking in the evenings is intentional because it allows for more opportunities to interact with people who would not be on the streets in the daylight. "They congregate in this one place, and so by the end of the night, we got a chance to spend some time there and share Christ and ask them pretty intense questions in light of the violence," Rodriguez said. read more
THINK.
Chicago Police Chief of Detectives Brendan Deenihan attributed much of the violence to numerous gangs who are taking revenge on each other. Sadly, innocent bystanders are often the victims. As the city works to find solutions to curb the violence, hopefully, they will consider partnering with churches and ministries who can offer hope, the gospel, and a stabilizing presence in their communities. Such partnerships were a contributing factor to the city of Camden, New Jersey's improvement, which saw a 26 percent drop in violent crime from 2012 to 2017. Proverbs 11:14a says, "Where there is no guidance, a people falls." This is shown to be sadly true in Portland, Oregon, where protests and riots have continued for almost two months. While mayor Ted Wheeler has declared that he is on the side of the protestors, several federal agents have been injured while protecting a federal courthouse from frequent attacks. It's a small wonder that seventeen rural Oregon counties are collecting signatures to put a measure on the November ballot that would ask voters if they are in favor of those counties joining the state of Idaho. The organizers of the Greater Idaho movement believe their values would be better represented by that state than by the politicians in Portland. Mayor Wheeler, as well as other city leaders, has failed his Romans 13 duty to restrain evildoers and protect those who do good. Yet in the midst of the violence, we draw our strength from the Lord, knowing that he will give grace to help us continue to "speak the word of God with boldness" (Acts 4:31).
PRAY.
Pray for Pastor Rodriguez in Chicago as he brings the hope of Jesus to his city. Pray that many more people would step up to be laborers in the Lord's harvest field, as he said, "The harvest is plentiful, but the workers are few." (Matthew 9:37) Pray also for protection for the law enforcement officers who face danger as they maintain the rule of law amid violent riots. And pray that the hearts of those rioters would be convicted and that they would turn to Jesus.
ACT.
While it can feel helpless as we watch the chaos unfold in our cities, we must remember that we serve a sovereign God, who can do miraculous things in response to our prayers. To that end, City by City has created a prayer movement that looks for at least ten people in every city to commit to pray. You can find out how to be a watchman here.
---
My Faith Votes—is a nonpartisan movement that motivates, equips and activates Christians in America to vote in every election, transforming our communities and influencing our nation with biblical truth. By partnering with national faith leaders, My Faith Votes provides resources to help Christians Pray, Think, and Act to create an America where God is honored in the public square.
Website | www.myfaithvotes.org Twitter | @MyFaithVotes Facebook | My Faith Votes
---
React
---
Comments