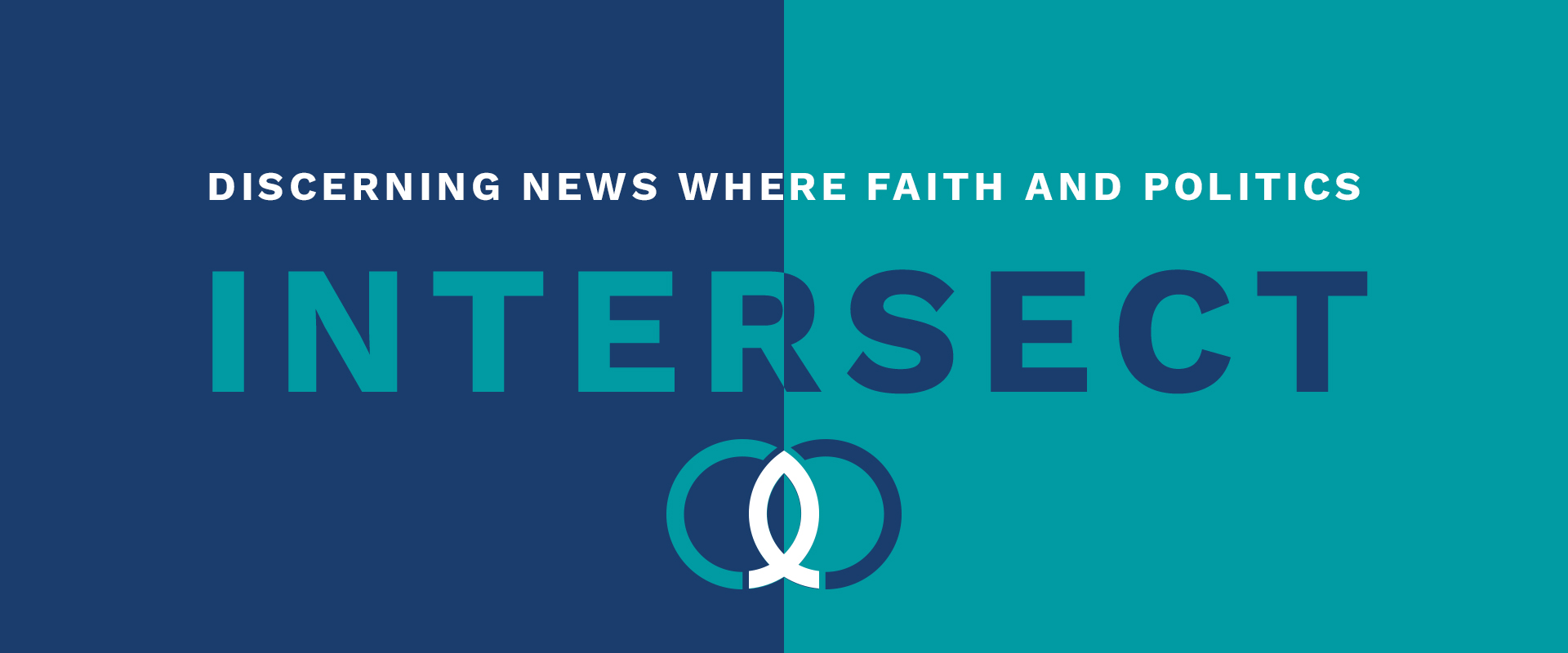 WEEKLY NEWS SUMMARY - JULY 22, 2020
In this week's Intersect, read about:
---
US Senators Push Measure That Could Block Israel from Defending Itself Against Terror
More than a dozen US senators are supporting an amendment quietly added to this year's defense bill that some say could endanger Israel now and in the future. Some see it as an attempt to interfere with Israeli Prime Minister Benjamin Netanyahu's plans to declare Israeli sovereignty over parts of biblical Judea and Samaria, also known as the West Bank. The bill would affect weaponry such as Israel's Iron Dome anti-missile system. It is literally a lifesaver against terror attacks by groups like Hamas and Hezbollah. This amendment, introduced by Senate Democrat Chris Van Hollen, could conceivably prevent the deployment of this joint US/Israel defense system to protect areas of the West Bank or Jordan Valley. The amendment states no US funds may "… support the deployment of, United States defense articles, services, or training to territories in the West Bank unilaterally annexed by Israel after July 1, 2020, or to facilitate the unilateral annexation of such territories." Israel's former Congressional liaison, Ambassador Yoram Ettinger, argues this move could have a negative impact beyond the West Bank while also undermining Israel and the US. read more
THINK.
The amendment to the 2021 National Defense Authorization Act (NDAA) would block US funds from going toward Israel's Prime Minister's planned annexation of roughly 30 percent of the West Bank. The motion currently has 13 Democratic co-sponsors, including Massachusetts Senator Elizabeth Warren, Vermont Senator Bernie Sanders and Virginia Senator Tim Kaine, and is backed by a coalition of liberal Zionist groups, such as J Street and Americans for Peace Now. The Van Hollen amendment, however, doesn't go as far as a letter orchestrated by New York Congresswoman Alexandria Ocasio-Cortez and signed by some of the most progressive members of Congress — such as Sanders — that calls for reducing the $3.8 billion in annual aid to Israel if the country moves forward on annexation. Instead, it would keep US assistance at the same levels, but bar American taxpayer dollars from being used to annex the West Bank. As the world waits for Israel to begin its annexations, the US appears to stand alone in its support. Now China has echoed the rest of the United Nations Security Council (UNSC) in expressing support for the Palestinians and tacit condemnation of Israel's plan to annex a large portion of the West Bank, alongside President Trump's Middle East peace plan. Why is Israel important to America? It seems many are forgetting or simply do not understand our foreign policy with this treasured country, both politically and biblically. This is a brief and helpful overview from the US State Department that explains the background of US support. You can also watch our conversation with Pastor Allen Jackson, who speaks from a pastoral perspective on why it's important that America stands with Israel, here. Even many Christians do not understand the spiritual significance of supporting Israel, and this is a timely opportunity to be informed on what the Bible has to say.
PRAY.
Pray for Israel's leaders and the country's allies, that the US would continue to stand with Israel. Pray for the challenges Israel faces, for protection from the ongoing threat of war and terrorism from her enemies, and pray for God to deal swiftly and justly with those who hate Israel and the Jewish people and who seek to destroy them. Pray for God's solutions and provision for current border disputes.
ACT.
The International Fellowship of Christians and Jews is doing great work while encouraging and helping Christians to better understand why we should stand for and with Israel. Learn more about their work here.
---
Doctor's Visits No Longer Required for Women to Obtain Abortion Pill, Federal Judge Decides
This week, a federal judge in Maryland ruled that women do not need an 'in-person' doctor's visit to obtain an abortion pill. According to U.S. District Judge Theodore Chuang, the current requirements for the abortion pill create a "substantial obstacle" for women, the Associated Press reports. The case arose after the American College of Obstetricians and Gynecologists sued the U.S. Food and Drug Administration and the U.S. Department of Health and Human Services in May, citing the difficulty women are currently facing to obtain an abortion during COVID-19. "Particularly in light of the limited timeframe during which a medication abortion or any abortion must occur, such infringement on the right to an abortion would constitute irreparable harm," he said in an 80-page decision. Healthcare providers will now allow women to receive mifepristone through the mail. The previous rule required women to pick up the tablet at a hospital, clinic or medical office. The FDA's lawyers argued the now-previous process required patients to sign a waiver providing lifesaving information that indicates the medical risks involved with taking the medication. The lawsuit stated that the FDA rule has "particularly severe implications for low-income people and people of color, who comprise a disproportionate share of impacted patients and who are already suffering and dying from COVID-19 at substantially higher rates." By causing certain patients to decide between forgoing or substantially delaying abortion care, or risking exposure to COVID-19 for themselves, their children, and family members, the In-Person Requirements present a serious burden to many abortion patients," Chuang said. Pro-life advocates, however, mourned the ruling, stating the harm it would cause women. read more
THINK.
Kristen Hawkins, the president of Students for Life of America, stated that "For the about 5 percent of women whose babies are not killed and expelled by the drugs, a surgery is required basically to save the woman's life as infection can set in if the dead infant or tissue remains in a woman's womb to fester." According to Planned Parenthood of Maryland, before taking the abortion pill, a doctor's visit would include receiving a finger prick for blood typing and hemoglobin, a brief medical history, lab work, and a vaginal ultrasound--procedures that cannot be conducted at home. Foregoing them will undoubtedly put more women at greater risk. In our recent interview with pro-life advocate Abby Johnson, she exposed the senselessness of such a decision, "It's the same that we're seeing here with the medication abortion. They say we don't want women having at-home abortions and that's the danger in shutting down abortion facilities...Yet they file a lawsuit...so that women can have at-home, medicated abortions. So we don't want at-home abortions, yet we're going to fight for women to have at-home abortions? This is the lunacy of the abortion movement." Another point to be made is that since Judge Chuang stated that low-income women and women of color are affected by COVID-19 at a higher rate, the answer is not to advocate for more abortions that will kill even more people. Rather, women who feel that abortion is their only option need compassionate, life-affirming support. Resources like OptionLine provide pro-life counseling and resources to women facing unplanned pregnancies.
PRAY.
We encourage you to make use of our Pro-Life Prayer Guide, which recommends four areas in which to pray for life: 1. Cultural rethinking 2. For women who have had an abortion 3. Spiritual and moral awakening 4. The church
ACT.
There are about 2 million couples currently waiting to adopt in the United States — which means there are as many as 36 waiting families for every one baby who is placed for adoption. Learn more about the unique work of Show Hope and their ministry to support adoptive families waiting to adopt.
---
Maryland announces $500M coronavirus unemployment fraud bust
Maryland Gov. Larry Hogan announced Wednesday that state officials had uncovered a massive fraudulent scheme involving 47,500 falsified unemployment insurance claims, adding up to more than $501 million. The scheme involved identity theft from previous security breaches and did not suggest that any of the personal information submitted in the legitimate claims had been compromised in any way. "This criminal enterprise seeking to take advantage of a global pandemic to steal hundreds of millions, perhaps billions, of dollars from taxpayers is despicable," said Hogan speaking from a press conference Wednesday. The governor said the fraud was detected when state employees with the unemployment insurance website noticed an unusual uptick in the number of out-of-state claims being submitted, prompting an investigation and eventually notifying federal authorities. Maryland Labor Department Secretary Tiffany Robinson noted that the unusual activity occurred on the fourth of July. "It is obviously a coordinated criminal enterprise because this is not just random people in their basement that stole somebody's identity," Hogan told reporters. Robinson said that they were able to save taxpayers "hundreds of millions of dollars" by catching the scheme quickly due to the heightened security measures in place. read more
THINK.
Proverbs 20:17 warns vividly that "Food gained by fraud is sweet to a person, but afterward his mouth is full of gravel." And throughout Scripture, God repeatedly expresses his displeasure with anyone who defrauds or takes advantage of others. You may recall that in May, 38 Planned Parenthood affiliates across the country received more than 80 million dollars designated for small businesses. Several Republican Senators have asked the U.S. Attorney General to investigate whether Planned Parenthood fraudulently applied for this money. The Small Business Administration is also asking them to return the money. Whether those who have taken advantage of this crisis to commit fraud will meet justice in this life or the next, we can be confident that God's justice will ultimately prevail. Until then, government must continue the work of Romans 13, which describes the authorities as instruments of God's wrath on wrongdoers. Derek Pickle of the Office of the Inspector General at the U.S. Department of Labor stated that more than 50 percent of their investigations are related to unemployment insurance fraud related to the coronavirus pandemic, where previously it had been only 10 percent. Given the inherent sinfulness of human nature, this is not surprising. 1 Timothy 6:10 states that "The love of money is a root of all kinds of evils," so we must also guard our hearts so as to avoid falling prey to sin.
PRAY.
Please pray that government authorities who are attempting to bring the criminals to justice would be successful. And continue your prayers for those who are experiencing economic hardship due to the loss of their job or business.
ACT.
There is a great organization called Down Home in Fargo, North Dakota that is helping families and individuals who have experienced homelessness, transition from instability to fully furnished homes. Learn about their unique ministry and see how you can donate items online to help in making a place become a home.
---
Supreme Court Keeps in Place Florida Law Requiring Felons to Pay Fees Before Voting
The Supreme Court on Thursday rejected a request to block a Florida law requiring those who have been convicted of felonies and served their sentences to pay outstanding fines and fees owed in connection with their cases before voting. The court's order keeps the law in place heading into the state's primary election for non-presidential races, which is scheduled for Aug. 18 with a registration deadline of July 20. Justices Sonia Sotomayor, Ruth Bader Ginsburg, and Elena Kagan dissented with the majority's opinion. "This Court's order prevents thousands of otherwise eligible voters from participating in Florida's primary election simply because they are poor," Sotomayor wrote, joined by the other two dissenting justices. A District Court had blocked the law, but the Eleventh Circuit Court of Appeals overturned that decision by putting a stay on the lower court's ruling. The Supreme Court Thursday denied an appeal of the Eleventh Circuit's decision. The law prevents roughly 774,000 people in 67 counties across Florida from voting because they are unable to meet the financial requirements, according to a university study introduced as evidence during the trial in District Court. Sotomayor noted that impact in her dissent, which said the majority erred in not vacating a stay on the District Court's order. read more
THINK.
The 24th Amendment to the U.S. Constitution states that the right of citizens to vote in federal elections "shall not be denied or abridged by the United States or any State by reason of failure to pay a poll tax or other tax." Since the outstanding fines and fees that felons are required to pay is not a tax, the Florida law does not violate the Constitution. In another related lawsuit, Democratic super PAC Priorities USA settled with Florida Governor Ron DeSantis and the Republican Party, whom they had sued in an effort to fund postage for mail-in ballots with taxpayer money. Before the settlement occurred, federal District Judge Robert Hinkle stated that "Postage charged by the United States Postal Service – like the fee charged by any other courier or the bus fare for getting to the polls to vote in person – is not an impermissible "tax"." The lawsuit had also attempted to remove deadlines for mail-in ballots to be received and strike down laws restricting "ballot harvesting"--a practice where political operatives collect ballots and return them to polling locations. The Declaration of Independence states that the government derives its powers from the "consent of the governed." Therefore, it is good for us to 1. assist people in registering to vote, and 2. protect the integrity of their vote. The Republican National Committee launched an initiative called Protect the Vote to ensure fair elections in light of numerous instances of voter fraud around the country.
PRAY.
Please be in prayer for the remaining primaries taking place around the country, and for the upcoming November election. Pray that the results would be accurate, and that candidates who champion biblical principles would be elected.
ACT.
There are an estimated 15 million eligible Christian voters who are not registered. There is still time to register to vote in the November Election. We encourage you to forward our Voter Registration page to your friends. It is a simple tool to help them register to vote. In addition, you may want to forward our Party platforms comparison page. You can view it here.
---
My Faith Votes—is a nonpartisan movement that motivates, equips and activates Christians in America to vote in every election, transforming our communities and influencing our nation with biblical truth. By partnering with national faith leaders, My Faith Votes provides resources to help Christians Pray, Think, and Act to create an America where God is honored in the public square.
Website | www.myfaithvotes.org Twitter | @MyFaithVotes Facebook | My Faith Votes
---
React
---
Comments