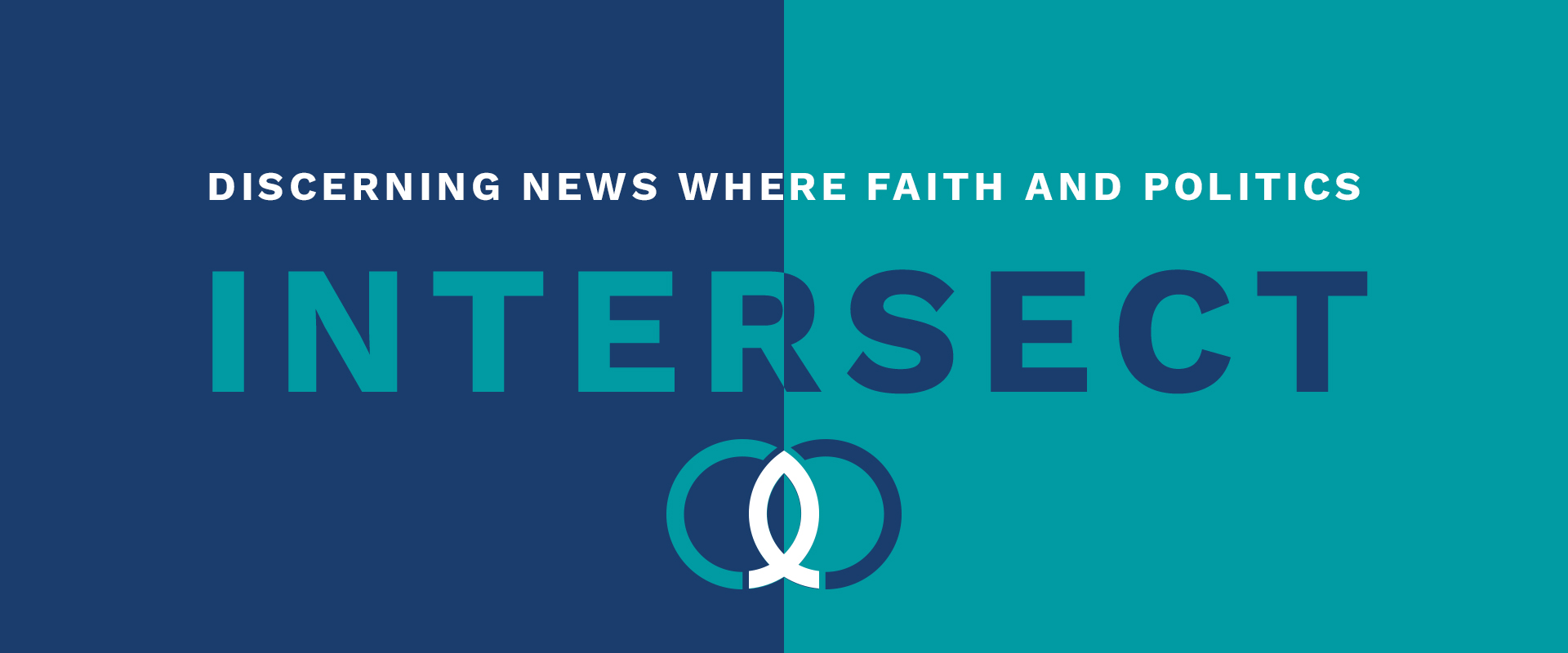 WEEKLY NEWS SUMMARY - JULY 20, 2022
In this week's Intersect, read about:
---
A Conversation with Journalist Billy Hallowell: How to Discern Truth in Biased News
"We all know that the news can be overwhelming. The headlines and sound bites are all meant to influence how we see the world around us. So, it's critical to understand how we interpret it, what the news is really trying to say, and the agendas behind it. Billy Hallowell is a journalist, commentator, and digital TV host who's covered thousands of the biggest stories and written more than 14,000 stories on faith, culture, and politics. He talks with My Faith Votes CEO, Jason Yates." watch at MFV-TV
THINK.
Every week when I put together the stories for this publication, I'm deeply troubled at just how much misinformation is out there. But there is recent insight into why that is. Over half of U.S. journalists (55%) say they believe that every side doesn't always deserve equal coverage, according to a new survey by Pew Research Center. Younger journalists and those who say their outlet has a left-leaning audience are most likely to say equal coverage is not always warranted. There is a major gap between what the public thinks and what journalists think on this issue, too — 76% of U.S. adults think that journalists should always strive to give every side equal coverage, compared to 44% of journalists. A Reuters Institute Survey found that of 46 countries around the world, the U.S. ranks dead last in news trust, with just 26% saying they trust the news most of the time. Could this be because some readers do not see their views given fair representation in the press? Journalists will always have to make subjective decisions about which voices to highlight and what information to cover. But whereas giving each side fair and equal attention is viewed by the public as a key principle of traditional journalism, recent political polarization in our nation has led to a mindset that some views don't deserve a platform in the press at all. Now, because a viewpoint might be seen as one that represents the views of a certain political side or agenda, biased journalists may deem it unfit for mention in their work, further fueling the divide. Surveying the media landscape of the mid-eighteenth century, Samuel Johnson feared what might happen if lying became even more widespread: "Without truth there must be a dissolution of society," he said, adding: "Society is held together by communication and information." Billy's perspective in our conversation is not only helpful but it challenges us to think deeper and be diligent in searching for truth in what is being reported.

PRAY.
Follow Billy's #1 piece of advice and pray for those who are in the news. It's easy to get frustrated by media biases, misinformation and mistakes, yet we rely heavily on journalists to bring us the news every day. Set aside time to pray for the reporters, writers and broadcasters, as well as the those behind the scenes, such as the editors and producers. If you often get your news from a particular source pray specifically for the journalists, by name.

ACT.
Our goal in the weekly Intersect is to take four top news stories of the week and help you discern the news from a biblical perspective, calling attention to THINK, PRAY and ACT on those stories. This publication grows primarily through word-of-mouth. So, if you enjoy getting this weekly email in your inbox and believe others would benefit as well, would you please forward this email and share the Intersect? I appreciate you!

---
Flight Attendant Fired for Pro-Life Activism Receives $5.1M in Damages
"A flight attendant who alleges she was fired from her position due to her vocal religious opposition to abortion and union dues being used to support abortion-related causes has won a $5.1 million federal lawsuit against her former employer and union. The National Right to Work Legal Defense Foundation announced in a statement Thursday that Charlene Carter, a pro-life Christian who formerly worked as a flight attendant for Southwest Airlines, prevailed in her religious discrimination lawsuit with the airline and the Transportation Workers Union of America." read more at the Christian Post
THINK.
In the past, unions were effective at pressuring employers to provide fairer working conditions and wages. Today, unfortunately, many unions are also effective at pressuring workers to support causes contrary to their beliefs with their union dues. We can take a lesson from Carter, who expressed her concerns and stood for her convictions. In other pro-life news, Senator Elizabeth Warren (D-MA) has authored a bill attacking pro-life pregnancy resource centers, also known as crisis pregnancy centers. The Stop Anti-Abortion Disinformation Act, which was introduced in a Senate committee last month, gives authority to the Federal Trade Commission to subject any pro-life pregnancy center that is determined to be making misleading claims about abortion or the services they provide. It is not defined what sorts of claims would be considered unlawful. The goal of this bill was made clear by Senator Warren. "We need to shut them down here in Massachusetts and we need to shut them down all around the country," she stated. The positive impact pro-life centers have had over the years is staggering. One article notes that they have saved over 800,000 babies between 2016 and 2020 and provided roughly 266 million dollars in services to parents in one year, through almost 53,000 volunteers and 15,000 staff. Senator Warren's own bill acknowledges that these lifelines of hope outnumber abortion facilities nationwide by an average of three to one, often serving under-resourced neighborhoods. And yet, they are being attacked. Last week, two pro-abortion bills passed the U.S. House, one of which, the Women's Health Protection Act, aims to codify Roe v. Wade into federal law. This bill was also attempted before the Dobbs decision. It is likely to fail in the Senate. I am reminded that while elections for state offices are crucial after Dobbs, we cannot forget that all 435 seats in the US House are up for election this year. The Congressional Progressive Caucus (CPC) has a revealing list of their policy goals to enshrine abortion and sexual license into our laws. It is a startling picture of what may happen if Christians disengaged from the voting process. If leftist policymakers are given their way, pro-life Christians will not be left alone to live according to our convictions. In some way, we will be forced to go along with the pro-abortion agenda or else face the consequences. That is why we stay engaged and vote now, while we still have considerable cultural influence. Otherwise, if we start to care only when the cultural forces affect us personally, we may have lost the opportunity to secure our freedom to serve God and others publicly.

PRAY.
Please keep your local pregnancy resource centers in your prayers continually. Pray for more volunteers and resources from generous believers. I encourage you to read 1 Peter 3:12-17, and 4:16-19, and pray for Christians to stand firm and trust God as we do His will, even as we face opposition.
ACT.
Do you know where your nearest Pregnancy Resource Center is located? With over 2,700 centers across all 50 states, there's likely one close to you. When a pregnant woman visits a Pregnancy Resource Center, she is often given a gift basket of baby items. A simple pack of diapers can humanize the fact that a baby is growing in her womb. We invite you to take our pledge to donate a pack of diapers to your local pregnancy center (we'll let you know the nearest center to you). Then, invite a friend to join you!

---
Biden Backs Two-State Solution, Visits East Jerusalem Before Heading to Saudi Arabia
"On Friday, President Joe Biden began the third day of his Mideast trip with an unprecedented visit. For the first time, a U.S. president visited East Jerusalem, sending a signal to Israel that part of the city could be the future capital of a Palestinian state. There, while visiting Augusta Victoria hospital, Biden pledged $100 million for Palestinian healthcare in East Jerusalem. Next, Biden headed to Bethlehem to meet with Palestinian President Mahmoud Abbas and advocated for a two-state solution to the Israeli-Palestinian conflict. However, he made no promises for renewed peace talks between Israelis and Palestinians, saying the ground is 'not ripe' for negotiations." read more at CBN News
THINK.
Last week, twenty-three House Republicans sponsored a resolution against President Biden's proposal to reopen a separate U.S. consulate in Jerusalem to provide diplomatic services for Palestinians. The initiative was led by U.S. Congressman Lee Zeldin, R-NY who said, "The Palestinian Authority has made it abundantly clear that its push for separate diplomatic outreach from the United States is for the purpose of dividing Jerusalem, which the Jerusalem Embassy Act of 1995 was crafted to specifically prevent," said Zeldin in a press release. "The law states that Jerusalem should be recognized as the capital of Israel and remain undivided." 200 Republicans sent a letter to the President last November in opposition as well. Beyond foreign policy, how are we to think about the Palestinians? Dual US and Israeli citizen and Editor of All Israel News, Joel Rosenberg gave this insight: "Jesus told us to love our neighbors. The Palestinians are our neighbors. And I think that it's not healthy when Christians act as though we only support Israel and the Jewish people, and we show little respect, love or compassion for Palestinians. I have a lot of problems with the Palestinian leadership, but I also believe that God is sovereign and that things can change." Another significant note from his trip is that Biden became the first U.S. president to fly Air Force One directly from Israel to Saudi Arabia. The Israeli government approved a deal that paves the way for relations between Saudi Arabia and Israel while Saudi Arabia also granted flyover rights to Israel. Jon Medved, founder of OurCrowd, Israel's largest venture capital platform noted the significance saying, "I think the really good news in this part of the world has been the Abraham Accords, which is so smartly named. Because what it has resulted in is this incredible release of energy between the children of Abraham who today share this region, and who are now increasingly working together rather than being in conflict". Seeking solutions to one of his top political problems here in the US, high gas prices, as diplomacy with the kingdom and other allies in the Middle East was seen as one of the few routes, he could take to ease the pain at the pump, the trip did not produce any immediate announcements on increased oil production. This was President Biden's first trip to the Middle East since taking office.
PRAY.
Don't grow weary in praying for political leaders, no matter how frequently or infrequently they are in the headlines. Use our prayer guide which has all the names and positions of those in leadership at the federal level. Follow the call of 1 Timothy 2:1-3 which says, "First of all, then, I urge that supplications, prayers, intercessions, and thanksgivings be made for all people, for kings and all who are in high positions, that we may lead a peaceful and quiet life, godly and dignified in every way. This is good, and it is pleasing in the sight of God our Savior…" And continue to pray for Israel, as Psalm 122 instructs.
ACT.
Today, take time to pray for your elected officials. Then, send them a note letting them know you prayed for them. Our tool makes it simple and easy to send your specific elected officials an email, right here.
---
James Webb Telescope Images Reveal 'Power' and 'Majesty' of God
"Images of the universe taken by NASA's James Webb Space Telescope testify to the 'power' and 'majesty' of God, Christian leaders say. "[This is] why we want to study the heavens, so we can observe the awesome glory of our God," Rob Webb, an aerospace engineer with Answers in Genesis and a former NASA employee, said during a Facebook live session Tuesday. The first images from the telescope were released Monday and Tuesday during a NASA news conference." read more at Christian Headlines
THINK.
The word "breathtaking" is entirely appropriate as I look at these photographs. Psalm 8 comes to mind: "Lord, our Lord, how majestic is Your name in all the earth, You who have displayed Your splendor above the heavens!" Rob Webb's perspective on astronomy matches 17th century German astronomer Johannes Kepler, who once said, "I consider it a right, yes, a duty, to search in a cautious manner for the number, sizes and weights, the norms of everything He has created…For these secrets are not of the kind whose research should be forbidden; rather, they are set before our eyes like a mirror so that by examining them we observe to some extent the goodness and wisdom of the Creator." Christianity is completely at home with astronomy, and any other science. The more we discover about God's glorious creation, the more we should exalt and give Him praise. (Romans 1:19-20) It is telling to see several people respond with praise for the human accomplishment of capturing these images of the universe instead of praise for the God who created the universe. It is a laudable feat to construct, after many years, such a powerful space telescope. But it pales in comparison to the God who simply spoke the stars into existence. King David, looking at the stars with his naked eye, recognized God's glory, and through acknowledging God, he viewed himself and humanity correctly. "When I look at your heavens, the work of your fingers, the moon and the stars, which you have set in place, what is man that you are mindful of him, and the son of man that you care for him?" He spoke. "Yet you have made him a little lower than the heavenly beings and crowned him with glory and honor. You have given him dominion over the works of your hands." (Psalm 8:3-6) In the midst of news cycles of chaos, confusion, and overwhelming worries, such reminders of God's greatness help us cast our hope on Him once again. The One who knows each star by name also knows the number of hairs on your head.

PRAY.
Oh Lord, You are so great; my praise cannot do You justice! I confess that it is easy sometimes to lose perspective and forget that Your plans will not be thwarted. But if You uphold the universe by the word of Your power (Hebrews 1:3), You can certainly fulfill Your plan to make all things new. You are God, and I praise and thank you!

ACT.
The heavens give evidence that an all-powerful God exists, but how are people going to know who this God is unless they hear what He has explicitly revealed about Himself in His Word? And how will they hear without someone telling them? (Romans 10:12-17) Using clear, biblically solid tracts, you can mail the Gospel to someone you know (either anonymously or with a personal note). This is an innovative way to sow the seeds of the Good News when you don't have the opportunity to do so in person. Go to MailtheGospel.org to learn more.
---
My Faith Votes—is a nonpartisan movement that motivates, equips and activates Christians in America to vote in every election, transforming our communities and influencing our nation with biblical truth. By partnering with national faith leaders, My Faith Votes provides resources to help Christians Pray, Think, and Act to create an America where God is honored in the public square.
Website | www.myfaithvotes.org Twitter | @MyFaithVotes Facebook | My Faith Votes
---
React
---
Comments