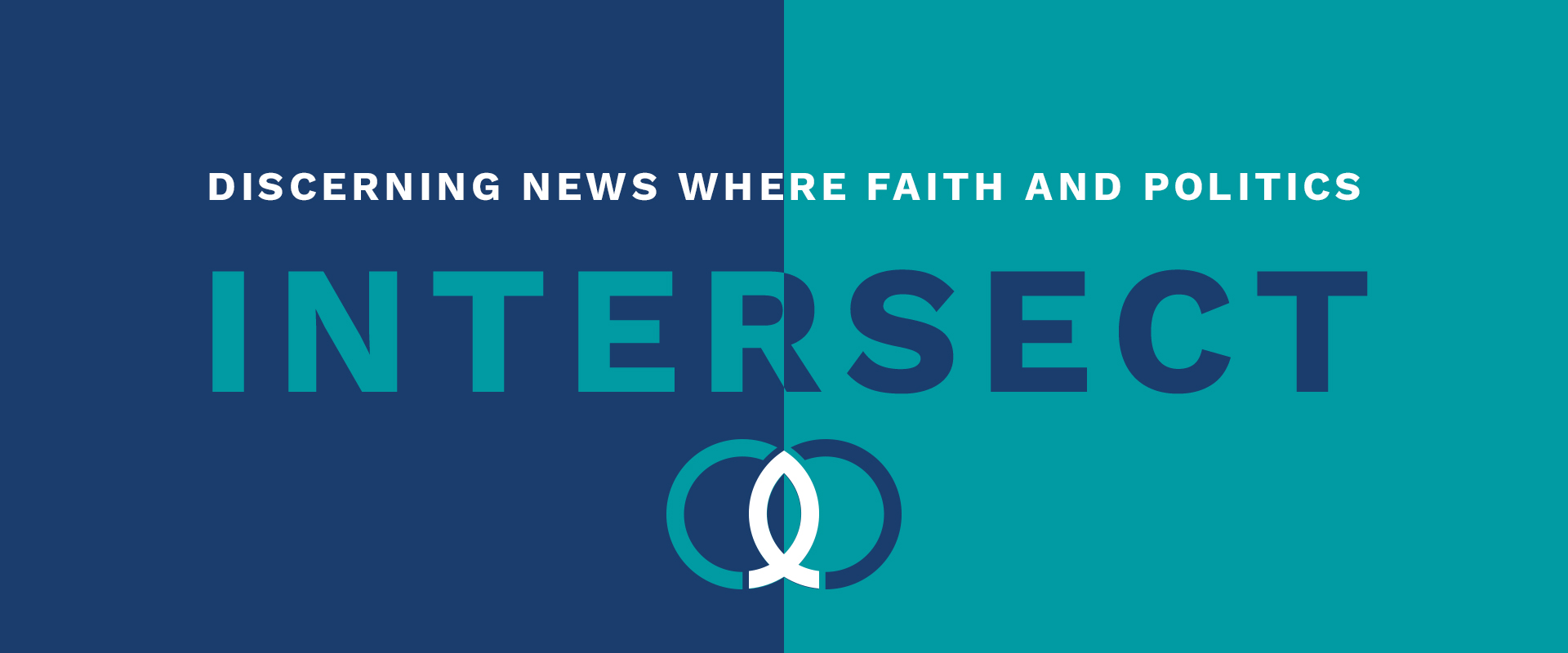 WEEKLY NEWS SUMMARY - JULY 14, 2021
In this week's Intersect, read about:
---
Texas Democrats Flee State in Effort to Block GOP-backed Voting Restrictions
"In an extraordinary effort to block Republicans from enacting new voting restrictions, Texas Democrats bolted — again. A large group of Democratic members of the state House of Representatives arrived at Dulles International Airport on Monday evening after fleeing the state in a pair of charter jets. At least 51 members were on the flights, a source familiar with the plans told NBC News. At least seven others were en route, as well. The unusual move, akin to what Democrats did in 2003, will paralyze the chamber, stopping business until the lawmakers return to town or the session ends. Speaking to reporters at the airport Monday night, the lawmakers urged Congress to quickly pass federal legislation to protect voting rights and vowed to stay in Washington, D.C., through August to run out the clock on the session, which began Thursday." read more at NBC News
THINK.
"This is the risk that we take to stand up for democracy...They are trying to take away our right to vote." State Representative Trey Martinez Fisher told CNN. What does he mean? Do their actions really stand up for true democracy? Democracy refers to the ability of the people to govern their society, either by voting directly for laws (in a pure democracy) or voting for lawmakers (in a republic). Voting is an essential tool for us as citizens to secure our liberty. Any law that restricts certain groups of people from voting, like a poll tax, is a threat to democracy, as is any law that opens the door to voter fraud. Therefore, laws that make it easy to vote but hard to cheat benefit everyone. This article by the Daily Mail lists the main provisions of HB 3 and SB1, the Texas election reform bills. Many of these provisions mirror the Heritage Foundation's recommendations for secure elections, which can be viewed on our website. Even if these Texas legislators succeed in running the clock out on election reform, Governor Abbott has the authority to call as many special sessions, as necessary. This is why Democrats are advocating for federal bills such as the "John Lewis Voting Rights Act" that would override state election laws. We must hold both our federal and state elected officials accountable, encouraging them to promote free and fair elections like Ohio's Secretary of State, Frank LaRose did. He discovered over one hundred registered voters who appeared to be non-citizens. Thirteen of them even cast ballots in last year's elections. LaRose referred them to the Attorney General for prosecution, because consequences can discourage future lawbreaking. In other news, Wisconsin Governor Tony Evers vetoed a state bill last week that would have banned private companies from funding elections. Private donations were used to fund poll watchers and personal protective equipment for election workers last year, according to the governor. However, since "Many seek the favor of a generous man, and everyone is a friend to a man who gives gifts," (Proverbs 19:6) isn't it wiser to only allow taxpayer dollars to fund elections? Remember, our goal is to protect our republic.
PRAY.
Pray that the public will look beyond demonstrations and heated rhetoric to examine the facts and discover the truth about election laws. Pray that at the federal and state level, our officials will protect the votes of its citizens and guard against illegal or unjust activity.
ACT.
Our friends at True The Vote have resources to help you ensure that the elections in your community are administered honestly. From poll-watching to signature verification, these free courses are worthwhile pursuits in preparation for the Midterms in 2022.
---
Thousands of Cubans Stage Largest Protest Against Communist Dictatorship in Decades
"The people of Cuba on Sunday demonstrated their anger against the communist government in what is said to be the largest protest in decades amid shortages of medicine and food during the pandemic. Protests were held in cities around the Caribbean Island country, including in San Antonio de los Baños, Palma Soriano and Havana, according to reports. 'It is the most massive popular demonstration to protest the government that we have experienced in Cuba since '59,' the year Fidel Castro took power, Cuban activist Carolina Barrero was quoted as telling The New York Times. She called the protests 'spontaneous, frontal and forceful.' The slogans people shouted included 'Yes we can!' and 'Freedom,' The Washington Post reported. Videos also emerged on social media. Cuba has been a one-party state under the Communist Party of Cuba since the late dictator Fidel Castro overthrew the United States-supported dictatorship of Fulgencio Batista in 1959. In 2008, Castro's brother Raul Castro was elected president, followed by Miguel Díaz-Canel in 2019. International travel restrictions and months long COVID-19 lockdown within the country have caused an economic crisis in Cuba. Hours after the protests erupted, President Díaz-Canel addressed the nation on national television, urging government supporters to confront the protesters on the streets. He also accused the U.S. of causing the crisis in Cuba by imposing sanctions." read more at the Christian Post
THINK.
Cuba used to be a prosperous and free country. Sixty-two years of Communist rule has wrecked it economically and caused its people unimaginable physical suffering, especially during the pandemic. Now they have had enough. One video shows protestors carrying an American flag, echoing scenes of Hong Kong protestors. Why do oppressed people all over the globe associate liberty with America? It all goes back to our founding principles. Our country is unique because our founders recognized God as the foundation for true freedom. He endowed human beings with "certain inalienable rights" and established government to protect those rights. Since God Himself created positions of authority, those who occupy such positions are subject to Him (Colossian 1:16). God designed government to be protectors against evildoers, ministers of God, servants for our good (Romans 13:4-6). Because America was built on this foundation with a system designed to constrain government to this role as much as possible, liberty has historically triumphed, and we have been a beacon of hope for the whole world. In contrast, Communism exalts itself against God with no regard for His authority. It is a totalitarian system--seeking total control of people's lives, both physical and spiritual. It always fails to produce the egalitarian utopia it promises. While President Biden issued a statement against Cuba's "authoritarian regime," Cuban native Mike Gonzalez of the Heritage Foundation lamented that his statement came late after many others had already spoken up, and did not call out the Marxist ideology behind such oppression. Dictator Miguel Díaz-Canel has urged communist activists to "come out of their houses and quash the protests" and at least fifty-seven prominent anti-communist dissidents are now missing. Such dissidents, and their families, are met with violence and coercion at the hands of the government. Still, many young protestors have proclaimed that they are not afraid. Caleb Backholm, a past contributor to My Faith Votes, offered something we can resolve to do as well: "As the days go on, I plan to work to make sure Cuba can become more like us, and not the other way around."
PRAY.
Father, we ask that You help the people of Cuba. Give them increased numbers and courage in their fight against the ungodly communist government. Bring leaders forth within their people that will unite the masses against the tyranny they have experienced. We ask for other nations of the world to not stand idly by but to assist the people of Cuba. Bring revival to the Cuban people.
ACT.
One of the best ways we can help the Cuban people in their struggle for freedom is to protect it here in America. Teach the Biblical principles that make our nation free. One way you can do that with your kids is with The Tuttle Twins resources. Check it out here.
---
Biden, Trump Officials Headline Bipartisan Religious Freedom Summit 2021: 'Fundamental Human Right'
"A bipartisan three-day summit of persecuted religious minorities, advocates and politicians kicks off Tuesday in Washington, D.C., seeking to continue the momentum established by the U.S. State Department's two ministerials promoting religious freedom worldwide. Co-chaired by former Ambassador-at-Large for International Religious Freedom and former Kansas Gov. Sam Brownback, the gathering will bring together individuals from over 30 faith traditions and increase the 'public awareness and political strength for the international religious freedom movement.'" read more in the Christian Post
THINK.
The summit follows in the footsteps of the State Department's Ministerial Advancing Religious Freedom, started by then-Secretary of State Mike Pompeo in 2018 and 2019. The events were said to be the first and largest religious freedom summits in history. They took place as Brownback served as head of the State Department's International Religious Freedom Office, which he stepped down from when President Joe Biden took office. "Once again, the energy around religious freedom has far exceeded our expectations," said Brownback. "This freedom is a fundamental, universal human right that is essential to personal and societal flourishing. We're amazed and humbled by the incredible commitment of people from all over the world who will join us — many of whom are risking their lives by doing so — to advocate for religious freedom for everyone, everywhere, all the time." You can learn more about the Religious Freedom Summit and watch a portion of it here. Right now, almost 80 percent of the world's population live in countries where there are high levels of governmental or societal restrictions on religion, and restrictions have been steadily increasing. At My Faith Votes, we know the importance of religious freedom and are working to advance it through partnerships and other opportunities as well. In fact, we've established a partnership with the Religious Freedom Institute and through that, we recently sponsored 36 students from our partnering universities and colleges program to participate in the Religious Freedom Institute's virtual Statesmanship and Religious Freedom Seminar. Also happening in the US, the Montana Religious Freedom Restoration Act (MRFRA) or Senate Bill 215 was signed into law by Montana governor Greg Gianforte in establishing more legal protections for religious freedom among its citizens. The measure now gives citizens the power to challenge government regulations if and when they see that such regulations trample on their religious beliefs. In 1997, the U.S. Supreme Court held that the federal Religious Freedom Restoration Act only applies to the federal government but not states and other local municipalities within them. As a result, 21 states have passed their own RFRAs that apply to their individual state and local governments.
PRAY.
Almighty God, we pray for those who are threatened by persecution and violence because of their Christian faith. May they instead be strengthened by their faith in Jesus Christ. We pray for leaders of governments to uphold religious freedom and care for the well-being of all people, especially the vulnerable. We pray for Christians throughout the world who are persecuted, that they be freed from fear and anxiety, and strengthened in their courageous witness. We pray that Your Gospel will go forth no matter the opposition.
ACT.
Watch this short video from the Religious Freedom Institute called "Defending Religious Freedom in America: A Time of Crisis and Opportunity" to learn what is being done and why it's critical to preserve religious freedom in the US, not only for Americans, but for the world.
---
US Consumer Prices Surge in June by the Most Since 2008
Prices for U.S. consumers jumped in June by the most in 13 years, evidence that a swift rebound in spending has run up against widespread supply shortages that have escalated the costs of many goods and services. Tuesday's report from the Labor Department showed that consumer prices in June rose 0.9% from May and 5.4% over the past year — the sharpest 12-month inflation spike since August 2008. Excluding volatile oil and gas prices, so-called core inflation rose 4.5% in the past year, the largest increase since November 1991. The pickup in inflation, which has coincided with the economy's rapid recovery from the pandemic recession, will likely intensify a debate at the Federal Reserve and between the Biden administration and congressional Republicans about how persistent the accelerating price increases will prove to be. read more at the Associated Press
THINK.
Depending on which side of the aisle you hear from, you'll get a different story about the economy. Republicans on Capitol Hill responded with criticism for the Biden economic agenda and measures causing inflation. Indiana Rep. Jim Banks tweeted: "It's not a coincidence that Democrats took charge of the government, rammed through the largest so-called "relief" package in American history and now we're bracing for the highest inflation in decades. And they want to spend more! No thanks." Some Democrats say increasing inflation is a sign that President Biden's "build back better" recovery plan is working. According to Washington Post Economics Correspondent Heather Long, some of the items really driving up inflation are (up year over year): car rental (87.7%), used cars (45.2%), gas (45.1%), laundry machines (29.4%), airfare (24.6%), moving (17.3%), hotels (16.9%) and bacon (8.4%). The rising cost of basic necessities will hit hardest for people with lower incomes. Some businesses are also struggling to find workers, as supplemental unemployment benefits have encouraged workers to stay home. On July 15, the first payment from the new expanded child tax credit will be sent to some 39 million qualified families with about 65 million children, according to the IRS. The enhanced tax credit was established in March, when President Biden signed the American Rescue Plan. For 2021, the maximum credit is $3,600 for children younger than age 6 and $3,000 for those between 6 and 17. The Urban Institute estimates that the advance portion of the Child Tax Credit alone will reduce the share of children in poverty from 13.7 percent to 11.3 percent. The U.S. Department of Agriculture will also continue reimbursing schools and childcare centers in order to provide free breakfast and lunch to all students in the US, regardless of their income, through the 2021-22 school year. But as The New York Post noted last month, Americans should be prepared to pay as much as five percent more for the goods and services than they did last year as inflation indicators rise at a pace not seen in decades. Scripture is clear that we, as Christians, should work, if possible, to provide for ourselves and for others who cannot. (Acts 20:34-35.) If you have been blessed with a good job, be on the lookout for the needs of others.
PRAY.
Lord, we desire to be good stewards. We do not want to waste resources or use them selfishly with desires of personal gain. Allow us to align our priorities with Yours in valuing the souls for which you died more than the resources we've been given. Give us a greater passion for others through spreading the Good News.
ACT.
When being good stewards of the money God has entrusted us with, how does a person know if they are spending it with companies who are also stewarding money well? An organization called 2nd Vote has researched over 1600 companies and formulated a score for each one that reflects their stances on Judeo-Christian values. On a scale from 1.00 to 5.00, you can easily see how your money is used after it is spent. Learn more and search company scores here.
---
My Faith Votes—is a nonpartisan movement that motivates, equips and activates Christians in America to vote in every election, transforming our communities and influencing our nation with biblical truth. By partnering with national faith leaders, My Faith Votes provides resources to help Christians Pray, Think, and Act to create an America where God is honored in the public square.
Website | www.myfaithvotes.org Twitter | @MyFaithVotes Facebook | My Faith Votes
---
React
---
Comments