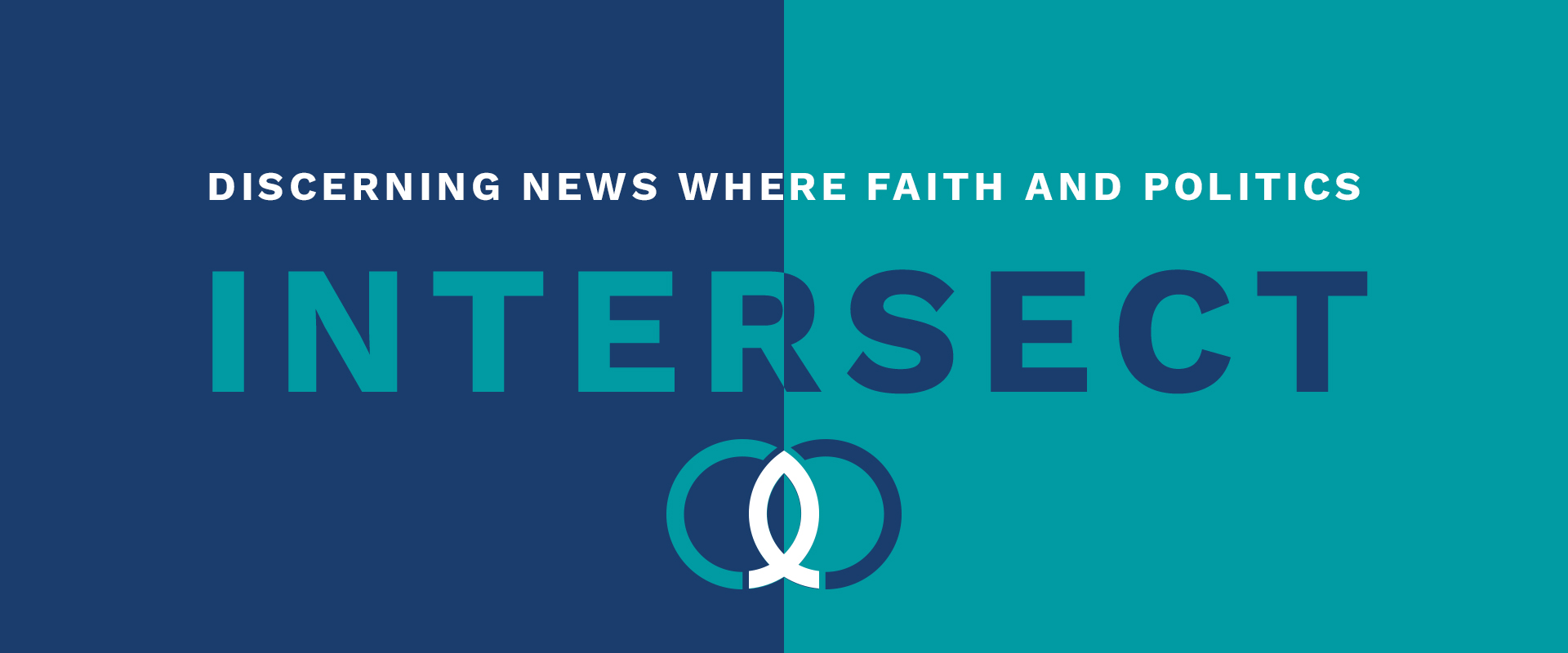 WEEKLY NEWS SUMMARY - JANUARY 8, 2020
In this week's Intersect, read about:
---
Iran Abandons Limits of 2015 Nuclear Deal after Top General Killed in US Airstrike
Iran officials announced Sunday they will abandon the rogue nation's commitments to the 2015 nuclear deal with world powers after the United States killed one of Iranian Gen. Qassem Soleimani in an airstrike in Baghdad Friday. Sunday's announcement, which represented the clearest nuclear proliferation threat yet made by Iran since President Trump unilaterally withdrew from the accord, came after another Iranian official said it would consider taking even-harsher steps over the killing of Soleimani. It also threatened to inflame regional tensions further, as Iran's longtime foe Israel has promised never to allow Iran to be able to produce an atomic bomb. Hundreds of thousands of people flooded the streets in Iran Sunday to walk alongside a casket carrying the remains of Soleimani, the former leader of its expeditionary Quds Force that has organized Tehran's proxy forces in the wider Mideast. Iran's state TV cited a statement by President Hassan Rouhani's administration saying the country will not observe limitations on its enrichment, the amount of stockpiled enriched uranium as well as research and development in its nuclear activities. Meanwhile, Iraq's parliament voted in favor of a resolution aimed at expelling the 5,000 U.S. troops stationed there over the war against the Islamic State terror network. read more
THINK.
A quick recap: On December 27, Kata'ib Hizbollah (a militia group with Iranian ties) attached a military base near Kirkuk with rockets, killing an American contractor and wounding several American and Iraqi personnel. On December 29, President Trump ordered airstrikes in sections of Iraq and Syria. On December 31, supporters of Kata'ib Hizbollah stormed the U.S. embassy in Baghdad. On January 2, Qassem Soleimani, the head of Iran's elite Quds military force, was killed. And on Sunday, a hacker uploaded photos onto a federal website that included an Iranian flag and an image depicting a bloodied President Trump being punched in the face. According to the State Department, Soleimani was responsible for the deaths of at least 603 Americans in Iraq and beyond. In response to his death, hundreds of thousands of Iranians are mourning and chanting "Death to America." While Republicans are applauding President Trump, Congressional Democrats are outraged at the death of Soleimani. House Speaker Nancy Pelosi plans to introduce and vote on a war powers resolution to limit President Trump's military actions against Iran. As bipartisan friction on Capitol Hill continues to increase and tensions between Iran and America continue to escalate, Christians should continue to pray (1 Timothy 2:1-2).
PRAY.
Pray for our leaders to have wisdom as they fight terrorism and protect innocent people. And pray for justice to prevail against evil and for peace to come to this war-torn region of the world.
ACT.
Take a few minutes to read about the implications of Qassem Soleimani's death, what comes next, and how Christians can respond. Our friend, Dr. Jim Denison breaks it all down.
---
Massachusetts Bill Would Give Doctors 'Birth or Death' Decision, Allowing Abortion up Till Moment of Birth
A new measure introduced to the Massachusetts state legislature would permit a woman to get an abortion after 24 weeks if a doctor determines that "the abortion is necessary to protect the patient's life or physical or mental health." The National Review reports that abortion is legal in The Bay State for any reason before fetal viability, which is generally somewhere between 22 and 24 weeks of pregnancy. The bill known as the "Roe Act" defines "mental health" in the exact language that the Supreme Court used in the Roe v. Wade companion case Doe v. Bolton: "all factors—physical, emotional, psychological, familial, and the person's age-relevant to the well-being of the patient." This essentially allows for abortion on demand up until the moment of birth, according to the National Review. The Roe Act would also allow abortion if a doctor surmises the unborn child would be "incompatible with sustained life outside the uterus." While the right to abortion is already in the Massachusetts state constitution, the measure would effectively guarantee the doctor's right as well. read more
THINK.
Today, 21 states (including Massachusetts) require minors to obtain parental consent before getting an abortion. However, this proposed law would change this requirement and permit any underage girl to get an abortion without her parents' knowledge as long as she has given informed consent. Worldwide abortion is on the rise. Over 42 million pregnancies were terminated in 2019, making abortion the leading cause of death in the world. That's 125,000 abortions per day. In the United States, 22 percent of all pregnancies ended in abortion, and sadly our culture continues to encourage and celebrate abortion. Just days ago at the Hollywood Golden Globes awards ceremony, actress Michelle Williams stated in her acceptance speech: "I wouldn't have been able to do this without employing a woman's right to choose, to choose when to have my children and with whom." Lila Rose, President of Live Action responded on Facebook stating, "No trophy is worth more than a child's life. Sacrificing our children to pursue our dreams is the total antithesis of women's empowerment." Well said, Lila! Christians must continue to boldly advance a biblical worldview where every child is seen as a gift from the Lord (Psalm 127:3).
PRAY.
Pray for a culture of life to be advanced in our nation. And pray for Christians to be a people who stand up in defense of the voiceless in the womb (Isaiah 49:15).
ACT.
On January 24, hundreds of thousands of pro-life people will gather together in Washington D.C., and at sites across the nation, to march for life. We will be in Washington D.C. at the march, and we hope to have you join us either in person, via live stream or at a location near you. Get all the information on the March for Life here.
---
United Methodist Church, 3rd-Largest Denomination in U.S., Announces Plan to Split over Same-Sex Marriage, LGBT Clergy
The United Methodist Church, the third-largest Protestant denomination and the largest mainline Protestant denomination in the United States, announced a plan Friday to split over irreconcilable divisions regarding same-sex marriage and LGBT issues including the ordination of LGBT clergy. Under the plan, which will have to be approved at the denomination's worldwide conference in May, the "traditionalist" branch will receive $25 million from the central Methodist church to establish their new denomination. A significant number of traditionalist churches will be located in Africa, where the majority of Methodist congregations oppose same-sex marriage. There will be many in the United States as well. The historic schism comes months after a protracted and contentious debate in the church over homosexuality, with numerous advocates lining up on either side. One group of activists last fall called for the church to be split into four separate denominations. Last month a Methodist megachurch in Texas, specifically citing the ongoing and draining homosexuality debate, left the wider organization and joined a conservative denomination in that state. read more
THINK.
If this plan is adopted, it would be the largest denominational split since the 1840's when Baptists and Methodists divided regionally over the issue of slavery. However, some believe the General Conference will likely amend this plan if it is accepted in May. John Stonestreet, President of the Colson Center for Christian Worldview wrote about this issue stating, "describing this as a 'split' assumes that both groups will still be Christian. In his book, 'Christianity and Liberalism,' early 20th-century Presbyterian theologian J. Gresham Machen argued that theological liberals—who in his day were denying core doctrines about Christ—weren't just Christians with new views, but members of a new religion altogether. Denominations that celebrate sexual sin and killing the unborn as a right are denying core truths about humanity. Theirs is also a different religion. For the Methodists who remain faithful to their tradition, this is a tough day—not just because their church has split. It's tough because so many within that church chose to abandon the faith." The Scriptures clearly testify that we are all broken sexually. Homosexual behavior is a former manner of life, but Jesus died to give us new life and show us a way to experience the fullness of life. And these former LGBTQers recognized it firsthand. We may disagree with those who support or engage in homosexual behavior, but our love is not contingent upon agreement (1 Corinthians 6:9-10, 1 Timothy 1:8-11, Romans 1:26-27).
PRAY.
Pray for leaders in the Methodist Church to not abandon the Word of God. Pray for them to have the courage to stand for God's teachings rather than caving to culture's demands.
ACT.
Culture's affirmation, advancement, and celebration of homosexuality are growing at a rapid pace. This is not a topic committed Christ-followers can avoid, and many of us have had to ask the question, "What is the best way, as a Christian, to engage with someone who is gay?" We recently had a captivating conversation with Becket Cook, author of "A Change of Affection: A Gay Man's Incredible Story of Redemption". As someone who lived a gay lifestyle, apart from God, and is now redeemed, choosing to live a life set apart for the Kingdom, there is no one better than Becket to help us navigate this critical topic. Watch our interview with Becket here.
---
Australia's Deadly Wildfires are Showing No Signs of Stopping
Australia is being ravaged by the worst wildfires seen in decades, with large swathes of the country devastated since the fire season began in late July. A total of 24 people have died nationwide, and in the state of New South Wales (NSW) alone, more than 2,000 homes have been destroyed or damaged. State and federal authorities are struggling to contain the massive blazes, even with firefighting assistance from other countries, including the United States. There have been fires in every Australian state, but New South Wales has been hardest hit. Blazes have torn through bushland, wooded areas, and national parks like the Blue Mountains. Some of Australia's largest cities have also been affected, including Melbourne and Sydney -- where fires have damaged homes in the outer suburbs and thick plumes of smoke have blanketed the urban center. Earlier in December, the smoke was so bad in Sydney that air quality measured 11 times the "hazardous" level. The fires range in area from small blazes -- isolated buildings or part of a neighborhood -- to massive infernos that occupy entire hectares of land. Some start and are contained in a matter of days, but the biggest blazes have been burning for months. In NSW alone, more than 100 fires are still burning. read more
THINK.
Australia's government has called up 3,000 army reservists to assist with evacuations. Over the past six months, the fires have burned about 14.5 million acres (similar to the size of West Virginia). This is more than triple the area destroyed by the 2018 fires in California and six times the size of the 2019 fires in the Amazon. Police have charged twenty-four people in Australia for deliberately starting fires and legal action has been taken against an additional 159 people. The fires have killed at least 24 people in Australia and destroyed almost 2,000 homes. They have also killed nearly 500 million birds, reptiles, and mammals. We don't know why God allows this, but we do know God can redeem this. God doesn't cower at our questions but does draw near to us in our loss (Psalm 34:18, Genesis 50:20, Ephesians 1:10-11).
PRAY.
Pray for protection for the people in Australia and for the thousands of firefighters working tirelessly to get these fires under control.
ACT.
Many people believe that climate change is to blame for these fires, yet data reveals encouraging trends in climate change that activists seem to be ignoring. Take a few minutes to watch this informative video from Prager U, Climate Change: What's so Alarming?
---
My Faith Votes—is a nonpartisan movement that motivates, equips and activates Christians in America to vote in every election, transforming our communities and influencing our nation with biblical truth. By partnering with national faith leaders, My Faith Votes provides resources to help Christians Pray, Think, and Act to create an America where God is honored in the public square.
Website | www.myfaithvotes.org Twitter | @MyFaithVotes Facebook | My Faith Votes
---
React
---
Comments