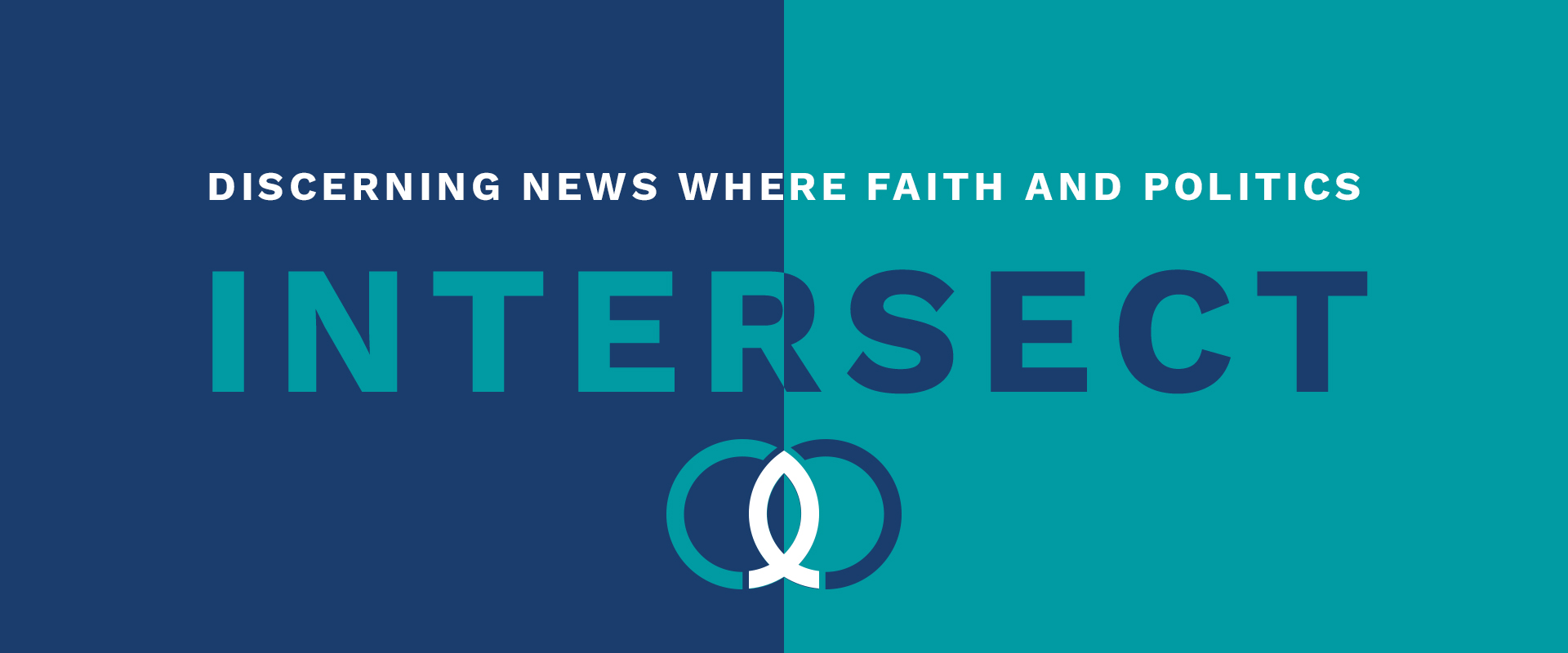 WEEKLY NEWS SUMMARY - JANUARY 25, 2023
In this week's Intersect, read about:
---
Tens of Thousands Demand End to all Abortion at First March for Life Since Fall of Roe
"At least tens of thousands of pro-lifers braved the cold to march to the U.S. Capitol building for the 50th annual March for Life, for the first time celebrating the fall of Roe v. Wade instead of having to again demand it be overturned. As the first national March to occur since the U.S. Supreme Court overturned Roe in 2022's Dobbs v. Jackson Women's Health Organization, the theme this year is 'Next Steps: Marching into a Post-Roe America.' As such the path concluded not at the Supreme Court building but at the Capitol, where legislative battles will continue over taxpayer funding of Planned Parenthood, Democrat efforts to codify a 'right' to abortion, federal protections for the preborn, and more." read more at LifeSiteNews
THINK.
PRAY.
Heavenly Father, we praise You for the victories You have brought about in this battle for life. We know it is not Your intention for governments to sanction the murder of your image-bearers. Give us wisdom as we advance the sanctity of life through laws and give us love and grace as we minister to mothers in need. In Jesus' name, amen.

ACT.
My Faith Votes is thrilled to partner with Texas Rally for Life for the annual rally taking place this Saturday, January 28, outside the Capitol in Austin. Our CEO, Jason Yates, will be there, along with some of our Action Partner volunteers and we'd love for you to join us! Be sure to look for the My Faith Votes table and signs. If you need a ride to Austin, Texas Rally for Life has information about busing and carpool options right here.
---
NHL Player Refuses to Wear LGBT Pride Jersey, Cites Christian Faith
"A prominent NHL player ignited a debate within the sports and religious worlds when he cited his Christian faith in refusing to participate in his team's LGBT Pride celebration. Ivan Provorov, a Philadelphia Flyers defenseman who is tied for the team lead in games played, declined to participate in pre-game warmups in which his teammates wore Pride-themed rainbow jerseys and carried hockey sticks wrapped in rainbow tape. 'I respect everybody, and I respect everybody's choices. My choice is to stay true to myself and my religion,' said Provorov, who was born in Russia and identifies as Russian Orthodox." read more at Christian Headlines
THINK.
PRAY.
Lord, You remind us throughout scripture that we will be hated because of You. I thank You for those, like Ivan Provorov, who have demonstrated courage by standing for You, despite the cost. I ask for courage and strength to boldly live out my faith and trust in You in an increasingly hostile culture. As 1 Corinthians 1:18 says, "For the word of the cross is folly to those who are perishing, but to us who are being saved it is the power of God."

ACT.
The world wants us to pledge our allegiance to the identities it deems acceptable and good. If we don't, religious freedom will continue to be seen as subversive of the common good and be increasingly restricted. It's important that we, as Christians, make a personal pledge to honor God in every area of our life, no matter the cost. Will you make that pledge with me today? Use 1 Peter 3:13-17 as a basis.

---
FBI Finds More Classified Documents in 13-hour Search of Biden Home
"The FBI found more classified documents at the Wilmington, Delaware, home of President Joe Biden during a consensual search Friday that lasted nearly 13 hours, his personal lawyer and a prosecutor said Saturday evening. The discovery was the fourth time since November that classified records or material has been found at a private address of Biden's. His personal lawyer Bob Bauer, in a statement, said the Department of Justice seized 'six items consisting of documents with classification markings and surrounding material.'" read more at CNBC
THINK.
Dating back to Biden's time as Senator and Vice President, the total number of misplaced documents found since November is now between 25 and 30. This fourth discovery has the President facing bipartisan heat from Congress. The President says he has "no regrets" about how he and his team have handled the discovery and disclosure of classified documents.
Attorney General Merrick Garland has appointed special counsels to investigate both former President Trump and President Biden's actions regarding classified documents. Special counsel Jack Smith has been tasked with figuring out if former President Trump broke any laws and obstructed the investigation into the classified documents found at Mar-a-Lago. Former U.S. Attorney for the District of Maryland Robert Hur was tapped as special counsel in the investigation into the classified documents found at President Biden's home and at the Penn Biden center.
Yesterday it was announced that classified documents have also been found at former Vice President Mike Pence's home in Indiana.
Any former president, vice president and a few others, by law, have access to classified information by the nature of the position they held. But no one may remove classified information without proper authorization, including the president. Questions remain about how and why classified information was found outside of a controlled environment. Keeping track of thousands of pieces of information is likely a shared effort by a team larger than just the president. This may help to explain the problem, but it doesn't excuse the actions.
Regarding important documents, the US Supreme Court announced Thursday that an internal investigation failed to identify the person who leaked Justice Samuel Alito's draft opinion overturning Roe v. Wade. The report said there were 126 formal interviews with 97 employees, all who denied being the source. However, several acknowledged sharing the draft with a spouse or partner, which is in violation of court rules. The Court called the leak "one of the worst breaches of trust in its history."
Americans remain deeply distrustful of and dissatisfied with their government. Security breaches like this, whether intentional or not, only exacerbate that distrust. But it doesn't mean we step back from or step out of politics. In fact, I hope it encourages us to press in. Integrity is needed now more than ever.
PRAY.
As Micah 6:8 says, "He has told you, O man, what is good; and what does the Lord require of you but to do justice, and to love kindness, and to walk humbly with your God?" Lord, I pray for these words to be true in my life as well as in the lives of those who serve me in government.

ACT.
Standards for justice were established by the author and definer of the entire universe - God. Do we understand how the justice system works in our own government? We created this helpful guide for you to have a better understanding of the American Justice Systems as well as how you can be praying. Feel free to download and share.
---
CDC Urges Public Schools to Embrace LGBTQ Inclusivity, 'Denies the Reality of Sex'
"The Centers for Disease Control and Prevention (CDC) has released material urging teachers and administrators to embrace LGBTQ causes. While the CDC describes the motivation as helping schools become more inclusive, critics say the agency is overstepping its field to push a political agenda." read more at CBN New

THINK.
Why is the CDC giving input on what should be taught? Some important aspects of the CDC's guidelines include:
This guide is not mandatory. It is crucial that your school board knows this.
Its stated purpose is "to assist schools and districts in addressing the health and academic needs of LGBTQ students," putting schools who don't utilize it in a bad light.
It is meant for anyone connected with a school–from the school board, to teachers, to nurses, to outside organizations working in partnership with a school, including "faith-based institutions".
While voluntary, it opens the door for future compliance enforcement and funding restrictions if compliance is not met.
This "tool" also recommends resources and guidelines to fully immerse every public school learning experience, classroom, and school activity in LGBTQ ideology. The publication date of this "tool" is October 2020. This effort has been going unnoticed for quite some time now.
As we have talked about in previous Intersects, the goal of this type of assessment is to "gently" nudge everyone involved in the public education system into becoming an ally to the LGBTQ agenda with unconditional acceptance and support of LGBTQ individuals and issues.
This was created with your tax dollars.
Instead of accepting the government's ideas of how to best serve students, let's look to Christ, the greatest servant leader and teacher. Focus on the Family has many resources for navigating LGBTQ issues with grace and truth. You can find them at the bottom of their article regarding the CDC's guidelines.
PRAY.
Lord Jesus, I know that in any role in which You have placed me, I have the joy of serving You. Help me to "work heartily, as for the Lord and not for men, knowing that from the Lord [I] will receive the inheritance as [my] reward." (Colossians 3:23-24) Give me wisdom and knowledge, and courage to do and say what is right and always honoring You
ACT.
Parents: Please contact your local school board members to inquire if your district has utilized this "CDC Assessment Tool". You can also send a letter to your child's teacher notifying them of your concerns and requesting pre-notification and prior approval before any subjects or materials are used/discussed in the classroom that relate to LGBTQ issues or persons. Feel free to utilize this sample letter (MS Word / Google Docs).
---
My Faith Votes—is a nonpartisan movement that motivates, equips and activates Christians in America to vote in every election, transforming our communities and influencing our nation with biblical truth. By partnering with national faith leaders, My Faith Votes provides resources to help Christians Pray, Think, and Act to create an America where God is honored in the public square.
Website | www.myfaithvotes.org Twitter | @MyFaithVotes Facebook | My Faith Votes
---
React
---
Comments