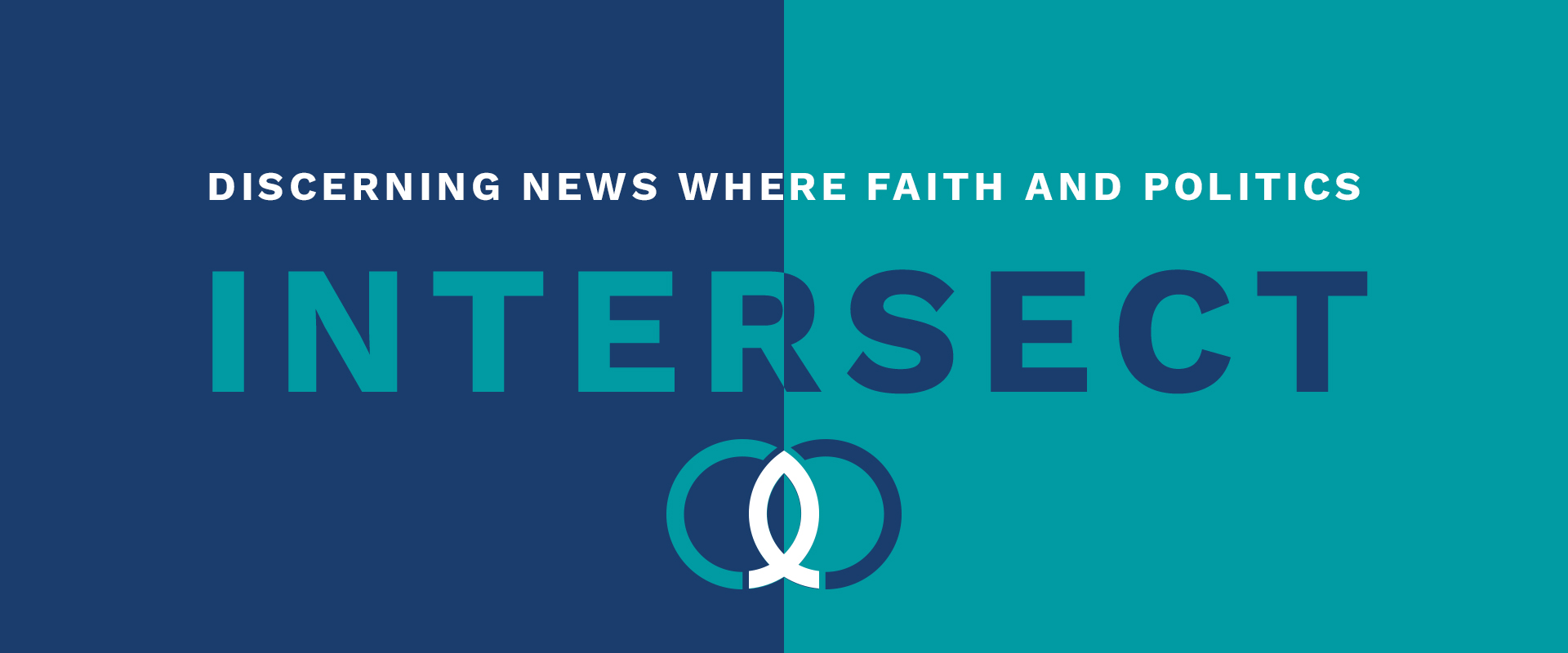 WEEKLY NEWS SUMMARY - JANUARY 19, 2022
In this week's Intersect, read about:
---
Supreme Court Halts Biden's COVID-19 Vaccine Mandate for US Businesses
"The Supreme Court has stopped the Biden administration from enforcing a requirement that employees at large businesses be vaccinated against COVID-19 or undergo weekly testing and wear a mask on the job. At the same time, the court is allowing the administration to proceed with a vaccine mandate for most health care workers in the U.S. The court's orders Thursday during a spike in coronavirus cases was a mixed bag for the administration's efforts to boost the vaccination rate among Americans." read more at CBN News
THINK.
Two weeks ago, the Court was asked to decide whether to allow the mandates to take effect while the lawsuits against them are heard by the Sixth U.S. Circuit Court of Appeals. On Thursday, the Supreme Court ruled 6-3 to halt the OSHA mandate from taking effect but ruled 7-2 to allow the mandate to proceed for healthcare facilities receiving federal Medicare or Medicaid funding. Justices Alito and Thomas were the dissenting votes on the latter decision. The Court's opinion regarding OSHA stated, "Administrative agencies are creatures of statute. They accordingly possess only the authority that Congress has provided." We should go one step further in our minds and remember that Congress only possesses authority expressly provided by the Constitution. This case is not really about vaccines; it is about a larger principle, as Albert Mohler pointed out: "If a president can instruct his secretary of labor, without legal authority, to instruct a federal agency to mandate that employers require employees to be vaccinated, what could it not require?...If a federal agency can mandate vaccinations without respecting religious employers, what about LGBTQ policies or anything else that comes down the pike?" Heritage Foundation President Kevin Roberts also issued a strong statement, ​​"The court's rebuke of this overreach is certainly welcome. However, Americans who cherish our Constitution and the rule of law have a great deal of work left to do in pushing back against the Biden regime's radical response to the pandemic, whether it be disastrous public health policy, extreme social spending proposals like 'Build Back Better,' or the assault on the integrity of our elections through legislation that would undo basic electoral safeguards like voter ID in all 50 states." One issue to keep an eye on is the news that at least nineteen federal agencies have developed or proposed to develop a list of all their employees who have requested a religious exemption. According to the Daily Signal, "The agencies plan to collect religious affiliation, the reasons and support given for religious accommodation requests, names, contact information, date of birth, aliases, home address, contact information, and other identifying information. These lists will be shared between federal agencies." The reason for creating such a list is not clear, but it possesses an ominous sign.
PRAY.
Heavenly Father, thank you that despite many concerning decisions in the last few years, we still live in the freest country in the world. Help us to glorify You with that freedom and engage in the effort to preserve it. This year, let us elect public servants who humbly submit to Your will and protect the rights You have given us to serve You. In Jesus' name, amen.
ACT.
James 5: 14-15 says, "Is anyone among you sick? Then he must call for the elders of the church and they are to pray over him, anointing him with oil in the name of the Lord; and the prayer offered in faith will restore the one who is sick, and the Lord will raise him up, and if he has committed sins, they will be forgiven him." There are so many among us struggling with sickness and Covid. Join in prayer, asking God to bring an end to this illness and all the tentacles of destruction it has brought throughout America and the world. Use this powerful prayer from the book of Daniel as a prayer guide.
---
Glenn Youngkin Takes Office as Virginia's Governor, Vowing to 'Restore Trust in Government' and 'Power to the People'
"Glenn Youngkin was inaugurated as Virginia's 74th governor Saturday, ushering in a shift in the commonwealth's political landscape after years of Democratic control and fulfilling campaign promises he pledged to tackle on his first day in office. Youngkin, the first Republican to win statewide office in Virginia since 2009, was sworn in after the other two candidates on the GOP ticket, Lieutenant Governor Winsome Sears and Attorney General Jason Miyares, were inaugurated. But the new governor said the day was not about the partisan differences in the commonwealth, vowing to be a voice and advocate for all Virginians in an inaugural address where he condemned the 'toxic' nature of today's politics." read more at WRIC News
THINK.
The new Governor immediately went to work by trying to deliver on promises he made on the campaign trail, signing 11 executive actions aimed at a variety of issues ranging from banning Critical Race Theory in schools to cutting regulations and vaccine and mask mandates. Not all school districts were on board with the changes and the mask mandate is giving a clear view of how the new Virginia Governor plans to lead and ensure "parents' rights are protected." Youngkin's faith will play an important role in how he leads. Last fall, state senator Steve Newman said of Youngkin, "There is no one running for governor, who I am aware of, who is bolder about their faith than Glenn. He talks freely about being a sinner saved by grace and being led to the Lord by his soon-to-be wife at Rice University. He has given his very personal testimony at every single meeting I attend with him. It's not about religion for him, it is about his Savior. When he has lived in parts of the world without a church, he has started them in his house. Faith is not just a religious concept for Glenn. He lives and breathes it." New Attorney General Jason Miyares also made news by announcing investigations into the Virginia Parole Board and Loudoun County Public Schools. He stated, "One of the reasons Virginians get so fed up with government is the lack of transparency - and that's a big issue here. The Virginia Parole Board broke the law when they let out murders, rapists, and cop killers early on their sentences without notifying the victims. Loudoun County Public Schools covered up a sexual assault on school grounds for political gain, leading to an additional assault of a young girl…Virginians have dealt with the horrific aftermath of these scandals, without understanding how or why they were able to happen." Youngkin faces a split legislature. Republicans gained control of the House of Delegates, but Democrats retained control of the state Senate, with a slim 21-19 majority. Winsome Sears, the new lieutenant governor, will preside over the Senate and cast tie-breaking votes. Through the help of over 1,000 volunteers from across the nation, My Faith Votes Action Partners hand wrote 100,000 postcards and 16,050 personal letters encouraging low-propensity Christian voters to be equipped and motivated to vote in the Virginia elections. We're grateful for the impact made in voter turnout.
PRAY.
Lord, we thank you for the good gift of human government, for those elected to punish evildoers and to commend those who do good. We pray for Virginia's newly elected officials. We intercede for all the departments, advisors, and administrations with whom they will work. Give them remarkable humility and wisdom, righteousness and integrity, patience and love for their people as they consider how to lead in these days.
ACT.
This year, 36 of the 50 Gubernatorial seats are up for election. 20 are Republican held seats and 16 are Democrat held seats. Is your state voting for Governor this year? (AL, AK, AR, AZ, CA, CO, CT, FL, GA, HI, ID, IL, IA, KS, ME, MD, MA, MI, MN, NE, NV, NH, NM, NY, OH, OK, OR, PA, RI, SC, SD, TN, TX, VT, WI, WY). If you live in one of these states, make sure your voter registration is up to date and receive voting reminders for all your elections. We've got the tool to do that right here.
---
Supreme Court to hear case of Christian football coach fired for praying on field after games
"The U.S. Supreme Court has agreed to hear the case of a Christian high school football coach who was fired from his job for praying on the field after games. The Supreme Court announced Friday it will hear oral arguments in the case Kennedy v. Bremerton School District, in which former Seattle-area football coach, Joe Kennedy, is seeking to reverse a lower court decision that allowed the school district to fire him because fans and students could see him take a knee in silent prayer at the 50-yard line after football games." read more at the Christian Post
THINK.
Because Coach Kennedy was a public-school employee, the district feared that his public prayer violated the establishment clause of the First Amendment, and constituted a government endorsement of religion. The irony, however, is that prohibiting his prayer actually violated the free exercise clause of the First Amendment, which says government can't prohibit the free exercise of religion. It also violated his First Amendment right to free speech. My Faith Votes joined an amicus brief of more than 70 organizations and individuals affirming that personal prayers are protected by the First Amendment. To claim otherwise would severely restrict the fundamental right to private religious speech and the freedom of speech for government employees all over the country. Sunday, January 16, was Religious Freedom Day. The day before, Islamic terrorist ​​Faisal Akram held members of a Jewish synagogue hostage for eleven hours in Colleyville, Texas. The standoff ended with his death and the hostages' freedom. Akram, a British citizen, was demanding the release of Aafia Siddiqui, who is serving 86 years in federal prison for attempting to kill U.S. soldiers in Afghanistan in 2008. Siddiqui is known as "Lady al-Qaeda" because of her suspected ties to the terrorist group. At her trial and conviction in 2010, Siddiqui blamed the verdict on Israel, saying it came "from Israel and not from America. That's where the anger belongs." Despite these facts, the FBI initially stated that the synagogue hostage situation was not directly connected to the Jewish community but later changed the classification. Israeli Prime Minister Naftali Bennett pointed out that the U.S. "in recent years has been dealing with surging anti-Semitism and a sense of a lack of basic security." And a recent report by the American Jewish Committee showed that almost one-quarter of American Jews had experienced anti-Semitism in the past year. Religious liberty is protected when the government performs two duties: 1) Restrain evildoers who attack people of faith. 2) Restrain itself from suppressing people's right to exercise their faith. The United States has an exceptional history of prioritizing this because our founders recognized that our rights come from God, and therefore the freedom to worship is paramount. Let us pray that we, and our elected officials, continue to uphold this legacy.
PRAY.
Pray for Coach Kennedy, his attorneys, and the Supreme Court justices who will hear his case. Pray that the court will rule in a way that restores the original meaning of the First Amendment. Pray also for protection for our Jewish neighbors who face a hatred that goes back thousands of years. "Let Israel now say—if it had not been the Lord who was on our side when people rose up against us, then they would have swallowed us up alive." (Psalm 124:1b-3a)
ACT.
My Faith Votes had the privilege of interviewing former Secretary of State Mike Pompeo. We discussed the most pressing threats facing America today, the state of religious freedom, and the importance of standing with our ally, Israel. You can watch our conversation here.
---
This Year's March for Life Could Pave the Way for Finally Overturning Roe v. Wade
"Hundreds of thousands of pro-lifers are expected to converge Friday in Washington, D.C. for the annual March for Life. The peaceful pro-life demonstration happens every year on or near the anniversary of Roe v. Wade, the infamous U.S. Supreme Court ruling that forces states to legalize abortion on demand. Since 1973, more than 63 million unborn babies have been killed in legal abortions as a result. But this year brings renewed optimism that unborn babies could be protected from abortion again soon. Many hope that, by January 2023, Roe will be overturned – and the 2022 March for Life will be the last under the deadly ruling — sparking a new era of Marches where many states protect babies from abortion. 'We've eliminated evil in our country before,' National Review editor Kathryn Jean Lopez wrote this week, hopeful about a Mississippi abortion case before the Supreme Court. 'Dobbs v. Jackson Women's Health … is the reason this may be the last January March for Life,' Lopez continued. 'Roe was decided on January 22, 1973. If it's overturned in June, I'm hoping the march will move to June. The march would then be in thanksgiving.'" read more at LifeNews
THINK.
January 22nd, 2022, marks the 49th anniversary of the lamentable 1973 U.S. Supreme Court 7-2 decision which legalized abortion. Churches continue to recognize the third Sunday in January as Sanctity of Human Life Sunday. This year, that date fell on January 16, but some will mark it on the 23rd because it's closer to the Roe v. Wade anniversary. While Christians use the day to pray and mourn for the preborn who have been lost, many are not aware the annual church event originated in the White House. On the 10th anniversary of the Supreme Court decision, President Ronald Reagan wrote an essay about abortion that was published in The Human Life Review and which he later issued as a book titled "Abortion and the Conscience of the Nation," the only book ever published by a sitting U.S. President. The essay is one of the most forceful defenses of life and the strongest denunciations of abortion ever issued by an American president. A year later, Reagan issued Proclamation 5147 — National Sanctity of Human Life Day and proclaimed, "I call upon the citizens of this blessed land to gather on that day in homes and places of worship to give thanks for the gift of life, and to reaffirm our commitment to the dignity of every human being and the sanctity of each human life." While thousands march on Friday to make a statement that we stand for life, let us also not forget to take action every day to protect life. And one of those ways is to vote for life.
PRAY.
Lord, we thank and praise you for legislators and governors who have implemented laws to protect babies from abortion. We thank you for the people of Mississippi who have taken bolder steps than most states to protect children in the womb prior to the point of viability. Lord, we ask now that this law will be upheld as it is reviewed by the United States Supreme Court. Give the preborn, and our whole nation, a new and refreshing season of life. Bring us a new breath of freedom, a new measure of common sense, a rediscovery of justice and wisdom and a big step forward in building a culture of life.
ACT.
We'll be live-streaming from the March for Life in Washington, D.C. this Friday on our Facebook page. Be sure to tune in to watch after 12pm (ET).
---
My Faith Votes—is a nonpartisan movement that motivates, equips and activates Christians in America to vote in every election, transforming our communities and influencing our nation with biblical truth. By partnering with national faith leaders, My Faith Votes provides resources to help Christians Pray, Think, and Act to create an America where God is honored in the public square.
Website | www.myfaithvotes.org Twitter | @MyFaithVotes Facebook | My Faith Votes
---
React
---
Comments