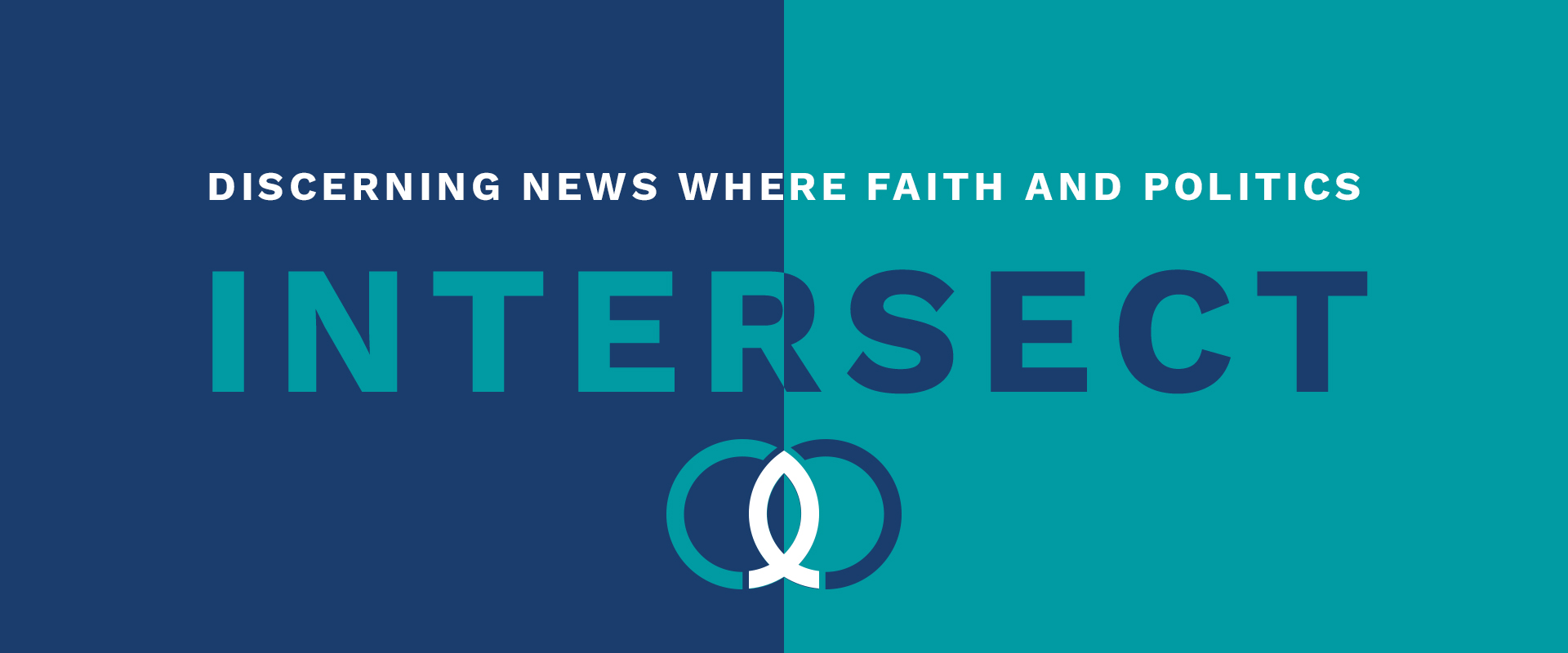 WEEKLY NEWS SUMMARY - JANUARY 13, 2021
In this week's Intersect, read about:
---
Vice President Pence Rejects Pelosi's Plan to Use 25th Amendment to Oust Trump
"Vice President Mike Pence sent a letter to House Speaker Nancy Pelosi on Tuesday rejecting her demand that he invoke the 25th Amendment in an effort to oust President Trump just one week before the last day of his term. Pence wrote, "With just eight days left in the President's term, you and the Democratic caucus are demanding that the Cabinet and I invoke the 25th Amendment. I do not believe that such a course of action is in the best interest of our nation or consistent with our Constitution." "I urge you and every member of Congress to avoid actions that would further divide and inflame the passions of the moment," Pence said. Democrats were already planning to impeach President Trump on Wednesday morning." read more at CBN News
THINK.
More than 200 House Democrats introduced a single article of impeachment Monday, charging the president with "incitement of insurrection" for "inciting violence against the government of the United States," after they say the president, with his rhetoric, encouraged a mob to attack the US Capitol building last week. Robert Ray, one of the lawyers who defended the President in his 2020 impeachment trial, stated that in contrast to the last years' impeachment charges that did not allege any crimes, the current allegations of inciting or aiding and abetting a riot do allege a specific crime. Now, the challenge is to determine if the president is guilty of doing so, either in his words or his actions. This calls for discernment by Christians, who are to be lovers of truth. We have included a link to the entire transcript of his speech so you can read it and decide for yourself. When a claim is repeated often enough, whether it is true or false, it becomes easier to reject critical thinking and simply believe the claim. However, that is not an option for Christians. The cornerstone claim of our faith--that Jesus physically rose from the dead--should be believed because it is backed up by evidence, not because many people believe it. After all, many believe he did not rise from the dead. Truth is the determining factor in evaluating any claim. The president is now declaring a state of emergency, stretching from January 11 through days after the Presidential Inauguration of Joe Biden. The order prompts FEMA to mobilize any federal resources necessary to alleviate the impacts of any emergency that may arise. At least 10,000 National Guard troops are being activated to keep peace in the nation's capital during the upcoming inauguration. At the same time, the FBI is warning of nationwide danger. Franklin Graham says impeachment would be a mistake. "I think it's a mistake because on one hand they talk about unity and bringing the country together, yet you try to impeach the president a second time," Graham said. "It's going to further divide the country." Graham has urged all Christians to pray for President-elect Biden and Vice President-elect Harris, and leadership in both parties. "Our country is in trouble. We need God's healing and we need God's help," he stated. A new administration will bring a wave of new changes and policy agendas. Considering what happened at the Capitol, Washington, D.C. Mayor Muriel Bowser (D) reiterated her call for DC statehood. "We must get statehood on the president's desk within the first 100 days of the 117th Congress," Bowser said during a news conference. "Congress must immediately transfer command of the District of Columbia National Guard from the president of the United States and put it squarely under the command and control of the District of Columbia." If accomplished, the immediate effect would be to expand the Democratic majority in Congress.
PRAY.
As we enter a new session of Congress, let's keep all of our governing authorities in prayer, according to 1 Timothy 2:1-4,8a: "First of all, then, I urge that requests, prayers, intercession, and thanksgiving be made on behalf of all people, for kings and all who are in authority, so that we may lead a tranquil and quiet life in all godliness and dignity. This is good and acceptable in the sight of God our Savior, who wants all people to be saved and to come to the knowledge of the truth...Therefore I want the men in every place to pray, lifting up holy hands, without anger and dispute."
ACT.
We've created a prayer guide and a simple way for you to send a message to your representatives in Congress, letting them know you are praying for them here.
---
Parler Suing Amazon After Hosting Service Removes Site from Internet
"Parler, the conservative alternative to Twitter, filed a lawsuit against Amazon Monday afternoon, just hours after the company removed the social media site from its web hosting apparatus, essentially scrubbing the platform from the internet. In the 18-page lawsuit, Parler alleges the decision by Amazon Web Services violates antitrust laws and is in breach of contract because AWS failed to provide 30 days' notice before terminating its account with Parler. "AWS's decision to effectively terminate Parler's account is apparently motivated by political animus," reads the legal complaint. "It is also apparently designed to reduce competition in the microblogging services market to the benefit of Twitter." In the emergency suit, Parler is seeking a temporary restraining order against Amazon's action to shut down the platform, arguing, "Doing so is the equivalent of pulling the plug on a hospital patient on life support," adding, "It will kill Parler's business — at the very time it is set to skyrocket." As CBN News previously reported, Parler was also suspended from the Apple App Store and Google Play over the weekend. In a memo to Parler, Apple said it had "received numerous complaints regarding objectionable content" on the platform, including allegations that the site was used "to plan, coordinate, and facilitate" the violent rioting that unfolded in the U.S. Capitol on Jan. 6." read more at Faithwire
THINK.
While Parler does not claim to exercise censorship of political views, it does have several guidelines, including rules against "an explicit or implicit encouragement to use violence, or to commit a lawless action, such that: (a) the Parleyer intends his or her speech to result in the use of violence or lawless action, and (b) the imminent use of violence or lawless action is the likely result of the parley, comment, or message." Last week, it removed a post from one of President Trump's lawyers that violated their rules. In light of President Trump being permanently removed from Twitter, Facebook and a number of other social platforms last week, several world leaders and politicians reacted negatively to the censorship. Alexei Navalny, a Russian politician critical of Vladimir Putin and who recently survived being poisoned, wrote, "Twitter is a private company, but we have seen many examples in Russia and China of such private companies becoming the state's best friends and the enablers when it comes to censorship." Another potentially devastating instance of free speech infringement is coming from the National Association of Realtors. They recently revised their professional ethics code that bans "hate speech and harassing speech" and which applies to their 1.4 million members on or off the job, written or spoken, whether online or offline. Punishment could include exclusion from the association and a maximum fine of $15,000. Anyone can file a complaint and report a member for a perceived violation. Due to the ambiguous wording of the guidelines, some realtors understandably fear the possibility that their privately expressed views on gay marriage, transgender pronouns, or Black Lives Matter could be seen as "hate speech" and subject them to punishment. As certain views, many of which are Biblical, come under attack, it is tempting to give in to panic. But remember, there are still many in authority who believe in the ability to freely discuss opposing ideas. While we keep an eye on these developing stories, determine now to seek truth, proclaim truth, and even be willing to sacrifice for doing so. As John 15:17-19 says, "This is My command to you: Love one another. If the world hates you, understand that it hated Me first. If you were of the world, it would love you as its own. Instead, the world hates you, because you are not of the world, but I have chosen you out of the world."
PRAY.
Pray that believers will not be discouraged by the disheartening developments in our society. Ask the Lord to give you wisdom and courage, personally, to speak the truth in love, with a spirit of grace.
ACT.
Constitution scholar Rick Green has produced a helpful video with practical action steps Christians can take in light of current and future events. His top three are: 1. Make sure your sources of information are truthful, 2. Meet with fellow believers regularly, 3. Stay connected online.
---
Planned Parenthood reports record-high abortions, taxpayer funding amid battles with Republicans
"Planned Parenthood reported a record-high number of abortions and government funding for 2018-2019, despite encountering a wave of Republican-led measures designed to restrict resources and access to the controversial procedure. Released on Monday, the annual report shows the group received $617 million in taxpayer funds for the fiscal year ending in June. That number represented roughly 37 percent of its overall funding and about a 9 percent increase from the previous year. The total could decline as the organization said in August it would sever millions of dollars in Health and Human Services grants after the administration blocked executive-level funding for clinics that refer clients for abortion. 'We stand at an inflection point for reproductive health and rights,' acting Planned Parenthood president Alexis McGill Johnson said in the report. 'Our opponents moved to dismantle our nation's program for affordable birth control this year, forcing providers like Planned Parenthood out of the program with an unethical gag rule,' she added before mentioning state and judicial challenges. The administration's so-called 'gag rule' received praise from pro-life figures who have been fighting for years to separate government funding from the nation's largest abortion provider. But groups like Live Action, which have urged Congress to remove its appropriations for Planned Parenthood, were disappointed by Monday's figures. 'This abortion machine, which is responsible for the taking of more than 345,000 preborn lives this year – a number consistently on the rise – should be defunded immediately and shut down,' said Alison Centofante, Director of External Affairs for Live Action." read more at Fox News
THINK.
While we are grateful for the tremendous progress for pro-life policies and legislation advanced by the Trump administration, learning that Planned Parenthood received its highest amount of federal funding is a heart-breaking blow. In total, Planned Parenthood had just over $1.6 billion in revenue in its 2018-2019 fiscal year. Also, at the federal level, the Supreme Court on Monday let stand a federal appellate court ruling that upheld a city's buffer zone ordinance around abortion facilities. The city of Pittsburgh can legally block pro-life activists from demonstrating within 15 feet of Planned Parenthood. At the state level, New Jersey Gov. Phil Murphy, a Democrat, and state officials introduced the Reproductive Freedom Act, which would enshrine abortion rights into state law and require most private health insurers to cover services. The law would also let advanced practice clinicians provide procedural abortions and give people ineligible for Medicaid coverage because of their immigration status access to pregnancy-related care, including abortion. "As the right to choose and access to health care are endangered by a more conservative U.S. Supreme Court, my administration will support, defend, and protect reproductive rights here in New Jersey," Murphy said. Lisa Hart, vice president of Morris County Right to Life, said, "This bill, nicknamed the 'License to Kill Bill,' or 'Kill at Will Bill' is the most radical bill ever proposed in our state." She continued, "It attempts to enshrine in perpetuity the ability to kill a baby in the womb through all nine months. It removes the conscience protection for medical workers. It allows non­doctors to commit abortions. Young pregnant girls can get an abortion without their parents' knowledge or permission, risking their health. And it forces every one of us to pay for it." While surgical abortion clinics in the US have decreased by 35 percent since 2009, chemical abortions are on the rise. COVID expanded access to those drugs. Last July, a federal judge suspended a Food & Drug Administration rule requiring women to see a doctor before abortion-inducing drugs are dispensed to them to have an at-home abortion. However, this week, Ohio Governor Mike DeWine signed a bill into law requiring that abortion-inducing drugs be taken in the presence of a physician, thus banning the practice of telemedicine abortions which are becoming more common. While all these stories bring to light the continued advancement of such a heinous act on the unborn, it should not cause us to give up. Instead, may they light a fire in our hearts to act and do something. Being pro-life should be central to the life of a Christian. Let's live like it.
PRAY.
God's heart is to see the act of abortion completely abolished, so we must pray adamantly that hearts and attitudes are drastically changed on every level, from the pregnant mom considering abortion to those working in abortion clinics and to those in government deciding on legislation. Pray that the hearts of our Supreme Court justices are turned so that Roe v. Wade is overturned, and abortion is made illegal. Pray for the hearts of women who have conceived, that Jesus instructs them about the new human life inside their bodies. Pray that God's love is heard when sharing moral and spiritual clarity with those who do not agree that abortion should be made unthinkable.
ACT.
As abortion becomes more and more accepted, celebrated, and legalized, Christians must have a winsome, gracious, and persuasive voice. The Life Training Institute equips and encourages Christians to do just that. Become familiar with their 3 easy steps to defend a pro-life view in their "5 Minute Pro-Lifer" guide here.
---
'Searching for Hope': More Than 200 Accept Jesus Christ at GA Revival, Mostly Young People
"From election controversy to run-off Senate races, the state of Georgia is Ground Zero when it comes to politics these days. But other news you may not have heard about concerns a move of God that's taking place about 90 miles northwest of Savannah, and another big tent will be going up, as part of the Swainsboro Awakening, Awake America Again Tent Crusade. So far, Evangelist D.R. Harrison says well over 200 people have accepted Jesus Christ as their Lord and Savior, and most of them are between the ages of 13 and 20. 'The pastor called back earlier in the year and invited us to come, and they'd been praying and seeking the face of God, and from the first service, the Power of God began to fall in this town,' Harrison told CBN News. 'And literally, teenagers are coming from everywhere, from all backgrounds, social statuses, high school, middle school, and the church is literally packed out with teens every night, searching for hope in Jesus Christ,' he continued." read more at CBN News
THINK.
Praise God for this incredible news out of Georgia! "In the midst of the chaos; in the midst of all of the stuff going on, God is still alive; He's still on the throne, and revival is still possible," Harrison emphatically stated. "Every revival that's ever taken place in history, has always come – and even in the Word of God – has always come when things were at its worst," he shared. "And we can all agree America is in desperate need today, and it is a perfect time for God to send a mighty awakening – a Great Awakening." Everyone can agree that the present state of our country is not good. Jesus said that the Holy Spirit will "convict the world of sin, and of righteousness, and of judgment." (John 16:8) What an opportunity to introduce others to Jesus, who can free them from the power of sin in their lives! Let us each continue to walk humbly before God as well. Abraham Lincoln issued a national call to prayer and fasting during the Civil War, and his words are particularly relevant to today: "As we know that, by His divine law, nations like individuals are subjected to punishments and chastisements in this world, may we not justly fear that the awful calamity of civil war, which now desolates the land, may be but a punishment, inflicted upon us, for our presumptuous sins, to the needful end of our national reformation as a whole People?...We have been preserved, these many years, in peace and prosperity. We have grown in numbers, wealth, and power, as no other nation has ever grown. But we have forgotten God. We have forgotten the gracious hand which preserved us in peace and multiplied and enriched and strengthened us; and we have vainly imagined, in the deceitfulness of our hearts, that all these blessings were produced by some superior wisdom and virtue of our own. Intoxicated with unbroken success, we have become too self-sufficient to feel the necessity of redeeming and preserving grace, too proud to pray to the God that made us!" Let's seek His face in prayer.
PRAY.
Father, we know that you oppose the proud, but give grace to the humble. Thank you that you do not want anyone to perish, but you desire that they should come to repentance. Help me to be aware of my sins and repent, trusting in the finished work of Christ. Use me to share your salvation with those in my life. In Jesus' name, amen.
ACT.
The #1 show on Apple's podcast app right now is The Bible in a Year, hosted by Fr. Mike Schmitz, a well-known Catholic priest and public speaker who directs the young-adult ministry in the Diocese of Duluth, Minn. Within 48 hours of its launch at the beginning of this year, the show had over 1.3 million downloads. Its popularity shows that so many of us are hungry for more than the news, for rest and hope within a world fraught with division. Take the challenge to begin your day in the Word. There are many great reading plans available to help you make it your daily habit. Here are a few tools to help you start.
---
My Faith Votes—is a nonpartisan movement that motivates, equips and activates Christians in America to vote in every election, transforming our communities and influencing our nation with biblical truth. By partnering with national faith leaders, My Faith Votes provides resources to help Christians Pray, Think, and Act to create an America where God is honored in the public square.
Website | www.myfaithvotes.org Twitter | @MyFaithVotes Facebook | My Faith Votes
---
React
---
Comments