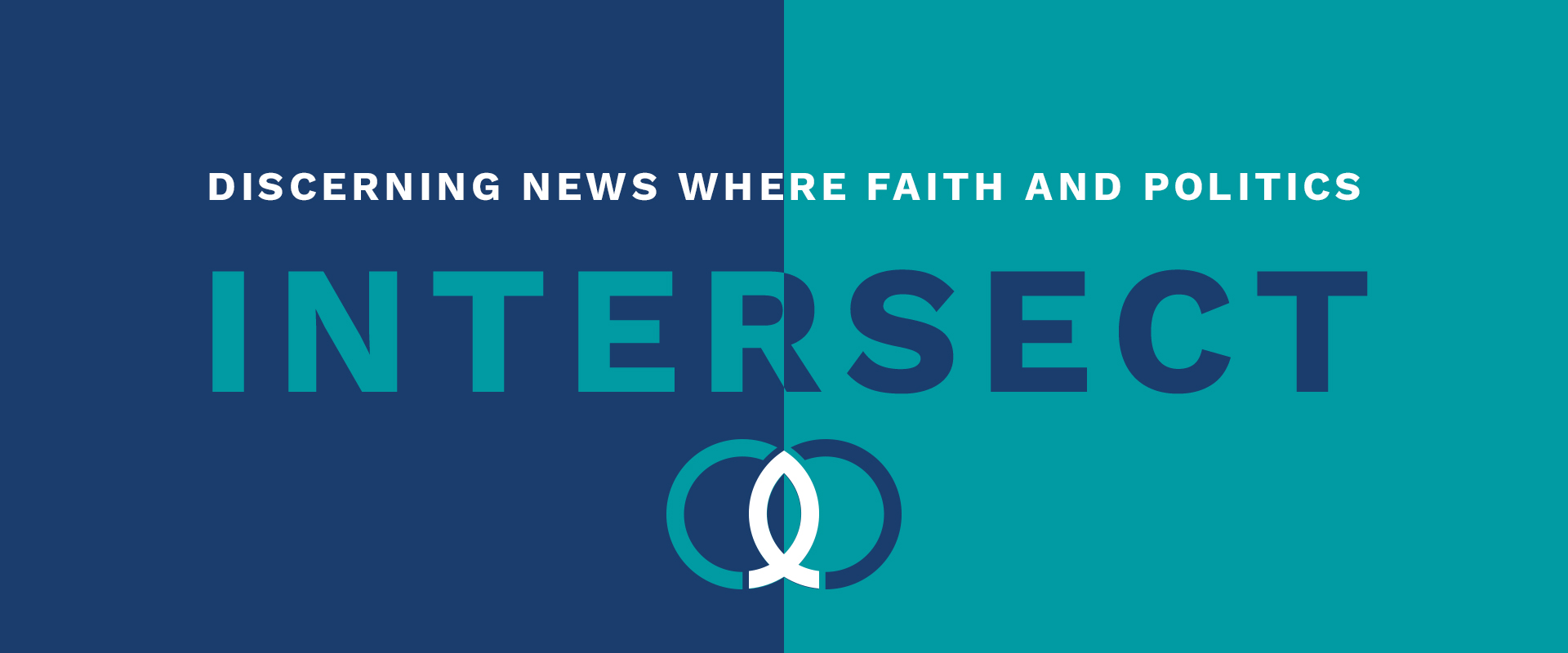 WEEKLY NEWS SUMMARY - JANUARY 11, 2023
In this week's Intersect, read about:
---
FDA to Allow Retail Pharmacies to Offer Abortion Pills
"The Food and Drug Administration will allow retail pharmacies to dispense abortion medication to women who have a prescription for the first time. Under the regulatory change, pharmacies that become certified can offer mifepristone, which is used with misoprostol to end a pregnancy, to patients who have received a prescription from a qualified health provider, a move that will expand access to the medication. Previously, the FDA had only allowed abortion medication to be prescribed and dispensed only by clinics, medical offices, hospitals, or under the supervision of a certified health provider." read more at The Washington Examiner
THINK.
PRAY.
We, who are in Christ, know that all humans are worthy of life because they bear the image of our holy God (Gen. 1:26–27). For the glory of Your name, Lord, let us forever and tirelessly contend for the imago Dei in all people, and especially in the unborn.
ACT.
Over half of all abortions are now done by swallowing two pills at home. But did you know a woman can change her mind and work to save her baby after taking the first pill? Our friends at Heartbeat International established the Abortion Pill Rescue Network which is open 24/7 to help stop an abortion in progress and save a life. Be aware of this resource and consider donating to help this needed work expand.

---
House GOP's Slim Majority Passes New Rules Aimed at Accountability, Reining in Federal Spending
"The slim House Republican majority scored its first big win Monday by passing a set of rules that make significant changes to the way the chamber operates and let lawmakers take aim at reckless government spending. Rules pushed by the most fiscally conservative House lawmakers will make it easier to pass bills that reduce federal spending and more difficult to raise the nation's borrowing limit or increase tax rates." read more at The Washington Times
THINK.
Just after midnight on Friday, Kevin McCarthy (R-CA) was named the 55th Speaker of the House by a vote of 216-212. McCarthy was finally sworn in at 1:30 a.m. ET Saturday, allowing him to swear in the present members of Congress and start the 118th Congressional session. Changes to the rules package were negotiated up through the 11th hour as part of a deal to earn McCarthy the votes for the speaker.
Adoption of the rules package is a routine step in setting up any new Congress, but what is traditionally seen as a "housekeeping" issue will now effectively determine how Republicans can govern the chamber. Here are a few highlights:
Reinstates a centuries-old rule allowing just one member to initiate a vote to remove the Speaker
Voting on 12 budget bills individually rather than as a single omnibus budget bill
Increases the review period before a bill reaches the floor to 72 hours
Ends the Democrats' "pay-as-you-go" rule, often shorthanded as PAYGO. It had required legislation that would add to the deficit to be offset with tax increases or spending cuts. PAYGO is replaced with what's called CUTGO, which requires mandatory spending increases to be offset only with equal or greater decreases in mandatory spending — no new taxes allowed.
Ends the use of proxy voting and remote committee proceedings, ensuring that all Members show up in person to fulfill the jobs they were elected and are expected to do, rather than phone in
The Constitution is all about the separation of power, not the concentration of power into the hands of the longest-standing politician, whether Democrat or Republican. The concessions gained by the Freedom Caucus make the Speaker a bit weaker and the individual members more powerful, as it should be.
The media narrative that the speaker vote has been dangerous and chaotic is, as is so often the case, the opposite of true. America's continued slide toward fiscal catastrophe is dangerous. Conservatives not adhering to conservative principles is dangerous. When the status quo is failing, sometimes you need a little bit of chaos to shake things up. What's happened on Capitol Hill is healthy and overdue.
PRAY.
Lord, we pray for the new Speaker of the House and all the members of the 118th Congress, that they will serve the people, represent their constituents well, seeking to maintain the rule of law, restrain evil, and promote that which is good. Give us the fortitude to pray regularly for them and use our voice to help inform them of the issues that are important to the Christian citizen.

ACT.
In 2017, My Faith Votes sent a Bible to all 535 members of the 115th Congress along with a cover letter emphasizing the four pillars of our ministry. The response was more powerful than we anticipated! This spring, My Faith Votes will once again deliver a Bible to every member of Congress along with every state Governor. We'll keep you updated on details in how you can be a part of this incredible campaign. Until then, watch this short clip with Rep. Jodey Arrington (R-TX) who we met upon presenting him a Bible. I was deeply encouraged by his testimony and stand for Christ at the Capitol.

---
Faith on the Hill: The religious composition of the 118th Congress
"As it begins its 118th session, the U.S. Congress remains largely untouched by two trends that have long marked religious life in the United States: a decades-long decline in the share of Americans who identify as Christian, and a corresponding increase in the percentage who say they have no religious affiliation." read more at Pew Research Center

THINK.
The fact that so many choose to identify with Christianity can encourage you to bring biblical values into your communication with them. "Since 2007, the share of Christians in the general population has dropped from 78% to its present level of 63%," the research notes. "But Christians make up 88% of the voting members of the new 118th Congress being sworn in on Jan. 3 – only a few percentage points lower than the Christian share of Congress in the late 1970s."
A letter from the Apostle Paul to Titus tells us that believers in Jesus have been regenerated by God's Holy Spirit, "not because of works done by us in righteousness, but according to his own mercy." And so, he stresses, we should devote ourselves to good works. (Titus 3:1-8) Why, then, do "Christians" in Congress work toward different goals–some godly and others ungodly? It could be that some lack of knowledge of God's will or are disobedient. (The New Testament is full of reminders, rebukes, and corrections for Christians.) It could also be evidence that some do not actually believe in Jesus. "They profess to know God, but they deny him by their works." (Titus 1:16)
It is sobering to realize the effects your beliefs have on your actions, especially when you have the authority to make laws for the nation…or to elect those lawmakers that do. And laws, as professor George Barna noted, can play a big part in shaping other's views of right and wrong. Identifying as a Christian doesn't automatically mean all your beliefs line up with God's. After being saved by Jesus, you get to grow in your knowledge of and love for Him, being transformed, as Paul told the church in Romans, "by the renewal of your mind, that by testing you may discern what is the will of God, what is good and acceptable and perfect." (Romans 12:2) To that end, I encourage you to read the Bible, and attend a church that teaches it faithfully.

PRAY.
"If you, O Lord, should mark iniquities, O Lord, who could stand? But with you there is forgiveness, that you may be feared. I wait for the Lord, my soul waits, and in his word I hope." (Psalm 130:3-5) Commit to praying for your members of Congress this year, that they would put their trust in Christ alone, and that He would lead them in the knowledge of His will and love for Him, overflowing into their actions. (Philippians 1:9-11)

ACT.
John Quincy Adams, the nation's sixth President, wrote to his son, "I have myself for many years made it a practice to read the Bible once every year." Have you read through the Bible? Thinking biblically has never been more paramount for the believer in order to discern God's will amidst deception. Do not worry if you have not started yet this year – this plan starts on Day 1 whenever you begin. Get your Bible Reading Plan here and start today!
---
Here are the 4 Big Election Storylines for 2023
"Washington is ready to zoom ahead to the 2024 elections, with a presidential election and control of Congress up for grabs. But there are matters to settle in 2023 first. The off-year cycle will feature several major election storylines worth keeping a close eye on. That includes several big elections — three gubernatorial contests and major American cities electing their mayors — along with the fight around the congressional maps used for 2024 playing out in courts across the country in the upcoming year." read more at Politico
THINK.
Even in an "off-election year", the number of governing authorities up for election is impressive, as is the scope of their duties: from governors to mayors, school board members to legislators, attorneys general to judges. If you live in KY, LA, and MS, you'll be electing a Governor this year.
Voters in Oklahoma will vote on whether to legalize recreational marijuana on March 7. Abortion, religious liberty, education, election integrity, taxes and spending, and more are on the ballot this year. Because many of these elections have lower turnout, your vote carries more weight!
Important information for yourself and your voting friends: Most people associate elections with November. However, many of these races will have partisan primaries in the coming months, with a General Election in November. Primary elections can make the difference between a fair candidate and a great one, yet they are often overlooked. In contrast, many local races have a single election with no primary, and that election is not necessarily held in November. It can be confusing. The ACT section below includes a resource to make sure you don't miss your next elections.
It is easy to think that the most important elections are those with the most media coverage. But if God takes care of even the smallest sparrow (Matthew 10:29), we know He cares about these often-forgotten elections–and so should we. If the sheer number of contests is overwhelming, focus your attention and prayers on the races that will directly impact you and your neighbors. Then go vote!

PRAY.
Sovereign Lord, I commit the upcoming elections to you. Let Your will be done; let candidates who uphold justice and righteousness be elected, and may You be glorified above all. I pray for discernment for myself and all believers, to know what our candidates stand for, and to vote for biblical values. In Jesus' name, amen.

ACT.
Never miss an election you're eligible to vote in! Click here to get email or text reminders of every election for your address. A simple notification can make all the difference so your voice will be heard at the ballot box.
---
My Faith Votes—is a nonpartisan movement that motivates, equips and activates Christians in America to vote in every election, transforming our communities and influencing our nation with biblical truth. By partnering with national faith leaders, My Faith Votes provides resources to help Christians Pray, Think, and Act to create an America where God is honored in the public square.
Website | www.myfaithvotes.org Twitter | @MyFaithVotes Facebook | My Faith Votes
---
React
---
Comments