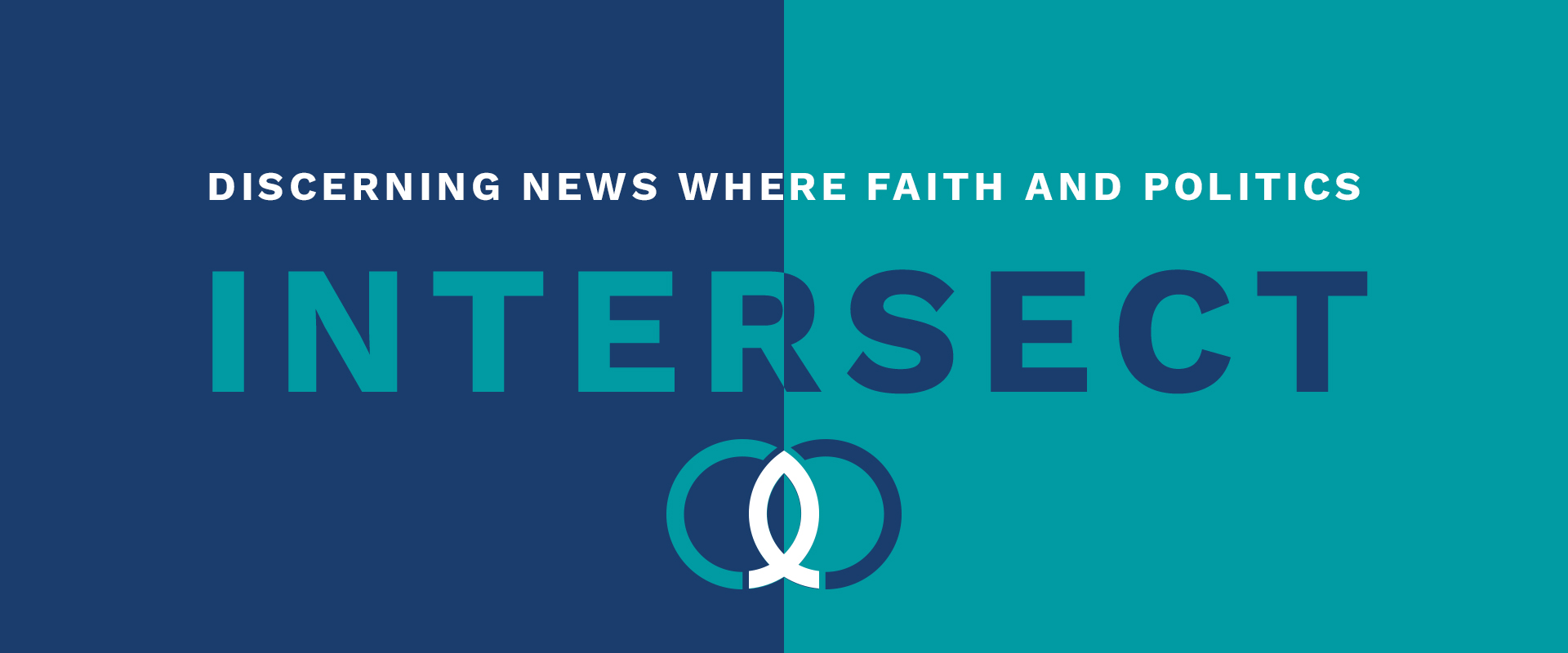 WEEKLY NEWS SUMMARY - FEBRUARY 5, 2020
In this week's Intersect, read about:
---
Iowa Democratic Party Chair Apologizes for Results Reporting Delays, Calling Process 'Unacceptable'
The Iowa Democratic Party, shortly before 4 p.m. Tuesday, released the first caucus results of the presidential candidates. The results were long delayed after the Monday night caucuses, causing sharp critiques, confusion and recriminations. "I apologize deeply for this," said party chair Troy Price, adding he would soon announce 62% of results were ready to be reported. He said the delay was unacceptable. "We hit a stumbling block on the reporting of the back end of the data," he said, "but we know this data is accurate." The results, once released, showed former South Bend, Indiana, Mayor Pete Buttigieg leading the field with 26.9% of state delegate equivalents. U.S. Sen. Bernie Sanders followed with 25.1%. U.S. Sen. Elizabeth Warren was in third at 18.3%. At 15.6%, former Vice President Joe Biden and U.S. Sen. Amy Klobuchar (12.6%) made up the rest of the top five. The party, under pressure to modernize the caucuses and make them more transparent, added a new app for reporting results, new ways of reporting results, and new backup systems. Those systems failed on Monday night. read more
THINK.
Mayor Pete Buttigieg said the Iowa results are an "astonishing victory" for his campaign. He said at a campaign event in New Hampshire, "A campaign that started a year ago with four staff members, no name recognition, no money – just a big idea – a campaign that some said should have no business even making this attempt, has taken its place at the front of this race to replace the president with a better vision." Iowa only accounts for 41 of the Democrats 3,979 total delegates, yet because Iowa is the first state in the primary process, it carries far more importance than just delegates. The publication Five Thirty Eight says because of the substantial media coverage of the Iowa Caucus, the value is estimated far higher than the number of given delegates. "We estimate — based on testing how much the results in various states have historically changed the candidates' position in national polls — that Iowa was the second most-important date on the calendar this year, trailing only Super Tuesday. It was worth the equivalent of almost 800 delegates, about 20 times its actual number." The New Hampshire primary is up next on February 11, followed by Nevada on February 22. While all of these Democratic candidates compete to win the Democratic nomination for president, Christians need to remember all Democratic candidates for president support a pro-abortion agenda. They fail to protect the most fundamental right in our society - the right to life. Christians must remember the truth found in Psalm 139. For more election insight, check out our latest My Faith Votes Election Watch update.
PRAY.
Please continue to pray for our nation throughout this primary election season, and pray for the candidates to come to know the Lord (if they do not already) and seek to follow His principles (1 Timothy 2:3-4). We pray Colossians 1:9-11 over every candidate. "For this reason, since the day we heard about you, we have not stopped praying for you. We continually ask God to fill you with the knowledge of his will through all the wisdom and understanding that the Spirit gives, so that you may live a life worthy of the Lord and please him in every way: bearing fruit in every good work, growing in the knowledge of God, being strengthened with all power according to his glorious might so that you may have great endurance and patience."
ACT.
Christians need to take a close look at the platforms of political parties. Here is a party platform comparison guide for you to utilize and also to share with your friends and family to help them make an informed vote in this critical election year.
---
Trump Takes on 'Radical Left' in Defiant and Dramatic State of the Union Address; Pelosi Rips Up Speech
President Trump went on the offensive against socialism and left-wing policies during his third State of the Union address to Congress Tuesday night, arguing that Democrats "want to take away your health care, take away your doctor, and abolish private insurance entirely," while creating a "lure" for illegal immigration. All but ignoring the historic impeachment drama that flanks this year's address, Trump opted instead to publicly challenge Democrats on policy grounds while touting what he called the "blue-collar boom" in the country. The tensions over impeachment appeared to surface, however, as the president seemingly snubbed a handshake offer from House Speaker Nancy Pelosi, D-Calif., while Republican lawmakers chanted, "Four more years!" Then, at the speech's conclusion, Pelosi dramatically ripped up her copy of Trump's speech on-camera. The night was full of other dramatic, made-for-TV moments: Trump introduced a warfighter back from deployment to his shocked wife (which was not included in prepared remarks of the speech delivered in advance to reporters); awarded radio host Rush Limbaugh the Presidential Medal of Freedom on the spot; issued an academic scholarship to a needy family; and introduced a surviving member of the Tuskegee Airmen. As he did during the 2019 State of the Union, Trump again directly condemned socialism -- and introduced a high-profile guest from embattled Venezuela. "Joining us in the gallery is the true and legitimate President of Venezuela, Juan Guaidó," Trump said. "Mr. President, please take this message back to your homeland. All Americans are united with the Venezuelan people in their righteous struggle for freedom! Socialism destroys nations. But always remember, freedom unifies the soul." read more
THINK.
Perhaps the most moving part of President Trump's address were the guests he invited and their powerful stories. You can read all of their stories on the White House website here. One of the guests included a baby who was born at just 21-weeks old. Her name is Ellie Schneider, she weighed only 14 ounces when she was born. President Trump boldly declared that "every child is a miracle of life." And he challenged Congress to pass legislation banning the late-term abortion of babies. He stated, "Whether we are Republican, Democrat, or Independent, surely we must all agree that every human life is a sacred gift from God!" President Trump also declared, "My Administration is also defending religious liberty, and that includes the Constitutional right to pray in public schools. In America, we do not punish prayer. We do not tear down crosses. We do not ban symbols of faith. We do not muzzle preachers and pastors. In America, we celebrate faith. We cherish religion. We lift our voices in prayer, and we raise our sights to the Glory of God!" What was particularly interesting was watching the response, or lack thereof, of Democrats during the President's remarks. The division and partisanship in our government was on full display. If you missed President Trump's full State of the Union Address, you can watch it here. Michigan Governor Gretchen Whitmer delivered the Democratic Party's response in English (you can watch it here) and Representative Veronica Escobar of Texas delivered the response in Spanish (you can watch it here).
PRAY.
Father, even as America tonight hears the address on the State of the Union, I wonder what we would hear if You were giving that address to us. We look around the globe today and we know that ancient cities are being broken apart; we look at children being raised up to despise; we think of millions dislodged from their homes looking for cities where they can somehow find a living, while others are looking for cities to tyrannize and hurt. How confusing all of this is, Lord, and we are unable with our cumulative wisdom to meet the daunting challenges of our time. Thankfully, we can call upon You. You have reminded us that when we ask for wisdom, You give it to us. You have asked us to pray for our leaders who need that wisdom and courage and conviction. Lord, may a new work begin in our country because of Your children crying out to You in prayer and being willing to be available for whatever You want of us. Do a great work in our time, Lord. Do a new work in our midst. Let us not lose heart. You are the Lord of the mountain and You are the Lord of the valley. Lord Jesus, You came at a time when the world was in turmoil. The shepherds found you. Wise men found you. And even though there were those who tried to stop You, You completed your mission and You commissioned those who would touch the globe. We need You, Father. We need You now more than ever. (We encourage you to pray this prayer shared by Ravi Zacharias)
ACT.
Do you pray for President Trump? In 1 Timothy 2:1-8 Christians are called to pray for all of those in authority. If you haven't already, download the My Faith Votes Prayer Guide for our Elected Officials.
---
President Trump Signs Executive Order to Combat Human Trafficking
President Trump signed an executive order Friday that will combat human trafficking and the online exploitation of children. The executive order will also create a new White House position "solely devoted" to ending human trafficking, according to White House Domestic Policy Council Director Joe Grogan. "Having someone established here in the White House who can coordinate on all these activities is going to really give us a leg up in combating human trafficking," Grogan said. Trump spoke about the bill on Friday afternoon, where he also recognized the 20th anniversary of the Trafficking Victims Protection Act. The White House has yet to choose who will serve in the new position. read more
THINK.
Leaders in the fight to end human trafficking gathered at the White House last week as President Trump signed the executive order. It read in part, "human trafficking is a form of modern slavery. Throughout the United States and around the world, human trafficking tears apart communities, fuels criminal activity, and threatens the national security of the United States. It is estimated that millions of individuals are trafficked around the world each year — including into and within the United States." In addition to creating a new White House position, the order also dedicates more resources to fight against human trafficking and makes online training accessible for people to learn how to spot signs of trafficking. This action comes at an essential time as human trafficking is the fastest-growing criminal enterprise in the United States today. As Christians, scripture commands us to bring liberty to the captives (Isaiah 61:1), and deliver people from the hands of the wicked (Psalm 82:4). We are grateful President Trump and his administration are meeting with leaders from across the country to combat this horrific evil.
PRAY.
Pray and ask God to give you opportunities to live out Proverbs 31:8-9. "Open your mouth for the mute, for the rights of all who are destitute. Open your mouth, judge righteously, defend the rights of the poor and needy."
ACT.
Take a few minutes to learn about Refuge for Women, an incredible faith-based organization providing specialized long-term care for women who have escaped human trafficking or sexual exploitation.
---
'Persecuted Even After Death': China Bans Christians From Holding Religious Funerals
Christians across China are prohibited from holding religious funerals for their deceased loved ones as the Communist Party continues to tighten its grip on the regulation of religion and religious activity. Bitter Winter, a magazine documenting human rights and religious freedom abuses in China, reported that authorities throughout the country are enforcing policies that prohibit religious customs and rituals to be used during funerals. In December, the government of Wenzhou city's Pingyang county in the eastern province of Zhejiang adopted the Regulations on Centralized Funeral Arrangement. Under the new rules, "clerical personnel are not allowed to participate in funerals," and "no more than ten family members of the deceased are allowed to read scriptures or sing hymns in a low voice." The new rules aim to "get rid of bad funeral customs and establish a scientific, civilized, and economical way of funerals." read more
THINK.
In the central province of Henan, a village official held a meeting for religious work assistants, instructing them that all religious funerals are to be restricted. In Wuhan, the police stormed the funeral of a Christian church member and arrested her daughter for praying. She was released only after her mother was buried without a Christian funeral. Extreme religious persecution is also growing in Nigeria. At least 32 people were killed by Muslim Fulani herdsmen in the villages of Marish and Ruboi. The story has been largely ignored by the mainstream media. The terrorists also burned down a pastor's house and the church building. Among those killed was a pregnant woman. The terrorist group Boko Haram has been very active in the region, recently kidnapping a Christian pastor and releasing a video of a child soldier executing a Christian. This week, government officials from the United States and at least 17 other countries are coming together in Washington, D.C., for the inaugural meeting of the new International Religious Freedom Alliance formed to advance religious freedom globally. We pray this new alliance will make strides to protect religious minorities across the world. We pray that those experiencing religious persecution would not grow weary in their suffering for the Gospel. God's word tells us, "For this light momentary affliction is preparing for us an eternal weight of glory beyond all comparison, as we look not to the things that are seen but to the things that are unseen. For the things that are seen are transient, but the things that are unseen are eternal" (2 Corinthians 4:17-18).
PRAY.
Pray specifically today for Christians in both China and Nigeria. Pray they would remain bold and have continued courage to proclaim the Gospel. And pray that we would develop a faith like theirs that does not waver even in the midst of persecution.
ACT.
It's hard to believe that every six minutes a Christian is killed for believing in Jesus. Help the Persecuted is an organization providing aid and encouragement to these persecuted believers across the globe. Find out how you can get involved here.
---
My Faith Votes—is a nonpartisan movement that motivates, equips and activates Christians in America to vote in every election, transforming our communities and influencing our nation with biblical truth. By partnering with national faith leaders, My Faith Votes provides resources to help Christians Pray, Think, and Act to create an America where God is honored in the public square.
Website | www.myfaithvotes.org Twitter | @MyFaithVotes Facebook | My Faith Votes
---
React
---
Comments