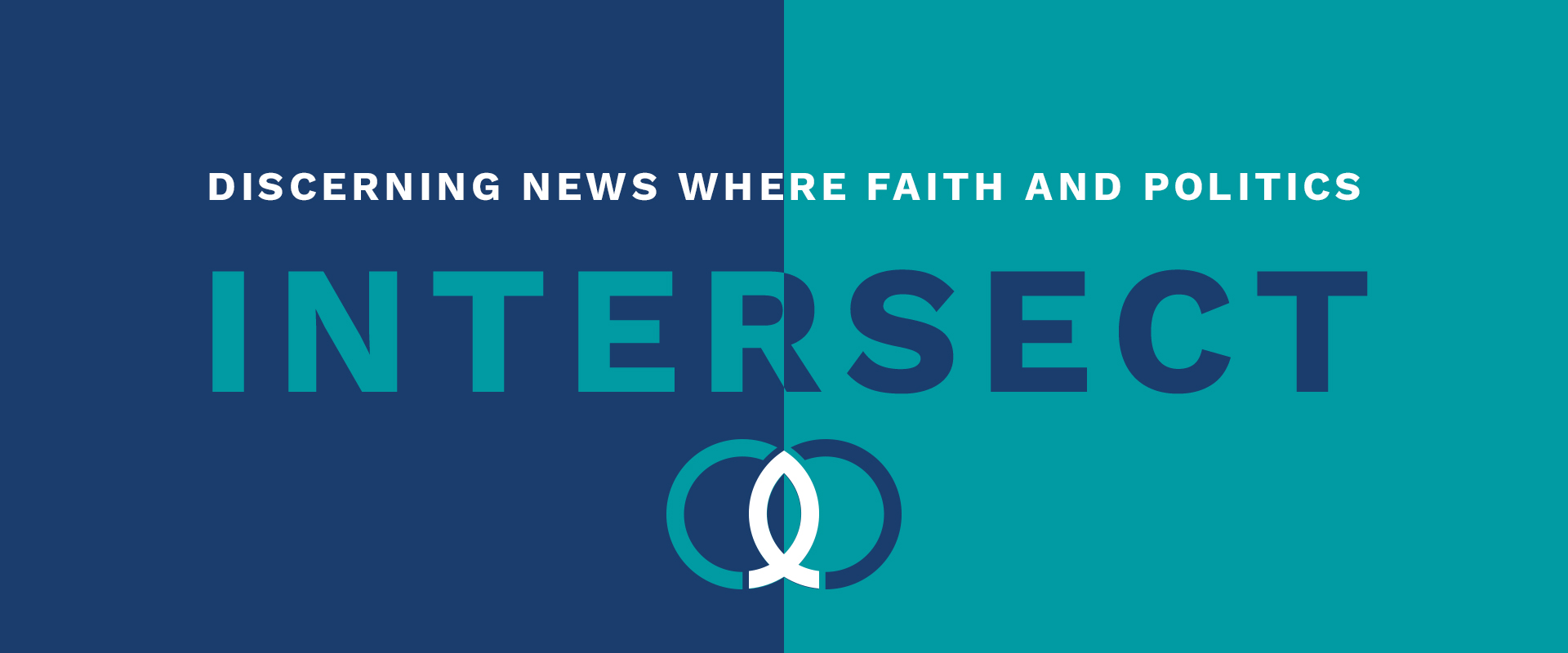 WEEKLY NEWS SUMMARY – Feb 27, 2019
Prayer Alert: Please pray for the Bladensburg Memorial Cross Case being heard today by the Supreme Court. Read more about the case here.
In this week's Intersect, read about:
---
THOUSANDS OF CHRISTIANS MEET IN PRAYER AND WORSHIP IN ORLANDO, DECLARE A NEW ERA OF EVANGELISM
Thousands of Christians descended on Camping World Stadium in Orlando, Fla. on Saturday to declare a new era of evangelism, praying and believing that America will turn back to Jesus Christ. It was all a part of an event known as The Send, a collaboration of national ministries that hopes to activate every believer into their evangelistic calling. Organizers included Youth With A Mission, Christ for All Nations, and Lou Engle of Lou Engle Ministries. Speakers included Francis Chan, Daniel Kolenda, and Todd White. Tasha Cobbs and Stephanie Gretzinger and Jesus Culture were among the musical artists scheduled to perform. The Send also wanted to convey one message -- a war on inaction -- to get every believer to take action. read more
THINK.
This was just one of two significant events that took place over the weekend. On the very same day, a gathering in New York took place - A Day of Mourning - to repent and mourn the loss of the thousands of babies who never had the chance at life. Each gave evidence that the only hope of our nation is to give everything over to Jesus Christ. The Bible calls us to humble ourselves, seek the face of God and turn from our wicked ways (2 Chronicles 7:14). Our nation's most severe problems are not those that mere legislation can solve; instead, it requires prayer and supplication at the feet of Jesus. This doesn't mean we abandon our duties as citizens. Instead, we take prayer into each area of our lives and take bold action as humble servants.
PRAY.
America needs a spiritual awakening. Pray for each of the believers in this nation to rise up and take action. Pray that Christians would continue to bring the gospel to every area of their lives. Pray for a faith-filled boldness from younger generations- that they would not sever their faith from politics - and they would vote, petition and take righteous stands.
ACT.
A spiritual awakening starts with each of us taking action. Join us in a united, multi-generational day of prayer tomorrow for revival and awakening on college campuses in America called The Collegiate Day of Prayer. Claim a campus to adopt in prayer, there are hundreds that still need you.


---
TRUMP ADMINISTRATION INCHES CLOSER TO DEFUNDING PLANNED PARENTHOOD
The Trump administration took aim at Planned Parenthood Friday, issuing a rule barring groups that provide abortions or abortion referrals from participating in the $286 million federal family planning program — a move expected to redirect tens of millions of dollars from the women's health provider to faith-based groups. This means that Planned Parenthood offices could lose an estimated $60 million in Title X funds. The Title X grant program, established in 1970, provides funds to family planning offices around the country that serve low-income Americans, about 4 million people a year. As HHS explains, the final rule -- also known as the Protect Life Rule in the Reagan administration -- requires "clear financial and physical separation between Title X funded projects and programs or facilities where abortion is a method of family planning." In addition, the final rule prohibits "referral for abortion as a method of family planning. [It] does not bar nondirective counseling on abortion but eliminates the requirement that Title X providers offer abortion counseling and referral." read more


THINK.
Christians and other pro-life supporters celebrated late last week as Trump issued the new rule barring abortion-based referrals from clinics who receive funding under Title X. As the Trump administration makes one move forward in the effort to stand for life, it's no surprise that others stand prepared to defend their pro-abortion laws. Washington is the first state to speak up saying it will sue to challenge President Trump's new Title X policy. States like Vermont and Illinois are working to pass bills to ensure abortion as a "fundamental right" ensuring that pregnant women can access abortions at any time during a pregnancy. On Monday, the Senate failed to pass the Born-Alive Abortion Survivor Act as a means to protect infants born alive after failed abortion procedures. Ultimately, these moves are an attempt to reshape the federal government's involvement in this deeply divided issue. Jason Yates, CEO of My Faith Votes, said this: "We are both outraged and appalled by the failure of the Senate to pass this bill. No doubt dozens of senators ignored multitudes of messages sent by voters who value life and chose, instead, to side with anti-life lobbyists. Make no mistake, this legislation was about one thing — ensuring a baby who survived an abortion receives medical care, just like any other newborn would. Yet, opponents argued in the same tired way that this would somehow limit women's access to safe abortions and health care. People of faith who believe every life carries inherent dignity and value must hold every single senator accountable who voted to allow born-alive babies to be executed. We must continue to oppose the evil that values the convenience of choice over the sanctity of life."
PRAY.
Pray for the culture of life to be advanced throughout this country. Pray for your state legislators and representatives in Congress, by name. Pray for them to vote for policies that protect all life.
ACT.
Although this policy will likely redirect government funds toward faith-based care centers in the future, many of them receive extremely limited funding. You can help support local pregnancy resource centers in your area through donations and volunteering. Find a faith-based pregnancy resource center near you at care-net.org.
---
PRESIDENT TRUMP MEETS WITH NORTH KOREA'S KIM JONG UN
President Trump is slated to meet one-on-one Wednesday with North Korean leader Kim Jong Un on the first night of their two-day summit in Vietnam. The White House released Trump's schedule for Wednesday, which shows the president greeting Kim at 6:30 p.m. local time at the Sofitel Legend Metropole hotel in Hanoi. Trump and Kim are then set to meet one-on-one for 20 minutes, followed by a "social dinner," according to the White House. Trump's past private meetings with foreign heads such as Russian President Vladimir Putin have drawn concerns from some Democratic lawmakers, who have pushed for detailed read-outs of the meetings or wanted to speak with translators present. Trump and Kim are expected to see a more formal round of negotiations on Thursday that includes their respective aides and advisers. The summit this week marks the second time the two leaders will come face-to-face after their meeting in Singapore last June, which also began with a one-on-one meeting involving just Trump, Kim and their translators. read more
THINK.
In President Trump's first summit with Kim Jong Un, North Korea agreed to sign an agreement toward denuclearization, and in return, the United States agreed to security guarantees. The objective of this second summit is not yet clear to the public, but some officials have pointed to the goal of reaching an agreement on what denuclearization entails. According to The New York Times, both sides have exchanged lists of what they would like to see happen through a more detailed agreement. For example, North Korea would like the United States to lift sanctions and withdraw American troops from the South Korean border, and the United States would like to see North Korea completely denuclearize. This summit, although not the first meeting, is still historic, as it is the second time the two leaders have met in the past eight months to work to resolve differences.
PRAY.
Pray for President Trump and his advisors as he seeks to secure a deal that ensures peace for Americans and the world. Pray for him to have God's wisdom in his conversations with Kim Jong Un during the negotiation meetings. Pray for Kim Jong Un to be open to changing his oppressive and deadly totalitarian dictatorship.
ACT.
North Korea is the most oppressive nation in the world for Christians to live. According to World Help, nearly one out of every four Christians in North Korea are imprisoned in a political labor camp. Today we encourage you to pray for the people of North Korea and visit World Help to help in sending Bibles to North Korea.
---
PRO-LIFE MOVIE UNPLANNED RECEIVES R-RATING
Unplanned is the powerful true story of Abby Johnson, a young woman who gets drawn into working for Planned Parenthood until one day she sees something that changes her mind and inspires her to become a pro-life advocate. The movie, which Movieguide has screened and dubs an "extremely well-made movie" and "powerful," received an R-rating from the MPAA for "some disturbing/bloody images." However, is Unplannedgrisly and disturbing enough to earn an R-rating instead of a PG-13 rating, something that could majorly hurt the success of the faith-based movie? Movieguide gave Unplanned a 1-acceptability rating, which means discretion is advised for older children. While the material is heavy, the violence and bloody images are low by Hollywood's standards. read more
THINK.
In response to the rating, Abby Johnson told Fox News, "We are pushing the boundaries of what has never been before on such a wide scale by showing America exactly what abortion is — and abortion is disturbing. It's violent." Abby continued, "In my opinion, one of the most impactful films of our time is The Passion of the Christ. It was rated R. So, I feel like Unplanned is in good company. An R rating from the MPAA isn't going to slow this movie down. I believe people are ready for the truth." It's ironic that in California a 13-year-old young girl will not be able to see the movie Unplanned without her parents accompanying her, but the same girl is permitted by California law to obtain an abortion without her parents' consent. It's weeks before this movie releases on March 29th, and it's already caused a stir across the nation. We are hopeful and prayerful that this movie will be used to change hearts and impact our culture to advance life.
PRAY.
Please start praying now for every person who will see the movie Unplanned. Pray for men and women affected by abortion to experience healing and for women considering abortion to choose life. And most of all pray for this movie to be used to push the needle forward for protecting the sanctity of life in our nation.
ACT.
We are honored to be a partner with this movie, which releases in theaters across the nation on March 29. It's not too early to make plans with your church group, neighbors or family to go see it. It's critical that we support the movie on opening weekend. Visit UnplannedTickets.com to watch the trailer and get ticket information.
---
My Faith Votes—is a nonpartisan movement that motivates, equips and activates Christians in America to vote in every election, transforming our communities and influencing our nation with biblical truth. By partnering with national faith leaders, My Faith Votes provides resources to help Christians Pray, Think, and Act to create an America where God is honored in the public square.
Website | www.myfaithvotes.org Twitter | @MyFaithVotes Facebook | My Faith Votes
---
React
---
Comments