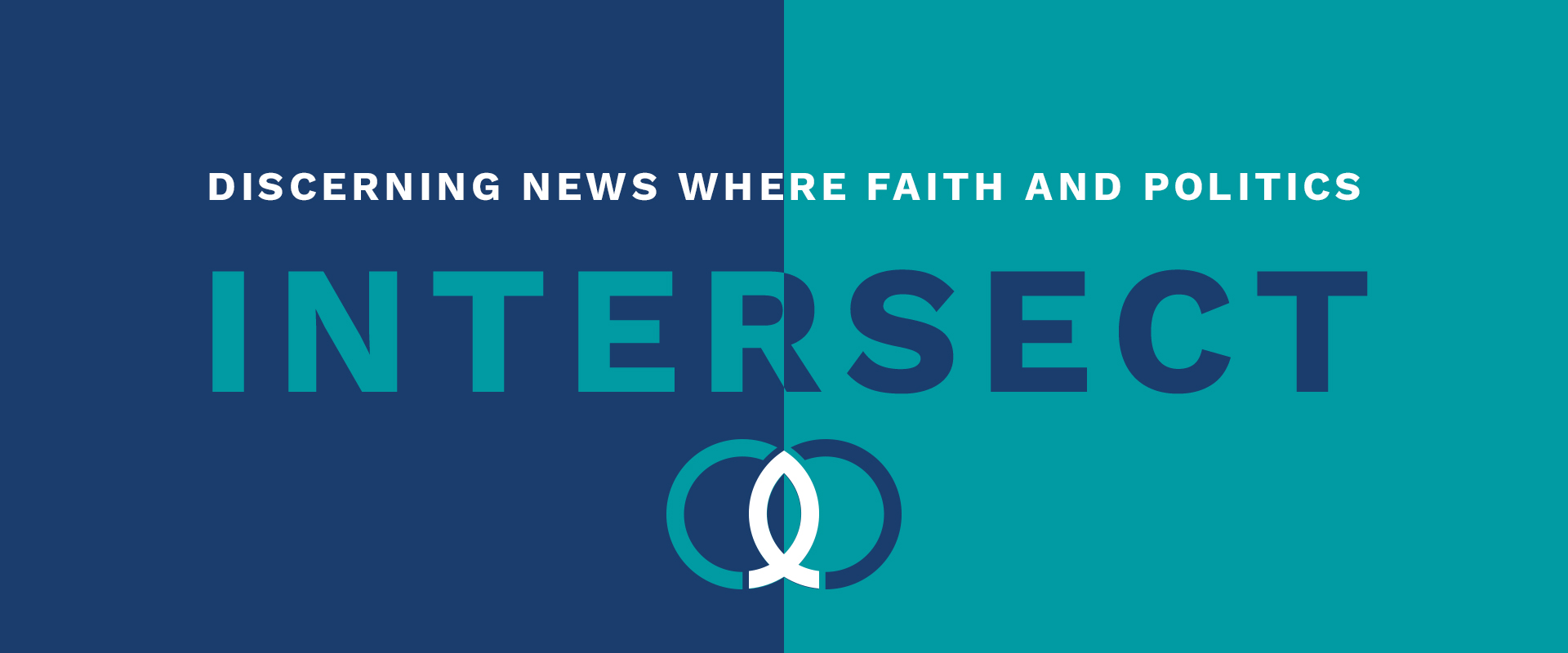 WEEKLY NEWS SUMMARY - FEBRUARY 23, 2022
In this week's Intersect, read about:
---
'Anything But Fair': Nebraska Governor Condemns 'Draconian' Anti-Discrimination Ordinance
"The city council of Lincoln, Nebraska, passed 'draconian' legislation last week that threatens to fine residents thousands of dollars for counseling teens 'in biblical terms,' critics say. The legislation, known as the 'Fairness Ordinance,' revises a section of Lincoln's Equal Opportunity Code with the intent to ban discrimination based on sexual orientation, gender identity, and military status. Opponents of the law say the bill goes much further than simply banning discrimination, however, and the penalties for violating it are as high as $50,000." read more at The Daily Wire
THINK.
The Nebraska Family Alliance (NFA) filed a petition to stop the ordinance, which has yet to be signed by the mayor, from taking effect. The NFA has 15 days after submitting the petition to collect 4,137 signatures to stop the bill. What would the ordinance impact? According to NFA, the ordinance would force a destructive gender ideology on society, require that men who profess a female identity be permitted to access women's bathrooms and locker rooms, it would threaten business owners with devastating financial liability and empower the government to punish citizens with Biblical beliefs on marriage and human sexuality. Citizens beware. Elected officials are increasingly empowering unelected, unaccountable, appointed officials to become the arbiters of justice in our local communities. As of January 2021, at least 225 cities and counties have adopted sexual orientation and gender identity (SOGI) ordinances. These local-level ordinances are empowering Human Rights Commission members (unaccountable, appointed officials) to levy sanctions and fines for teaching biblical principles. While citizens have been focused on trying to ward off progressive policies at the state and federal levels, activists have been stealthily laying the groundwork at the municipal level to usurp the religious freedom of pastors, churches, and Christian citizens in our own backyards. And now the city of Lincoln, Nebraska is trying to follow suit. With a recent poll indicating nearly 40% of Gen Z's and 30% of young Christians identifying as LGBTQ, "social contagion" and normalization of homosexuality have combined to make the younger, highly susceptible, and credulous generations believe they should identify as LGBTQ. But identifying the uptick in LGBTQ identification doesn't hit at the root of the problem. The root has to do with the abdication and silence of the church in relaying the amazing benefits of God's design for human sexuality and the biblical roles of male and female. Christians have not always been as outspoken on this as Catholics have. In fact, Pope Paul VI Humanae Vitae's predictions have come true.
PRAY.
Pray for a bold and engaged Church. As Romans 8:31 says, "What, then, shall we say in response to these things? If God is for us, who can be against us?"
ACT.
Nebraskans, your voice is needed! Registered voters in Lincoln have until February 28th to sign a petition requiring the city council to rescind the ordinance or put it on the ballot for a vote of the people. Click here to sign. If you don't live in Lincoln, share this info with someone you may know who does. For those outside of Nebraska, check your own municipality to see if you have a Human Rights Commission (or a Human Relations Commission) and be aware of any upcoming actions they are taking.
---
CDC Quietly Admits Mask Mandates Delaying Childhood Development
"The U.S.'s top pediatricians have updated the checklist of developmental milestones for infants and young children for the first time in decades. This checklist helps identify delays that could indicate signs of autism or other social-communication disabilities. But critics are pointing out that mask mandates are causing the delays in childhood development. According to the Washington Post, the updates from the Centers for Disease Control and Prevention (CDC) were made with the American Academy of Pediatrics (APA). These updates included the increase of percentage of children who typically meet certain milestones from 50% to 75%, which they claim is 'an important adjustment signifying that instead of just half, now the majority of children are capable of certain behaviors and achievements at specified ages.'" read more at Christianity Daily
THINK.
Every pediatrician has a checklist of developmental milestones that they review with parents to make sure to pay attention to early signs that there might be a problem. According to Speech Buddies, research and data have shown for years that "...at around age 6-months, babies are trying to determine how to make those speech sounds they've been hearing all along and watching lip movements helps." Lowering childhood speech development standards to lull parents to sleep and delay intervention for a child showing signs of a language problem is not just deceitful, it is cruel. By covering its tracks, the CDC is hiding the fact that their requirement for young children to grow up in a masked environment will cause harm to an entire generation. The CDC should instead be sounding the alarm on the potential adverse effects of a mask wearing environment rather than changing standards and delaying help for children. According to the American Academy of Pediatrics (AAP), who worked alongside the CDC with these updates, the goal of this much-needed update was to make it easier for parents and healthcare providers to catch signs of autism earlier. Another goal was to give parents a list of milestones they can measure their child's development against. What they did, though, and what has caused a bit of a firestorm, is also lower speech development standards. By these new standards, will our children ever catch up or will we just continue to lower the bar? While the CDC, AAP, and other professionals believe the guidelines needed updating, the reasons behind it, many believe, are suspect.


PRAY.
Lord, You love children so much more than we could ever love them. We pray as they grow and develop, that they would gain wisdom to add to their learning. Give them a hunger and thirst to understand Your Word and a desire to walk with You. Help them to always know that the fear of the Lord is the beginning of wisdom, and knowledge of You is true understanding (Proverbs 9:10).


ACT.
Scripture teaches that training children to know and obey God pleases Him and helps them live victoriously in His grace. Knowing God and His truths begins with the child's understanding of sin and his need for a Savior. Parents have the privilege of raising prayerful kids and an organization of the same name is equipping families with the tools to intentionally teach their children to pray creatively and actively. Check it out here.
---
Biden, EU Sanction Russia as Invasion Begins
"The United States joined 27 European Union members in levying financial sanctions against Russian banks and oligarchs on Tuesday with more to come if Russian troops proceed further into Ukrainian territory. Germany also halted plans for the Nord Stream 2 gas pipeline from Russia. President Joe Biden said the sanctions essentially cut off Russia's government from Western finance. President Vladimir Putin recognized the independence of Donetsk and Luhansk, two separatist regions in eastern Ukraine, on Monday and ordered forces into the regions for 'peacekeeping' purposes." read more at World News

THINK.
U.S. Troops are being stationed in nearby NATO nations as a defensive measure to protect them from any Russian forces. Albert Mohler reminds us why we should care about this as Americans. "Just remember that Ukraine has been allied with the West. It has wanted to join NATO, the North Atlantic Treaty Organization…Poland, the next nation to the West, is a NATO ally, and the NATO treaty calls for an understanding that the invasion or a military attack upon one is an attack upon all, requiring an absolutely joint military response. Should Ukraine, one way or another, either be completely destabilized or for that matter, come into a Russian sphere of influence, that would put that Russian sphere of influence right on the border with a NATO ally to the United States of America. Now we really are going back into the territory of the Cold War." A poll conducted in January among likely general election voters revealed that only fifteen percent supported American boots on the ground on behalf of Ukraine in the face of a Russian invasion. However, fifty-eight percent supported the use of U.S. military assets to defend Taiwan if it is invaded by China. There is no doubt that China is watching the U.S. response to Russia. The two countries share more than just a deep strategic partnership, they have similar ideologies and ambitions. The Pentagon estimates that up to 5 million refugees could flee Ukraine for the neighboring countries. Compare that to the Syrian refugee crisis in 2015 that involved only 1 million refugees, and the need for concern–and prayer–is immediately apparent. Franklin Graham was criticized by several prominent liberals after urging prayer for President Putin. According to 1 Timothy 2, however, this is something we must do. "Pray for President Putin. This may sound like a strange request…but we need to pray that God would work in his heart so that war—and the loss of thousands of lives—could be avoided at all costs. May God give wisdom to the leaders involved in these talks and negotiations, as well as those advising them. Our prayers might make the difference between life and death."
PRAY.
Father, we come before you and pray for what is happening with Ukraine and Russia. We ask You Lord to push back the demonic forces that want to provoke a war, and fill lives with fear. Send Your angels to protect the people, the children and families, and the church. Bend down, O Lord, and listen. Open your eyes, Lord and see. Listen to the threats coming from Vladimir Putin and his council. Lord God, rescue the Ukrainians, and all people who are in danger from his power. Let all the kingdoms of the earth know you alone are God and there is none like you. In Jesus name, amen.

ACT.
Read more prayer points from our friends at Intercessors For America. Prayer might not sound like much of a powerful action step but remember that a spiritual battle rages alongside the physical forces in the world. Most of us cannot do much physically in this situation, but we can all pray to Christ, who is the head of all rule and authority. (Colossians 1 and 2)
---
Nurse Who Was Fired Because She is Pro-Life Wins $374,000 in Court
"A pro-life Illinois nurse who was fired after refusing to refer mothers for abortions won her case in court this week and has been awarded $374,000 in damages and attorney fees. A local court in Illinois ruled that Sandra Mendoza Rojas, of Rockford, should not have been fired from the Winnebago County Health Clinic for living out her pro-life beliefs. Rojas worked as a pediatric nurse for 18 years before she was fired in 2015, according to the report. She said she refused to comply with a new requirement that nurses be trained to help women obtain abortion drugs and refer women to abortion facilities." read more at LifeNews.com
THINK.
Rojas' case took over five years to come to a decision. What if she had decided the fight wasn't worth it? As the article states, there are more nurses who have been forced to be complicit in abortions against their conscience. Hopefully her case will set a precedent. "Medical professionals should never be forced to engage in or promote activities that violate their beliefs or convictions," said Alliance Defending Freedom Senior Counsel Kevin Theriot. "Sandra served as a nurse according to her conscience and religion—a right for medical providers that is protected under Illinois and federal law. The court's fee award sends a clear message that healthcare workers are free to practice medicine in a manner consistent with their conscience and religious beliefs, and there will be a steep penalty if the government fails to respect that legally protected freedom." Rojas claimed the protection of the Illinois Health Care Right of Conscience Act, which state legislators passed in 1977. The importance of state legislative races, which are often overlooked, cannot be understated. These elected officials are particularly influential when it comes to the sanctity of human life. Over 230 pro-life bills have already been introduced this year in legislatures across the country. Elections for state legislators will become even more hotly contested if the Supreme Court overturns Roe v. Wade in June. Do you know who's running in your primaries this year? Officials who are responsible for enforcing the laws, such as governors and state attorneys general, are also on the ballot in many states. These positions are very important as well, since laws can be ignored. And judges are crucial for ruling when the laws have been broken. Some state and local judges will be on your ballot this year; others are appointed by elected officials. Whether making, enforcing, or interpreting laws, a key component of these legal victories for life and religious liberty is the votes of informed, biblically minded Christians.
PRAY.
Heavenly Father, just as religious liberty has two components: the legal freedom, and the practical actions of Christians who live out their faith, so the fight for life has both legal actions and practical help for abortion-minded women. Thank you for this legal victory, and for plaintiffs, lawyers, and judges who are committed to doing what is right, protecting our freedom to serve you in our jobs. Continue to work on the hearts and minds of our U.S. Supreme Court justices to overturn Roe v. Wade. In preparation for that day, raise up godly pro-life candidates in every state, and help us encourage our fellow believers to vote.


ACT.
Choose one action from our list of ways to stand for life and commit to doing it this week. We've put together a variety of options with various time commitments. We can't do it all, but we each can do something!
---
My Faith Votes—is a nonpartisan movement that motivates, equips and activates Christians in America to vote in every election, transforming our communities and influencing our nation with biblical truth. By partnering with national faith leaders, My Faith Votes provides resources to help Christians Pray, Think, and Act to create an America where God is honored in the public square.
Website | www.myfaithvotes.org Twitter | @MyFaithVotes Facebook | My Faith Votes
---
React
---
Comments