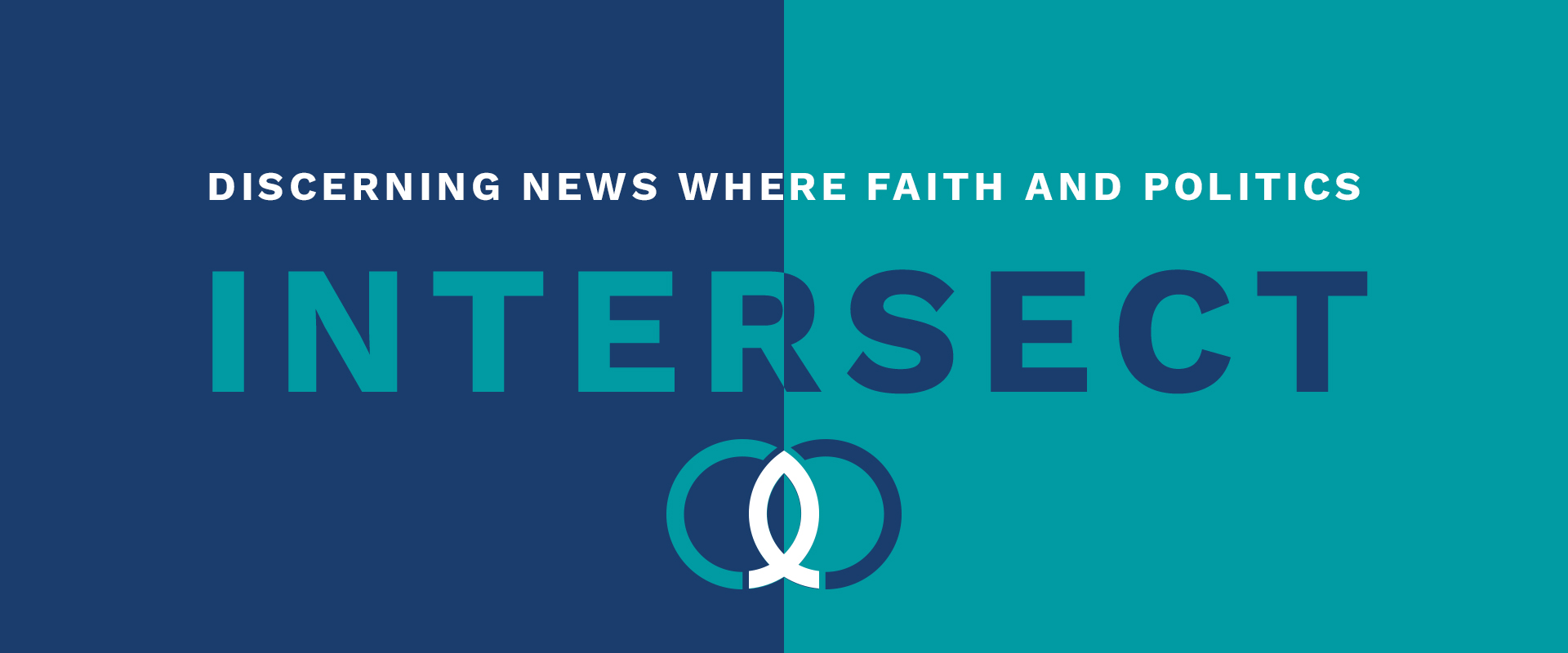 WEEKLY NEWS SUMMARY - FEBRUARY 22, 2023
In this week's Intersect, read about:
---
Dems Reshuffle Primaries to Stress Diversity Over Tradition
"The Democratic Party approved reordering its 2024 presidential primary, replacing Iowa with South Carolina in the leadoff spot as part of a major shake-up meant to empower Black and other minority voters critical to its base of support. Although more changes are possible later this year, the formal endorsement by the Democratic National Committee during its meeting in Philadelphia is an acknowledgment that the start of the 2024 primary will look very different from the one in 2020." read more at the Associated Press
THINK.
The new order would have South Carolina hold its primary on February 3 next year, followed by New Hampshire and Nevada, which is swapping the caucus it used to hold in favor of a primary. Georgia would vote fourth followed by Michigan with much of the rest of the nation set to vote on Super Tuesday in early March. The move remakes the current calendar, which saw Iowa start with its caucus, followed by New Hampshire, Nevada and South Carolina. President Biden was in full support stating, "We must ensure that voters of color have a voice in choosing our nominee much earlier in the process and throughout the entire early window."
Not all Democrats approve. New Hampshire has a state law mandating that it hold the nation's first presidential primary, which Iowa has circumvented since 1972 by holding a caucus. New Hampshire Democrats have joined with top state Republicans in pledging to go forward with the nation's first presidential primary next year regardless of the DNC calendar.
The Republican Party has voted not to change its 2024 primary order and will still begin in Iowa. Iowa's caucuses have been at the front of the line for both major political parties for the last half-century. Prominent Republican presidential hopefuls, including former U.S. Ambassador Nikki Haley (who officially announced her candidacy last week), have all made early trips to Iowa to make inroads and get in front of likely caucus goers. Former President Trump has yet to make a stop in the state but announced his Iowa campaign director on Monday.
On the non-presidential side, 33 of the 100 Senate seats are up for regular election in 2024 with one additional special election taking place to fill the remaining term of Nebraska Senator Ben Sasse. Democrats, which currently hold a narrow 51-49 majority, must defend 23 of the 34 seats up for election. That means Republicans need a net gain of just one or two seats to retake the Senate.
Are the primaries really that important? Voting in a primary election is imperative; being an informed voter is essential. iVoterGuide gives four helpful reasons to vote in a primary. More choices in a primary means we can find a candidate whose values are more aligned to biblical values. 2024 may seem like a long way off, but there is something you can do right now! Make sure you are registered to vote and use this helpful tool to get elections reminders for every election happening in your community. Making an impact through your vote doesn't only happen in a presidential election year.
PRAY.
We are called to pray for those in authority (1 Timothy 2:1-5; 8). Take time today to pray for government officials at the federal level, by name. We've created a prayer guide with names and positions to help guide your prayers. Feel free to download and share this resource too.
ACT.
We'd appreciate your input! Please take two minutes and answer this 4 question survey about the state of our nation and what's top of mind for you as we head towards the 2024 elections.
---
Christian Teacher Fired Because She 'Cannot Be Dishonest with Parents'
"The cost of following Christ just hit home in a new way for one California teacher who was fired for refusing to tell lies about biological reality or hide student's gender transitions from their parents. Jurupa Unified School District served physical education teacher Jessica Tapia, mother of three, with a Notice of Unprofessional Conduct for not embracing the district's new polices promoting transgender identities and, on January 31, fired her after determining it could not accommodate her religious beliefs." read more at The Washington Stand
THINK.
Tapia was instructed to "refrain from disclosing the gender identity of a student who is transgender to a parent who does not know the student's gender identity" and "to address students by their preferred name and preferred gender pronouns." In other words, she was told to lie to parents and disregard their authority and–by using opposite sex pronouns for students–to lie to her students. She also refused to comply with the school district's policy allowing male students who identify as transgender into female students' locker rooms.
No Christian should be required to submit to their employer or to government authorities in a manner inconsistent with submission to Christ. (Acts 5:29, 1 Peter 2:18-22) Tapia is represented by the Pacific Justice Institute and plans to file a lawsuit against the district.
How did we get here? Ultimately, our public schools are the voters' responsibility. School boards are elected with very low voter turnout. This school district claimed it was simply following California law. However, as the article above points out, they may only be following the California Department of Education's (CDE) guidelines, which do not appear to consider that California education code states that parents have an absolute right to access their child's school records–which would include records revealing their child's transgender claims.
We have a duty to be informed and stand up for God-given parental rights. Kira Davis, in an opinion piece pointed out the scary road this will take us if we don't stand up: "If the state can compel teachers to lie to parents about their own children, what else can they compel educators to lie about? Where will it end? If more people like Tapia don't stand up, it will end in the state replacing parents altogether."
PRAY.
Pray for wisdom, boldness, and faith for Jessica Tapia and her family. Pray that she would be successful in fighting this policy on behalf of more Christian teachers who are making a positive impact in the lives of many students. Pray for more parents around the country to be informed and encouraged to stand up for their rights for the sake of their children!

ACT.
It's not just California undermining truth. Now the Centers for Disease Control (CDC) has come out with a guide for schools to assess how well they embrace and promote the LGBTQ agenda. In response, My Faith Votes is countering that with a guide for parents to assess how well their school embraces the truth about gender . . . or whether they've embraced the LGBTQ agenda. Access our guide here and share it with other parents in your life.
---
Buttigieg Points Finger at Rail Industry after Ohio Train Derailment; GOP Officials Cite Biden Admin Policies
"Weeks after a massive train derailment in Ohio resulted in a fiery wreck and the release of hazardous chemicals, fingers are being pointed to and from the Department of Transportation. At issue is whether work and safety standards are up to snuff, and whether cost-cutting measures could be to blame for the derailment in East Palestine, Ohio, and others that have also taken place this year." read more at Fox News
THINK.
The main problems are the February 3 derailment and chemical spill, the controlled burn of toxic chemicals from damaged railcars, and the lingering effects in the area. "The accident, decision, and aftermath are now being discussed as one of the biggest environmental disasters in U.S. history," according to the Daily Wire.
Trust has broken down between the people of East Palestine and the government. One resident said, after being told that it was safe to return home, many experienced health issues and noticed a lingering chemical smell, as well as discoloration in the streams. The Columbiana County Humane Society has fielded calls from families reporting sick or dead animals, potentially from the effects of the controlled burn of vinyl chloride from five rail cars. The railroad company Norfolk Southern conducted the burn to prevent a chemical explosion.
U.S. Senators from Ohio JD Vance and Sherrod Brown are demanding answers from the Environmental Protection Agency (EPA) regarding whether they have tested for dioxins, which can result from burning vinyl chloride. Dioxins can cause cancer and reproductive and developmental issues. Some chemical experts are raising concerns that the EPA has not tested for additional toxins that may have resulted from the fire.
The downstream effects of our vote can be seen in the actions or inaction of regulatory agencies. Regulators make important decisions that affect our lives and livelihoods. Unelected, they are influenced by Congress and lobbyists. Some have blamed this crisis on the Trump administration for capitulating to railroad industry lobbyists in 2017. They reversed safety measures implemented by the Obama administration that required certain trains to be equipped with electronic brakes, limiting the damage from derailment. However, even under the Obama administration's rule, this train did not meet the definition of a "high-hazard flammable train" and would not have been required to have electronic brakes. Ultimately, that safety decision fell to the railroad company.
Proposed actions going forward include requiring more trains to be classified as highly hazardous. Some actions can be taken by the Department of Transportation under existing law, while others may require Congress to pass new laws.
A Biden administration official initially stated that Ohio was too expansive to qualify for disaster relief from the Federal Emergency Management Agency (FEMA). But after Ohio members of Congress asked for clarification, FEMA offered assistance. It's an example of the principle that elected representatives are closer to the people and are meant to be our voice when needed.
PRAY.
A sign outside a shop in East Palestine read, "Please pray for E.P. and our future." Join me in lifting the first responders, government officials, and citizens of East Palestine and surrounding areas in prayer. As you think about the fact that this area has a high "deaths of despair" rate from drug overdose, pray that the message of the gospel would be preached and fill people with hope through faith in Christ.
ACT.
Amid this disaster, though it hasn't been widely covered by media, the Body of Christ is ministering with care and compassion. First Church of Christ is allowing the Ohio Department of Health to set up a temporary clinic in their building for people experiencing health issues. Abundant Life Fellowship, a church that is a few miles away, is hosting the railroad company's Family Assistance Center so people can come receive reimbursement for expenses. It's provided good opportunities for ministry. The Way Station, a faith-based charity in Ohio, has responded to the crisis by providing food, clothing, water, hygiene products, diapers, cleaning supplies and gift cards to those in need. You can donate necessities or money on their website if you feel led.
---
MA Court Rules: Personhood Rights Extend to Unborn Baby Killed in Pregnant Mom's Murder
"The Massachusetts Supreme Judicial Court has ruled that an unborn baby killed as a result of the homicide of a pregnant woman is entitled to personhood rights. [The] ruling comes amid increasing debate over the rights of the unborn in the wake of the recent U.S. Supreme Court decision that ruled there is no constitutional right to abortion. Peter Ronchi, who was convicted of two first-degree murder charges for killing his nine-month-pregnant girlfriend, Yuliya Galperina, and her full-term unborn baby in May 2009, asked the court to overturn the convictions. He argued that it should not be up to the court to decide whether an unborn baby attains personhood for the purposes of the law of homicide." read more at The Christian Post

THINK.
What does personhood mean? It's a subject of considerable debate. In its 1973 Roe v. Wade decision providing the right to abortion nationwide, the U.S. Supreme Court majority found that "the word 'person,' as used in the Fourteenth Amendment, does not include the unborn."
How many states have personhood laws? Alabama, Arizona, Georgia, Kansas and Missouri. Georgia's law is maybe the most far-reaching, granting specific rights including tax breaks and child support to unborn children. It took effect July 20 after a federal appeals court ruled in its favor. A federal court has put Arizona's law on hold, at least for now. Voters in several other states have rejected state constitutional amendments granting personhood, including in Colorado, Mississippi and North Dakota. In November, Montana voters rejected a "born-alive" ballot measure that "declared that an embryo or fetus is a legal person with a right to medical care if born prematurely or survives an attempted abortion."
Where does the US Supreme Court stand now? Last October, they rejected a petition over whether fetuses are entitled to constitutional rights. Justices declined the appeal brought by a Catholic group and two women who challenged a 2019 Rhode Island law that codified abortion rights. Justice Samuel Alito, who authored the 6-3 decision that overturned Roe v. Wade, wrote that the Supreme Court is not in a position to decide "if and when prenatal life is entitled to any of the rights enjoyed after birth."
If Congress were to establish a law saying a fetus is a person or if the Supreme Court were to determine a fetus is a constitutional person under the 14th Amendment, then state laws permitting abortion would be invalidated. Because of that, a recent legal op-ed noted that fetal personhood promises to be the next major fight in the abortion battle.
"A fetus is either worthless and discardable or a unique human life worthy of joyful celebration. It can't be both," Tyler Rowley, president of Servants of Christ for Life, told the Washington Examiner. He continued, "In the same way, fetal homicide is either a horrendous crime, or it's no worse than what abortionists do every day."
It's important to note that the Massachusetts Supreme Judicial court consists of a Chief Justice and six Associate Justices appointed by the Governor with the consent of the Governor's Council. But in some states, justices are elected. That's the case in Wisconsin where voters will decide an April 4 election that carries profound consequences on abortion laws, control of the state government and the 2024 presidential election.
PRAY.
Lord, it says in scripture that before you formed us in the womb you knew us and that You formed our inward parts and knitted each one of us together in our mother's womb. You made us unrepeatable! Give us the courage to share that fact with those around us. We pray that the Holy Spirit makes our hearts tender to the personhood of the unborn, so that we can protect life from the moment of conception.

ACT.
Reproductive science shows that at the moment of fertilization, when the sperm meets the egg, all the information that builds that person is present. No new information is added. That fertilized egg is a human being, a person with a unique combination of information never before seen in earth's history. Just a few years ago, researchers at Northwestern University recorded a spark of light that happens at that very moment. They said, "Human life begins in bright flash of light as a sperm meets an egg, scientists have shown for the first time, after capturing the astonishing 'fireworks' on film. An explosion of tiny sparks erupts from the egg at the exact moment of conception." Watch the miracle of this spark of God's design here.
---
My Faith Votes—is a nonpartisan movement that motivates, equips and activates Christians in America to vote in every election, transforming our communities and influencing our nation with biblical truth. By partnering with national faith leaders, My Faith Votes provides resources to help Christians Pray, Think, and Act to create an America where God is honored in the public square.
Website | www.myfaithvotes.org Twitter | @MyFaithVotes Facebook | My Faith Votes
---
React
---
Comments