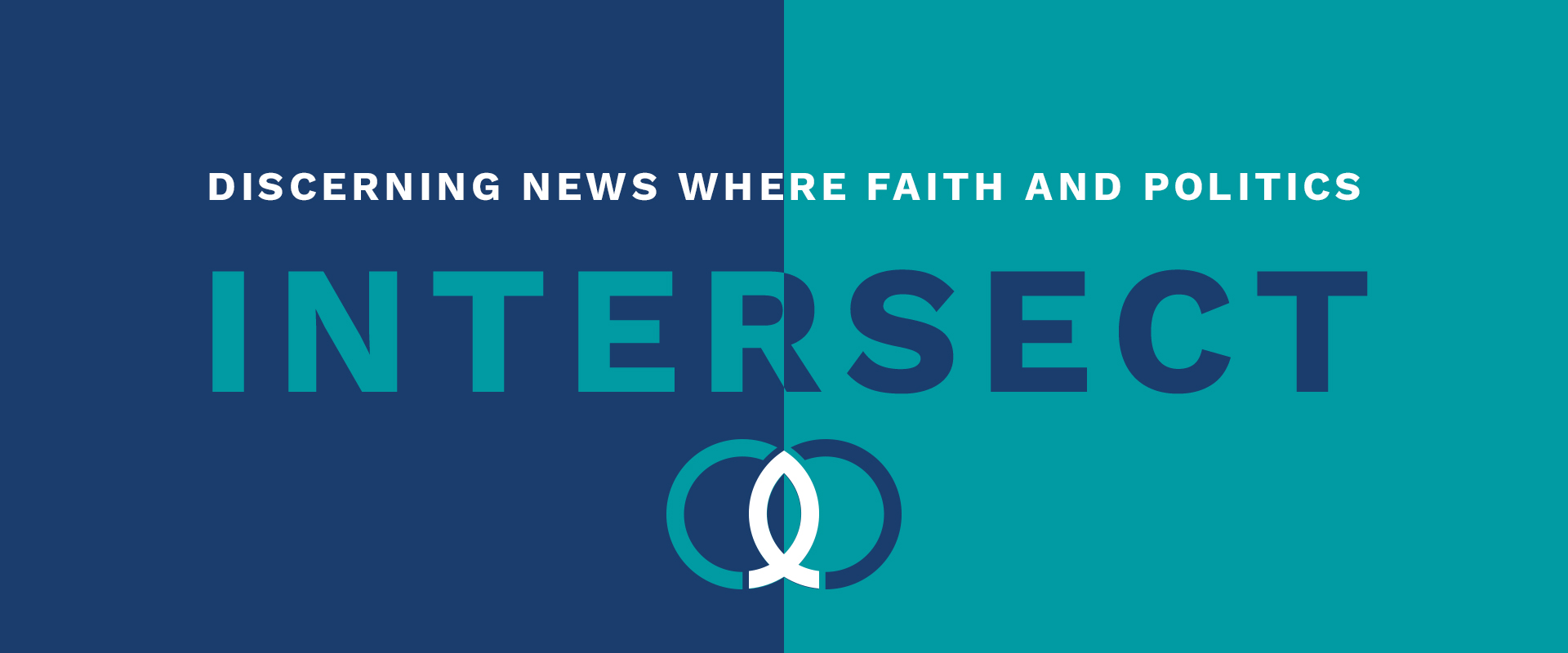 WEEKLY NEWS SUMMARY – Feb 20, 2019
In this week's Intersect, read about:
---
16 STATES SUE TRUMP OVER NATIONAL EMERGENCY DECLARATION
Sixteen states filed a lawsuit challenging President Donald Trump's national emergency declaration to free up funds for the border wall. The lawsuit was filed Monday night in U.S. District Court for the Northern District of California. Led by California Attorney General Xavier Becerra, attorneys general from Colorado, Connecticut, Delaware, Hawaii, Illinois, Maine, Maryland, Michigan, Minnesota, Nevada, New Jersey, New Mexico, New York, Oregon, and Virginia have joined the complaint. The states argue that "the president lacks power under the Constitution to allocate funds for constructing a wall along the border because Congress retains the spending power." Under the National Emergencies Act, the "president is authorized to declare such national emergency." It gives the president wide discretion over what qualifies as a national emergency and allows the president to reallocate funds. read more
THINK.
The National Emergency will allow Trump's administration to use $2.5 billion from the Defense Department drug-interdiction program budget and $3.6 billion from military construction funds. In Trump's Emergency Declaration he stated, "the situation at the southern border presents a border security and humanitarian crisis that threatens core national security interests and constitutes a national emergency." President Trump is not the first President to use this power. Since 1979, United States Presidents have declared 58 National Emergencies, many of which are still in effect. But just like any power in our government, it's important that it be kept in check. In the Federalist Papers, James Madison described how power, "is of an encroaching nature," and must, "be effectually restrained from passing the limits assigned to it." In Federalist No. 10, Madison warned about factions and their capacity to organize in a way that is, "adverse to the rights of other citizens," and the, "aggregate interests of the community." In the biblical narrative, we read about the capacity of power. Barack was paralyzed by it, and Saul was thirsty for more of it (Judges 4, 1 Samuel 15). In his book, Playing God, Andy Crouch describes power as a gift. Like any gift, power does not originate within us but is bestowed to us. Essentially, the proper use of power can bring calm to an emergency. The improper use of power can create an emergency.
PRAY.
Please continue to pray for President Trump, his administration and government officials both in D.C. and in other states across the nation involved in the lawsuits challenging this national emergency declaration. Pray for the courts that will be making crucial decisions in the cases, that justice prevails. Pray for partisan differences to be put aside and for all elected leaders to seek the best interest of the American people (Jeremiah 29:7). Our nation is facing divisions of various kinds, and it's critical that Christians step up and pray for our leaders to have God's wisdom (James 1:5).
ACT.
It is vital that we understand the constitutional and legal intricacies of declaring a national emergency before we take a side on Trump's authority to do so. Take a few minutes to read this helpful breakdown from the Heritage Foundation to gain a better understanding of national emergency power.


---
WIFE OF AURORA SHOOTING VICTIM PENS HEARTBREAKING TRIBUTE
The wife of a man killed in a mass shooting that claimed the lives of five people over the weekend has spoken out about her late husband and the blessing he was to their family.
Josh Pinkard, 37, was the plant manager at the Illinois manufacturing firm, Henry Pratt, and a father to three children. He, along with four other coworkers, was shot dead Friday afternoon by a disgruntled employee. Gary Martin, who had been with the company for 15 years, was in a meeting regarding his termination when he pulled out his firearm and began shooting. Pinkard's wife, Terra, said that her husband sent her a final text just before succumbing to his gunshot wounds. read more
THINK.
Despite the pain of this overwhelming loss, Terra chooses to lean on the Lord during these circumstances, thanking Him for the years she had her husband. "Things that mattered yesterday do not matter today. I will praise the Lord for giving me this mountain of a man. I will praise the Lord for the children we have together. And I will cry out to God during this immense time of sadness and need." Her attitude has encouraged thousands, and although it doesn't take away the pain of her loss, she continues to praise His name and trust in His will. Terra wrote on Facebook. "A huge bright light has left this world. But God. The Lord giveth and the Lord taketh away. Blessed be the name of the Lord. I am lost and devastated beyond words." God is good in His will to give and in His will to take away because it enables believers to find joy in Him-- a type of joy to be revealed for all the world to see. 2 Corinthians 4:16-18 reminds us to not lose heart in these momentary troubles but to keep our eyes fixed on Jesus because there is an eternal glory that far outweighs every earthly heartache.
PRAY.
Pray for the families of the victims of the shooting, that they would find peace and comfort in the Lord as they grieve their losses. Pray for the community of Aurora, Illinois as they process through this tragedy. Pray for Terra and her children as they boldly shine their light on the Lord during this difficult time.
ACT.
Use Terra's story as a reminder of how we are called to live daily in the highest of circumstances and even the low. You can make a tangible gift to Terra and her three young children. Feel free to make a donation to their GoFundMe campaign to help with the financial burden of the loss of a husband and father.
---
NATIONAL DEBT TOPS $22 TRILLION FOR THE FIRST TIME
The national debt surpassed $22 trillion for the first time last week, a milestone that experts warned is further proof the country is on an unsustainable financial path that could jeopardize the economic security of every American. The national debt has been rising at a faster rate following the passage of President Donald Trump's $1.5 trillion tax-cut package a little more than a year ago and as the result of congressional efforts to increase spending on domestic and military programs. The nation has added more than $1 trillion in debt in the last 11 months alone. read more
THINK.
President Ronald Reagan said, "We don't have a trillion-dollar debt because we haven't taxed enough; we have a trillion-dollar debt because we spend too much." And his words still ring true today. The U.S. Treasury divides all federal spending into 3 groups: mandatory spending, discretionary spending, and interest on debt. Mandatory spending (62 percent) includes Social Security, Medicare, and Medicaid benefits. Discretionary spending (30 percent) includes a variety of items. For example, the State Department spent $630,000 on advertising for their social media channels. The National Institutes of Health spent $325,525 to discover that couples are happier when the woman calms down after an argument. And the National Science Foundation spent $150,000 to study why politics stresses us out. In the biblical narrative, we read that the borrower is a slave to the lender (Proverbs 22:7). Not all debt is bad, but every expense is worth considering. In related news, Amazon canceled their plan to build a headquarters in NYC and expressed the reason was due to lack of support from politicians, even though the majority of the community supported it. Amazon didn't pay a penny in federal taxes last year, but they did contribute significantly to our economy in the form of jobs. In Seattle alone, Amazon has contributed more than $30 billion to their economy. One thing is for certain, our representatives in Congress and at the state levels need to do a better job of both encouraging the economy and curbing spending. Because as it stands now, future generations are going to be saddled with our debt.
PRAY.
We strongly encourage you to pray daily for your elected leaders. Pray for your representatives in Congress to have the courage to do the right thing to benefit the next generation.
ACT.
One way that we can take action on this issue is to be active in meeting the needs in your local community. If needs are left unmet in our society, government must grow to meet them. But if we, as Christians and together as the church, meet the needs of our neighbors first, then the size of government can shrink. Download this amazing app, "Purposity". It connects you to the needs of your neighborhood and provides you with the opportunity to meet them.
---
SBC SEXUAL ABUSE REPORT, A 'WARNING SENT FROM GOD'
Southern Baptist leaders are thanking God and promising change in response to a Houston Chronicle report spotlighting sexual abuse in its churches. "The voices in this article should be heard as a warning sent from God, calling the church to repent," Southern Baptist Convention President J.D. Greear wrote in response to the report on Twitter. "This is a scandal crying out to heaven," wrote Russell Moore, president of the SBC's Ethics & Religious Liberty Commission. "The church's message to survivors should be a clear communication that they are those who have been sinned against, not those who have sinned, that they are not troublemakers in the church but those who are helping the real 'trouble' to come to light." The Houston Chronicle's Sunday report, the first in a three-part series, found over 700 victims of alleged sexual abuse by 380 Southern Baptist leaders and volunteers since 1998. 220 have been convicted. 100 are still in prison. read more
THINK.
This isn't the first time in church history that leaders have fallen. These scandals are becoming an epidemic, which is why it's important to be reminded, no one is beyond Satan's reach. Church leaders have fallen for the same reason why any other Christians find themselves drowning in a sea of sin; they become enticed by their own desires stifling the unveiling of their shamefulness. Sin either withers as it is brought to light and starved or sin grows as it is hidden and fed. The reputation of the churches was at the forefront of this issue for many years causing this issue to be covered up in order to "protect" the name of Jesus. "Jesus does not cover up sin within the temple of his presence. He brings everything hidden to light. We should too! When we downplay or cover over what has happened in the name of Jesus to those he loves we are not 'protecting' Jesus' reputation. We are instead fighting Jesus himself." ERLC President Russell Moore said. "No church should be frustrated by the Houston Chronicle's reporting but should thank God for it. The Judgment Seat of Christ will be far less reticent than a newspaper series to uncover what should never have been hidden." Churches have two ways to respond in this moment, to cover it up like a corporate scandal or focus on repenting (2 Corinthians 7:10) and restoring confidence in the community of its commitment to serve the vulnerable and bring glory to God alone.
PRAY.
Please pray for the victims of abuse that they would find healing. Pray for those who might not have been as bold to come forward. Pray for the hearts of the abusers to turn to Jesus, repent and bring sin to the light. Pray that churches across the SBC will respond to this scandal with humility, repentance, confession, and a renewed commitment to righteousness and care for those in the congregations.
ACT.
Newly elected President of the Southern Baptist Convention, Pastor J.D. Greear, spoke out on the issue urging other victims to come forward and seek help. People are encouraged to reach out to The National Hotline for Domestic Violence at 1-800-799-SAFE (7233); The National Child Abuse Hotline number at 1-800-422-4453 and The Rape, Abuse, & Incest National Network number at 1-800-656-HOPE (4673).
---
My Faith Votes—is a nonpartisan movement that motivates, equips and activates Christians in America to vote in every election, transforming our communities and influencing our nation with biblical truth. By partnering with national faith leaders, My Faith Votes provides resources to help Christians Pray, Think, and Act to create an America where God is honored in the public square.
Website | www.myfaithvotes.org Twitter | @MyFaithVotes Facebook | My Faith Votes
---
React
---
Comments