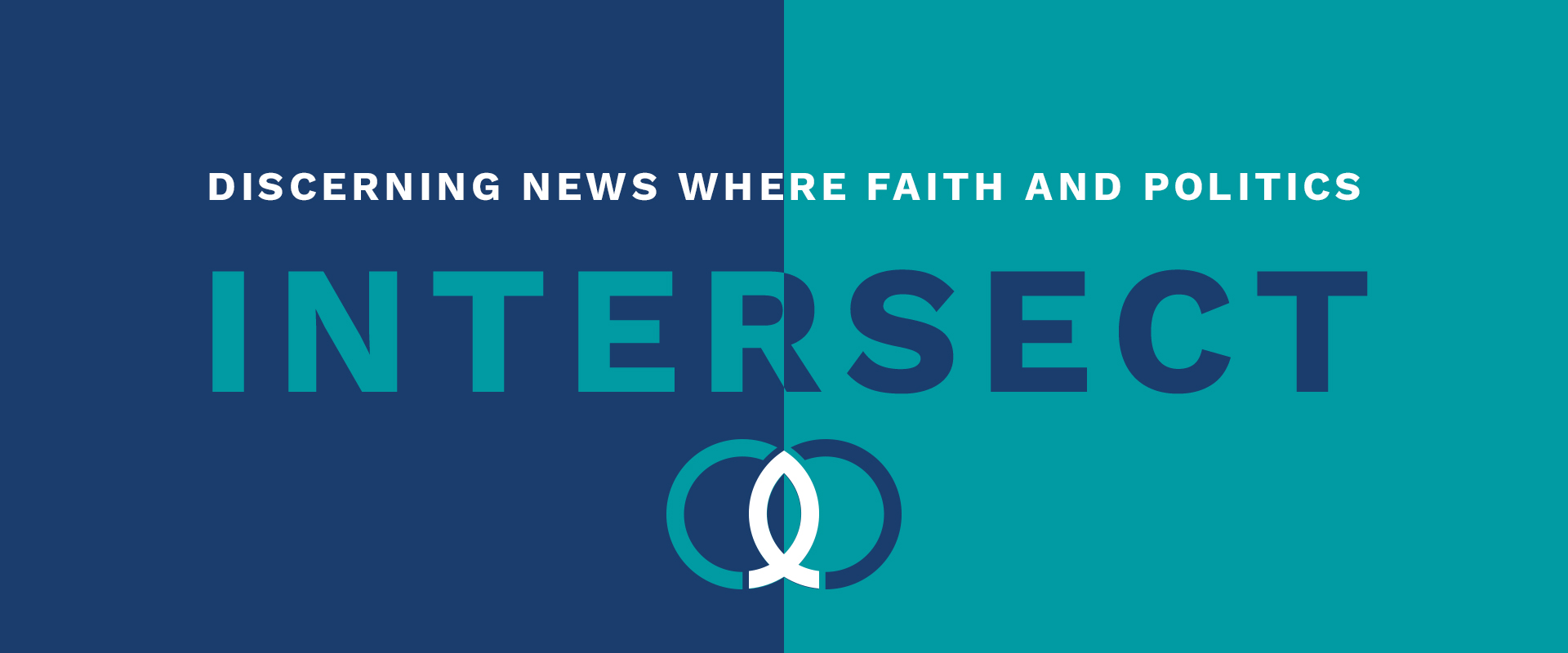 WEEKLY NEWS SUMMARY - FEBRUARY 2, 2022
In this week's Intersect, read about:
---
Religious Freedom Groups Urge Christians to Boycott 2022 Beijing Olympics
"With the 2022 Beijing Winter Olympics set to take place early [this] month, religious freedom advocacy organizations are urging Christians to boycott the event over China's persecution of Christians and other religious minorities. On Wednesday, the religious persecution watchdog group Open Doors USA released its annual World Watch List of the top 50 countries where it is most difficult to be a Christian. During the press conference of the list's unveiling, David Curry, Open Doors' CEO, addressed the Chinese Communist Party's persecution of Christians and other religious minorities, including the Uyghur Muslims, who are reportedly subjected to forced labor." read more at Christian Headlines
THINK.
China is listed as number seventeen on the 2022 Open Doors World Watch List, and the persecution level is labeled "very high." Instances of religious suppression and persecution by the Chinese Communist Party (CCP) include restricting access to online Bible apps and Christian information, banning minors from attending church, and imprisoning church leaders like Pastor Wang Yi, who was sentenced to nine years in prison. Fox News host Laura Ingraham is also calling for viewers to boycott watching the Olympic games this year through her #NotOneMinute campaign. For those who decide to watch the Olympics, Voice of the Martyr's spokesperson, Todd Nettleton, has a good reminder: "The Olympics are always filled with wonderful pageantry and inspiring athletic accomplishments. But let's not forget what the host government doesn't want us to see: imprisoned pastors, destroyed church buildings and a complete lack of religious freedom." As Christians, we are instructed to "Remember those who are in prison, as though in prison with them, and those who are mistreated, since you also are in the body." (Hebrews 13:3) Regarding the people of other religions who are also being mistreated by the CCP, Proverbs 24:11-12a holds guidance: "Rescue those who are being taken away to death; hold back those who are stumbling to the slaughter. If you say, 'Behold, we did not know this,' does not he who weighs the heart perceive it?" Countries like China immediately come to mind when discussing Christian persecution. It is a bit startling, therefore, to see Finland enter the picture. On January 24, a former government official and a Lutheran bishop were brought to court for publicly stating their beliefs on same-sex marriage. Both are facing criminal charges for hate speech. Several U.S. Senators sent a letter to Rashad Hussain, the U.S. Ambassador for International Religious Freedom, stating, "We are greatly concerned that the use of Finnish law is tantamount to a secular blasphemy law. It could open the door for prosecution of other devout Christians, Muslims, Jews and adherents of other faiths for publicly stating their religious beliefs that may conflict with secular trends." Representative Chip Roy (R-TX) aptly stated, "We have a duty to stand up for religious liberty and stand up for people to be able to speak the truth around the world. Whether it was that young man in front of the tank in Tiananmen Square, or whether it's these two individuals in particular facing this absurd prosecution in Finland for daring just to speak their faith…"
PRAY.
To pray for China during the Olympics, visit PrayForChina2022.com. The Chinese Communist Party will likely attempt to prevent the sharing of the gospel by Christian athletes. Pray that the Lord's kingdom will advance, despite the efforts to thwart it. Pray for wisdom and discernment for Christian athletes, and for opportunities to be a faithful witness for our Lord Jesus. Remember our brothers and sisters worldwide facing pressure to deny, by word or deed, the teachings of Jesus.
ACT.
Let it never be said that we turned a blind eye to the stunning human rights violations committed in our age. We encourage you to read this article by the Christian Post, and check their website frequently during the Olympic games for interviews they will be publishing of victims of the Chinese Communist Party.
---
Supreme Court Justice Stephen Breyer to Retire
"President Joe Biden on Thursday formally announced the retirement of Supreme Court Justice Stephen Breyer at a White House event, praising the liberal jurist as a 'model public servant' and vowing to move swiftly to name his successor. 'I think he's a model public servant, in a time of great division in this country,' Biden said. Biden, who pledged to name a Black woman to the high court, said he planned to name his nominee by the end of February. At 83, Breyer is the second-most senior associate justice, and his retirement was encouraged by liberals who wanted to ensure Biden's nominee would benefit from a Senate controlled by Democrats." read more at USA Today
THINK.
Past Presidents have made similar identity-driven decisions for SCOTUS nominations, so it's not unprecedented. Biden made a pledge during the 2020 election cycle, so moving forward with a Black woman would be keeping a campaign promise. But former My Faith Votes Honorary Chairman, Dr. Ben Carson, warned that bringing identity politics into the Supreme Court is "very detrimental to our freedoms." "Many people fought and gave their lives to bring equality. And now we're reverting back to identity politics. And as we continue to do that, we're bringing more division into our country," Carson continued. No matter who is selected from Biden's shortlist, Stephen Breyer might be one of the last liberals to sit on the Supreme Court because he'll be followed by someone who most likely will be significantly to the left of that classical liberal position that was represented by Breyer. As Senator Susan Collins (R- ME) pointed out, "It adds to the further perception that the court is a political institution like Congress when it is not supposed to be." As R.J. Snell writes, "That the confirmation hearings are 'must watch TV,' and that so much seems to depend on their outcome, are signs that something is amiss with the Court. The Federalist Papers describe the Court as the "least dangerous" branch of government, having "neither force nor will, but merely judgment," lacking even the power to impose its judgment without the executive branch. Article III of the Constitution enumerates the cases and controversies over which the federal judicial power extends, and nothing in that article suggests the Court should properly be the theater for identity politics or culture war." Americans are not in favor of identity politics either. An ABC News/ Ipsos poll released Sunday shows more than three-quarters of Americans believe the president should consider all possible nominees for the Supreme Court. These words from Allie Beth Stuckey ring true, "A qualified justice who is committed to true, impartial justice is a blessing to the country, no matter the person's ethnicity or gender. But the opposite is also true: a person placed on the highest court of the land who is committed not to justice but to the advancement of a progressive, identity-obsessed agenda, will surely wreak havoc. The abandonment of God's definitions of justice always does."
PRAY.
Lord, we pray for the new Supreme Court Justice to be a wise, thoughtful, constitutionalist who upholds our laws and one who recognizes that they answer to You, the Supreme Judge. We pray for wisdom for those who have their hand in selecting the nominee and the Senators who will either confirm or deny this justice to serve, that they would place prudence and biblical justice over partiality and agenda.
ACT.
In 1991, then-Senator Joe Biden, chaired the Senate Judiciary Committee and oversaw the contentious confirmation process of Clarence Thomas, the second African American appointed to serve on the High Court and the replacement for retiring justice Thurgood Marshall, the court's first African American justice. Justice Thomas was ultimately confirmed 52-48, with Biden voting against the confirmation. A recent documentary called "Created Equal: Clarence Thomas in His Own Words" gives a rare and fascinating look at Thomas's life, including the heated confirmation hearings, to become the court's 106th justice.
---
Truckers Vow to Remain at Canada/U.S. Border Blockade
"Tensions are ratcheting up with police and tow trucks descending on the scene. Blockaders have now opened up one lane of traffic to allow locals, school buses and emergency vehicles access to the border. What started as a cross-border protest of hundreds of truckers and locals at the Coutts, Alberta-Sweet Grass, Montana border crossing Saturday morning had turned into a full-on blockade of the southbound lane of Alberta Highway 4 by Sunday. The so-far peaceful demonstration was organized to show support for the Freedom Convoy that headed to Ottawa, which has now ground the nation's capital to a halt." read more at Rebel News
THINK.
The "Freedom Convoy" began as a call to end a federal vaccine mandate that would require unvaccinated Canadian truckers returning from across the US border to quarantine and get tested once they are home. Driving from Vancouver to Ottawa, the national capital of Canada, with thousands cheering along the way, the convoy reached Ottawa over the weekend and was joined by thousands more Canadians protesting the mandates. The movement has since grown into a push to end all vaccine mandates nationwide and what supporters see as government overreach of Covid-19 restrictions. Prime Minister Justin Trudeau, who tested positive for COVID-19 over the weekend and left Ottawa for another location, condemned the "Freedom Convoy" as an unacceptable protest whose supporters are touting "hateful rhetoric" and espousing "violence toward fellow citizens." It's worth noting that, so far, there has been no reported violence linked to the convoy. Trudeau said he has supported protests and rallies in the past, when he "agreed with the goals," citing the Black Lives Matter movement as an example of a cause with which he agrees. The prime minister does not, though, support the truckers whom, just days ago, he said are a "fringe minority" of people who hold "unacceptable views" about government overreach, Global News reported. Samuel Sey, a Christian writer in Canada, expressed why this story has gotten so much social media attention saying, "COVID has killed many people. However, that isn't an excuse for the government to kill our spirits. Canadians are suffering through a virus that threatens some of us and a government that threatens us all. We've suffered through multiple—and in some provinces ongoing—lockdowns. Canadian pastors have suffered criminal charges, millions of dollars in fines, and even time in prison for disobeying the government to obey God. That's why a group of Canadian truckers have captivated our country and the rest of the world. They are not the "experts". They are not elitists. They are just a 'small, fringe minority' with 'unacceptable views'...They are just average Canadians." Truckers from around the world including in Australia, and here in America, are taking inspiration from Canada and starting their own "freedom convoys."
PRAY.
Father, as we take courage in standing against tyranny and working to preserve our freedoms, guide our steps to be in line with Your will. "O my God, in you I trust; let me not be put to shame; let not my enemies exult over me. Indeed, none who wait for you shall be put to shame." (Psalm 25:1-3a) We pray for physical freedom, and for spiritual freedom for those in Canada, Australia, and any place where the rights of the people are being disregarded."
ACT.
Truck drivers often face lonely, stressful, and demanding working environments, especially in an industry with high turnover and added supply chain issues. TFC Global exists to evangelize, educate, and equip members of the trucking community and their families. Learn more about their ministry and see if there is an opportunity to bring the hope of Christ to truck drivers.
---
Fallen NYPD Cop Jason Rivera Given Hero's Farewell at St. Patrick's Cathedral
"Slain NYPD cop Jason Rivera was given a solemn final farewell on Friday as his grieving brother told the thousands of officers gathered for his funeral that the rookie's "first love was policing." Rivera, 22, was posthumously promoted to detective first grade during the service at Manhattan's historic St. Patrick's Cathedral — one week after he was murdered in the line of duty…As top New York officials joined Rivera's family inside the church, a staggering "sea of blue" stretched several blocks along Fifth Avenue as cops huddled outside in the snow to pay their respects." read more at the New York Post
THINK.
Romans 13 speaks about honoring those in authority, "he is God's servant for your good…Pay to all what is owed to them…respect to whom respect is owed, honor to whom honor is owed." The support for fallen officer Rivera was enormous, with police officers traveling from as far away as France and Germany to pay their respects. Images showed an incredible "sea of blue" and the large outpouring of support is an encouraging indicator of the community's attitude. One New York citizen who took his son to the funeral procession said, "You're coming with me to see how someone paid the ultimate sacrifice for trying to unite our community. This hatred towards cops has to end. It is unspeakable what has happened." The funeral for Wilbert Mora, Rivera's fellow officer who was also killed, was held on Tuesday. The two officers, just twenty-two and twenty-seven years old, were the first NYPD officers to be killed in the line of duty by a gunman since 2017. Unfortunately, the efforts of law enforcement officers to restrain evildoers are often hampered by bad policies from elected officials. Rivera's widow emphasized this during her eulogy: "This system continues to fail us. We are not safe anymore, not even the members of the service. I know you were tired of these laws, especially the ones from the new DA." She was referring to the policies of newly-elected Manhattan District Attorney Alvin Bragg, who recently announced that his office will stop prosecuting some crimes like marijuana misdemeanors and certain instances of trespassing. Why should the police arrest anyone who violates those laws when they know the person won't be prosecuted? Bragg's actions are not unique. The Heritage Foundation has written a research paper on rogue prosecutors across the country whose campaigns were backed by George Soros and other far-Left individuals. Most District Attorneys are elected to their positions. Do you know who is running to be your next DA? Find out who is currently in office and who may be running for that office. And commit to voting in this lesser-publicized election. And while you're at it, don't forget to thank a police officer for serving your community.
PRAY.
Lord Jesus, our hearts hurt for the families of officers who have been murdered in the line of duty. Comfort them with the peace only You can give. Thank You for being a righteous and just judge, who will one day judge the living and the dead, yet who has paid the punishment for our crimes against You for anyone who believes in You as Lord. Give strength, protection, and integrity to our police officers, and wisdom to our elected officials to enable the enforcement of justice and protection for the innocent. In Your holy name, Amen.
ACT.
The Thin Blue Life is a ministry to encourage police officers and build them up in the faith. It can also be an opportunity for officers who are unbelievers to be introduced to a living hope in Jesus. We encourage you to check out their engaging articles on apologetics and how the Christian worldview applies to policing.
---
My Faith Votes—is a nonpartisan movement that motivates, equips and activates Christians in America to vote in every election, transforming our communities and influencing our nation with biblical truth. By partnering with national faith leaders, My Faith Votes provides resources to help Christians Pray, Think, and Act to create an America where God is honored in the public square.
Website | www.myfaithvotes.org Twitter | @MyFaithVotes Facebook | My Faith Votes
---
React
---
Comments