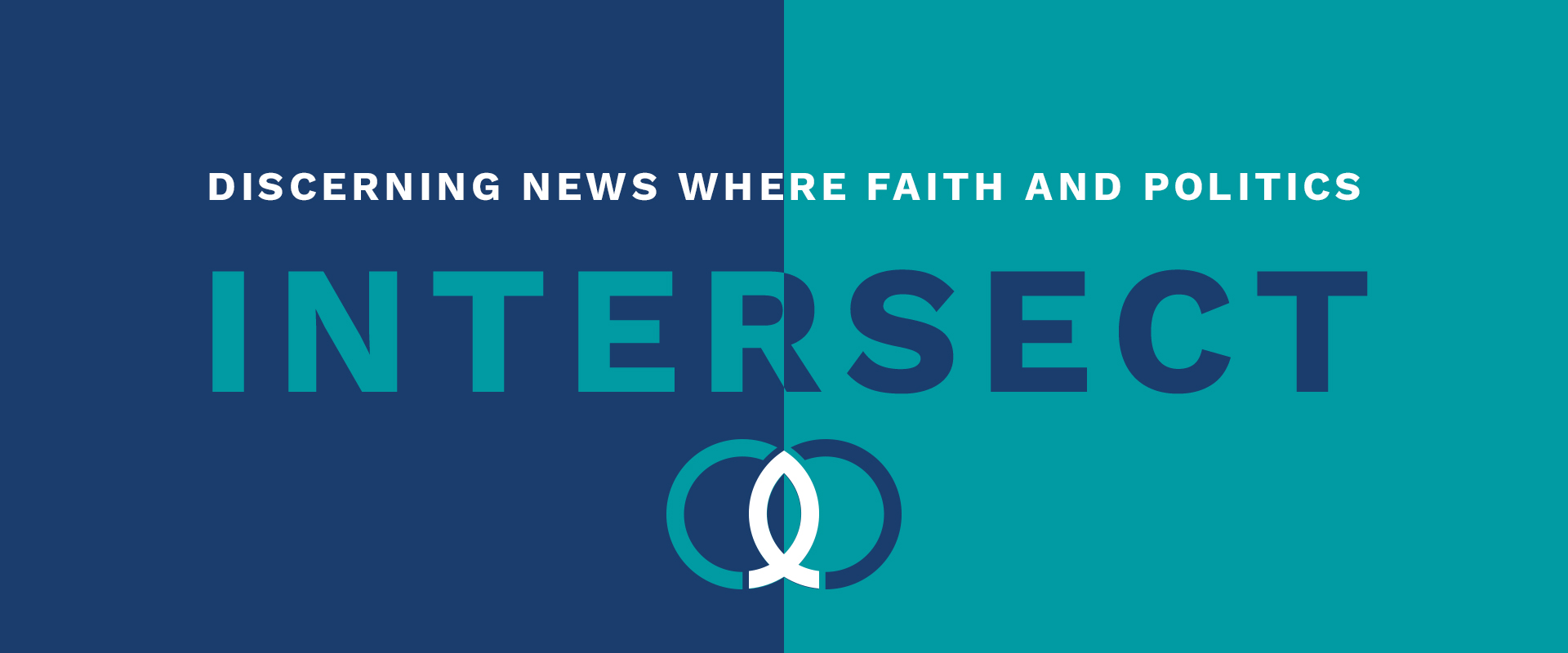 WEEKLY NEWS SUMMARY - FEBRUARY 19, 2020
In this week's Intersect, read about:
---
Navy Chaplain Accused of Violating Constitution for Encouraging Soldiers to 'Lead like Jesus'
A U.S. Navy chaplain has been accused of violating the U.S. Constitution for teaching an optional 12-week seminar called "Lead Like Jesus" at a Naval Station Newport in Rhode Island.
According to the religious liberty legal organization First Liberty Institute, Cmdr. Richard Smothers is being antagonized by the Military Religious Freedom Foundation — a group that argues for a strictly secularist interpretation of the Constitution — for promoting the seminar at the base. MRFF sent an email demanding that Capt. Ian Johnson, commander of the Naval base, investigate Smothers and anyone else who promoted the seminar through emails or fliers. The organization argues that service members were being "voluntold" to attend the Christian-oriented event. Michael L. "Mikey" Weinstein, founder of MRFF, accused Smothers of having "weaponized Christianity" in an interview with the Navy Times published in January. He added that those behind the discussions should be "visibly and aggressively investigated and punished." "Nothing could be more disruptive to good order and discipline and unit cohesion than a message like this," he said. Commenting on the matter, First Liberty noted that encouraging troops through faith is in the job description of a chaplain. read more
THINK.
Since human beings consist of both body and soul (as referenced throughout the Bible), the health of both is vital to a service member's effectiveness in the military. This is why George Washington created the Chaplain Corps in 1775 and is the reason military chaplains remain a crucial part of our military. As First Liberty Institute states, the optional seminar that Commander Smothers conducted was perfectly in line with his job description as a Christian chaplain. His intent was for Christians to apply their identity in Christ to their job, something we all should make a practice of doing, whether our vocation is military service, homemaking, or any position in the workforce (Colossians 3:23-24, Ephesians 6:5-9). It's not only in the military where some are seeking to silence religion. Several state legislators walked out of a pastor's opening prayer in the Virginia House of Delegates last Tuesday. During his prayer, Rev. Robert Grant rebuked the lawmakers for not fulfilling their duty to protect the rights of the unborn and prayed that they would uphold the Biblical definition of marriage. The Democrat-controlled legislature is advancing bills that would repeal current restrictions on abortion in Virginia. If we want to help preserve religious freedom in our nation, we must be aware of these stories and continue to elect leaders who will uphold our First Amendment rights.
PRAY.
Let's pray that our government officials would indeed fulfill their God-ordained role as "servants of God," (Romans 13:4) who would not be a threat to good conduct, but to bad. Pray that Christians in government and elsewhere would seek to apply a Biblical perspective to their jobs.
ACT.
Read more about Chaplain Richard Smother's case through First Liberty Institute. We encourage you to pray for this case and consider supporting them in this important fight to protect religious freedom.
---
Utah Senate Committee Unanimously Approves Bill to Decriminalize Polygamy
A bill that would effectively decriminalize polygamy among consenting adults in Utah was unanimously endorsed by a state Senate committee this week, sending the legislation to the full chamber for a vote, The Salt Lake City Tribune reported. The Utah Senate Judiciary, Law Enforcement and Criminal Justice Committee pushed the bill through after hearing testimony from those who said current state law labels law-abiding citizens as criminals. The bill's sponsor, Utah Sen. Deidre Henderson (R), said laws on the books make victims of abuse or fraud within polygamist families feel scared to come forward for fear that they would be arrested. "The people that I have spoken with long to feel part of society," Henderson said. "They are tired of being treated like second-class citizens. They feel like Utah has legalized prejudice against them. They want to be honest people, but feel like they have to lie or teach their children to lie about their families in order to stay safe." Current state law makes polygamy a felony punishable by up to five years in prison, with an additional 15 years possible if the defendant is also convicted of fraud, child abuse, sexual abuse, domestic abuse or human smuggling or trafficking. Henderson's law would make polygamy between consenting adults an infraction — a level below many traffic offenses that carries no jail time, the Tribune reported. Those convicted could face fines up to $750, and community service and sentencing enhancements for those with additional charges would remain intact. read more
THINK.
The bill is intended to make it easier for victims of abuse to report it to the police without fear of criminal penalties. But Amelia Anthony, a victim's advocate who fled a plural marriage herself, argued that decriminalizing polygamy will give more power to the abusers. In a letter to the Utah State Senate, she writes, "Those of us who have lived on both sides of the fence...believe that passing this bill will NOT out-weigh the harms of polygamy; and will not be best for thousands of victims." Beyond that, the act of categorizing it as a mere infraction, with jail time only enforced for additional crimes such as fraud or abuse, sends the message (whether intended or not) that polygamy is a legitimate lifestyle as long as the adults are consenting. The Supreme Court decision to legalize same-sex marriage logically opened the door to cultural acceptance of other forms of "marriage". Case in point, the popular reality channel HGTV recently aired an episode of House Hunters featuring a 'throuple'--a man and two women in a romantic relationship. God created marriage as an institution with clearly defined boundaries (Matthew 19:4-5). In contrast, a secular worldview that places humans as the highest authority treats marriage as simply a label that can be placed on almost any "loving" relationship.
PRAY.
Pray that the Utah lawmakers will work to protect victims of abuse who want to leave polygamous relationships, while avoiding the slippery slope of decriminalizing something that is not only wrong according to the Bible, but is also extremely harmful to the people who practice it, and to society.
ACT.
Ryan Anderson from the Heritage Foundation has a great lecture on the importance of marriage today. If you want to dive deeper into understanding this issue from a Judeo-Christian perspective, we encourage you to listen to this great talk.
---
TN City Pastors Say Revival Exploding Among Various Churches Shows 'God is Moving'
Revival is taking place in Tennessee as churches from various denominations have partnered together in prayer and fasting. East Rogersville Baptist Church, located in Rogersville, has been the launching pad for this move of God. It's a part of Awaken Tennessee, the 30-day initiative for prayer and fasting, that kicked off January 26, and will run through February 23. Pastors are reporting their services are exploding with revival services as a result of the Holy Spirit showing up and taking over. "I feel the cause is two-fold," noted Sheldon Livesay, the coordinator for Awaken Tennessee told the Rogersville Review. "Hawkins County churches have come together to join in the prayer and fasting movement across Tennessee, and Pastor John Butler here in Rogersville has created a county-wide launch at his church which now has exploded into its fourth week of services." "3,100 Awaken Tennessee Prayer Packets have been distributed across East Tennessee to 220 churches who are joining in the 30 days of prayer and fasting. Another 800+ churches are joining from Middle and West Tennessee. That's a total of over 1,000 churches in Tennessee fasting and praying in unity," Livesay continued. "Many churches are only giving one packet per family where both the husband and wife have committed to pray, which means well over 100,000 Tennesseans could be involved in prayer during February. Prayer is always the foundation for revival," he added. read more
THINK.
President of the Life Action Ministries, John Avant, travels the nation, and he said he has not seen an outpouring of the Holy Spirit like this since a revival in Brownsville, Florida, in 1995. Revival is not only taking place in Tennessee but also in different regions of the globe. Recent stories highlight a movement in Nigeria where earlier this month, an estimated 5 million Christians in 28 of Nigeria's 36 provinces marched after three days of fasting and prayer. The first day was a call for Nigerian Christians to confess and repent of their sins. The second day called on God to pour out his spirit for revival, and the third day was a prayer walk asking God to fight their battles for them. Christians in Nigeria have suffered tremendous persecution from their government. And last week, millions gathered in person and online to participate in a 12-hour event called The Send Brazil, an outreach to worship together and spread the Gospel. What's taking place in Tennessee, Nigeria and Brazil should encourage us all to seek revival in our own hearts, churches, and communities. Psalm 51:10-13 reads, "Create in me a clean heart, O God, and renew a right spirit within me. Cast me not away from your presence, and take not your Holy Spirit from me. Restore to me the joy of your salvation, and uphold me with a willing spirit. Then I will teach transgressors your ways, and sinners will return to you."
PRAY.
Pray today Psalm 51:10 over your own life, that we might all be reminded of the truth of the Gospel and its power to transform our own lives and our communities and nation.
ACT.
On February 27, The Collegiate Day of Prayer is taking place across the country. This is a multi-generational day of prayer for revival and awakening on college campuses in America. You can participate by adopting a college campus in your area to pray for. Check out the map here and join with other believers in prayer for the next generation.
---
215 House Democrats Back Bill that Would Overturn Hundreds of Pro-Life State Laws
A bill that would guarantee a right to an abortion and overturn nearly every state-level restriction of the procedure has the support of nearly half of the Democratic-controlled House of Representatives. H. R. 2975, the "Women's Health Protection Act of 2019," received a hearing in the Subcommittee on Health of the Committee on Energy and Commerce Wednesday and would guarantee the right to an abortion even if the U.S. Supreme Court overturns Roe v. Wade. "A health care provider has a statutory right under this Act to provide abortion services and may provide abortion services, and that provider's patient has a corresponding right to receive such services," the bill says. The bill lists a dozen ways that states are prohibited from interfering with abortion services, including delaying an abortion and performing "specified tests, services, or procedures" prior to an abortion. Such language would nullify waiting periods and ultrasound requirements. The bill also guarantees late-term abortions as long as the pregnancy poses "a risk to the pregnant patient's life or health." Courts have interpreted "health" to include virtually anything, including the mental health of a woman – effectively allowing abortion for any reason. Since 2010, the bill says, 400 abortion restrictions have passed on the state and local level. The bill has 216 sponsors or co-sponsors. Of those, 215 are Democrats. (Rep. Van. Drew, who recently switched to the Republican party, supports the bill.) The House has 435 seats. read more
THINK.
If H.R. 2975 were to be passed into law, states would be prohibited from passing their own laws to limit and restrict abortions. This bill may seem like a far-fetched idea right now because Republicans control both the Senate and the White House, but in a little less than nine months, Americans will head to the polls in November, and that could change. If Christians and pro-life Americans don't stand for life at the voting booth, we risk seeing these bills become law. Not only would this bill remove protections for the unborn, but it will also challenge the Tenth Amendment of our Constitution which states, "The powers not delegated to the United States by the Constitution, nor prohibited by it to the States, are reserved to the States respectively, or to the people." This bill would remove power from the states and enhance the power of the federal government. The Tenth Amendment was created to safeguard against such attempts. And that's not the only dangerous bill being put forward by the secular left. There is another policy that would undermine the rule of law in America. Read our article about the New Way Forward Act here. These events should serve as another reminder to us, and everyone in our Christian community, that our votes matter more than ever in the upcoming elections. In related news about the sanctity of life, a mass burial was recently held for more than 2,400 fetal remains found in abortionist Ulrich Klopfer's home. You may remember hearing about this horrific story last year. After Klopfer's death, his family began going through his belongings when they discovered that he had preserved the bodies of aborted babies. Indiana Attorney General, Curtis Hill, held a mass memorial and burial service for the 2,400 unborn lives. A shared headstone now marks these babies' burial place.
PRAY.
Pray that our pro-abortion policymakers would ask the simple yet profound question in Job 31:15, "Did not he who made me in the womb make them? Did not the same one form us both within our mothers?"
ACT.
The Democrats in the House have blocked the Born-Alive Abortion Survivors Protection Act from a vote 80 times. This legislation would stop infanticide and require medical care and treatment to be provided to babies who survive abortions and are born alive. However, Republicans, and three Democrats in the House, have not given up. They have put forward a discharge petition that can force the bill out of committee and schedule the bill for a vote on the House floor. Only 14 more Congressional signatures are needed. Will you please take action here with our simple tool to urge members of Congress to act?
---
My Faith Votes—is a nonpartisan movement that motivates, equips and activates Christians in America to vote in every election, transforming our communities and influencing our nation with biblical truth. By partnering with national faith leaders, My Faith Votes provides resources to help Christians Pray, Think, and Act to create an America where God is honored in the public square.
Website | www.myfaithvotes.org Twitter | @MyFaithVotes Facebook | My Faith Votes
---
React
---
Comments