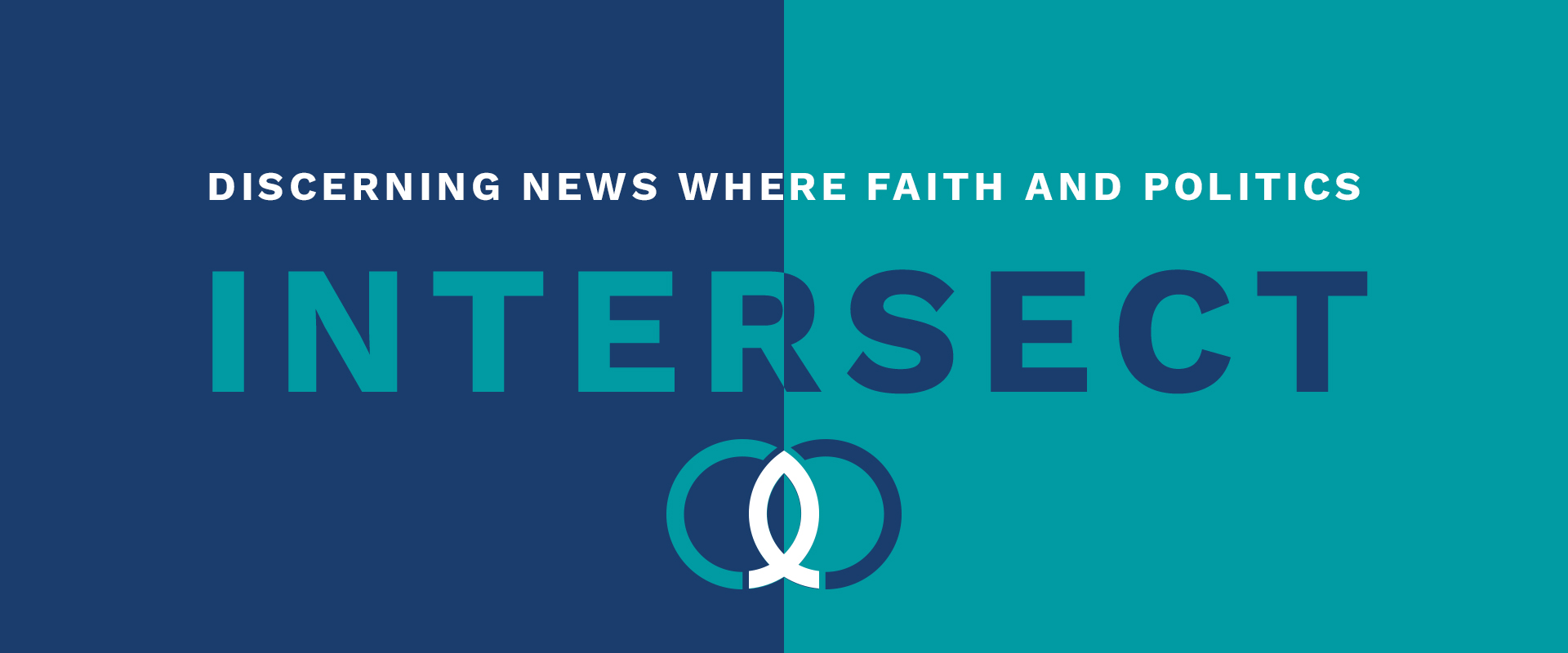 WEEKLY NEWS SUMMARY - FEBRUARY 17, 2021
In this week's Intersect, read about:
---
'Shocked and Grieved': Ravi Zacharias Ministry Releases Report Acknowledging Founder's Serial Sexual Misconduct
"The apologetics ministry founded by the late evangelist Ravi Zacharias, who died of cancer in May of last year, issued a lengthy apology Thursday, following the release of a months-long independent investigation over claims the famed apologist engaged in "sexting, unwanted touching, spiritual abuse, and rape" over the course of many years. Ravi Zacharias International Ministries (RZIM) commissioned the Atlanta-based law firm Miller & Martin to conduct a review and release a report, which was ultimately based on testimonies from more than a dozen massage therapists, data collected from four phones and a laptop — all of which were kept outside the purview of RZIM leadership. 'We are shocked and grieved by Ravi's actions,' the RZIM statement read in part. 'As Ravi Zacharias was the founder of our ministry and the leader of our staff, community, and team, we also feel a deep need for corporate repentance. To be victimized by unwanted sexual contact, advances, and behavior is horrendous,' it continued. 'It is diametrically opposed to everything we believe about the value and dignity of every single person. We believe not only the women who made their allegations public but also additional women who had not previously made public allegations against Ravi but whose identities and stories were uncovered during the investigation.'" read more at CBN News
THINK.
The reality of Ravi Zacharias's double life has left many shocked and hurt, including us. My Faith Votes partnered with Kirk Cameron's Revive Us 2, a special that aired in 2017 where Zacharias spoke, and we pointed to him as a godly example when he passed away. When something like this happens, should it shake our faith? Yes, but in humanity, not in God. A quick overview of the New Testament reveals an early church rife with human sin. Demas, a fellow worker with the apostle Paul, fell in love with the world and deserted him (2 Timothy 4:10), the Corinthian church tolerated a kind of sexual immorality that disgusted even their pagan neighbors (1 Corinthians 5:1-3), Annanias and Sapphira were struck dead after conspiring to lie to the Holy Spirit (Acts 5:4-5, 9-11), and the list goes on. Such records -- referred to as 'embarrassing testimony'-- are evidence for the trustworthiness of the New Testament, since the writers were willing to tell the truth even when it hurt. Of the seven churches Jesus communicates with in Revelation, only two receive no corrections from Him. Knowing that the church has struggled with sin and betrayal from its infancy can keep us from growing discouraged. At the same time, such instances, like Ravi's story, serve as an extremely grave warning. Chuck Colson often said, "There is no limit to the human capacity for self-rationalization." The Bible says as much when it refers to our hearts as "deceitful above all things". We deceive ourselves and others, but we can never deceive God. "Giftedness will never translate to godliness...Saying good things isn't the same as having a good character." Christian author and Bible teacher Jackie Hill Perry expressed in a tweet. John Stonestreet of the Colson Center for Christian Worldview notes that this is not the same as "cancel culture", as some have worried. "Cancel culture cancels people because of their different beliefs. This is about behavior; this is about reprehensible behavior that deeply harmed other people," he states in a very thoughtful article. All of us are one step away from utter destruction. Sin takes us further than we ever intended to go. It keeps us longer than we ever intended to stay; and it costs us more than we ever intended to pay. We need to remind ourselves and each other of the high cost of unholy living.
PRAY.
Pray that the staff of RZIM will handle this in a way that honors Christ and helps the women who were abused. Also, pray for Ravi's wife and children. And very importantly, pray for your pastor, church leaders, your spouse, and yourself. He opposes the proud but gives grace to the humble. Pray for humility and grace to resist the devil and submit to God in every aspect of our lives, private and public. (James 4:6-8)
ACT.
A few years ago, a powerful movie called The Heart of Man was released in theaters. It is described as a cinematic retelling of the parable of the prodigal son, interwoven with true testimonials of personal and sexual brokenness of those who found healing and freedom through God's grace. Consider taking time to watch the film.
---
Trump Acquitted in Second Impeachment Trial on Charge of Inciting Jan. 6 Capitol Riot
"Former President Trump was acquitted in an unprecedented second impeachment trial on the charge of inciting an insurrection for the Jan. 6 Capitol riot, making him the first and only president to be impeached and acquitted twice in history. A majority of senators found Trump guilty on Saturday in a 57-43 vote, but the number fell 10 short of the supermajority needed to convict the president. Had Trump been convicted, the Senate would have moved to bar the 45th president from holding federal office ever again. The seven GOP senators who joined with all Democrats in finding Trump guilty were: Sens. Richard Burr of North Carolina, Bill Cassidy of Louisiana, Susan Collins of Maine, Lisa Murkowski of Alaska, Mitt Romney of Utah, Ben Sasse of Nebraska and Pat Toomey of Pennsylvania. Sen. Patrick Leahy, D-Vt., who presided over the trial announced the vote fell short of the two-thirds majority needed and therefore Trump is 'hereby acquitted of the charge.' The acquittal means that as of now Trump can leave the door open to another White House bid in 2024, though senators have hinted they may still try to bar him from office in a separate 14th Amendment measure. Trump praised the victory, thanked his supporters and promised he'd soon emerge with a 'vision for a bright, radiant, and limitless American future.'" read more at Fox News
THINK.
"My deepest thanks as well to all of the United States Senators and Members of Congress who stood proudly for the Constitution we all revere and for the sacred legal principles at the heart of our country," Former President Trump stated. He went on, "Our cherished Constitutional Republic was founded on the impartial rule of law, the indispensable safeguard for our liberties, our rights and our freedoms...I also want to convey my gratitude to the millions of decent, hardworking, law-abiding, God-and-Country loving citizens who have bravely supported these important principles in these very difficult and challenging times." Constitutional expert Rick Green pointed out that there is no historical precedent for impeaching a president after he leaves office. "The Founding Fathers were extremely meticulous in the shaping of the language in the Constitution, and made sure impeachment only applied to "The President," and not a former president," he wrote in the Epoch Times. Additionally, Chief Justice John Roberts refused to preside over the proceedings, saying he was not required to by the constitution since it did not involve a sitting president. Senator Patrick Leahy (D-Vt.) was the presiding officer over the trial instead, which meant that one of Trump's accusers was also effectively his judge. The end of the impeachment trial, which was the shortest in American history, does not appear to be the end of the investigation, however. House Speaker Nancy Pelosi announced on Monday that Congress will be establishing an independent commission similar to the one that occurred after the September 11 terrorist attacks. The commission's purpose will be to "investigate and report on the facts and causes relating to the January 6, 2021, domestic terrorist attack upon the United States Capitol Complex … and relating to the interference with the peaceful transfer of power." For historical perspective, the Daily Signal has reported on three previous attacks on our nation's Capitol, all carried out by radical leftist activists. Pray that this commission will seek only to find and report the facts accurately, and that it will not be used as a political weapon.
PRAY.
Lord, we appeal to You for our nation. We need You. Our government needs You. Our leaders need You. Revive us, Lord. Thank You that You are TRUTH, Father God. May we always seek truth, speak truth, and support truth.
ACT.
Our elected officials need prayer. Take a few minutes to pray for them and then send a message with our easy-to-use tool, letting them know you prayed for them and that you encourage them to stand for biblical values here.
---
South Dakota GOP Introduces Legislation That Would Allow State to Nullify Biden Executive Orders
"South Dakota's Republican-controlled House is introducing legislation that would allow the state to nullify President Biden's executive orders if it determines they are unconstitutional. 'The Executive Board of the Legislative Research Council may review any executive order issued by the President of the United States, if the order has not been affirmed by a vote of the Congress of the United States and signed into law, as prescribed by the Constitution of the United States,' the bill's text reads. The bill sets up a process for reviewing the president's executive orders, which would be submitted to the governor and attorney general so that the attorney general could 'determine whether the state should seek an exemption' from the order or have it 'declared an unconstitutional exercise of legislative authority by the President.' The bill targets orders that would 'restrict a person's rights,' specifically pointing to orders related to a 'pandemic or other public health emergency' and 'the regulation of the constitutional right to keep and bear arms,' among other topics." read more at the Washington Examiner
THINK.
The proposed legislation, known as HB 1194, outlines a process of review for any presidential orders that have not been approved and signed into law by the U.S. Congress. Sharing the impetus behind the bill he introduced, Rep. Aaron Aylward says, "This isn't just a President Biden issue but rather an overall executive overreach issue that we've been experiencing for a long time. The U.S. Congress has abdicated their duty for a long time in different areas. This bill is simply setting up a process to nullify acts that would be unconstitutional. When looking at the U.S. Constitution, the President only has the powers that are laid out in Article II." President Biden has signed more than 50 executive actions which include orders, proclamations, and memos, 19 of which are direct reversals of Trump's policies. Most of these actions have addressed the coronavirus, immigration, and equal rights. Biden has defended the number stating, "I want to make it clear — there's a lot of talk, with good reason, about the number of executive orders that I have signed — I'm not making new law; I'm eliminating bad policy." For context, the most executive orders signed in the first month of a presidency comes from Franklin Roosevelt, which was 30. George H.W. Bush signed two and Donald Trump signed 17. George Washington and his successors as president have issued thousands of executive orders. The State Department began numbering them in 1907, working from files going back to 1862. The Federal Register Act of 1936 built on that effort. Today, the official number is close to 14,000. An executive order, also known as a proclamation, is a directive handed down directly from a president or governor without input from the legislative or judicial branches. Executive orders can only be given to federal or state agencies, not to citizens, although citizens are indirectly affected by them. Executive orders are not legislation. The President has the sole power to direct his or her executive branch as they please, and an executive order is just one of the tools in the toolbox. It also happens to be one of the most formal, which is why we hear about them the most. Critics of executive orders argue that these unilateral decrees undermine our trusted system of checks and balances, giving undue authority to the executive branch.
PRAY.
Did you know there was a prayer that saved the Constitution? Read this short excerpt from Pastor Robert Morgan's 100 Bible Verses That Made America and praise God for His hand in the establishment of this great nation and our government.
ACT.
Executive orders give insights to a President's policy priorities. Take a look at this helpful chart to see where President Biden is placing his attention.
---
More than 150 Million Americans Under Winter Weather Alerts as Record Cold Temps Make Life Miserable
"In Texas, the governor called out the National Guard to help. In Kansas, the governor asked residents to do all they could to conserve power. In Kentucky, state officials said people need to be cautious as more frigid winter weather is coming. Nearly 154 million people in the United States were under some sort of winter weather alert Monday, according to the National Weather Service. Wind chill warnings or advisories are in effect for about 68 million people. Icy roads, power outages and dangerously low temperatures were making life miserable. The cold air is so widespread that you could travel nearly 2,000 miles from the Rio Grande on the Mexican border to the St. Lawrence River on the Canadian border entirely in winter storm warnings or watches. More than 5.1 million customers across the country had no power as of Monday afternoon because of the deadly storm system. At least 4.2 million outages were reported in Texas, where rolling blackouts started overnight. The severe winter weather has sparked emergency declarations in at least seven states, including Alabama, Oregon, Oklahoma, Kansas, Kentucky, Mississippi and Texas." read more at CNN
THINK.
Even in a discussion about winter weather, several differing narratives can be identified. The Electric Reliability Council of Texas, ERCOT, which manages the flow of roughly 90% of the state's electric power, reported that many of their facilities which generate power had their equipment freeze on Sunday night, preventing them from continuing to produce electricity. Dr. David Tuttle, a research associate with the Energy Institute at the University of Texas at Austin, claimed that many facilities did not properly winterize their equipment. However, Jason Isaacs, the director of Life: Powered, which advocates for reliable energy policy, pointed to Texas' unwise reliance on solar and wind energy as the main cause of the electricity deficit. As the state's windmills froze, they generated only 2% of the maximum amount of energy it would produce under normal circumstances. The result was a massive energy shortage in the face of a rising need for heat. In an insightful report on the cause of the Texas blackouts, Isaacs stated, "Contrary to numerous false reports that coal and natural gas plants were also "frozen," almost all those reliable generators were operating without interruption until this system failure, just as they do in much colder climates all over the world." Kevin Roberts of the Texas Public Policy Foundation issued a sobering reminder: "As this week's power outages developed, the prevailing narrative devolved further and further from the facts. It is not an overstatement to say, unfortunately, that terrible policy decisions and poor management thereafter will cost some Texans their lives. There are hard days still to come, but it's our hope that these events are a wakeup call to those in power that energy is not just important to our economy, but an integral part of our survival." Loving our neighbors includes choosing energy policies that are best for their lives and livelihoods. Fossil fuels provide affordable, reliable energy, which is an irreplaceable step in combating poverty in America and developing countries. Electricity powered by fossil fuels cleans water, provides heat, and powers lifesaving operations here and abroad. In its first few weeks, the Biden administration has focused on initiatives such as stopping the Keystone Pipeline--a major source of life-giving energy and jobs--rejoining the Paris Climate Accord, and appropriating 100 million taxpayer dollars for "clean energy technology research". These decisions could negatively affect low-income Americans who struggle between keeping the heat on and putting food on the table. The American Petroleum Institute predicts potential losses of nearly 1 million jobs over the next year due to the President's decision to ban the lease of federal lands and waters for oil and gas drilling. As Christians, we should urge our representatives to make policy decisions that are not based on fear that end up hurting people. Regardless of what our elected officials do, however, we can (and must) always live out the words of James 2:14, "If a brother or sister is poorly clothed and lacking in daily food, and one of you says to them, 'Go in peace, be warmed and filled,' without giving them the things needed for the body, what good is that?"
PRAY.
Almighty God, we pray for Your protection and provision for those without heat during these freezing temperatures. Help us to trust in You and show us what opportunities we can take to be Your hands and feet. Comfort those who have lost loved ones due to these storms; draw them to yourself, dear Jesus. In Your name, Amen.
ACT.
When the power goes out, it quickly becomes apparent how much we take it for granted. This impactful video, titled, Poverty is Energy Poverty, shows how this should be a subject of concern to anyone who cares about the millions around the world who live in poverty because of their lack of energy resources. Take a few minutes to watch and share.
---
My Faith Votes—is a nonpartisan movement that motivates, equips and activates Christians in America to vote in every election, transforming our communities and influencing our nation with biblical truth. By partnering with national faith leaders, My Faith Votes provides resources to help Christians Pray, Think, and Act to create an America where God is honored in the public square.
Website | www.myfaithvotes.org Twitter | @MyFaithVotes Facebook | My Faith Votes
---
React
---
Comments