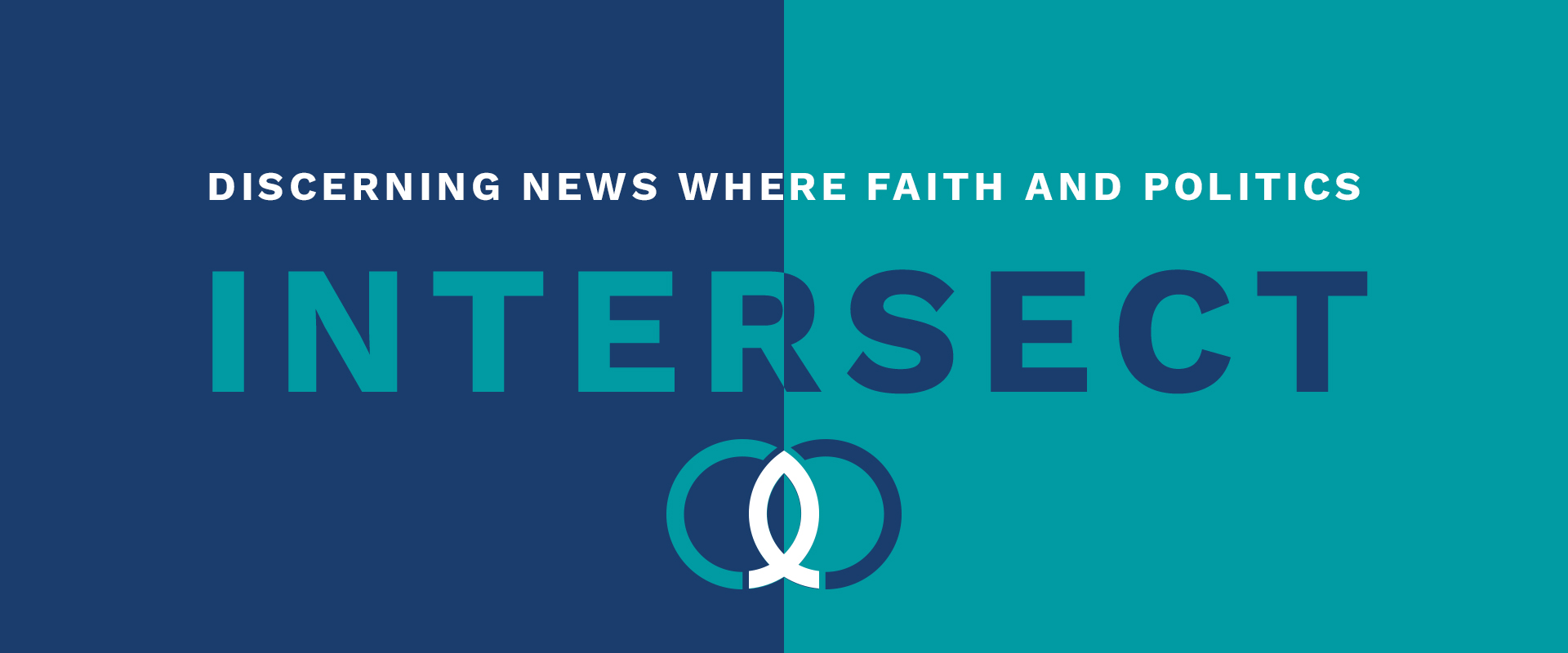 WEEKLY NEWS SUMMARY - DECEMBER 7, 2022
In this week's Intersect, read about:
---
GOP Governors, Senators Take Aim at Pentagon COVID-19 Vaccine Mandate
Nearly all Republican governors and 13 GOP Senate lawmakers are taking aim at the Biden administration's military COVID-19 vaccine mandate, with the two groups on Wednesday urging congressional leadership to try to alter or altogether dismantle the ruling. The 21 GOP governors, led by Tennessee Gov. Bill Lee, issued a joint letter to top lawmakers asking them to "take immediate action to remove and prohibit" the mandate. Read more at The Hill
THINK.
Last week, 13 Senators signed a letter addressed to Republican Senate leadership declaring their opposition to passing the NDAA (National Defense Authorization Act) unless a vote is held on an amendment to repeal the vaccine mandate and reinstate the discharged service members.
That same day, 21 governors signed a letter, addressed to Republican and Democratic leaders in the House and Senate, calling for the mandate's repeal. The letter states in part, "The Biden vaccine mandate on our military creates a national security risk that severely impacts our defense capabilities abroad and our state readiness here at home," claiming that "current servicemembers are leaving our ranks, and new recruits are not signing up to join."
Enacting the NDAA is one of Congress' priorities for the 2022 lame-duck session, with the House expected to move forward with the bill this week. The NDAA, passed annually by Congress, sets the armed forces' policies and priorities.
Defense Secretary Lloyd Austin said he wants to keep the military's COVID-19 vaccine mandate in place. The White House said Monday it would not support Republican efforts to repeal President Biden's COVID-19 vaccine mandate for members of the military, setting up a showdown as Congress takes up this year's must-pass defense policy bill.
Service members pay a high price to defend our constitutional rights and liberties—including the freedom to live out our faith. They courageously fight for us, putting their lives in danger, and some even make the ultimate sacrifice—all so that we can live in liberty. It's hard to believe that they're being denied the same freedoms for which they risk their lives.
81 years ago today, 2,403 service members and civilians were killed during the Japanese attack on Pearl Harbor, December 7, 1941. Today, we honor and remember them on this National Pearl Harbor Remembrance Day. A further 1,178 people were injured in the attack, which permanently sank two U.S. Navy battleships (the USS Arizona and the USS Utah).
PRAY.
Lord, help us to let every member of our nation's armed forces feel truly and appropriately honored by the attention and appreciation of their fellow citizens. Let no one feel forgotten or neglected. Let every man and woman, young or old, feel the deep and enduring gratitude of our nation. Lord, grant wisdom to those in Congress who are making decisions that impact our military members, their families and the safety of our nation.
ACT.
Wreaths Across America is hosting the National Wreaths Across America Day on December 17. Volunteers will place Christmas wreaths at Arlington National Cemetery and at over 3,400 locations in all 50 U.S. states. The organization hopes Americans will "REMEMBER our fallen US Veterans, HONOR those that serve, and TEACH children the value of freedom." Consider participating in or donating to this special day here.
---
Warnock Scores Narrow Win in Georgia Senate Runoff
"Democrat Raphael Warnock pulled off a narrow victory over Republican Herschel Walker in Georgia's Senate runoff election, dashing hopes the GOP's last-minute push to galvanize voters would translate into a victory for the party in what was once a reliably red state. Multiple news networks, including NBC and CNN, called the razor-thin race late Tuesday night for the 53-year-old pastor at Ebenezer Baptist Church. With 91% of the votes counted, Mr. Warnock had an edge of 50.1% to 49.9% — about 8,000 votes." read more at The Washington Times
THINK.
While Republicans will hold the majority in the House, Warnock's win brings Democrats a 51-seat majority in the Senate. Democrats still technically would have held the majority if Walker won, but Tuesday's victory means Democrats will have a majority on all committees, which will allow them to easily advance President Biden's nominees.
Voter turnout for the runoff election was at an all-time high. A 2021 bill signed by Republican Gov. Brian Kemp shrank the timeframe for early voting in a runoff from a minimum of 17 days to a minimum of five. That was done as part of a sweeping law passed by the state's GOP-controlled legislature to change many aspects of how elections are conducted in Georgia.
Despite Walker's performance among day-of voters, Warnock's advantage among early and absentee voters kept the incumbent Democrat ahead of his GOP challenger even as turnout in Georgia's runoff beat records in previous cycles — another repudiation of claims that Georgia's election integrity law would disenfranchise voters and reduce participation in Peach State elections.
Polls show around two-thirds of Georgian voters consider themselves very religious and "Raphael Warnock has made his faith and pulpit ministry a central theme of his campaign. Politically, this is strategic, because most Georgia voters value their faith and respect the Christian ministry," David Closson, director of the Center for Biblical Worldview at Family Research Council. But a correct biblical worldview matters. Closson continued, "it's important to examine the content of Warnock's faith which is a distillation of textbook theological liberalism."
Warnock's worldview will impact his vote on issues like life, marriage and sexuality. As pointed out, "Liberation theologians shifted the context of the entire biblical narrative to a dynamic between oppression and liberation, and argued that salvation, the entire kingdom of God, the entire purpose of God in the world is translated into social justice and into social action. Politics is just one very necessary, very liberal dimension of that social action."
The runoff election was covered in prayer. My Faith Votes followers submitted over 42,997 prayers for voters in all 159 counties in Georgia. The outpouring of prayer was overwhelming!
To keep the proper perspective, it helps to remember our assignment, which is not fixed on "winning" elections. Our call is to PRAY for our nation, THINK biblically about issues, and VOTE…in every election. We must live by faith and trust that God will bring out the fruits of our labor. As John Quincy Adams said, "Duty is ours, results are God's." The Lord knows what He is doing, and He knows when the day will come in which Americans will once again recognize His hand in the affairs of men.
PRAY.
Let's heed the words of 1 Timothy 2:1-3 which says, "First of all, then, I urge that petitions, prayers, intercessions, and thanksgiving be offered for everyone— for kings and all those in authority— so that we may lead tranquil and quiet lives in all godliness and dignity. This is good and pleasing in the sight of God our Savior". When the candidate we want to win doesn't, we often quit praying. We may pray for a handful of elected officials now and then, but how long is it from the time we stop praying until we turn around and start shredding them to pieces in our conversations? That's not what these verses call us to do. As my wise pastor once told me, "Pray against the issues, not against people."

ACT.
It is important to look back in order to move forward. In this free resource we are offering, there are four prayers from the 1700s to the 1940s that shaped our nation over the decades. With each prayer are questions for reflection and discussion. They would be a great tool to use as part of a Bible study or just a self-study. Please download Four Prayers that Shaped America Devotional here.
---
Religious Liberty Advocates Rally Against 'Unconstitutional' Colo. Law as Supreme Court Mulls Pivotal Case
"Religious liberty advocates gathered for a rally outside the United States Supreme Court Monday as the justices heard oral arguments in the case of 303 Creative LLC v. Elenis, a case that will likely have major implications for religious liberty and freedom of expression. Alliance Defending Freedom, which is representing plaintiff Lorie Smith in the case, held a rally outside the Supreme Court as oral arguments took place inside. The case stems from Christian website designer Lorie Smith of 303 Creative challenging the Colorado Anti-Discrimination Act out of concern that the law could characterize her objection to creating websites celebrating same-sex marriages as a violation of nondiscrimination protections for LGBT-identified individuals." read more at the Christian Post
THINK.
This is a pivotal case because Smith didn't wait for someone to sue her; she proactively brought a lawsuit against the state law that restricted her First Amendment rights. (It's the same law used against Christian cake artist Jack Phillips.) This is known as a "pre-enforcement" lawsuit, which has a long tradition in our justice system.
The liberal justices say a favorable ruling for Smith would allow businesses to discriminate against any person, including racial discrimination. But that is a mischaracterization of the issue. "I think it's important for people to understand that I love and welcome the opportunity to work with all people. My case has never been about choosing which client to work with, but about choosing the message that I'm being asked to promote," Smith told Fox News. As Justice Neil Gorsuch said, "It's the what, not the who."
The state of Colorado doesn't seem to understand that Christianity is lived out in every aspect of life; it's not just a set of beliefs that exist in a person's head. "The Company is free to decide what design services to offer and whether to communicate its vision of marriage through biblical quotes on its wedding websites," Colorado officials stated. But here's the catch: "The Act requires only that the Company sell whatever product or service it offers to all regardless of its customers' protected characteristics." Smith is really not free to offer wedding services consistent with her beliefs about the biblical view of marriage. If she declined to service a same-sex wedding, the state would accuse her of discrimination against the people, even though it's only the message that would be her reason for declining that particular service. State law requires her to sacrifice her convictions about marriage in order to offer wedding services.
That is exactly why this case is so important. "The central question in 303 Creative is whether the state can use public accommodation laws to override citizens' First Amendment rights. If the state can force Smith to speak a message with which she disagrees, it can force anyone else to do the same. It could, for example, force a pro-choice photographer to create images celebrating the pro-life cause or force an atheist filmmaker to create a video promoting Christianity," the Washington Examiner noted.
The protection of free speech results in a better society for everyone. Let's pray the court will rule justly. Litigation at the intersection of LGBT demands and constitutional guarantees of free speech and religious freedom likely will not end with Smith's case, but a solid win would send a clear message to lower courts about the priority of free speech.

PRAY.
Praise the Lord that Lorie's case was heard. Pray that the ruling would be strong and set a positive precedent for free speech and religious liberty that would discourage states from creating hostile laws. In the meantime, please pray for Lorie Smith to keep demonstrating the love of God to the people who have slandered her and sent her vile messages. Pray that they would receive the love of Christ for themselves.

ACT.
The U.S. House was expected to pass the anti-religious freedom "Respect for Marriage Act" yesterday, but the vote has been delayed. There may be attempts to attach it onto an essential spending bill in order to secure its passage. Please use our tool to send a message to your U.S. Representative urging them to vote "No" on the Respect for Marriage Act. You can edit the message to include a request to oppose any attempts to attach it onto another bill.
---
NY Post: FBI Held 'Weekly' Meetings Warning Twitter to Censor Hunter Biden Story Before 2020 Election
"There's another reason why Twitter censored the New York Post's Hunter Biden laptop story in October 2020. For a year, the FBI reportedly sat on the laptop scandal, which turned out to be loaded with controversial material. And then, the FBI held weekly meetings with Twitter, warning the social media giant to expect so-called 'hack-and-leak operations' by 'state actors' involving Hunter Biden in the weeks before the 2020 election. In an exclusive story, The NY Post reports the FBI's warnings were so specific that Twitter immediately censored the newspaper's legitimate news story about Hunter Biden's laptop on Oct. 14, 2020. Twitter said it blocked the story due to its 'hacked materials' policy. But on Saturday, new CEO Elon Musk called that move 'election interference.'" read more at CBN News
THINK.
It is no surprise that big tech censors views they don't like, but evidence that the FBI influenced their decision to censor a story that was damaging to then-presidential candidate Joe Biden makes it much worse. Their influence turns social media sites into tools of the government to suppress free speech.
In addition to meeting with Twitter, according to Mark Zuckerberg, the CEO of Facebook, the FBI also met with Facebook to tell them there was about to be a misinformation dump of Russian propaganda, which influenced Facebook to limit the reach of the laptop story when it broke.
Fifty-one intelligence officers signed a letter saying "the arrival on the US political scene of emails purportedly belonging to Vice President Biden's son Hunter, much of it related to his time serving on the Board of the Ukrainian gas company Burisma, has all the classic earmarks of a Russian information operation." Yet their letter also admitted, "...we do not have evidence of Russian involvement…" Some key information on the laptop was later confirmed to be legitimate…after the election.
The consequences of truth suppression were–and are–enormous. It influences the way people think, act, and vote. Author Mollie Hemingway noted that the 2020 election was decided by only around 40,000 votes. "...these platforms are almost more powerful than our government. They frequently are," she stressed. "And so it's a threat to the entire republic what they're doing."
Why would someone want to suppress another person's free speech simply because they disagree? One reason is that speech is seen as a threat–either to a person's goals (as in the case of a political campaign) or to the advancement of certain principles. Several Democratic members of Congress reportedly expressed a desire for social media companies to censor so-called "misinformation" more often because then, "conservatives wouldn't even think to use social media for disinformation, misinformation, or otherwise."
This sort of suppression violates the fundamental principles of this country and is more in line with the tactics of internet suppression used by the Chinese government. We may have to learn a few tactics that our brothers and sisters in China use to communicate and spread information.
I encourage you to remember that God has promised truth will prevail. When instructing His disciples to preach the good news of the kingdom amidst opposition, Jesus said, "So have no fear of them, for nothing is covered that will not be revealed, or hidden that will not be known. What I tell you in the dark, say in the light, and what you hear whispered, proclaim on the housetops." (Matthew 10:26-27) We are called to speak the truth and live by the truth. Instead of disengaging, we can engage our culture with wisdom, purpose, and confidence in the Lord.
PRAY.
Heavenly Father, we thank You that You are "the Father of lights, with whom there is no variation or shadow due to change." (James 1:17) Help us to know truth, especially the greatest truth of all: the gospel of our salvation through faith in the crucified and risen Savior. Give us wisdom to know truth, courage to speak it, and faithfulness to live it out before others. In our own government and culture, let integrity and righteousness prevail.
ACT.
As Christians, how can we navigate this moment in our nation where trust has broken down and we feel like our voice is in danger of being silenced? The Colson Center for Christian Worldview has three tips for Christians feeling depressed by the news or not sure who to trust: 1) all truth is God's truth. 2) focus on God's story first, and the news second. 3) read local news stories and find ways to transform them. You can find those tips here. And thank you for being a faithful reader of this Intersect publication where our mission is to help you THINK, PRAY and ACT on the news each week.
---
My Faith Votes—is a nonpartisan movement that motivates, equips and activates Christians in America to vote in every election, transforming our communities and influencing our nation with biblical truth. By partnering with national faith leaders, My Faith Votes provides resources to help Christians Pray, Think, and Act to create an America where God is honored in the public square.
Website | www.myfaithvotes.org Twitter | @MyFaithVotes Facebook | My Faith Votes
---
React
---
Comments