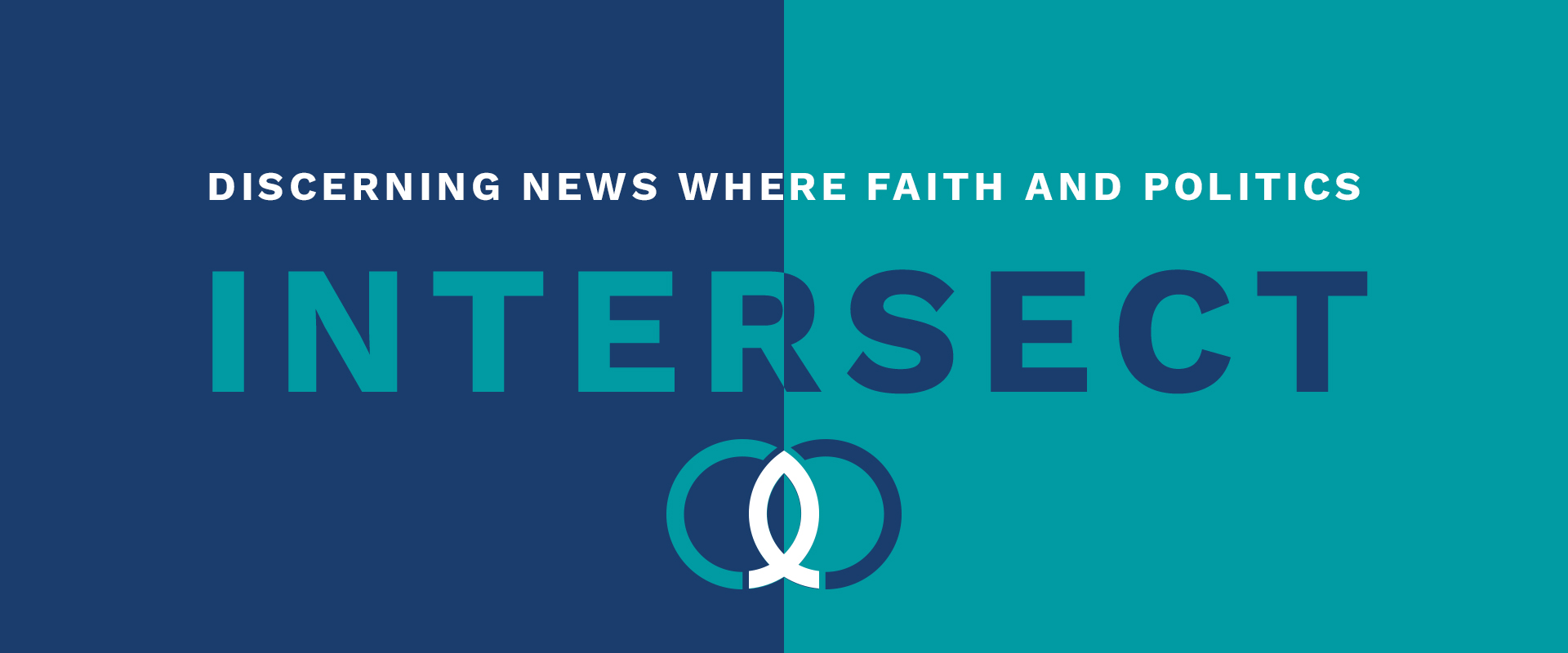 WEEKLY NEWS SUMMARY - December 18, 2019
Next Wednesday, Christmas Day, the Intersect will be taking a break while we celebrate Christmas. The Intersect will be back on January 1. We hope you have a wonderful day with family celebrating Christ's birth.
In this week's Intersect, read about:
---
'Check Your Heart' Black Worship Leader Tells Critics Angry He Prayed for President in White House
Eddie James, a veteran black worship artist and minister who joined a diverse coalition of artists like Kari Jobe and her husband, Cody Carnes, at the White House Dec. 6 to worship and pray with President Donald Trump, has pushed back at critics of the group, telling them to "check your heart" if they found the visit problematic. "Anyone who has a problem with us worshiping at the White House and praying for President Trump need to prayerfully check your heart! Everything this nation needs is found in Jesus! The beautiful people in this picture released His presence and it was amazing. There was an open Heaven over the White House. Republican, Democrat, or Independent; if you are a Christian, you would be moved at what God did on this day. I could NOT have been more proud of the worship movement of our nation! I am humbled that I am even in this picture," James wrote in a post on Instagram in which he shared a photo of a group of about 40 people. read more
THINK.
Christians - we need to be united - praying unceasingly, thinking biblically and voting consistently. While we may not see eye-to-eye on all things, the truths in scripture are the only thing we can count on. Most importantly, scripture commands us to pray for those in authority over us (2 Timothy 2:2). Christians should not have an issue with worshiping the God of the Bible at the White House. This nation needs it. In fact, worship services at the White House used to happen every week. Church services were held regularly at the capitol even before Congress moved into the building, and they were held until well after the Civil War. On December 5, 1800, both the House and the Senate approved the use of the Capitol building as a church building. Thomas Jefferson even attended church at the Capitol throughout his presidency. We may not always agree with the decisions that come out of the White House, the policies Congress makes, or the laws the Supreme Court upholds or strikes down, but one thing is certain, the influence of our faith is always needed in all of them. Daniel 2:21 reminds us that God "changes times and seasons; he removes kings and sets up kings; he gives wisdom to the wise and knowledge to those who have understanding."
PRAY.
Pray today for President Trump and your elected members of Congress. Pray that their decisions would be influenced by biblical truth and principles. Pray for them to seek the Lord for His wisdom in every decision they make on your behalf for our nation.
ACT.
Have you downloaded the free My Faith Votes' Prayer Guide for your elected leaders? If not, we encourage you to do so here. And we've also made it very easy for you to send a special Christmas message to your elected leaders letting them know you are praying for them. Take two-minutes to use our simple tool to send an email now. It's our hope and prayer to see every Christian in America faithfully lives out 1Timothy 2:2 to pray for our elected leaders.
---
Anti-Religion Group Forces Elementary School to Cancel Live Nativity
The Freedom From Religion Foundation (FFRF) forced an Oklahoma elementary school to remove a live nativity from its annual Christmas production, according to Breit Bart. Earlier this year, the nonprofit sent a letter to the Center for Education Law in Oklahoma City regarding an Edmond elementary school's alleged constitutional violation over the religious scene. "Teaching students the biblical story of the birth of Jesus and having them regularly rehearse a performance of that story entangles the school with the bible's devotional message," the letter said. "Such a performance would be appropriate in a church setting, but not in a public school. We write to ensure that district teachers do not incorporate religious promotion into their lessons and that future school events do not include live nativities or other religious performances." Although the school district ultimately gave into the FFRF's demands, the Liberty Counsel, a nonprofit litigation firm protecting religious liberty, reached out to the Edmond School District and offered free legal assistance to fight the accusations. read more
THINK.
Edmond Elementary School is not the only one removing nativity scenes. For the past nine decades in Delaware, the Saint Edmond Church displays a nativity scene in the bandstand circle at the town's boardwalk. But this year, the mayor ordered the nativity scene be removed stating religious displays are not allowed on public property. However, after backlash from the community, the city ultimately allowed the nativity scene to be displayed a half-mile down the road from the bandstand circle. Sadly, it is not just at Christmas that faith is attacked in the public square. In Wappingers Falls, New York, the school district refused to allow a freshman high-school student to form a Christian club, even though the school has other clubs such as Pride Club and the Masque & Mine Society. The principal said the club would be "seen as exclusive." The student wrote a letter to the assistant superintendent back in September writing, "I am a Christian. But sometimes it seems like I'm the only one. I want to start this club for other students like me so we can support each other in our beliefs. The school district celebrates diversity and the right to express who you are. All I want is to be allowed to express who I am. Everyone deserves as much. Please get back to me as soon as you can." Whether it's nativity scene displays or Christian clubs at schools, the effort to remove faith from the public square is prevalent. This is why it's so important for Christians to bring our faith forward into every area of our lives. The Christmas season gives us a wonderful opportunity to do just that. As our society focuses on decorations, Santa, and gifts, we should take time to remember the true reason for the season and share our eternal hope with others. Isaiah 9:6 says, "For to us a child is born, to us a son is given, and the government will be on his shoulders. And he will be called Wonderful Counselor, Mighty God, Everlasting Father, Prince of Peace."
PRAY.
In the business of this Christmas season, pray and ask God to quiet your heart and help remind you of the gift of His Son. Pray for opportunities this final week before Christmas to share the Gospel with others. Pray about inviting a friend, co-worker, or neighbor to a Church Christmas Eve service with you.
ACT.
We encourage you to read the Christmas story with your family to be reminded of the hope we have in Christ. At My Faith Votes, we are reading a chapter a day from the Gospel book of Luke this month. The book of Luke has twenty-four chapters so when we finish on Christmas Eve, we'll have read about the life of Jesus and have a greater appreciation for the reason we celebrate His birth. You can watch the live stream every day on My Faith Votes' Facebook page, or if you are not able to watch on Facebook, we have on-demand videos available on our website.
---
No Lie, Belief in God is Good for You
Belief in God is good for you … and not just in the eternal long run. There's a powerful link between religious devotion and happiness, mental health, and participation in community. Earlier this year, Pew Research found that actively religious people report being happier, on average, than both atheists and "nones"—i.e. those who claim no religious affiliation. The religiously observant are also less likely to engage in risky behavior like premarital sex, drinking, and smoking, and more likely by far to join non-religious groups like charities, clubs, and civic associations. In other words, there's a clear and well-documented connection between an active faith and nearly all of the accepted measures of personal well-being. And, of course, beyond the belonging, beauty, and moral certainty faith in God brings, religious people enjoy hope in the face of struggle, suffering, and even death. But what if you don't actually believe in God? What if you don't think there is life after death? Can you still enjoy these benefits and, for that matter, pass them on to your kids? It may sound like a silly question, but psychoanalyst Erica Komisar recently offered a serious answer in the Wall Street Journal. She writes: "I am often asked by parents, 'How do I talk to my child about death if I don't believe in God or heaven?'" Her answer? Lie to them. She explains: "The idea that you simply die and turn to dust may work for some adults, but it doesn't help children. Belief in heaven helps them grapple with this tremendous and incomprehensible loss," especially "[i]n an age of broken families, distracted parents, school violence, and nightmarish global-warming predictions." read more
THINK.
President of the Colson Center for Christian worldview, John Stonestreet, continued in his article by writing, "Think about it: Komisar admits that a God-less worldview is inadequate for both navigating life's deepest sorrows and accounting for life's highest joys. Shouldn't the fact that faith in something beyond the bare, material world of atheism is necessary to handle the here and now tell us something?" C.S. Lewis wrote in his book Mere Christianity, "If I find in myself a desire which no experience in this world can satisfy, the most probable explanation is that I was made for another world." In the United States, 36 percent of actively religious people describe themselves as "very happy," compared to 25 percent of the inactively religious and 25 percent of those who are religiously unaffiliated. These findings and insights simply support the truth found in scripture. In Romans 15:13 and Nehemiah 8:10 we read the joy of the Lord is our strength. John 3:16, "For God so loved the world that he gave his one and only Son, that whoever believes in him shall not perish but have eternal life." As Christians we have joy despite the sorrows experienced on this earth because we have the hope of life in eternity in the presence of our Savior.
PRAY.
Pray for God to help you live today relying on the joy of the Lord as your strength. And pray for someone else in your life who has not yet experienced this joy, that God would reveal himself to them.
ACT.
Our friend Dr. Jim Denison wrote a great article titled, "What Does Christmas Say About God?" We encourage you to read it today and be reminded that we serve a loving God.
---
Shock Report Finds at Least 1000 Christians Have Been Killed in Nigeria During 2019
A new report into the persecution of Nigeria's Christian community has found that around 1,000 believers have been killed by Islamic militants during 2019 alone. The Humanitarian Aid Relief Trust (HART), headed up by a member of the British House of Lords, Baroness Cox, discovered that believers in the North and Central region of the West African nation were the most severely affected. "Islamist Fulani militia continue to engage in an aggressive and strategic land grabbing policy in Plateau, Benue, Taraba, Southern Kaduna and parts of Bauchi state," reads the report, which has been titled "Your Land or Your Body." "They attack rural villages, force villagers off their lands and settle in their place — a strategy that is epitomized by the phrase: 'your land or your blood.'" According to HART, the exact number of Christians killed by Islamic militants Boko Haram and Fulani Herdsmen was unknown, though the data suggests the figure to be sitting at around 1,000 for the year. The organization believes that some 6,000 have been killed since 2015, and with an additional 12,000 displaced. "In every village, the message from local people is the same: 'Please, please help us! The Fulani are coming. We are not safe in our own homes,'" the report read. read more
THINK.
The Fulani Herdsmen are driven by an Islamic ideology that seeks to impose violence on people who refuse to comply with their demands. One local Nigerian pastor said attacks by the Islamic fighters have become a daily occurrence. He said, "Every day we carry new corpses to the cemetery. They kill farmers. They destroy our homes and churches. They kidnap and rape women." David Curry, President of Open Doors USA, says one of every nine Christians worldwide experience high levels of persecution and suffer for their faith, and it's picking up pace. It's not just in Nigeria. In India, violence is up 400 percent since 2014 as extremist Hindu call for all Christians to be expelled. In Sri Lanka, the Islamic State's violence and hatred against Christians is only increasing since more than 320 Christians were killed in church bombings on Easter Sunday. And in China, the government is using facial recognition, social scoring, and imprisonment to bring the underground Christian Church under the communist government's control. Every month 345 Christians are killed for faith-related reasons, according to Open Doors. And, on average, 105 Churches and Christian buildings are burned or attacked. This persecution should further confirm for us the integrity of the Scriptures. For the Christian, trouble awaits us, persecution will come for us, and the fiery ordeal looms just ahead of us, but as John 16:33 reminds us we should take heart because Christ has overcome the world. (2 Timothy 3:12, 1 Peter 4:12).
PRAY.
Pray today for the Christians in Nigeria. Pray for their pastors to have wisdom and pray for believers to draw closer to the Lord than they ever have before. Pray for the Gospel to continue to spread and for peoples' hearts to be changed.
ACT.
Victor Marx and his organization, All Things Possible, are taking the message of Christ and trauma relief to some of the most difficult places in the world. Learn about the organization here and see how you can help heal the heart of a child impacted by ISIS and provide women who have been abused and trafficked with "dignity kits."
NOTE: A My Faith Votes supporter recently sent us this message, "As a Christian, I truly appreciate the integrity of My Faith Votes. They provide excellent resources and motivation for everyone to engage responsibly in the voting process. By pulling political news from a variety of sources, MFV enables me to stay up-to-date with what is going on around the country." - Sheila T., Michigan
We are thankful to hear My Faith Votes' resources are helping Christians pray, think and vote to transform our communities and influence our nation with biblical values. Join us in our mission to help equip believers across the nation by making a year-end donation to My Faith Votes. Don't wait. The deadline is fast approaching on December 31, so donate today.
---
My Faith Votes—is a nonpartisan movement that motivates, equips and activates Christians in America to vote in every election, transforming our communities and influencing our nation with biblical truth. By partnering with national faith leaders, My Faith Votes provides resources to help Christians Pray, Think, and Act to create an America where God is honored in the public square.
Website | www.myfaithvotes.org Twitter | @MyFaithVotes Facebook | My Faith Votes
---
React
---
Comments