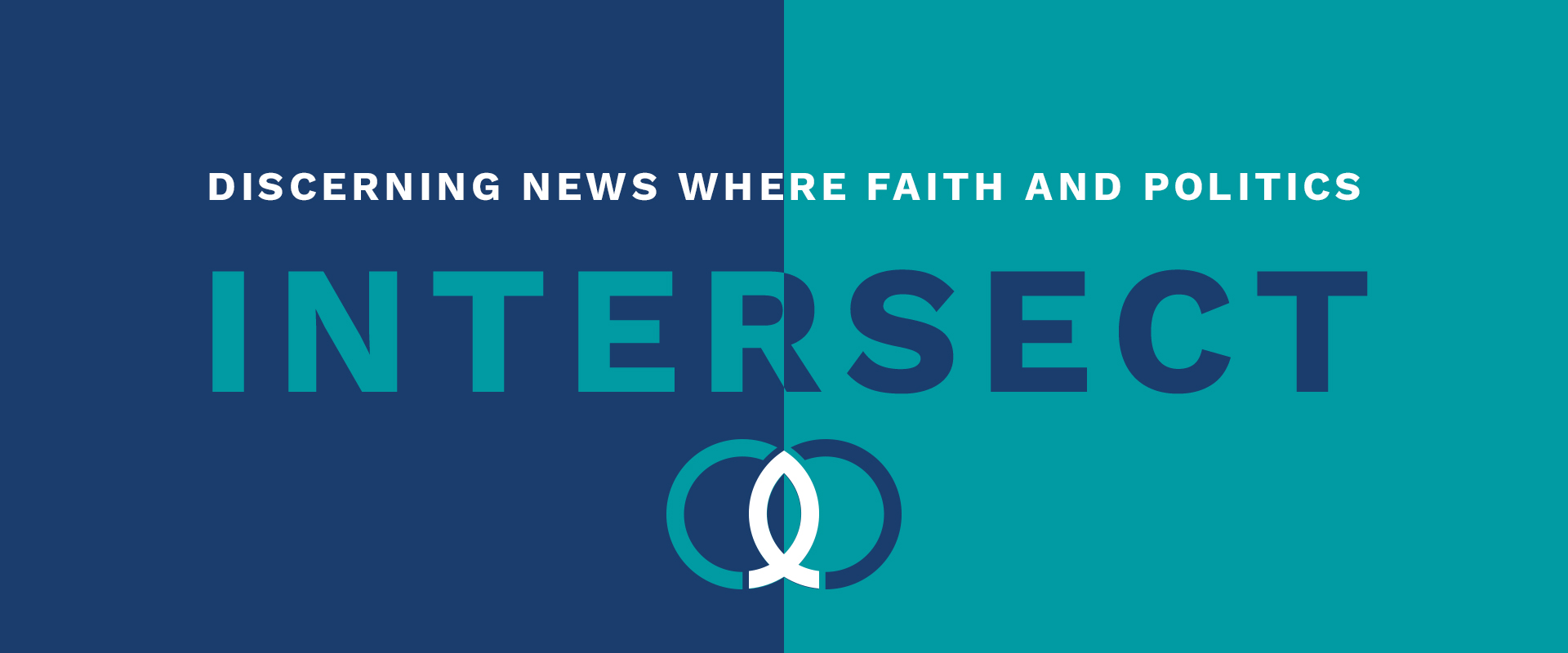 WEEKLY NEWS SUMMARY - DECEMBER 16, 2020
In this week's Intersect, read about:
---
Tulsi Gabbard Introduces Legislation to Ban Men from Women's Sports Under Title IX
Democratic Rep. Tulsi Gabbard (D-HI) introduced a bill with Rep. Markwayne Mullin (R-OK) on Thursday that would ban federal funding from organizations that allow biological males to compete in women's sports. The bill, titled "Protect Women's Sports Act," aims to defend "the sex-based intention of Title IX protections by reaffirming the biological sex-based distinctions between men and women in athletics." In a press release, Gabbard affirmed the importance of Title IX in providing "equal opportunity for women and girls in high school and college sports," but criticized the way it has been "weakened" by male athletes being allowed to compete in women's sports on the basis of transgender identity. "Title IX is being weakened by some states who are misinterpreting Title IX, creating uncertainty, undue hardship, and lost opportunities for female athletes," said Gabbard. "Our legislation protects Title IX's original intent, which was based on the general biological distinction between men and women athletes based on sex. It is critical that the legacy of Title IX continues to ensure women and girls in sports have the opportunity to compete and excel on a level playing field." read more at DISRN
THINK.
Title IX is a civil rights law passed in 1972 that states, "No person in the United States shall, on the basis of sex, be excluded from participation in, be denied the benefits of, or be subjected to discrimination under any education program or activity receiving Federal financial assistance." As Tulsi Gabbard, a 2020 democratic presidential candidate pointed out, the word "sex" is being reinterpreted so that it is no longer grounded in biological reality. This has produced devastating consequences in some states. In Connecticut high schools, biological male students who identify as female are allowed to compete in female sports. According to Alliance Defending Freedom, female athletes have lost over 85 opportunities to advance to elite competitions in just three years. Representative Gabbard is also taking heat from the left for filing a bill to protect babies who survive abortion attempts. While critics say her bill is not necessary because of the Born-Alive Abortion Survivors Protection Act passed in 2002, that law contained no penalties for doctors who violated it. The Abortion Survivors Network states that from 2012-2020, they had been in contact with 336 survivors of abortion or with their friends or family. Gabbard also introduced a bill to protect pain-capable unborn babies. While these two bills may appear to be quite different from the Title IX Act, the premise of the attacks against all three are the same: despite biological realities regarding gender and the humanity of an unborn child, a person who acts contrary to that reality must be affirmed. Men must be allowed to compete as women, and women must be allowed to kill their unborn child. At its base, this is the political consequence of humans' rebellion against God's truth. While continuing to fight against these devastating consequences, we cannot neglect the root problem. In other news, a recent report from the Abortion Care Network, a pro-abortion organization, shows that 127 abortion facilities have closed in the last five years, and five states only have one abortion facility. Michael New of the pro-life Charlotte Lozier Institute stated that he believes lower abortion numbers are due to three things: changed hearts and minds, pro-life pregnancy care clinics, and pro-life laws.
PRAY.
Pray that millions of unchurched people might see right and wrong as real and objective. Pray that realization points them toward the Moral Lawgiver who alone offers salvation. Pray that voters, friends, and family members are not distracted by side issues that miss the point entirely. Pray that abortion not only becomes illegal, but it becomes unthinkable. You can download our entire Pro-Life Prayer Guide here.
ACT.
One of the most informative books on the topic of sexuality and gender and how the church can respond is called Love Thy Body: Answering Hard Questions about Life and Sexuality by Nancy Pearcey. A biblical worldview grants value and dignity to our identity as male or female and invites a proper kind of self-love that comes from accepting God's love. And in this tense cultural moment, we need to be able to be informed and be winsome in how we navigate the issue and respond to a confused world with biblical truth.
---
Georgia Senate Runoffs Early Voting Begins as Requests for Mail-In Ballots Top 1 Million
Early in-person voting began Monday in Georgia's U.S. Senate runoffs, with both parties racing to turn out supporters for the Jan. 5 election that will determine control of the Senate. The opening of some polling locations for voters comes as roughly 1.2 million voters already have requested absentee ballots for the runoff election, and more than 200,000 of them have returned their ballots, according to publicly available data compiled by University of Florida professor Michael McDonald at the U.S. Elections Project, as of Friday. Absentee-ballot applications already are at about 67% of the total requests recorded in Georgia's November election, according to Mr. McDonald's research. "It looks like we're going to have a high-turnout election," Georgia Secretary of State Brad Raffensperger, a Republican, said in an interview, though turnout is typically lower for runoffs than general elections. "I would encourage all the candidates to make sure that they run hard, because we don't have a runoff after the runoff. This is it." read more at The Wall Street Journal
THINK.
All eyes are on Georgia. Republicans currently have a 50-48 majority, meaning control of the chamber depends on the results of the two runoffs on Jan. 5. Incumbent Republican Senators David Perdue and Kelly Loeffler are seeking to defend their seats against Democratic challengers Jon Ossoff and Raphael Warnock. If Democrats win both runoffs, they will gain control since Vice President-elect Kamala Harris, as president of the Senate, can cast a vote to break any ties. Rev. Raphael Warnock, the Democratic candidate, is being called on by over two dozen black ministers in an open letter to denounce abortion because it contradicts biblical teaching. According to CBN News, the letter, signed by 28 ministers primarily based in Georgia, criticize Warnock after he called himself a "pro-choice pastor." Warnock, an ardent supporter of abortion, asserted that he will "always fight for reproductive justice," calling abortion an act of "human agency and freedom." In the letter signed by the ministers, they argued that Warnock's pro-abortion beliefs contradict the Bible and traditional teachings of the Christian faith. In response to the letter, Warnock's campaign spokesman Michael Brewer argued that Rev. Warnock "believes a patient's room is too small a place for a woman, her doctor, and the U.S. government and that these are deeply personal health care decisions – not political ones." "He also believes those who are concerned about life ought to be focused on the incredibly high rates of infant mortality and maternal mortality and working to make sure we are expanding access to health care, not taking it away," Brewer continued. Ralph Reed heads the conservative Atlanta-based Faith and Freedom Coalition. He says Bible-believing Christians are called by God for such a time as this in Georgia. "And He has placed us in the United States right now and in this hour to be faithful witnesses to His glory and His goodness," Reed said. "I think we need to pray for His will to be done, and we need to put feet to our prayers by making sure we're engaged," says Reed.
PRAY.
Jesus, we appeal to You for the state of Georgia. We pray that this runoff election would be conducted without fraud, with transparency, and with integrity. (2 Cor 2:11) We pray that Georgians would elect leaders who are wise, understanding, trustworthy, and who hold a biblical worldview. Join with others in praying for Georgia voters, by name, here.
ACT.
We are partnering with several organizations to equip and motivate Christians in GA to vote. Those outside of Georgia can still volunteer to make phone calls to voters. Learn more here. My Faith Votes volunteers have already sent out over 1 million handwritten postcards and over 60,000 handwritten letters to voters in Georgia! If you live in Georgia and need information on voting locations, early voting dates (early voting began December 14), requesting an absentee ballot, viewing a voter guide etc., learn more here.
---
Electoral College officially casts majority of votes for Biden
The meetings of the electors from the 50 states and the District of Columbia, known as the Electoral College, cast their official votes for President and Vice-President of the United States throughout the day Monday. The electoral vote always takes place on the Monday after the 2nd Wednesday in December, according to the timeline specified in the Constitution. As expected, the electors voted according to the announced results from their respective states, giving Joe Biden the 306-232 majority necessary to become the next president. The results are not authorized until Congress convenes and formally certifies the tally on January 6th of 2021. Monday's vote came as the Trump campaign continues to press legal challenges in key swing states. Trump allies even convened their own alternative slate of electors to cast their votes in five contentious battleground states, hoping that if the courts eventually ruled in their favor, their rival slate of electoral votes could be certified. "As we speak, today, an alternate slate of electors in the contested states is going to vote and we're going to send those results up to Congress," Trump senior aide Stephen Miller explained. "This will ensure that all of our legal remedies remain open." read more at DISRN
THINK.
The Constitution specifies that the president's and vice president's terms shall end on January 20th, and federal statute created the two dates we currently use for certifying the votes for the new president. The electors met on December 14th, and while we already know the results, Congress will officially announce them on January 6th. For the states in which one slate of electoral votes for Biden and one slate of votes for Trump will be submitted, Congress will decide which slate to accept. After the vote on Monday, Senate Majority Leader Mitch McConnell officially congratulated Joe Biden and admonished fellow senators not to object to the results, which they will have an opportunity to do on January 6th. Representative Mo Brooks, (R-AL) has declared that he will object to the results, stating that it is "necessary to protect the sanctity of America's election system." Responding to the vote on Monday, evangelical leader Franklin Graham expressed his gratefulness to God "for the last four years He gave us a president who protected our religious liberties...who defended the lives of the unborn, standing publicly against abortion and the bloody smear it has made on our nation." Also on Monday, President Trump announced that Attorney General Bill Barr will be resigning on December 23rd. In his resignation letter, Barr praised many of Trump's accomplishments despite "relentless, implacable resistance". In an op-ed in the Christian Post regarding election conflict, our friend Jim Denison advised Christians to continue to do these three steps: seek the truth (which includes investigating voter fraud), speak the truth in love, and do everything for the purpose of honoring God and drawing others to him. Denison continued, "Scripture is clear: 'Whatever you do, do all to the glory of God' (1 Corinthians 10:31). Jesus said we would 'be' his witnesses (Acts 1:8), a calling that encompasses our private and public lives. We should ask of our political engagement: Will this honor Jesus and lead others to him?" No matter who is in the White House, our calling as Christians does not change. Let that encourage you as you continue to be salt and light to those around you.
PRAY.
Continue to pray that the truth about the election results will be fully investigated. Keep praying for all our governing leaders according to 1 Timothy 2:1. Also, pray for the Holy Spirit to empower the church to stand for truth and righteousness in our communities as we point people to Jesus.
ACT.
Serious unanswered questions persist about the November election process in states like Pennsylvania, Georgia, Michigan, and Arizona. We believe the American people must demand that Congress hold a fair hearing to investigate the election integrity concerns and the issues raised through sworn affidavits made by American citizens. Use our easy tool to quickly contact your Senators today and urge them, as your representatives, to hold a hearing. Please share this with your friends and family as well. It is not only for this election that we must act but also to protect fair and legal elections in America for years to come.
---
Planets Will Align Causing Rare 'Christmas Star' to Appear in the Sky This December
On December 21, Saturn and Jupiter will align into a beautiful bright star. This will be the first time they align like this since the Middle Ages. According to Forbes, the two planets will look like a "double planet" and provide an extraordinary amount of light. The last time these two planets aligned like this was on March 4, 1226, according to astronomer Patrick Hartigan at Rice University. "Alignments between these two planets are rather rare, occurring once every 20 years or so, but this conjunction is exceptionally rare because of how close the planets will appear to be to one another. You'd have to go all the way back to just before dawn on March 4, 1226, to see a closer alignment between these objects visible in the night sky," Hartigan said in a statement. The spectacular sighting will be viewable from anywhere on earth. "The planets will appear low in the western sky for about an hour after sunset as viewed from the northern hemisphere, and though they'll be closest on December 21, you can look each evening that week. Although the sight will be sinking towards the horizon, it will be bright enough to be viewed in twilight. All you need is an unobstructed view to the southwest, and to look to the southwest from about 45 minutes after sunset where you are," Forbes states. read more at Christian Headlines
THINK.
Some of the very rare alignments like this called "conjunctions" only come around once in hundreds of years. Astronomers speculate that the Star of David written of in Matthew was an exceptionally rare triple conjunction between Saturn, Jupiter, and Venus. Dr. Ray Bohlin looks at the familiar account of the star of Bethlehem and provides several possible ways that God created this sign announcing the birth of Christ. From a Christian worldview perspective, we know a bright light in the sky was able to lead the magi to the Christ child. Dr. Bohlin considers several ways God may have chosen to announce the coming of Christ. There are numerous efforts to explain it in terms of conjunctions of planets or comets or supernovas or miraculous lights. But we just don't know. Was it an astronomical event or the Shekinah Glory, manifesting God's presence among men? The mystery remains. Perhaps that is how God intends it to be. The Star of Bethlehem itself was not the focus of the account in Matthew, but at whom the star pointed. The important thing to remember is that the Star of Bethlehem is just a small part of the narrative in Matthew's Gospel. The point of the story isn't the star. It's the baby.
PRAY.
You are called "Wonderful," "Counselor," "The Mighty God," "The Everlasting Father," and "The Prince of Peace." As Your children, help us to be aware of who You are. We choose by faith to make the "good news of great joy" a reality in our own lives, so we can point others to You this Christmas and every day. We know one day every knee will bow and every tongue will confess that You are Lord. And we also know that peace on earth can only come when hearts find peace with You. You are no longer a baby in the manger. You are Lord of lords and King of kings. And we celebrate You as Lord—this Christmas and always. In Your holy name, amen.
ACT.
Our friends at The Chosen (the first-ever multi-season TV show about the life of Jesus) just finished filming their second season! An original short film by The Chosen's director, Dallas Jenkins, called "The Shepherd," led to the production of the show. Watch the moving 20-minute Christmas short-film here. And make sure you download The Chosen App to watch the entire first season for free.
---
My Faith Votes—is a nonpartisan movement that motivates, equips and activates Christians in America to vote in every election, transforming our communities and influencing our nation with biblical truth. By partnering with national faith leaders, My Faith Votes provides resources to help Christians Pray, Think, and Act to create an America where God is honored in the public square.
Website | www.myfaithvotes.org Twitter | @MyFaithVotes Facebook | My Faith Votes
---
React
---
Comments