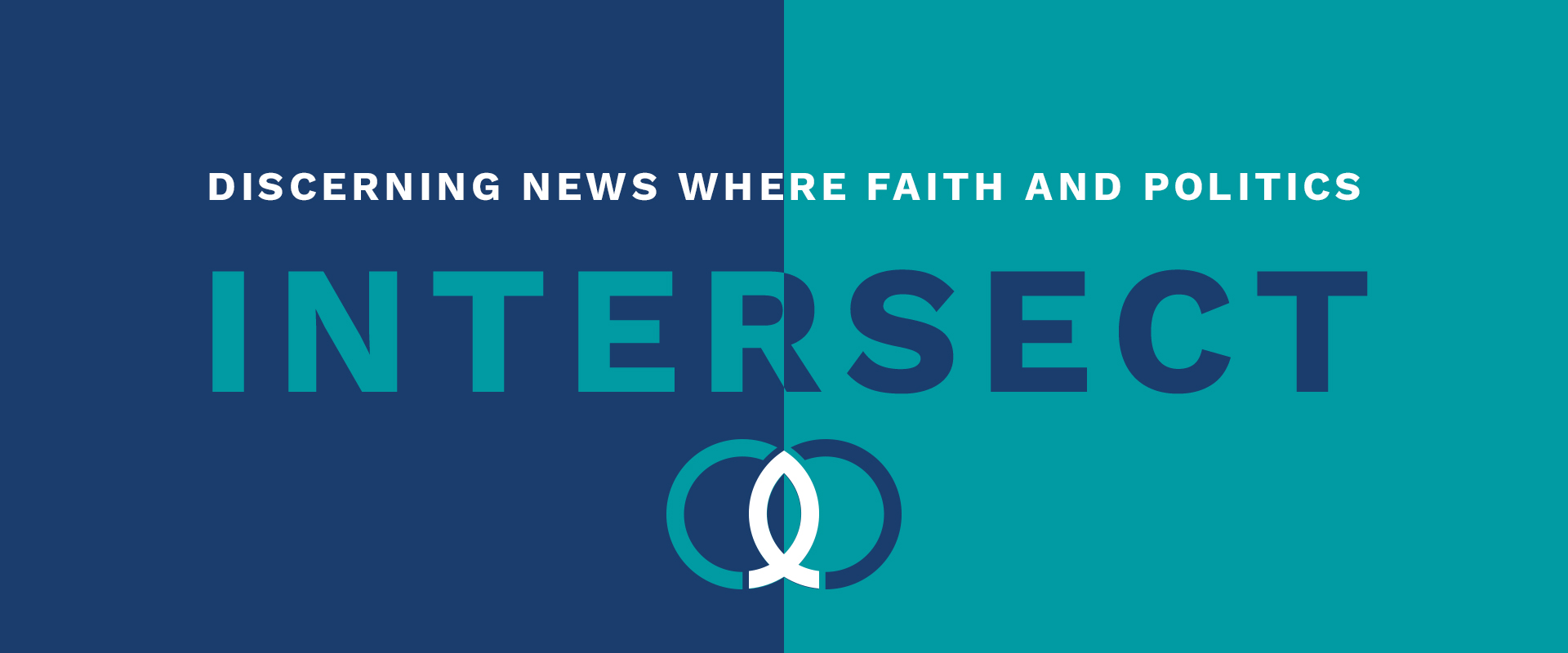 WEEKLY NEWS SUMMARY – Dec 12, 2018
In this week's Intersect, read about:
---
VIRGINIA HIGH SCHOOL TEACHER FIRED FOR REFUSING TO USE TRANSGENDER STUDENT'S NEW PRONOUNS
A Virginia high school teacher was fired Thursday for refusing to use a transgender student's new pronouns, a case believed to be the first of its kind in the state. After a four-hour hearing, the West Point School Board voted 5-0 to terminate Peter Vlaming, a French teacher at West Point High School who resisted administrators' orders to use male pronouns to refer to a ninth-grade student who had undergone a gender transition. The board met in closed session for nearly an hour before the vote. Like a similar transgender rights case in nearby Gloucester County that eventually reached the U.S. Supreme Court, Vlaming's situation could present a novel legal case as public bodies continue to grapple with how to reconcile anti-discrimination policies with the rights of religious employees. Vlaming, 47, who had taught at the school for almost seven years after spending more than a decade in France, told his superiors his Christian faith prevented him from using male pronouns for a student he saw as female. read more
THINK.
Vlaming, a father of 4, previously met with concerned parents. He said he would use the student's new name and attempt to avoid offensive pronouns. However, an incident occurred when the student almost ran into a wall while wearing virtual reality goggles. In a moment of panic, he used the wrong pronoun in an effort to keep the student from hitting the wall. In turn, he was fired. According to research, there are approximately 150,000 teens who identify as transgender. Should Christians use their preferred pronoun? One side says yes, arguing that it is a sign of hospitality that shows kindness and strengthens the friendship (1 Peter 4:8-9, Romans 2:4 and Romans 12:9-11). Another side says no, arguing that such a gesture fundamentally lies to them (Colossians 3:9-19). Essentially, one side emphasizes speaking truth, and the other side accentuates showing love. While Christians disagree regarding the use of pronouns, both sides cannot forget that the command involves both showing love and speaking truth (Ephesians 4:15). According to a Brookings Institute study, one in four school board members somewhat agrees that "interest groups have significant influence over board decisions." And Sixty-three percent at least somewhat agree they "listen to the ideas of organized interest groups and act on their input when deemed appropriate." This should remind us of the importance of Christians being involved and active in electing and holding our school board members accountable.
PRAY.
Pray for Peter Vlaming as he is in the midst of this difficult time and pray the Lord will provide for all of his needs. And pray for this transgender student to be shown Christ's love despite these circumstances.
ACT.
If we want a Christian perspective represented on our school boards, we must be involved and speak out. I encourage you to take a few minutes today to look up your school board members and track their meetings and issues. This link can help get you started.
---
JUSTICE THOMAS BLASTS SUPREME COURT FOR SIDESTEPPING PLANNED PARENTHOOD CASE: "QUIT ABDICATING OUR JUDICIAL DUTY"
U.S. Supreme Court Justice Clarence Thomas criticized his fellow justices Monday for refusing to do their job when they rejected a case about state efforts to defund the abortion giant Planned Parenthood. On Monday, six of the nine justices refused to take two cases out of Kansas and Louisiana where lower courts refused to allow the states to defund the nation's biggest abortion business. Both states, and several others moved to revoke taxpayer funding of Planned Parenthood after videos exposed the abortion giant allegedly selling the body parts of aborted babies. Planned Parenthood sued the states, and the 10th Circuit Court of Appeals ruled that Kansas couldn't defund Planned Parenthood, despite an investigation by the U.S. Department of Justice into its aborted baby body parts trade. Then, the 8th Circuit Court of Appeals upheld a similar effort by Arkansas to defund the abortion chain in 2017. Because of the circuit split, pro-life groups thought Supreme Court would take up the case. Thomas said the court made a "mess" of the matter and blamed the other justices for not wanting to touch a case involving the abortion giant Planned Parenthood. read more
THINK.
Justice Brett Kavanaugh voted with the four liberal justices on the bench refusing to hear the case. Justice Neil Gorsuch and Justice Samuel Alito joined Justice Clarence Thomas in voting to hear the case. Justice Thomas wrote, "It is true that these particular cases arose after several States alleged that Planned Parenthood affiliates had, among other things, engaged in 'the illegal sale of fetal organs' and 'fraudulent billing practices,' and thus removed Planned Parenthood as a state Medicaid provider, but these cases are not about abortion rights," he continued. "They are about private rights of action under the Medicaid Act. Resolving the question presented here would not even affect Planned Parenthood's ability to challenge the States' decisions. Some tenuous connection to a politically fraught issue does not justify abdicating our judicial duty," Thomas concluded. While this case wasn't about abortion, federal money that goes to any organization that provides abortion should be questioned. It's disappointing that the Supreme Court will not hear this case. A Republican-led house and senate and a willing President have had two years to defund Planned Parenthood, yet have failed to do so. Now that the House will be led by Democrats, the likelihood of federal funds being stripped has evaporated. The pro-life battle rests on states to continue to take up this issue and the hope that cases will once again reach the Supreme Court.
PRAY.
Pray for the Supreme Court as they continue to make critical decisions not only on the rulings they issue but also decisions on what cases they will and will not hear. Pray for them to uphold the Constitution and for them to have God's wisdom. And most importantly pray for life to be protected in all 50 states and for legislators to be bold (Psalm 139).
ACT.
Check out the Radiance Foundation and their informative and eye-opening fact sheets Consider printing one of these out to learn some more facts to better defend the sanctity of life in the public square. If the Supreme Court is not ready yet to hold Planned Parenthood accountable for their actions, then we must!
---
SATANIC SCULPTURE INSTALLED AT ILLINOIS STATEHOUSE, JUST IN TIME FOR THE HOLIDAYS
In the Illinois Capitol rotunda this month, several traditions are being celebrated. There's a Nativity scene for Christmas, a menorah for Hanukkah, and then something a little different: an arm holding an apple, with a snake coiled around it. It's a gift from the Chicago branch of The Satanic Temple. Called "Snaketivity," the work also has a sign that reads "Knowledge Is The Greatest Gift."read more
THINK.
About 22.8 percent of the US population is religiously unaffiliated, and 3 percent identify as atheist. Another study puts that number at 10 percent. A recent article in the LA Times highlighted how the church of Satan has experienced a surge in their "coolness factor." Commenting on the statute, the chairman for the group said the sculpture has little to do with actually worshiping Satan but is more a statement about the separation of church and state. It serves as a "metaphoric representation" of opposing "arbitrary authority." The "wall of separation" was initially coined by Roger Williams in 1644 and popularized by Thomas Jefferson in his letter to the Danbury Baptist in 1802. The wall was originally intended to keep the "wilderness of the state" out of the "garden of the church," not the other way around. Christians serve as a fragrant aroma in the wilderness of the state (2 Corinthians 2:14-16). The state should be kept out of the church, but the church should permeate the state as they work with excellence for the good of their city. The Satan statue in Illinois stands beside the baby Jesus. But one day, every knee will bow before the Lord Jesus (Philippians 2:10-11).
PRAY.
Pray for the hearts of those who will see both the Nativity scene on display at the Illinois Capitol until January 2nd and the satanic display. Pray for the power, truth, and love of the Christmas story to speak to each person's heart that comes to the Illinois Capitol.
ACT.
When you understand there is meaning and significance to all the little details surrounding the birth of Christ, you can't help but be in awe of God's plan and providence. Our friends at The Chosen, who are making the first-ever TV series about the life of Jesus that will be released this spring, share about the incredible reason for Jesus being swaddled at birth. Watch the short explanation here.
---
TRUMP TAPS WILLIAM BARR FOR ATTORNEY GENERAL, HEATHER NAUERT FOR UN AMBASSADOR
President Trump announced Friday that he plans to nominate William Barr, the George H.W. Bush-era leader of the Justice Department, as his next attorney general – as well as State Department spokeswoman Heather Nauert to succeed outgoing U.N. Ambassador Nikki Haley. President Trump said Barr was his "first choice from day one," though acknowledged he didn't know him until recently. If confirmed, he would replace Matthew Whitaker, the former Jeff Sessions chief of staff who took over as acting attorney general last month. Barr led the Justice Department under Bush from 1991 to 1992 and currently works at the Kirkland & Ellis law firm in Washington. Trump, meanwhile, said Nauert will be tapped for the U.N. role, saying she's "very talented" and predicting she'll be "respected by all." The promotion would mark a rapid rise for Nauert from journalist to one of the nation's top ambassadors in less than two years. Nauert would face a full plate at the United Nations, with Iran and North Korea and other issues dominating the U.S. agenda there. Further, she will confront a stream of anti-U.S. and anti-Israel rhetoric at the world body -- something Haley constantly pushed back against during her tenure. read more
THINK.
These are two significant appointments for our nation and for our international relationships abroad. Regarding the United Nations Ambassador appointment, Israeli Ambassador Danny Danon said on Friday, "Ms. Nauert has stood by the State of Israel in her previous positions, and I have no doubt that the cooperation between our two countries will continue to strengthen as ambassador to the U.N. In the past two years, we have worked closely with Ambassador Nikki Haley to change the hostile spirit in the U.N., which has led to unprecedented achievements. Ambassador Haley will always be a true friend of the State of Israel." Nauert is an unconventional choice since she has little experience in politics or foreign policy. Unlike Haley, Nauert will not hold a cabinet-level position.
PRAY.
Pray for William Barr and Heather Nauert as they prepare to take on the responsibilities of these important roles, and pray for the Senate as they consider and vote on their nominations. Most importantly, pray Israel will have a continued friend in the United States at the United Nations.


ACT.
If you would like to learn more about what's happening at the United Nations and stay up to date, we encourage you to check out the Center for Family and Human Rights Website where they carefully monitor the events at the United Nations and keep people updated on issues as it relates to Family and Human Rights issues.
---
My Faith Votes—is a nonpartisan movement that motivates, equips and activates Christians in America to vote in every election, transforming our communities and influencing our nation with biblical truth. By partnering with national faith leaders, My Faith Votes provides resources to help Christians Pray, Think, and Act to create an America where God is honored in the public square.
Website | www.myfaithvotes.org Twitter | @MyFaithVotes Facebook | My Faith Votes
---
React
---
Comments