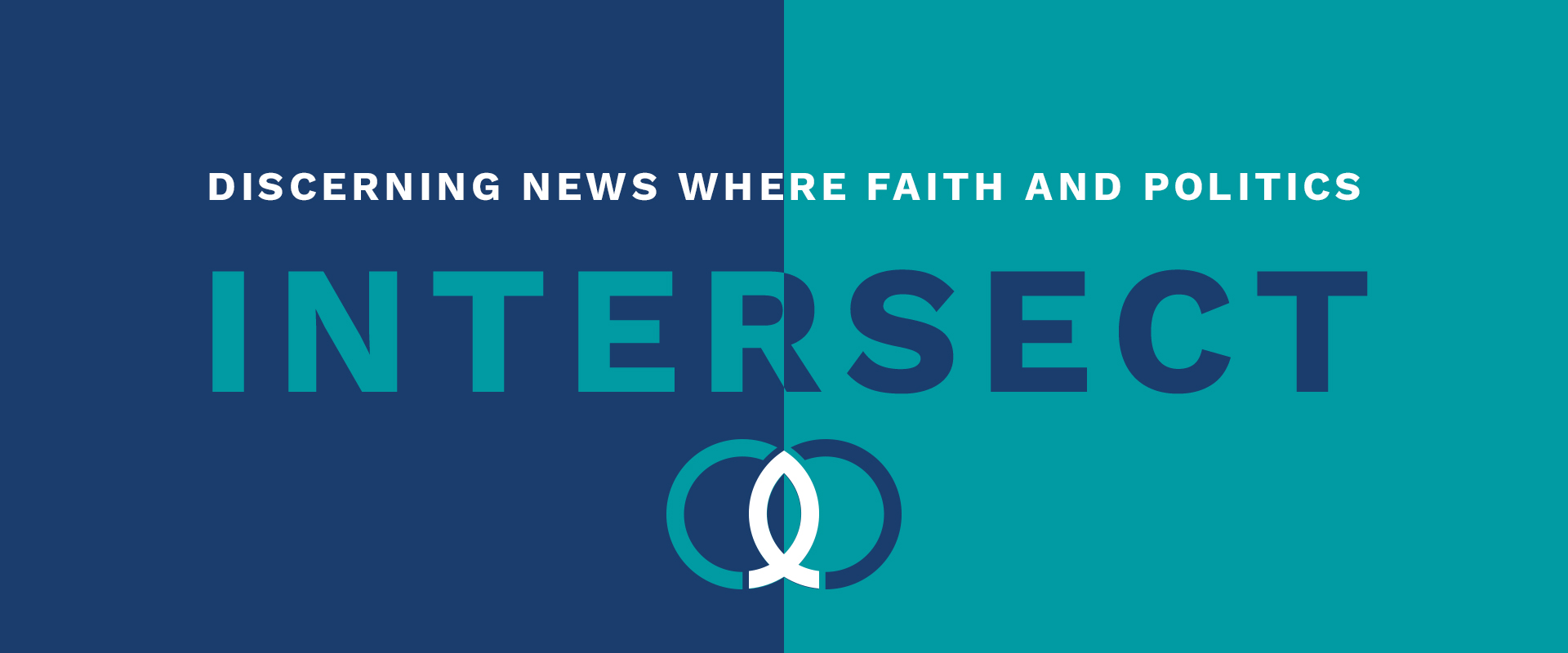 WEEKLY NEWS SUMMARY - AUGUST 5, 2020
In this week's Intersect, read about:
---
DC Police Arrest Pro-Life Protesters for Chalk Messages of 'Black Pre-Born Lives Matter'
Officers with Washington, DC's Metropolitan Police Department arrested two pro-life protesters early Saturday morning for attempting to write "Black Pre-Born Lives Matter" in chalk in front of a Planned Parenthood facility even though representatives of the groups' Students for Life of America (SLA) and the Frederick Douglass Foundation (FDF) said they had the necessary permit to do so. According to SLA and FDF leaders, the organization had received a permit to paint "Black Pre-Born Lives Matter" with temporary paint on the street at their event directly in front of the abortion facility. "We were told verbally that we would not be prevented from painting and what kind of paint to buy," said Students for Life spokesperson Kristi Hamrick in an email to the Washington Times, adding that the group was told to use non-permanent tempera paint. The group says DC Mayor Muriel Bowser allowed the painting of the slogan "BLACK LIVES MATTER" on a public street. The city also allowed activists to paint other messages on city streets, including "Defund the Police." Upon the SLA's arrival at the abortion facility, they were greeted by six DC police cars. The group had planned to use the temporary paint they had purchased at police insistence, but officers told them they could not use it. Then some members of the group asked if they could use sidewalk chalk to write their message instead. A college student and an SLA staff member began writing on the sidewalk and according to video and other media outlet accounts, a police officer approached the two and told them they would be arrested if they continued. Erica Caporaletti, a 22-year-old student at Towson University, and Warner DePriest, a 29-year-old DC resident were arrested and charged with defacing public or private property, according to DC police. read more
THINK.
Tina Whittington, vice president of Students for Life of America, said they intend to sue Mayor Bowser for violating their First Amendment rights. In an open letter to the mayor prior to the incident last week, SLA stated, "Your original decision to paint 'Black Lives Matter' on the street is government speech. However, your decision to allow protestors to paint 'Defund the Police' opened the streets up as a public forum. You are not permitted to discriminate on the basis of viewpoint in making determinations relating to public assemblies in public fora." As many Christians are discovering, tolerance is not always a two-way street when they begin to step out in faithfulness to God in ways that are not popular with the culture. Last January, we interviewed Ken Peters, pastor of The Church at Planned Parenthood. This church holds a worship service once a month outside a Washington State Planned Parenthood abortion facility. Now, Planned Parenthood is suing Pastor Peters for allegedly violating noise restrictions and interfering with the business of the clinic, though the church has lowered their volume and begins its service when the facility closes. "We are bringing attention to the fact that they are killing life for money." Peters said. "That's what they don't like. That's what they're suing us for. We are shining a light for the Lord and on their sin and that's what they hate us (for)." Planned Parenthood would like to contain the church to just four walls. But in order to truly fulfill its purpose, the church must step outside and take the Gospel to every area of a dying culture. One encouraging report on the pro-life front is that the Supreme Court of Mexico recently upheld a law prohibiting abortion in the state of Veracruz. Mexico currently allows abortion up to the 12th week only in Mexico City and in the state of Oaxaca.
PRAY.
Pray that both Students for Life of America and The Church at Planned Parenthood would win their respective lawsuits, which would continue to protect our freedom to preach the whole Gospel. And pray that the church in both America and Mexico would boldly stand for life.
ACT.
We encourage you to read our interview with Pastor Ken Peters. According to Peters, one of the biggest costs of following God's leading has been the slander of his character. This is something Jesus prepared his disciples for in Matthew 5:11, and it is good for us also to be prepared to sacrifice our good name for His kingdom.
---
Trump Vows Legal Action Over Nevada Mail-in Voting Plan
President Trump on Monday morning threatened legal action over a bill passed by the Nevada legislature to send mail-in ballots to all voters ahead of the Nov. 3 presidential election. The legislature on Sunday pushed through the bill despite objections from Secretary of State Barbara Cegavske, the only statewide Republican elected official, on a party-line vote. It would give Democratic Gov. Steve Sisolak the power to command the secretary of state to adjust election procedures during a state of emergency. The bill also expands who can turn in ballots, a provision many Republicans in the state said could open the door for ballot harvesting. "In an illegal late night coup, Nevada's clubhouse Governor made it impossible for Republicans to win the state," Trump said in a tweet Monday. "Post Office could never handle the Traffic of Mail-In Votes without preparation. Using COVID to steal the state. See you in Court!" read more
THINK.
Nevada Governor Steve Sisolak signed Assembly Bill 4 on Monday. The bill outlines election procedures of mail-in votes as well as a small number of in-person locations during early voting and on election day. Nevada GOP Chairman Michael J. McDonald called the decision, "nefarious," and says the way this was drafted and created was unacceptable. "The problem I have with it is this was done with less than 100 days out. It was done without any input from the Secretary of State who does this, or Wayne Thorley, her deputy, who does all the rules and laws for voting," he said. "Why would you change this out less than 100 days before the election? That's the concern. To say it's the COVID-19 doesn't really wash because we're able to go to stores, there are meetings taking place, everybody's wearing masks, we wear gloves. We had protests and demonstrations, there was no problem with that." A significant increase in mail-in voting this fall could greatly incentivize "ballot harvesting," where third parties collect mail-in ballots on behalf of voters and deliver them to election officials. There has long been a consensus that such a practice incentivizes fraud even though ballot harvesting is illegal in most of the country. The use of mail-in ballots more than doubled from 24.9 million in 2004 to 57.2 million in 2016, and around 40% of U.S. votes are now done by mail. Along with this dramatic increase, there have been virtually no new safeguards, scrutiny, or additional research on the risks of voting by mail. Between 2012 and 2018, 28.3 million mail-in ballots were unaccounted for, according to data from the federal Election Assistance Commission. The missing ballots amount to nearly one in five of all absentee ballots and ballots mailed to voters residing in states that do elections exclusively by mail. States and local authorities simply have no idea what happened to these ballots since they were mailed – and the figure of 28 million missing ballots is likely even higher because some areas in the country, notably Chicago, did not respond to the federal agency's survey questions. This figure does not include ballots that were spoiled, undeliverable, or came back for any reason. Election law experts have long held that the margin of election fraud is 3 – 5%, yet nearly 25% of elections are decided by less than 2%. Your vote matters.
PRAY.
Pray for a truthful election process where every eligible citizen is allowed to cast a vote for their candidate of choice without influence or fraud from others. Pray for Christians to see the importance of voting and to remain vigilant in living out their faith through their votes.
ACT.
Check out the important work of our friends at True The Vote and learn how you can take action to protect the integrity of voting.
---
Jonathan Isaac stands alone during NBA national anthem, cites religious reasons
Jonathan Isaac, of the Orlando Magic, was the lone NBA player who stood during the national anthem before the team played the Brooklyn Nets on Friday afternoon. All other players and coaches knelt. Isaac, who was claimed by the Magic in the first round of the league's 2017 draft, was also the only player not wearing a shirt that shows "Black Lives Matter." The 22-year-old Florida State University graduate said he doesn't believe kneeling or wearing a T-shirt "go hand in hand with supporting Black lives." He said he does believe Black lives matter. In an interview, Isaac answered questions about his decisions with a focus on religion. "I believe that my life has been supported through the Gospel, Jesus Christ, and that everyone is made in the image of God," he said. "Each and every one of us each and every day do things that we shouldn't do. We say things that we shouldn't say. We hate and we dislike people we shouldn't hate and dislike. Sometimes, it gets to a point where we point fingers about whose evil is worse. And sometimes that comes out with whose evil is most visible." Isaac, an ordained minister, said he wanted to take a stand and remind people that "the Gospel of Jesus Christ says there's grace for us." read more
THINK.
Just days after sparking attention and backlash on social media, Isaac is doubling down on his decision to remain standing for the national anthem and standing his ground. On Twitter, he stated, "IT IS WELL!!! 2 Kings 4! Thank you for all of your prayers and concerns. I'm encouraged. Remember our God is not just a God of the hills but a God of the valleys! (2 Corinthians ch 4 vs 9!) MY COMEBACK WILL BE GREATER THAN MY SETBACK!!!! I STILL STAND IN JESUS NAME!!!!" At a media presser, he continued, "My teammates know who I am and what I believe as a person and they respect me for the decision," Isaac said. "For me, personally, it's not coming from a position of wanting to be popular or wanting to be seen. It all came down to what's in my heart; I stake my flag with Jesus." Isaac was the first player to stand for the anthem in the restarted NBA season. The NBA has had a rule since the early 1980s saying players must stand for the anthem. But NBA Commissioner Adam Silver said Thursday night — when the teams that played in the opening night of the restarted season, those being New Orleans, Utah, the Los Angeles Lakers, and Los Angeles Clippers, all knelt for the anthem — that he was relaxing that policy in these times where a desire for equality and social justice is at the forefront of many conversations in this country. Ask anyone who has served in or is serving in the military and they will tell you that standing for the flag means something deeply personal. One military spouse stated, "As the first note of the National Anthem is played, we as military families are used to stopping immediately and honoring the flag and the National Anthem. It is cultural for us in many ways." Late last week, the military made news as seven Marines and a sailor who were missing after an accident off the coast of Southern California are now presumed dead after search and rescue efforts were called off on Saturday evening, the authorities said. The Marine Corps identified the service members who had been aboard an amphibious assault vehicle that took on water and sank on Thursday. Another Marine died and two service members were injured. Over 20 million men and women have served our country valiantly. These individuals risked their futures so that we might have one. We will never know the depths of their service, but we should never stop trying to express our appreciation for their service, including the way we respect the flag they served under.
PRAY.
Pray for Jonathan Isaac, as he continues to face scrutiny for his bold stand for Christ. Pray for your own boldness to stand for Christ in a culture that is increasingly critical of those who choose to live for and serve Christ as our Savior and Lord. Keep Luke 6:22 in mind, which says, "Blessed are you when people hate you, when they exclude you and insult you and reject your name as evil, because of the Son of Man." And pray for the military families who lost their loved ones last week, that they would find strength and comfort.
ACT.
Have you ever thought about the guidelines that have been set forth in how to display, honor, and respect the US flag? There is an actual flag code set out to instruct and inform. Know the code and educate others about our treasured symbol.
---
Senate Report Examines Impact Welfare Programs Have on 'Demise of the 2-Parent Home'
Republicans on the U.S. Senate Joint Economic Committee recently released a report on "The Demise of the Happy Two-Parent Home," which points to federal welfare programs as a possible contributing factor to the decline in marriage. "The problem isn't just that federal welfare spending enables women to choose govt programs over a husband, it is that the eligibility requirements force women to choose. In many cases, if a woman gets married, they lose these benefits!!!" Sen. Mike Lee of Utah, who is chairman of the committee, commented on Twitter last week. The report "examines the state of family stability in the United States and describes policy approaches to ensure that more children are raised by two happily married parents." "Researchers have well established that children raised by married parents do better on a wide array of outcomes," the report reads. "They have stronger relationships with their parents, particularly with their fathers. They are also much less likely to experience physical, emotional, or sexual abuse. They have better health, exhibit less aggression, are less likely to engage in delinquent behavior, have greater educational attainment, and earn more as adults. They are also far less likely to live in poverty." The report compares the state of family stability in the 1960s, at the dawn of the sexual revolution, to family stability in 2019. In 1962, 71% of women between the ages of 15 and 44 were married. That figure dropped to 42% in 2019. The declining marriage rate has not led to a corresponding decline in childbirths. Instead, the percentage of children born to unmarried mothers has increased dramatically. read more
THINK.
According to the U.S. Census Bureau, 19.7 million children live in a fatherless home—1 in every 4 children, which is more than in any other country in the world. This is a crisis that is affecting all of us as we experience the fruit of absentee fathers. Statistics reveal children who are raised without a father present are: 4 times more likely to live in poverty; 7 times more likely to become a pregnant teen; 2 times more likely to drop out of school; more likely to commit a crime; more likely to become addicted to drugs and alcohol. In his book, Hearts of the Fathers, Charles Crismier notes that many American children today lack the "God-ordered earthly anchor for soul security" because dad is not in the home. He notes, "It is well known but seldom discussed, whether in the church house or the White House, that fatherlessness lies at the root of nearly all of the most glaring problems that plague our modern, now post-Christian life." He also points out that fathers are so important in the Bible, beginning with God the Father, that the words "father," "fathers," and "forefathers" appear 1,573 times. Obviously, children in fatherless homes can survive and even thrive despite that handicap. But what a better thing it is to follow God's design for the family. There is even a link between fatherlessness and unbelief. About 20 years ago, as a professor at New York University, Dr. Paul Vitz wrote a book, The Faith of the Fatherless. In that book, he showed how famous atheists and skeptics in history had virtually no father figure in their life or a very negative father. Conversely, Vitz found that strong believers often had positive fathers or father figures. In an interview for Christian television, he stated, "I would say the biggest problem in the country is the breakdown of the family, and the biggest problem in the breakdown in the family is the absence of the father. Our answer is to recover the faith, particularly for men, and we'll recover fatherhood. And if we recover fatherhood, we'll recover the family. If we recover the family, we'll recover our society." Thankfully, we have a good, good Father who shows us perfect love. He is a father to the fatherless and He makes Himself known to us (Psalm 68:5, John 14:28, John 3:16).
PRAY.
Prayer is the foundation needed to begin to change fatherlessness and see it become a thing of the past. Pray for God to reveal Himself as Father to the fatherless, that He would push back all oppression and darkness from their life. Pray for God to restore their hearts. Pray for our nation to encourage and support the critical role of fathers.
ACT.
My Faith Votes is proud to be a new ministry partner of Promise Keepers. Promise Keepers is an incredible organization on a mission to encourage men to know their identity, purpose, and destiny in Christ, and then link arms to change the world for good...and for God. Join our LIVE conversation with Promise Keepers Chairman and CEO, Ken Harrison, tonight on YouTube or Facebook. Watch at 8:00 PM ET / 5:00 PM PT.
---
My Faith Votes—is a nonpartisan movement that motivates, equips and activates Christians in America to vote in every election, transforming our communities and influencing our nation with biblical truth. By partnering with national faith leaders, My Faith Votes provides resources to help Christians Pray, Think, and Act to create an America where God is honored in the public square.
Website | www.myfaithvotes.org Twitter | @MyFaithVotes Facebook | My Faith Votes
---
React
---
Comments