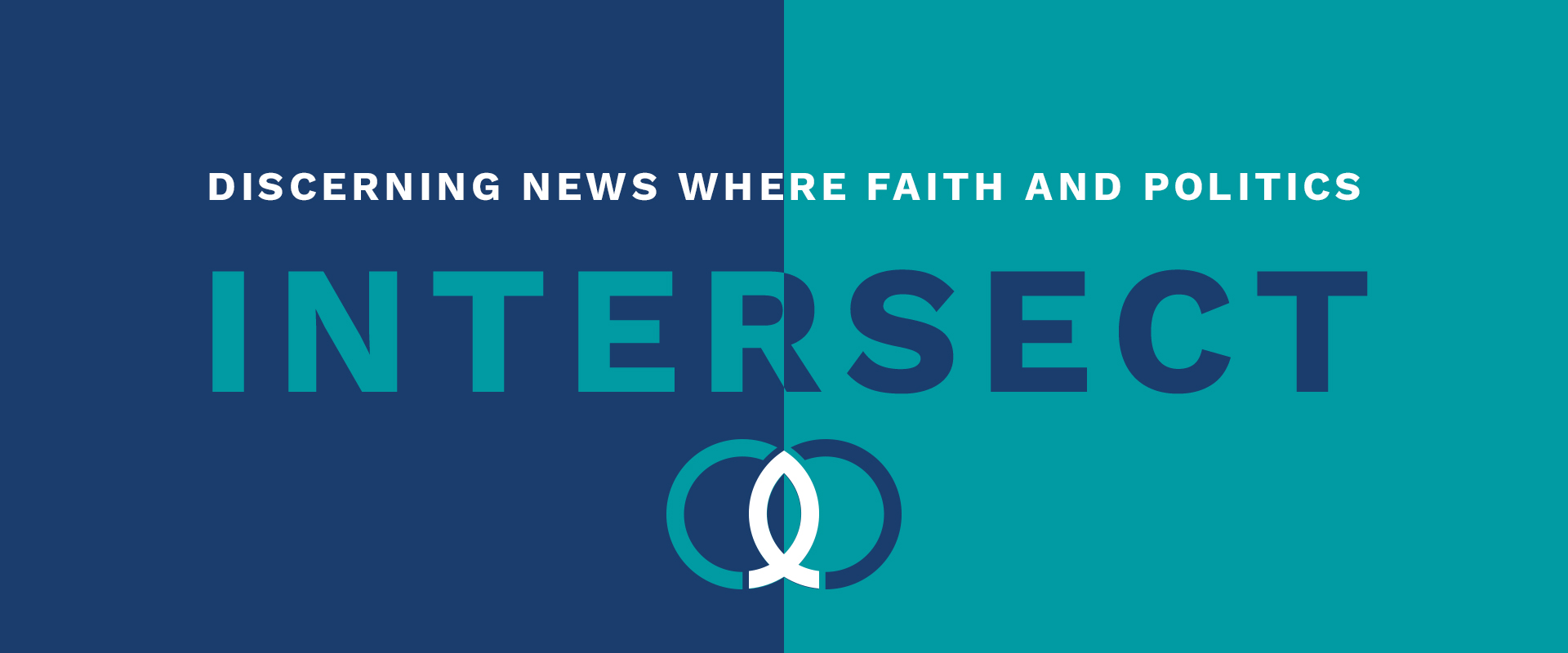 WEEKLY NEWS SUMMARY - AUGUST 31, 2022
In this week's Intersect, read about:
---
Federal Court Rules Against HHS Requiring Religious Doctors to Perform Gender Transitions
"A federal appeals court on Friday blocked President Biden's Health and Human Services mandate that would have forced religious doctors and hospitals to perform transgender procedures — including on children. In a unanimous ruling from the 5th U.S. Circuit Court of Appeals, the three-judge panel said the lower court was right to issue a permanent injunction that protects a healthcare network of nearly 20,000 religious doctors and medical providers from performing abortions and transgender care. The Catholic hospital group had argued the Biden administration's rule issued through the Health and Human Services Department requiring medical providers not to discriminate and deny care "on the basis of sex" didn't only mean biological gender — but also extended to LGBTQ individuals." read more at the Washington Times
THINK.
The courts are frequently engaged in determining the level of freedom Christians will be granted to live, speak, and act according to our core values and beliefs…or if we will be forced to conform to the whims of culture and government. The elections of those who appoint and confirm judges at the federal level–or the state level–have profound effects. Our choices at the ballot box also affect who is appointed to administrative positions that determine how the laws passed by Congress are executed. In this case, "In May 2016, HHS issued a rule interpreting [Obamacare's] Section 1557's prohibition of 'discrimination on the basis of sex.' It defined sex discrimination to include discrimination based on 'termination of pregnancy' and 'gender identity.'" Doctors were at risk of having to perform abortions or sex reassignment procedures against their religious convictions. 1 Peter 2:14 says governing authorities are meant "to punish those who do evil and to praise those who do good." This was just one of many instances where our government had gotten it backwards, and the court's ruling has had to restrain it. My Faith Votes has created a free guide to help you understand the American justice system so you can THINK, PRAY, and ACT from an informed position. You can download it here. The Biden Administration is proposing another change to the way a federal law will be executed–and this threatens both religious liberty and parental rights. In all public K-12 schools and universities, the U.S. Department of Education is proposing to expand the definition of discrimination in Title IX based on sex to include sexual orientation and gender identity. According to the Child and Parental Rights Campaign, "The new regulations would require K-12 schools to support socially transitioning children to a different gender without requiring notice to parents, the involvement of medical professionals, or legal documentation." And if you're a Christian employee of a public school, "School districts will be forced to adopt policies that compel students and staff to refer to others as something other than their sex. This will violate students' and teachers' First Amendment rights to speak freely and treat others in a manner that is biologically accurate and consistent with their faith." This rule change might be halted by massive public outcry against it…see our ACT section below for what you can do.
PRAY.
Heavenly Father, thank You for the many public servants who are protecting the rights You have given us to faithfully serve You. Please continue, through the votes of many Christians, to put such people in authority. We pray that this proposed rule change harming children and infringing parental rights and religious liberty would not go forward. Help us to be bold and faithful, in Jesus' name, Amen.
ACT.
Before this proposed rule change to Title IX can be implemented, the administration must hear public comment from We the People. The deadline is September 12; please act right away. Go to the link below to learn more about what the rule change would do, with detailed instructions for how to submit your public comment. It is important to voice your own personal opinion, because in the Federal Register, the exact same script only counts as one message. You can use one of the comment starters to help you. Go here to read and comment. It has everything you need.
---
President Announces $10,000 Student Loan Forgiveness Plan as Constitutionality is Questioned
"President Biden announced on Wednesday that the Federal government will be forgiving $10,000 in student loans for borrowers earning less than $125,000 annually – or for couples making up to $250,000. The plan will also continue the pause on repaying student loan debt through December 31, 2022, for 'one final time.' The administration also announced that the U.S. Department of Education (DOE) would provide up to $20,000 in debt cancellation to Pell Grant recipients. The White House asserted on Wednesday that under the plan, 'No high-income individual or high-income household – in the top 5% of incomes – will benefit from this action,' which is defined as a household bringing in $250,000 annually. Announcing the student loan cancellation in a speech from the White House, President Biden said that 43 million people will benefit from the debt cancellation. The plan comes after elected officials on Capitol Hill have been debating for months over whether the executive branch has the authority to unilaterally cancel student loan debt." read more at the Daily Citizen
THINK.
The two main concerns with the President's decision are whether this is legal under the Constitution and whether this is morally permissible. The Constitution gives Congress the power of appropriating money and specifies that "No Money shall be drawn from the Treasury, but in Consequence of Appropriations made by Law." (Article 1, Section 9, Clause 7) This student loan forgiveness originates in the executive, not the legislative, branch. So why does the administration think it is permissible? The Department of Education (DOE) argues that the HEROES Act passed by Congress in 2003 gives the Secretary of the DOE discretion over student loan programs in the case of a national emergency such as COVID-19. However, when this question arose in January of 2021, the previous legal counsel to the DOE issued a memo stating that, in their opinion, the HEROES act does not give authority for a blanket, mass forgiveness of student loans. The Department's current legal counsel disagrees. You can read more on that in this article from the Heritage Foundation. Regarding the morality of such a decision, an argument you may have encountered recently is that this student loan forgiveness policy should be acceptable to Christians because our sins have been forgiven by Jesus. I recommend this insightful article in the Federalist that exposes the misunderstanding of both the government's action and the basis of our salvation: "[O]ne of the most glorious truths of the Gospel is not that God has just chosen to ignore or "cancel" or "forgive" our debts. It's that Jesus paid them in full for us at the cross and then rose again to defeat death. It's only on that basis that we can stand forgiven." In contrast, the government is not able to pay anyone's debt out of self-sacrificial love, because all its revenue comes from taxpayers. It must be taken from taxpayers to pay the debt owed by student loan recipients. That's not loving or just, especially when many of those taxpayers chose to forgo college in order to avoid massive debt or have worked hard to pay off their student loans. Dr. Erik Hoekstra offered a Christian University response to the President's announcement saying, in part, "...the national conversation about student loan debt has mostly been one of talking past one another, rather than wise conversation about higher education policy. We are saddened that it has come to this…Dordt students learn to be wise stewards of their resources, to work hard, and to trust that God will provide—all of this is part of their education. What concerns me about the plan is it promotes fiscal irresponsibility."
PRAY.
Lord, help us to seek a correct view of what You say in your Word. We pray for an understanding to follow the Apostle Paul's example of working hard to provide for our needs and to help those with less. (Acts 20:35)
ACT.
My college years were greatly enriched by the involvement of an older mentor who took the time to invest in me and speak wisdom into my life, and I have been blessed to do the same as. Is there a college-age young adult–perhaps from your church–who you can share a meal with, encourage, and build up in the Lord? It is a powerful calling. (Titus 2, Colossians 3:16, 1 Peter 4:10)
---
Florida School Board Elections Prove Parents are Fed up with Progressive, Godless Education
"Less than 48 hours after Christianity Today ran an article telling Christian parents that they shouldn't run for the school board, conservatives captured seats on multiple boards in local elections across Florida, removing them from liberal/woke control and putting the districts back in the hands of parents who believe in biology, reality, and common sense. National Review reported that 'multiple school boards across the state of Florida flipped conservative on Tuesday thanks to a groundswell of parental rights activism and GOP turnout.'" read more at Standing For Freedom
THINK.
The election for the Miami-Dade County Public Schools was particularly significant because it is now the largest school district in the United States under the stewardship of conservatives. It is the fourth-largest district in the United States. Local governing bodies have great impact, and often require fewer numbers of voters to affect significant change. Miami-Dade County was one of the first in the nation to pass a "gay rights ordinance" back in 1978, and now, voters have elected school board members committed to standing against the sexual revolution's indoctrination of children. Could the same thing happen in your community if the right candidates and enough Christian voters step up? But we should take a moment to address the argument, coming from Christian circles, that Christian parents shouldn't run for school board. "For all the voices calling our attention and energy to school-board politics right now, discipling our kids in a holistic and faithful way is a more constant, difficult, and worthwhile task," Bonnie Kristian at Christianity Today writes. Joseph Backholm with the Family Research Council offers a compelling response. "If you must choose between being on the school board and discipling your child, you should disciple your children. But in most cases, we don't have to make that choice. In fact, the decision to run for school board could be one of the most formative things you do as part of your child's discipleship," he writes. "There are few things Christian kids need more than examples of godly people who publicly, graciously, and courageously stand for truth. If you don't show them how to do it, who will?"
PRAY.
Find out the names of your local school board members and commit to praying for each one. Pray for the teachers, administrators, and children in your local schools. Pray for parents, youth pastors, coaches, and everyone who has an influence on the lives of young people. Pray for a turning back to God in your community that would result in both discipleship and public action for the good of the children.
ACT.
Proverbs 24:6 says, "by wise guidance you can wage your war, and in abundance of counselors there is victory." If you or someone you know is considering running for a school board position, Leadership Institute offers a free online course to equip you to undertake this mission. Check it out here.
---
A Conversation with Pastor Allen Jackson: Big Trouble Ahead
Is there big trouble ahead? Allen Jackson, Pastor of World Outreach Church in Murfreesboro Tennessee, talks with our CEO Jason Yates about his new book — Big Trouble Ahead. Pastor Allen boldly explains that if we are not willing to have an intensity for the Lord, a desire for him, and a desire to be righteous, pure, and holy; there will be big trouble ahead. We must imagine that our future does not depend on a political party, but it depends upon our relationship with God. watch our conversation here
THINK.
We're called to be a living, vibrant church. Our problem isn't the intensity of the darkness. Our problem is how diminished the light has become. As Pastor Jackson says, "The threat we face is an anemic and inept church…We've been afraid and timid and ashamed for too long. We've got to stop pointing our fingers at other people and saying they're the problem. The problem is the condition of our hearts. But here's the good news. If we humble ourselves and come back to the Lord, I believe that He will help us flourish in this season. But if you think sheltering in place was difficult, you just wait for what's ahead of us."
PRAY.
Father, I confess that on numerous occasions I've chosen to be complacent and complicit instead of boldly engaging the world around me. Please light a fire within my own heart to be a passionate follower of Christ, steadfast in affliction, and to never take a casual attitude toward your saving grace.
ACT.
Reading Pastor Allen Jackson's new book, "Big Trouble Ahead," will help you understand the issues facing believers today and those coming in the near future. Get an autographed copy of the book with a donation of any amount to My Faith Votes made by October 31. Order your book here!
---
My Faith Votes—is a nonpartisan movement that motivates, equips and activates Christians in America to vote in every election, transforming our communities and influencing our nation with biblical truth. By partnering with national faith leaders, My Faith Votes provides resources to help Christians Pray, Think, and Act to create an America where God is honored in the public square.
Website | www.myfaithvotes.org Twitter | @MyFaithVotes Facebook | My Faith Votes
---
React
---
Comments