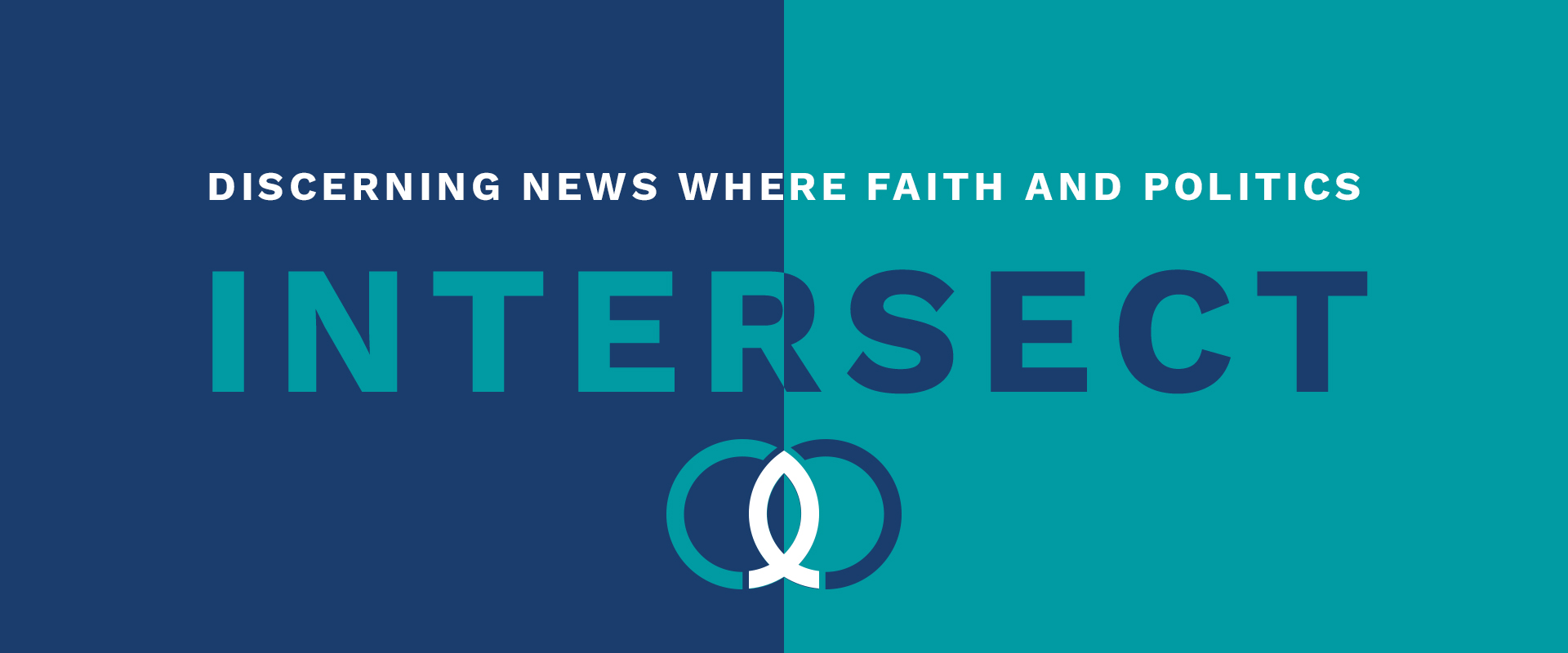 WEEKLY NEWS SUMMARY - AUGUST 30, 2023
BREAKING: Please pray for Floridians this morning as Hurricane Idalia makes landfall.
In this week's Intersect, read about:
---
Judge Rules LGBT Propaganda in Classrooms Does Not Violate Religious Liberty
"A federal judge is denying parents in Maryland the opportunity to opt out of subjecting their children to LGBT grooming material in classrooms. On Thursday, U.S. District Court judge Deborah Boardman, a Biden appointee, rejected a petition brought by Old Line State parents requesting the Montgomery County Public Schools (MCPS) district, the state's largest school district, restore a policy allowing parents to opt their children out of sexually-charged reading and classroom discussions." read more at The Washington Stand

THINK.
Contrary to Maryland and Montgomery County regulations, a federal court ruled that parents have no right to be notified when their elementary-school children will be read storybooks that address complex and sensitive issues regarding gender and sexuality. In Mahmoud v. McKnight, the Montgomery County Board of Education removed state-mandated parental notice and opt-outs rights for books that advocate pride parades, gender transitioning, and pronoun preferences for kids as young as pre-kindergarten.
Even the Board's elementary school principals protested that the books were age-inappropriate, dismissive of students' religious beliefs, and present information that is not factual. Soon after the School Board announced it would take away parental notice and opt-outs, a diverse coalition of parents, including Muslims, Catholics, Jews, and Protestants, among others, sued the School Board in federal court. The Becket Fund for Religious Liberty, representing the parents, announced it will appeal the decision and expects oral arguments to begin at the appellate level this fall.
How does someone navigate the assault on children and parents? We've created a free eBook, Know Your Child's School, to help Christian parents and grandparents like you understand the changing landscape of public education. We also provide you with practical steps you can take to identify what is happening in your child's school and position you to influence the governance of your local public school(s) to protect children. Download and share this free eBook today!
PRAY.
Please pray for another important parental rights case in California. The state's Attorney General is suing a Southern California school district with over 26,000 students for their new policy that requires schools to alert parents if their children change their gender identity or pronouns. Pray for those who are caught up in the lies that are undermining the role of families and damaging vulnerable children. We know who is ultimately behind every lie. Ask God for the confidence to not shy away from speaking the truth in love and that He would help parents to discern the lies and be equipped to do what is best for their children.
ACT.
As we say often, behind every political battle is a spiritual battle. With schools starting across the US, we strongly encourage you to download our resource to help you prayer walk a school near you. It includes prayer prompts to help you specifically intercede for students, teachers and parents. Include a friend, invite others from your church, or simply walk and pray alone…but let's surround our schools with prayer.

---
All-Male S.C. Supreme Court Upholds 6-week Abortion Ban
"South Carolina's Supreme Court on Wednesday upheld a ban on abortions after six weeks of pregnancy. The decision, made by the state's all-male justices, marks a reversal for the court after it struck down an abortion ban earlier this year. A revised 2023 version of a 2021 law, the Fetal Heartbeat and Protection from Abortion Act, was found constitutional after its original text was deemed unconstitutional." read more at Axios

THINK.
Note the way the media frames this issue: a group of men is restricting women's rights. Here's a different take: a group of men is defending preborn girls' (and boys') right to life. No one has the right to deliberately take an innocent human life, and justice should be impartial. "Speak up for those who cannot speak for themselves, for the rights of all who are destitute." (Proverbs 31:8)
Praise God, the news is full of pro-life victories recently! Indiana's near-total abortion ban is now in effect after the state Supreme Court denied a rehearing of the case against it. A federal judge ruled that West Virginia's near-total abortion ban is constitutional. The only part of the law that can still be challenged is the requirement that women see a physician in person before receiving the abortion pill. Also, a Nebraska state judge upheld the state's 12-week abortion ban, and recent reports from Oklahoma and South Dakota show zero abortions taking place since the states' abortion bans took effect last summer after the reversal of Roe v Wade. Elections have consequences.
Pro-life victories through state legislatures have caused abortion advocates to throw much of their weight behind efforts to enshrine a "right" to abortion in state constitutions—even in states like Ohio with pro-life laws. Bypassing elected representatives, they can go straight to the people by putting abortion on the ballot for the entire state to vote on, giving liberal cities more weight. This strategy also allows them to appeal to voters with emotional rhetoric that frames a vote for abortion as a vote for rights and freedom. We must learn to communicate truth in a compelling way with personal stories like the one in this ACT section.
PRAY.
Heavenly Father, this is a spiritual battle, and our efforts alone cannot create a culture of life. Please go before us to convict the hearts of our fellow Americans and give us wisdom to speak the truth in love at every opportunity. Let a host of Ohioans embrace true freedom and defeat the pro-abortion amendment to their state constitution this November. In Jesus' name, amen.
ACT.
When an abortion survivor, Penny, was mentioned in last week's Republican presidential debate, media outlets questioned her existence. It's harder to support abortion when you realize that behind every choice is a person. This 30-second Faces of Choice video features abortion survivors, including Penny, asking the question, "Can you look me in the eye and tell me that I shouldn't be alive?" Please share this powerful video.

---
Trump Becomes First US President in History to Receive Mug Shot
"Former President Donald Trump made the wrong kind of history Thursday, becoming the first current or former US president to get his mug shot taken while being booked at an Atlanta jail over his attempts to reverse the 2020 election results in Georgia. Trump, 77, turned himself in to authorities at the Fulton County Jail following his grand jury indictment on Aug. 14 on charges including racketeering, conspiracy, false statements and asking a public official to violate their oath of office. He was released on a $200,000 bond and agreed to an order limiting his ability to post on social media about witnesses or co-defendants in the case." read more at the New York Post
THINK.
In an interview with Fox News Digital the former president said, "They insisted on a mug shot and I agreed to do that." He continued, "This is the only time I've ever taken a mug shot" adding, "It is not a comfortable feeling — especially when you've done nothing wrong." Trump later posted the photo to X, formerly known as Twitter, in his first post on the platform since Jan. 8, 2021. The post linked to Trump's 2024 campaign website as part of a fundraising pitch.
Are you familiar with penal spectatorship? This refers to the growing demand to view mug shots, primarily to see the rich and famous portrayed as down and out. Research indicates that looking at arrested and imprisoned people often makes it harder to personally hold the standard of innocent until proven guilty, viewing them in the court of public opinion as guilty and deserving of punishment. Penal spectators often experience "schadenfreude." This refers to the pleasure that we feel when we see others suffer. It manifests itself when we feel envy, aggression, or believe that the misfortune was somehow deserved. However, research suggests that delighting in the mishaps of others can actually lower a person's self-esteem, especially when they are comparing themselves to high achievers.
Mr. Trump's mug shot makes him look guilty to some, but the cross reminds us that we are all guilty. Despite our guilt, God exercised perfect patience with us and extended incredible grace to us. The empty tomb should make us all patiently wait and withhold judgment until justice has been done. (1 Tim. 1:17, 2 Cor. 9:8, Pro. 25:8-11)
PRAY.
I was reminded of a prayer we posted a few years ago that once again seems to fit this moment in our nation. Would you join me in praying through this "Prayer for America"?
ACT.
My Faith Votes will be featured at the Truth and Liberty Conference happening next week, September 7-9, at Charis Bible College in Woodland Park, CO. This FREE event will inspire and equip you to stand firm on God's Word, exercise your constitutional rights, and make a difference in the nation by being an influence in your community. If you're in the area, get your tickets here. If you can't attend in person, you can watch the livestream here beginning Thursday September 7 at 5:00PM (MDT).
---
Sixty Years After King's 'Dream' Speech, Thousands Gather in Washington
"Thousands of Americans on Saturday commemorated the 60th anniversary of the March on Washington, a pivotal event in the 1960s U.S. civil rights movement at which Martin Luther King Jr gave his galvanizing 'I have a dream' speech. The 1963 march brought more than 250,000 people to the nation's capital to push for an end to discrimination on the basis of race, color, religion, sex or national origin. Many credit the show of strength with the passage of the Civil Rights Act of 1964. This year's rally took place at the Lincoln Memorial, the backdrop to King's impassioned call for equality, as many speakers warned that much work was yet to be done." read more at Reuters

THINK.
Sadly, the anniversary of the march and Dr. King's historic speech was used by speakers to advocate for abortion, LGBTQ privileges, and other leftist agenda items. "The dreamers are fighting for voting rights. The schemers are changing voter regulations in states," Reverend Al Sharpton said. "The dreamers are standing up for women's right to choose. The schemers are arguing whether they are going to make you stop at six weeks or 15 weeks."
What was Dr. King's dream? After describing the hardships so many were enduring under the evils of racism and segregation, King proclaimed, "So even though we face the difficulties of today and tomorrow, I still have a dream. It is a dream deeply rooted in the American dream. I have a dream that one day this nation will rise up and live out the true meaning of its creed: We hold these truths to be self-evident, that all men are created equal."
Dr. King understood that our Creator provides the only solid basis for civil rights. Every human is created in the image of God (Genesis 1:27). He "made from one man every nation of mankind to live on the face of the earth" (Acts 17:26); and "God shows no partiality" (Acts 10:34; Romans 2:11). The racially motivated shooting of three black people in Jacksonville, Florida, on Saturday is an act of rebellion against these eternal truths. So is the act of abortion, which ignores the God-given value of unborn children and is also the leading cause of death for black Americans. Only the Christian vision of the human person can ground an understanding of human rights, universal human dignity, and value that extends to everyone.
PRAY.
Heavenly Father, thank You that everyone, without exception, bears Your image. Help us to bear witness to this amazing truth by loving our neighbors and defending their rights. Let our love for each other show the world that we are disciples of Jesus. (John 13:35) In His name, amen.
ACT.
"Critical Race Theory…is teaching our children that the most important determinant of what happens to you is the color of your skin," Dr. Ben Carson pointed out in an interview last year with My Faith Votes. One of our Action Partners in North Carolina, Katie Gates, is challenging a book in her school district that promotes Critical Race Theory (which is the opposite of Martin Luther King Jr.'s dream of being judged by our character, not our skin color). Please pray for her as she speaks at the hearing this Friday, September 1. If you would like to learn how to be a My Faith Votes Action Partner like Katie, click here.

---
My Faith Votes—is a nonpartisan movement that motivates, equips and activates Christians in America to vote in every election, transforming our communities and influencing our nation with biblical truth. By partnering with national faith leaders, My Faith Votes provides resources to help Christians Pray, Think, and Act to create an America where God is honored in the public square.
Website | www.myfaithvotes.org Twitter | @MyFaithVotes Facebook | My Faith Votes
---
React
---
Comments