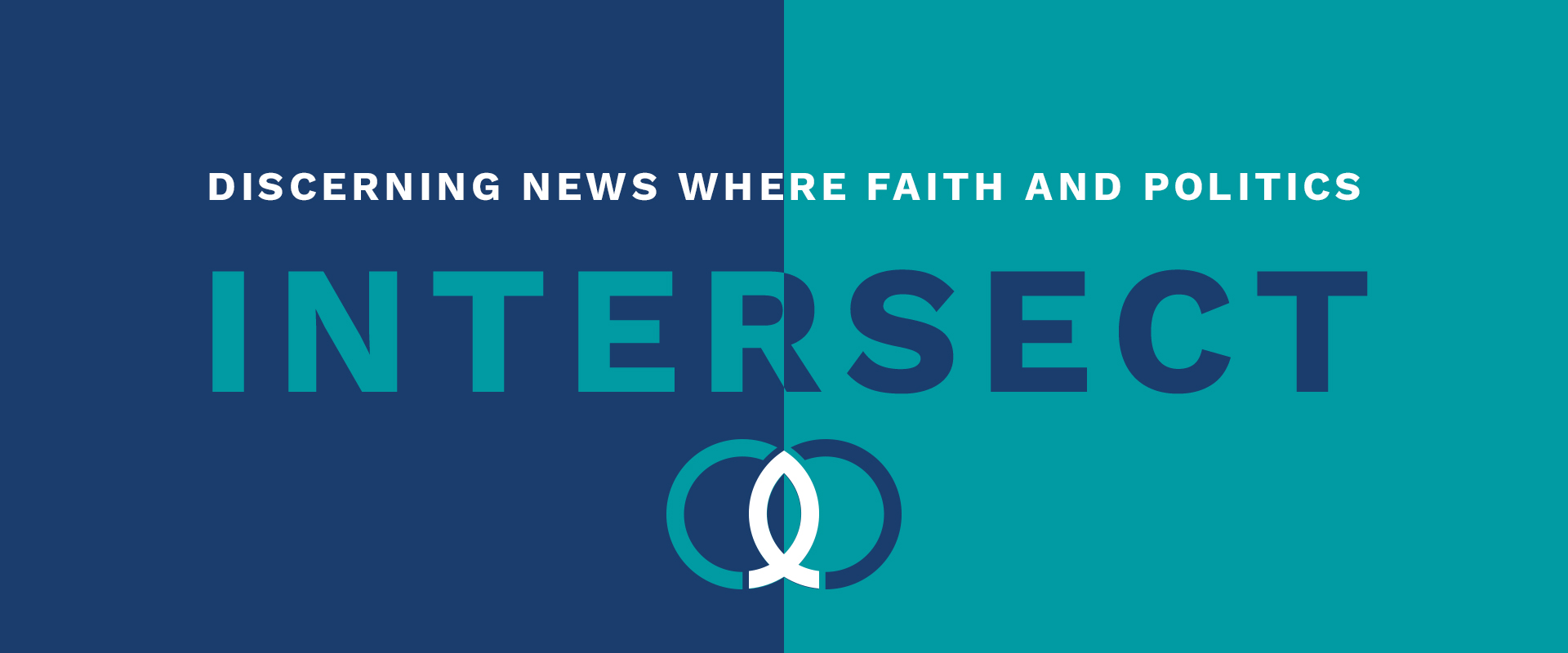 WEEKLY NEWS SUMMARY - AUGUST 26, 2020
In this week's Intersect, read about:
---
House Passes $25B in 'Emergency' Postal Service Funding, White House Threatens Veto
The House of Representatives on Saturday passed a $25 billion funding infusion to the U.S. Postal Service in a bill that also would reverse new cost-cutting measures and ban any efforts to slow down the mail until at least next year. The vote was 257-150 with 26 Republicans joining the Democrats. Democrats called the rare "emergency" session in the middle of the summer recess because they contend President Trump and new Postmaster General Louis DeJoy are trying to sabotage the 2020 election by delaying service that could compromise mail-in ballots during the coronavirus pandemic. read more
THINK.
The House bill called Delivering For America Act is not expected to reach a vote in the Senate. The head of the U.S. Postal Service said he would pause operational changes at the agency until after the November election after lawmakers expressed fear the changes would hinder the collection of mail-in ballots. Postmaster General Louis DeJoy said in a statement he had been making changes at the agency to ensure its long-term sustainability, but "to avoid even the appearance of any impact on election mail, I am suspending these initiatives until after the election is concluded." "The Postal Service is ready today to handle whatever volume of election mail it receives this fall," he said, adding that "standby resources" would be engaged on Oct. 1 to handle the increased volume of election mail. He said a task force on election mail would also be expanded. A lack of communication and understanding by the public combined with a volatile political atmosphere has made people panic. We should be worried about the financial future of the USPS but not panicking as if there were an imminent crisis. If anything, this should spur voters planning to use absentee ballots to request their absentee ballots soon and return them at least 10 days before Election Day and preferably sooner. Voters in at least 43 states will be able to vote by mail in the elections in November as absentee voting was expanded for safety reasons during the coronavirus pandemic. Thirty-four states had absentee voting before the pandemic, allowing any voter to vote by mail without requiring an excuse. Indiana, Louisiana, Mississippi, South Carolina, Tennessee and Texas are the only states where absentee voting will not be available to all voters but limited to those who meet qualifications such as being 65 or older, disabled, a military member or out of town on Election Day. California, Colorado, Hawaii, Nevada, Oregon, Utah, Vermont, Washington, and D.C. are automatically sending all registered voters mail-in ballots, which is different from an absentee ballot. Montana also has told counties they can opt into universal vote-by-mail, which all of them did in the primaries. Voting starts soon. North Carolina will be the first state to send out absentee ballots, on September 4, and Minnesota and South Dakota will be the first states to allow voters to cast ballots early in person, starting Sept. 18.
PRAY.
Almighty Father, I bow before you asking for your help during this time of the elections. Deliver us, Lord, from the fears of elections. Make the election process flow as desired and shame the devil by sabotaging his plans. Let the electoral body adhere to all the rules required of it and let it be just so that it may produce credible results. You are the God of justice. In Jesus' name, amen.
ACT.
Did you know you can request an absentee ballot, register to vote, learn your registration deadlines, see party platforms, get your state voting information, get election reminders, see your sample ballot and get a voter guide ALL in our Voting Assistance Center? We've got you covered here! (November election ballot and voter guides will be released in September)
---
Franklin Graham to Speak at RNC, Draws Attention to 'Absence of God' During Democrats' Convention
Evangelist Franklin Graham, the president and CEO of the Billy Graham Evangelistic Association (BGEA) and Samaritan's Purse, a Christian relief organization, is scheduled to pray at the Republican National Convention (RNC) on Thursday. Earlier reports from several media outlets said that Graham, 68, was going to be one of the featured speakers at the event. CBN News has confirmed Graham will pray at the podium instead just like his late father, the Rev. Billy Graham did. In 1988, the elder Graham gave the benediction at both the Democratic and Republican National Conventions. The RNC plans to inspire and uplift viewers, an effort that Graham stands behind. In a Facebook post, the evangelist commented on the notable "absence of God" from the Democrats' event. "In watching some of the Democratic National Convention on television this week, it has been interesting to see the absence of God," he wrote. I don't believe America's finest hours will be in front of us if we take God out of government and public life." read more
THINK.
Last week, the Democrats held their party convention, this week it's the Republican's turn. It is already apparent there is a contrast between the tone and messaging each party is sending. At two democratic caucus meetings (the Muslim and LGBTQ caucus), the words "under God" were omitted from the pledge of allegiance. And while the main order of business is to make the nominations for President and Vice President official, both parties make a statement on what, exactly, their party stands for. Why should Christians care about a document that few non-politicians will ever read? Because of the influence the two major party platforms have on public policy. While the platform is not binding on the presidential nominee or any other politicians, political scientists have found that over the past 30 years lawmakers in Congress tend to vote in line with their party's platform: 89 percent of the time for Republicans and 79 percent of the time for Democrats. For this reason, we should be aware of what is proposed in these documents and how they may affect the welfare of our nation (Jer. 29:7). In 2020, only the Democrats have updated their party platform. While it's described as the most progressive platform in the Democratic Party's history and pushes the party to left on many issues including health care reform, combating climate change, trade deals, and fighting racial injustice, the 92-page document doesn't specifically endorse Medicare-for-all or the Green New Deal, two of the top proposals pushed by the party's progressive wing. The DNC revealed over the weekend that 3,562 delegates voted to approve the platform, while a total of 1,069 voted no, and 87 abstained. The number of convention delegates who voted no is roughly the same as the number of delegates pledged to progressive Sen. Bernie Sanders of Vermont. The rest of the parties (Republican, Green, Libertarian, Constitution, and Solidarity) kept their same platform language used in 2016. The RNC unanimously voted to forgo a new party platform until 2024, according to a resolution released by the committee Sunday night. As stated in the resolution, the Republican Party will back President Trump's "America-first agenda." It is important to take time to read through what each party stands for in their platforms. We'll be updating a downloadable party platform comparison on our website here.
PRAY.
Read and pray through both of the benediction prayers given by Billy Graham in 1988 here and here. They are as applicable for us today as they were 32 years ago.
ACT.
Voter registration deadlines in states across the country are fast approaching. With more than 15 million Christians not even registered to vote, we need your help. It's time for our 2nd annual National Voter Registration Sunday. On September 20, 2020 churches can host an in-person or online Voter Registration drive. Whether you are a pastor, church leader, or congregant, we will provide you with a step-by-step guide and a full non-partisan toolkit of resources with everything you need to help Christians register to vote. Take action here.
---
Megachurch Pastor: Abortion 'Is Consistent with' Christianity and 'I Will Fight' to Keep it Legal
A pastor of a Georgia megachurch who also is running for U.S. Senate said last week he believes legalized abortion is "consistent with" Christianity and he would "fight" to ensure it remains legal. Raphael Warnock, senior pastor at Ebenezer Baptist Church in Atlanta, and a Democratic candidate trying to unseat Republican U.S. Sen. Kelly Loeffler in November's election, made the comments to WGAU's Tim Bryant. Bryant asked Warnock how the pro-choice views of the Democrat Party "square with" his "role as a minister, a leader of a church, a man of God." "I believe that healthcare is a human right," said Warnock, who has served as senior pastor of the church since 2005. "And I believe that it is something that the richest nation in the world provides for its citizens, and for me reproductive justice is consistent with my commitment to that. "I believe unequivocally in a woman's right to choose, and that the decision is something that we don't want government engaged in – that's between her and her doctor and her minister. And I will fight for that in the United States Senate, and at the same time continue to fight so women can receive the kind of services that they need in order to have a healthy pregnancy and healthy babies. We have a maternal death rate in this country that is exceedingly high, particularly to be the richest country in the world." Referencing his career as a minister and in public service, Warnock added, "I've been focused on women's health, women's choice, reproductive justice. That is consistent with my view as a Christian minister. And I will fight for it." read more
THINK.
It is important to note the choice of words Warnock used. The terms, "reproductive justice", and "healthcare" sound positive, but obscure the reality that a human life is ended in the process. A video by the Colson Center for Christian Worldview explains that while healthcare seeks to preserve or restore health, abortion does the opposite, therefore it cannot be classified as healthcare. When someone uses positive-sounding terms to refer to abortion, it's imperative to ask them to clarify exactly what they mean. Warnock, when asked if he believed God would approve of the millions of abortions performed since Roe v. Wade, responded: "I think that human agency and freedom is consistent with my view as a minister." Not surprisingly, Planned Parenthood has endorsed him in his Senate race. If elected, one of his jobs would be to confirm the President's judicial appointments, including federal district judges. One U.S. District judge ruled last week that Planned Parenthood may begin seizing the assets of David Daleiden, a pro-life activist whose damaging undercover videos in 2015 prompted an ongoing lawsuit from Planned Parenthood. Daleiden has less than two weeks to pay a $600,000 bail in order to avoid this asset seizure. Another bit of pro-life news is that at the close of the Democratic National Convention, Father James Martin, a Jesuit priest who delivered the closing prayer, included unborn children as part of his plea for God to "Open our hearts to those most in need". While the Democratic Party platform unequivocally affirms its support and advancement of abortion, hopefully this prayer has pricked the conscience of some attendees. Speaking about her speech at the Republican National Convention, Abby Johnson said this, "I feel like people are going to listen to this 5-minute speech and they're going to walk away, and they're not going to ever be able to say, 'Wow, we had no idea that those things happen during abortion.' They're going to know."
PRAY.
Pray that David Daleiden and his organization would be able to raise the money for their bail and continue to pray that true godly Senate candidates would be elected who obey the Bible's clear commands on the sanctity of human life. Proverbs 31:8 says, "Open your mouth for the speechless, In the cause of all who are appointed to die." Sadly, it is reported that the Chinese Communist government is ordering hospitals in Xinjiang to kill not just unborn, but newborn babies who exceed the imposed family-planning limits. Please pray for those grieving parents.
ACT.
We have developed a 14-day family devotional outlining Biblical reasons for why we should vote. Day 9 focuses on the importance of voting to protect innocent human life. We encourage you to download this free resource on our website and go through it as a family.
---
Deadly California Wildfires Scorch More Than 1 million Acres with No End in Sight
The deadly California wildfires have burned over 1 million acres -- and there's no end in sight as thousands of firefighters struggle to contain the blazes and more emerge. Hundreds of fires were started by lightning, Cal Fire spokesman Steve Kaufmann said. There were approximately 12,000 lightning strikes that started 585 fires in the state over the past week. A total of 1.1 million acres have burned in the state with more than 13,000 firefighters working the fires, he said. Firefighters have been struggling to contain the massive blazes that have killed at least four people. Two fires -- the 347,630 -acre LNU Lightning Complex Fire in the northern Bay Area and Central Valley, and the 343,965 acre-acre SCU Lightning Complex Fire largely east of San Jose -- are among the state's three largest wildfires in recorded history. California Gov. Gavin Newsom announced Saturday the state has received a Presidential Major Disaster Declaration due to the fires burning in the Northern part of the state. This means President Donald Trump released federal aid to supplement recovery efforts in areas affected by the wildfires. read more
THINK.
Devastating fires and weather are affecting different parts of the US. The current California wildfires have caused more deaths and destruction so far this year than in all of 2019. Four major fires are also burning across the state of Colorado and have taken a toll on the overall air quality. And Iowans are still reeling from a "derecho" that hit on August 10. Iowa farmers say it will be a massive undertaking to recover from the hurricane-force storm that damaged an estimated 14 million acres of farmland. The damage extended beyond farms, with officials reporting 60,000 damaged homes in Cedar Rapids alone. In response to the statewide damage, Gov. Kim Reynolds has filed an expedited presidential major disaster declaration seeking nearly $4 billion. And now Hurricane Laura is expected to intensify over the Gulf of Mexico and become a major hurricane prior to striking the upper Texas or southwest Louisiana coasts late Wednesday or early Thursday. The Lord rebukes the wind and hushes the sea (Mark 4:39). He gives rain to the earth and makes grass grow on the mountains (Job 5:10, Ps. 147:8). We don't know why specifically God allows natural catastrophes, but we do know they awaken us to our finiteness and remind us of the need to pray for those impacted by storms.
PRAY.
Pray for all of those being impacted by the significant natural disasters across the US. No matter the types of storms we are facing, literally or figuratively, He is our refuge and strength. Pray Psalm 46, which in part says, "God is our refuge and strength, an ever-present help in trouble. Therefore, we will not fear, though the earth give way and the mountains fall into the heart of the sea, though its waters roar and foam and the mountains quake with their surging.
ACT.
Samaritan's Purse is once again stepping in where there are needs. Learn more about how they are helping Iowans right now, how they are seeing God at work, and how you can partner with them here.
---
My Faith Votes—is a nonpartisan movement that motivates, equips and activates Christians in America to vote in every election, transforming our communities and influencing our nation with biblical truth. By partnering with national faith leaders, My Faith Votes provides resources to help Christians Pray, Think, and Act to create an America where God is honored in the public square.
Website | www.myfaithvotes.org Twitter | @MyFaithVotes Facebook | My Faith Votes
---
React
---
Comments