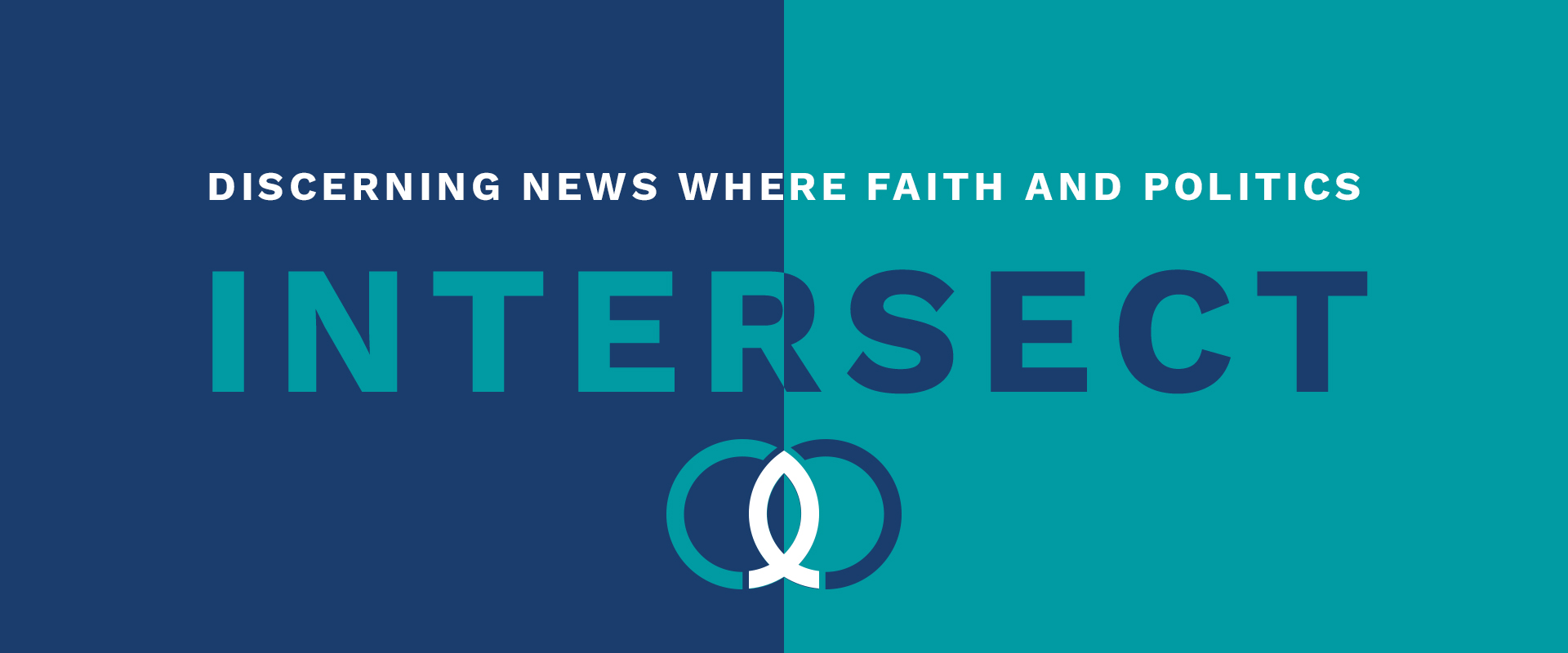 WEEKLY NEWS SUMMARY - AUGUST 24, 2022
In this week's Intersect, read about:
---
Texas Schools Put "In God We Trust" in the Classroom
"A number of Texas public schools have begun displaying 'In God we trust' posters in accordance with a newly implemented state law. The legislation, which Governor Greg Abbott signed into law in June 2021, required schools to prominently display any likeness of the national motto that is donated to them. The requirement extends to elementary, secondary, and higher-education schools." read more at WORLD
THINK.
The Texas story is a rare piece of good news for public schools. In Virginia, Gov. Glenn Youngkin is pushing back against the state's proposed changes to their Standards of Learning, or SOL, which included, among other things, no longer referring to George Washington as the "Father of our Country" and James Madison as the "Father of the Constitution." In Wisconsin, the state supreme court recently sided with schools, saying parents did not need to be notified if their child wanted to identify as the opposite sex. Wisconsin Institute for Law and Liberty counsel Luke Berg, who represented the Wisconsin parents, said the pandemic gave parents a window into the schools that they did not previously have. "Schools increasingly see it as their role to indoctrinate kids with what they believe is the right view on various social and political issues, and they are increasingly doing so…at younger and younger ages," Berg said. What is or isn't happening in schools is on the forefront of conversation across America, and for good reason. My Faith Votes partnered with Alliance Defending Freedom last Friday for "Promise to America's Parents" to highlight examples if what's happening to our children. The informative conversation was eye-opening, maddening, and raised issues that should concern every American. I highly encourage you to watch the event replay here. A generation is being indoctrinated and destroyed because of lack of transparency and accountability, and an overall push for an anti-god agenda that intentionally removes parental rights. It's not something that is only happening in certain places, it's happening in your backyard. It's not only happening in public schools either. The secular world is attacking Christian schools for holding a biblical worldview. There is no way to avoid the cultural conflict of this age. There is no way to avoid Christian responsibility. We must be informed, engaged and prepared for battle. With cultural conflict of this intensity, it is possible to deny that you are a part of the battle, but like it or not, you are. The battle will find you. Thankfully, "In God We Trust."
PRAY.
It is not enough for us to take our children to church, send them to camp, or play only Christian music. The stakes are too high to assume that a formulated Christian worldview will take hold. The culture is speaking loud and clear. We must be louder and clearer. Pray for the wisdom to not be reactionary to culture, but instead respond with the living and active Word of God. Discipling our children in an age of confusion will require us to establish a Christian worldview that speaks to the issues at hand rather than avoiding them altogether. Is this easy? No. But we are promised that the Spirit will teach and guide us into all truth. Pray for wisdom. As James 1:5 says, "If any of you lacks wisdom, let him ask God, who gives generously to all without reproach, and it will be given him."

ACT.
One of the most critical actions parents with children attending public school can take is to lay a clear foundation with the teachers who will be instructing their children. Here's a sample letter we encourage you to download and print to give to your child's teacher(s) as this school year begins. (MS Word / Google Docs) Teachers have latitude in the resources and materials they use in implementing curriculum. Be sure to know what they are choosing to teach your child.

---
My Faith Votes to Host Fourth Annual 'National Voter Registration Sunday' Sept. 18
"National Voter Registration Sunday is an annual event for churches across the nation to encourage their congregations to engage civically and register to vote. It is a non-partisan effort, hosted every third Sunday of September, that does not endorse any candidate or political party. Instead, National Voter Registration Sunday is about encouraging Christians to bring the solutions of their faith to the ballot box. According to Barna Research, in 2016, 61% of Evangelical Christians voted. That number increased in 2020, but it remains that 1 in 3 Christians do not consistently vote, with participation in local elections even lower." read more at My Faith Votes
THINK.
A recent Cultural Research Center survey found that one out of five "theologically-conservative" adults (Protestant and Catholic) is not even registered to vote. We, at My Faith Votes, recognize that church is key to helping every Christian understand how important it is to influence the culture and nation through one's faith, and one of the most crucial ways to do that is by voting with biblical values. When eligible Christians aren't even registered to vote, the complacency of the body of Christ despite this time of urgency is evident. The National Association of Secretaries of State (NASS) established the first National Voter Registration Day on September 25, 2012, and it's been an annual day ever since. My Faith Votes decided to take that day a step further by creating "National Voter Registration Sunday" to specifically encourage Christians to register to vote. The encouragement of the church in engaging their congregation in this way can be powerful and even transformational to the community. While there is no verse in the Bible that reads, 'thou shalt vote,' God's word challenges followers of Christ to seize every opportunity to bring the influence of Biblical principles into their community for the good of others and for the sake of the Kingdom. If we are obedient to this call, we will vote in every election. Make sure you are registered to vote. If you're not sure or you've recently changed addresses and need to update your voter registration, you can check and do that here. If you are registered, ask three friends today if they are registered to vote on November 8th. And finally, check with your church to see if they will host a nonpartisan Voter Registration Drive. We provide all the tools for you below.
PRAY.
Pray fervently and consistently for our local churches. In scripture, Paul prays rich, kingdom prayers for the church that can serve as our guide today (2 Thes 1:11; Col 1:9-10; Eph 1:16-17; Rom 15:14-33; Phil 1:9-11). Above all, pray that the churches in your community will preach the gospel of Christ powerfully, boldly and unapologetically. "For I am not ashamed of the gospel, because it is the power of God that brings salvation to everyone who believes: first to the Jew, then to the Gentile" (Rom. 1:16).
ACT.
September 18 is National Voter Registration Sunday--make sure your church participates! Visit our special website, Voter Registration Sunday, to access free tools and resources for your church. There is a step-by-step Guide explaining how to lead a successful non-partisan voter registration drive in your church. Within the Guide, you will find links to resources that are designed specifically for you, including: media graphics, drafted messaging for social media, church emails, videos and best practice tips to ensure your drive is a success. Leverage the resources that make the most sense for your church. Our prayer is that God would use you to help activate more Jesus-followers in your church to bring their faith into the voting booth.

---
Census Bureau Admits Overcounting 7 Blue States, Just 1 Red State
"In a shocking report, the U.S. Census Bureau recently admitted that it overcounted the populations of eight states and undercounted the populations of six states in the 2020 census. All but one of the states overcounted is a blue state, and all but one of the undercounted states is red. Those costly errors will distort congressional representation and the Electoral College." read more at The Daily Signal
THINK.
The United States Census Bureau website states, "The census tells us who we are and where we are going as a nation, and helps our communities determine where to build everything from schools to supermarkets, and from homes to hospitals. It helps the government decide how to distribute funds and assistance to states and localities. It is also used to draw the lines of legislative districts and reapportion the seats each State holds in Congress." The importance of accurate census data cannot be overstated. But the 2020 data was erroneous to the point of likely costing Florida and Texas additional members in the U.S. House of Representatives, while keeping or adding congressional representative to other states whose population was overcounted. It appears that at this point, it is too late to correct the error. What can be done–and we should urge our representatives and senators to do this–is for Congress to investigate the causes of the errors and take steps to guard against a repeat in the 2030 census. In the meantime, the effects could be enormous, not only for the balance of power in Congress, but for the presidential election in 2024, since Electoral College votes are apportioned to each state based on the total representatives and senators. All but one of the over-counted states were Democrat, and all but one of the under-counted states were Republican. Kristin Tate, in an opinion piece at The Hill, noted, "The consequences of the Census Bureau's errors will further erode the public's trust in our electoral system. And if we thought 2000 or 2020 were contentious elections, just wait until a candidate realizes that he or she could have won the White House if the national headcount were done correctly."

PRAY.
Sovereign Lord, You are always working for good for those who love You and are called according to Your purpose. Thank You that, although error abounds today–as it has in nations throughout all history–Your justice and righteousness have the final word. We trust in You and ask that You would help us to restore uprightness to our nation. We will not fret; we will commit our way to You and do good. (Psalm 37:1,3,5) In the name of King Jesus, amen.

ACT.
Has anyone ever asked you how they can know who their representatives are? Visit our Contact My Representatives page to see a directory of your federal and state officials. Click on the name of an elected official to see contact and personal information. We encourage you to forward this resource to a friend and consider bookmarking the page so you can easily contact any of your officials. Be sure to revisit the page after the November 8 elections, as you will likely have new faces representing you.
---
Planned Parenthood to Spend Historic $50 million on Midterm Elections
"The pro-choice organization Planned Parenthood is pouring a record $50 million into the 2022 midterm elections in an attempt to elect pro-choice candidates up and down the ballot this November. In a press release Wednesday, Planned Parenthood announced its massive midterm spending plan and the launch of its new electoral spending program, "Take Control," following the Supreme Court's June decision to overturn Roe v. Wade, making way for the states to place stricter restrictions and bans on abortion." read more at Fox News
THINK.
Two major abortion groups, NARAL Pro-Choice America and EMILY's List, together with Planned Parenthood are planning to spend 150 million dollars to support pro-abortion candidates in the nine states of Georgia, Nevada, Minnesota, Pennsylvania, Arizona, North Carolina, New Hampshire, Michigan and Wisconsin. Why these states? Six of those states have competitive U.S. Senate races, which can affect the confirmation of any pro-abortion Supreme Court Justice nominees. In addition, all nine states are holding elections for their governor, who has veto power over any pro-life or pro-abortion state legislation. Those nine are the same states where My Faith Votes is targeting efforts to get Christians out to vote. Our work is critical due to an alarming trend in voter registration data: in battleground states with pro-life laws, people who are likely to vote for pro-abortion candidates are registering to vote in higher numbers than likely pro-life voters. It is thought that the loss of perceived "abortion rights" is the motivating factor for these new and younger voters. For pro-life Christians, the possible loss of the right to life for unborn babies in these states should be our own motivating factor. Remember how we got to this point in pro-life history: by voting. Christian voters elected state representatives, governors, and attorneys general, who enacted pro-life laws that were challenged and brought to the Supreme Court. Voters elected the U.S. president and senators who nominated and confirmed the justices who heard the Dobbs case and overturned Roe v. Wade. Thousands of babies have been saved in the five decades since that terrible decision. None of it would have been possible without the votes of Christians, and these victories won't be sustained without them. "This is an election about power and control," stated Jenny Lawson, Executive Director of Planned Parenthood Votes. Christians, we have been warned. If you are reading this, you cannot say you were unaware of the battle. But how many of your Christian friends and fellow church members do not recognize the stakes of this next election? It is time to wake them up. If the pro-abortion lobby accomplishes their goal of gaining power and control, more unborn babies will die. That is what this comes down to. We must take seriously the words of Proverbs 24:10-12: "If you faint in the day of adversity, your strength is small. Rescue those who are being taken away to death; hold back those who are stumbling to the slaughter. If you say, "Behold, we did not know this," does not He who weighs the heart perceive it? Does not He who keeps watch over your soul know it, and will He not repay man according to his work?"
PRAY.
Heavenly Father, it is hard to see so much money being spent on an evil cause. You have given us the opportunity, and responsibility, to stand up for righteousness and speak up for the defenseless, and You won't abandon us in this effort. We call upon Your name and ask for Your help. Show us what to say and do as we urge our fellow believers to be a voice for the voiceless. In Jesus' name, amen.
ACT.
Money is effective, but it is the vote that counts. We do not have 150 million dollars, but we have faith in a powerful God, and many faithful believers who have already committed to help get their fellow Christians to the polls. Will you be one of them? Join our Write Now campaign today to write letters to Christians in key battleground states who share your values but who are not likely to vote without a personal note from a fellow believer. It's proven to work…but we haven't reached our goal of 1 million letters yet! Remember to pray for the person receiving your letter…this is crucial for the spiritual battle we are in.
---
My Faith Votes—is a nonpartisan movement that motivates, equips and activates Christians in America to vote in every election, transforming our communities and influencing our nation with biblical truth. By partnering with national faith leaders, My Faith Votes provides resources to help Christians Pray, Think, and Act to create an America where God is honored in the public square.
Website | www.myfaithvotes.org Twitter | @MyFaithVotes Facebook | My Faith Votes
---
React
---
Comments