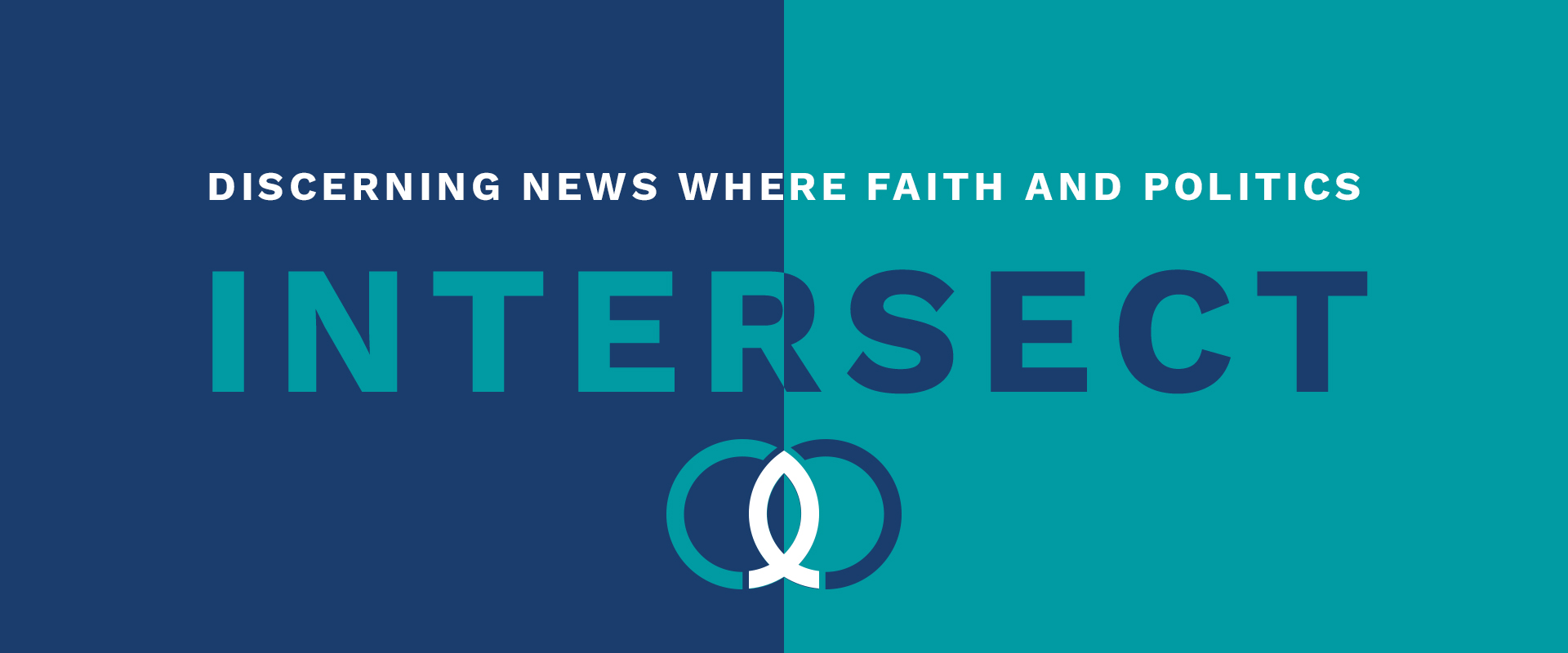 WEEKLY NEWS SUMMARY - August 14, 2019
In this week's Intersect, read about:
---
Chaos at Hong Kong Airport as Protests Turn Violent, Disrupting Flights for Second Day in a Row
Chaos consumed Hong Kong's international airport Tuesday as formerly peaceful pro-democracy protests took a turn toward vigilantism. Thousands of protesters blocked passengers and occupied terminals, forcing the airport to suspend all check-ins for the second day in a row, later clashing with riot police and attacking suspected undercover cops in their midst. President Trump warned in a tweet that the Chinese government was moving troops to its border with Hong Kong, which enjoys limited autonomy. More than 300 flights had already been canceled Tuesday following Monday's airport shutdown due to a similar protest. Hong Kong is in its 10th week of public unrest. What started as a peaceful movement against an extradition bill perceived to threaten Hong Kong's rule of law has become a decentralized series of near-daily confrontations between protesters and police. More than 700 protesters have been arrested so far. read more
THINK.
When China's credibility lessens, their mandate weakens, according to Seth Cropsey at the Hudson Institute. In Chinese history, there is a concept called the Mandate of Heaven. A just government rules in accordance with the universe's natural order, serving the public good and furthering the happiness of the citizens. But today, Hong Kong is flourishing without China, thus threatening China's mandate. And it doesn't stop there. This may also explain their recent overtures against Taiwan. Relative to Taiwan, their quality of life and enshrined freedoms stand in stark contrast to the situation in China. As a result, Chinese officials emphasized that Beijing would use military force to halt Taiwanese independence. China initially attempted to win both Hong Kong and Taiwan over monetarily, but now they have resorted to strong-arm tactics. Recent reports indicate that China is deploying a "thugs for hire" policy, which intimidates protesters and provides the government an ability to skirt responsibility. For a daily rate as low as $14, these thugs seek to squelch the movement. But violent measures cannot squelch righteous movements. The fight for freedom rarely comes easy. Moses lost his comfort, David his innocence, and Paul his plans. Freedom costs more than you expect, but it is always greater than you imagine (Hebrews 11:26, 1 Chronicles 28, Galatians 1).
PRAY.
Continue to pray for the people in Hong Kong as they fight for their freedoms and exercise a fundamental right to protest. Pray for our brothers in sisters in China as Christianity is rapidly spreading. There are an estimated 100 million Protestant Christians living in China today.
ACT.
To better understand what's happening in Hong Kong take a few minutes to listen to the Colson Center for Christian Worldview's Breakpoint podcast, The Hong Kong Protests It's Really a Clash of Worldviews.
---
Republican Lt. Gov. McNally Remains Opposed to Bill That Could Ban All Abortions in TN
While a Senate committee on Monday heard arguments on the merits of legislation that could lead to a complete ban on abortion in Tennessee, Lt. Gov. Randy McNally indicated he still is not supportive of the effort. The Senate Judiciary Committee assembled for a "summer study" hearing about a fetal heartbeat bill on which the Senate deferred action this session. Sen. Mark Pody, R-Lebanon, originally filed the legislation that sought to ban abortion after the point a fetal heartbeat can be detected, which is around the six-week mark of pregnancy. Pody later added an amendment that would prohibit abortion from the moment a pregnancy is confirmed. "Lt. Gov. McNally has consistently expressed his reservations regarding Senate Bill 1236," said Adam Kleinheider, McNally's communications director. "The most recent amendment does not assuage those concerns." At McNally's direction, the Senate Judiciary Committee did not vote on the bill this session, instead sending the legislation to summer study for further review. McNally instead supported a "trigger ban" bill, which passed both legislative chambers this session and will automatically outlaw abortion in the state if the U.S. Supreme Court overturns Roe v. Wade, its 1973 decision that legalized abortion. read more
THINK.
The Heartbeat Legislation has divided pro-life supporters in the state. There are pro-life organizations including Tennessee Right to Life who oppose Sen. Prody's Heartbeat Bill. Their reasons include concern that enacting the legislation would create costly litigation expenses for the state to defend the policy in court. However, other pro-life advocates argue that the state of Tennessee has a surplus and can afford to take on this legal fight. They believe the only way to challenge Roe v. Wade is to pass a law that directly challenges Supreme Court precedent. Some believe the Supreme Court is ready to overturn Roe v. Wade, while others believe in taking an incrementalist approach and slowly asking the courts to chip away at Roe v Wade. The discussion in Tennessee is not unique. Pro-life supporters and like-minded leaders across the nation have various opinions on which path will lead to ultimately protecting human life in our country. We need to be aware of politicians for whom being pro-life is nothing more than a bullet point on a campaign website, and informed on organizations who raise money on the issue of life but who oppose legislation like this because the issue itself is their livelihood. As Christians, we should remember that our goal is the same - to end abortion and save the lives of our nation's most vulnerable. We should do everything in our power to maintain unity with our brothers and sisters in Christ as we passionately stand and fight for life to be protected (Colossians 3:13-14, John 17:23).
PRAY.
Pray for Christians and pro-life advocates to seek God's wisdom as we work to see lives saved and protected in America. Pray that any division would diminish and that pro-life advocates find ways to work together (1 Corinthians 1:10).
ACT.
The pro-life movie, Unplanned, has just released on DVD, Blu-ray, and Digital Download! We were honored to partner with Unplanned, and we encourage you to order your copy today. Use this powerful film to share with others and help create a culture of life in America.
---
Oprah Says Shootings Result of Losing the 'Core Moral Center' Provided by Churches
Legendary TV personality Oprah Winfrey was recently asked why deadly shootings like the ones in El Paso, Texas, and Dayton, Ohio, happen, and her answer hit the nail on the head. Winfrey told "Extra" host Renee Bargh, who asked her for the "answer" to these horrific massacres, "I think what people are missing is a core moral center. Churches used to do that. It was a central place you could come to and there was a core center of values about a way of living and a way of being in the world," she added. The 65-year-old Winfrey went on to say, until Americans embrace a moral center, "we will continue to be lost." While she didn't explicitly say so, pointing people towards the church and ultimately to Scripture is the exact right answer. Scripture is clear about the importance of relying on God and His Holy Spirit for our morality. In the Old Testament, God gave his 10 Commandments to the Israelites. Jesus then boiled those commandments down to two essential dictates: Love God and love others. read more
THINK.
On this issue, Oprah pinpointed the exact crisis that has crept into our nation. We have sought to remove God from society, and the result is a lost "moral center", as Oprah put it. While many are acknowledging our need for God, politicians and businesses are also trying to take legislative action to prevent another shooting tragedy. President Trump is calling on Congress to pass "intelligent background checks" on gun purchases. And Walmart called for all of their stores to temporarily remove violent video game displays and signs while also reviewing their gun sale policies. We want to know what you think about the gun control debate and the various solutions being proposed. We encourage you to take our three-question survey and let us know what you think of the issue. Want to think more on the topic of gun control? Read Breakpoint's interesting analysis on the subject, Will it be the Conscience or will it be the Constables?
PRAY.
Please continue to pray for the families who are mourning the loss of their loved ones from the recent shootings in El Paso, TX and Dayton, OH. Pray for the churches in those communities to be a beacon of hope and truth. Pray for our leaders in Washington to have wisdom as they look at various policies to help address this problem.
ACT.
Right now is more important than ever before for Christians to get off the sidelines and bring the solutions of our faith into our communities. One of the simple ways we can do this is by voting. On September 22, we want to invite you to lead a Voter Registration Drive at your church in an effort we are deeming National Voter Registration Sunday. We have all the tools and resources you need to approach your pastor, host a drive at your church, and help equip other Christians to vote. Please prayerfully consider joining with us for Voter Registration Sunday. You can sign-up here to receive the free resource toolkit.
---
North Korea's Forced Abortions: The Hermit Kingdom's Underreported Human Rights Abuses
"Terrifying reports from female defectors depict undergoing forced abortions after they fled to what they thought was freedom in China, only to be repatriated back to North Korea by authorities in China," said Olivia Enos, Senior Policy Analyst for Asian Studies at The Heritage Foundation. "Other women from North Korea recount having aborted babies born alive or giving birth in ordinary prison camps only to have border guards smother or drown their babies before their very eyes." Dong Yon Kim, an analyst and journalist for Chosun News-Press and a former Air Force Officer for the Republic of Korea, added there has been no marked improvements with regards to North Korea's human rights record in recent years when it comes to forced abortions." read more
THINK.
Government officials demand sexual favors and allow girls to be sold. A new report found that a guard or police officer "picks" a woman, and she has no choice but to comply with any demands he makes, "whether for sex, money, or other favors." If the woman refuses, she risks "sexual violence, longer periods in detention, beatings, or forced labor." Another report finds that thousands of North Korean women and girls are forced into marriages and sex slavery in China. A North Korean prostitute costs as little as $4, and a wife costs approximately $146. The report estimates that 200,000 North Koreans have fled into China, with 60 percent being trafficked into the sex trade and 30 percent into marriage. In the North Korean system, citizens are assigned jobs by the state, but they receive no salary for this work. They have to bribe officials with money, cigarettes, or other items to go work other jobs that actually pay. North Korea for the last 18 years ranked as the worst country in the world when it comes to Christian persecution on Open Doors USA's World Watch List. Despite these circumstances, Christians "quietly sing hymns" and "cower under a blanket or in the toilet to pray." Some trust in chariots and some in horses, but Christians trust in the name of the Lord (Psalm 20:7). We may wonder why God allows such evil, but we can trust He will judge such evil (1Corinthians 4:5).
PRAY.
Pray for God's hand of protection to cover the women and girls in North Korea. Pray for the lives of unborn babies to be saved, Christians to remain strong in their faith, and for those who have not yet heard the Gospel to come to know the Lord.
ACT.
North Korea is a difficult country to travel to and there are a limited number of Christian organizations working in the nation. But we can pray and support Christian organizations working on the ground. Check out the amazing work of Christian Friends of Korea to learn how they are meeting people's needs. Consider donating to their important work.
---
My Faith Votes—is a nonpartisan movement that motivates, equips and activates Christians in America to vote in every election, transforming our communities and influencing our nation with biblical truth. By partnering with national faith leaders, My Faith Votes provides resources to help Christians Pray, Think, and Act to create an America where God is honored in the public square.
Website | www.myfaithvotes.org Twitter | @MyFaithVotes Facebook | My Faith Votes
---
React
---
Comments