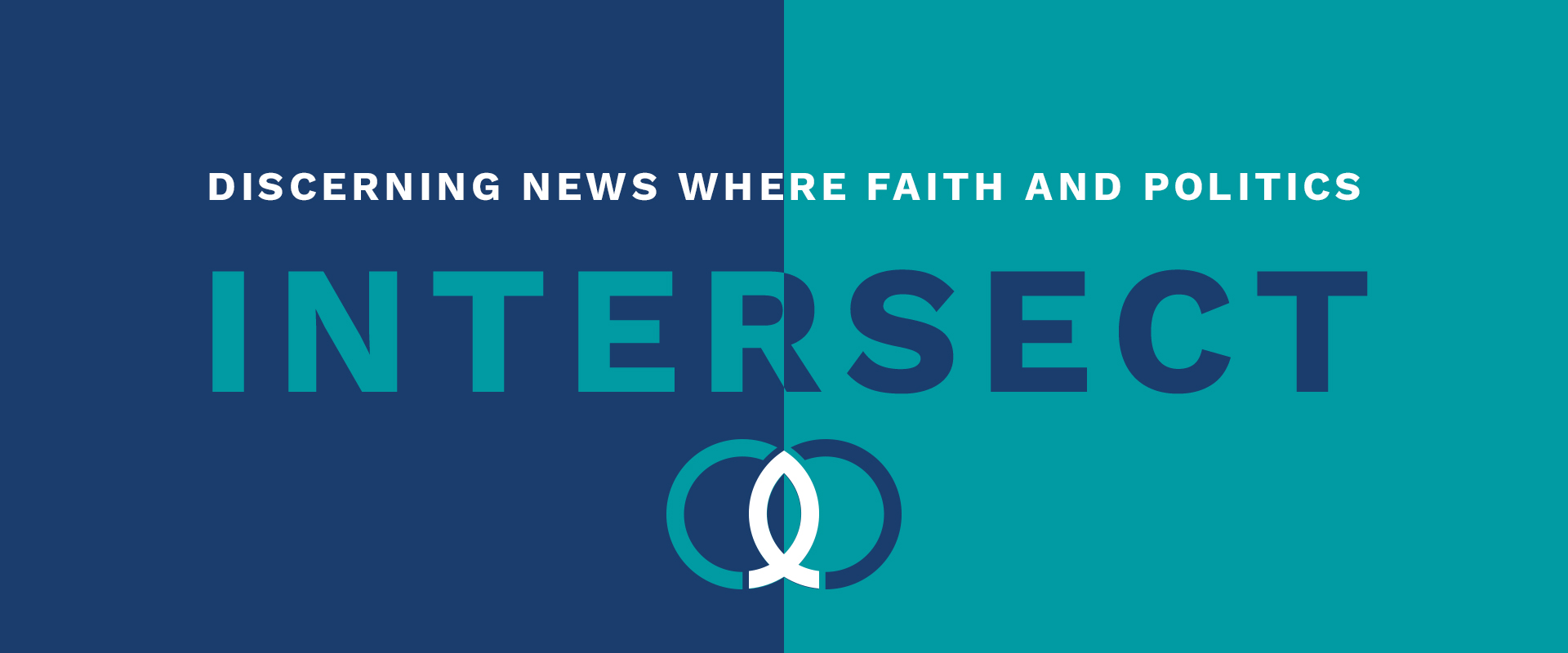 WEEKLY NEWS SUMMARY - APRIL 5, 2023
In this week's Intersect, read about:
---
Liberals Gain Majority on Wisconsin Supreme Court
"Voters in Wisconsin, as one of the minority of states that elect their judges, chose on Tuesday night to send Milwaukee County Circuit Court Judge Janet Protasiewicz to the state Supreme Court, giving liberals a majority for the first time in 15 years. Although Wisconsin is one of 13 states that selects judges through nonpartisan elections, Judge Protasiewicz had support from Democrats, while her opponent, former Justice Daniel Kelly, was supported by Republicans." read more at Townhall
THINK.
Seen as a critical election for the nation in 2023, the new Wisconsin court will soon determine the outcome of abortion access, gerrymandered political maps and a range of voting issues in the battleground state. Protasiewicz won the most expensive state judicial race in American history, and as of press time, by a margin of 10 points. She'll serve a 10-year term.
In Chicago, county commissioner and former teachers' union organizer Brandon Johnson edged out Paul Vallas in the runoff election for mayor of the nation's third-largest city. While both are Democrats, they come from opposite ideological ends with Johnson seeking to expand social programs, increase taxes and divert funds away from the police. Johnson's victory signals a shift to the left from the already progressive politics of Mayor Lori Lightfoot's administration.
The conservative 1776 Project that stands for parental rights and against CRT noted that several conservative candidates won their school board elections in MO, WI, and IL.
Up next, Lincoln, Nebraska has a mayoral and school board election on May 2. Texas has a number of important municipal elections including at least 58 school district board elections on May 6. If you live in the Lone Star state, you can learn more here.
Other states with critical elections taking place this year are CO, KY, ME, MS, NJ, OH, PA, VA, WA and LA. As the races get closer, keep My Voter Hub saved in your digital favorites to see your ballot, learn about the candidates, and more.
And be encouraged by this: Last week, Rep. Mike Johnson (R-LA) led a Christian history tour of the US Capitol made up of 80 pastors and their spouses from 16 states, as well as several current and former lawmakers. While in the Capitol Rotunda, the group belted out their praise for the Almighty in a moving rendition of Amazing Grace that reverberated throughout the Capitol dome
PRAY.
Pray for all the newly elected officials. Pray that they would be united in doing what is right and good. Ask the Lord to open their hearts to the truth of the Gospel message and receive Christ as their Savior. Pray for the Holy Spirit to guide them as they seek to govern and make prudent and wise decisions on our behalf.
ACT.
As you know, it's often the local elections that have the lowest voter turnout. So, there is tremendous opportunity for impact…if you vote. Never miss an election where you live. Get election reminders by email or phone right here. It's a simple and easy way to be an informed and active voter.
---
Trump Pleads Not Guilty to Grand Jury Charges During Arraignment in Manhattan Court
"Former President Donald Trump pleaded not guilty to charges brought by a Manhattan grand jury Tuesday afternoon in court in New York City after surrendering to the Manhattan District Attorney's Office earlier in the afternoon. The former president of the United States, who is the leading Republican presidential candidate for 2024, was indicted by a Manhattan grand jury last Thursday after a years-long investigation by the Manhattan District Attorney's Office." read more at Fox News
THINK.
The next court date is set for December 4. Trump pleaded not guilty to 34 felony counts of falsifying business records. Manhattan District Attorney Alvin Bragg is alleging that Trump "repeatedly and fraudulently falsified New York business records to conceal crimes that hid damaging information from the voting public during the 2016 presidential election."
It is worth noting that neither the Federal Election Commission nor the U.S. Justice Department, which are responsible for enforcing federal campaign finance laws, thought this settlement payment violated federal campaign finance laws. It's possible the first indictment against a former U.S. president will end up being thrown out on technicalities. But simply the fact that the indictment occurred is enough to cause a firestorm.
Former Speaker of the House Nancy Pelosi created a stir when she tweeted that Trump "has the right to a trial to prove innocence." Under our constitutional system, the prosecutorial authority, in this case, the Manhattan District Attorney, must prove that the defendant, former president Donald Trump, is guilty. Unless that happens, Trump is presumed innocent.
The main source of contention is whether this prosecution, positioned to appear as the impartial application of the law, is really a weaponization of justice for political gain. A Quinnipiac University poll released last week asked whether people thought the case was "mainly motivated by politics" or by the law. Americans said it was more about politics by a nearly 2-to-1 margin.
One reason for this belief could be the fact that other politicians have allegedly committed more serious crimes without being indicted. In addition, when the Manhattan District Attorney took office last year, he released a memo (which he later walked back) calling for downgrading felony charges in cases including armed robberies and drug dealing. He appears lenient on some violent crimes while aggressively prosecuting this case.
The fact that we despise judicial favoritism is evidence that we bear God's image. Conversely, instances of favoritism are evidence of our fallen, sin nature. This highly concerning incident could at least spark opportunities for Christians to talk about a perfect Judge who will judge the world without partiality (Acts 17:30-31, Colossians 3:25), and the need to receive forgiveness through faith in Him.
But until our righteous Judge returns, we have work to do. As our friend Jim Denison commented, "When we make Christ our king, he changes our hearts and uses our influence to change our culture." Let this monumental moment be an instruction on why we must be good stewards of our vote in down-ballot elections. I doubt voters who elected this District Attorney guessed that their decision would have historic consequences for the entire nation.
PRAY.
"You shall do no injustice in court. You shall not be partial to the poor or defer to the great, but in righteousness shall you judge your neighbor." (Leviticus 19:15) Pray that our justice system would conform to the Lord's standards. Pray that Christians would be an influence for good in this realm. And when you are tempted to be discouraged, remember Psalm 37:1-2, "Fret not yourself because of evildoers; be not envious of wrongdoers! For they will soon fade like the grass…"
ACT.
Our elections impact the judicial system. But do you understand how our justice system works? We created a free resource, Understand the Justice Systems, to help you think, pray, and act with practical knowledge and biblical wisdom. Download this resource today.
---
Religion, Patriotism, and Having Children Diminish in Importance for Americans
"A new poll of U.S. residents suggests that certain values such as religiosity and having children have receded in importance over the past 25 years, while people's opinion of the importance of money increased during the same period. When asked about certain values and whether they consider them to be 'very important,' 39% said 'religion' was very important to them. By contrast, in 1998, 62% of respondents to the same question said religion was very important to them. Faith was one of several indicators of more traditional values that the survey showed are less important to Americans than they were 25 years ago." read more at Catholic News Agency
THINK.
Is self-centeredness the root cause of this dramatic shift? Joseph Backholm of the Family Research Council said this: "This study shows that most Americans don't have anything to live for other than themselves. That means selfishness has become a national value system. If you have no attachment to God, your country, or your community, of course you don't want kids. So all you have left is you. That is creating a culture of lonely, depressed people who will do desperate things as a result. The school shootings are the symptom. The disease is people who believe in nothing and live for nothing other than themselves."
How tragic that the most important elements binding Americans together are now denigrated, the selflessness and joy childbearing yields are increasingly ignored, and greed seems to be more persistently valued. We're undoubtedly in a moral mess.
Our CEO wrote about his "moral mess" experience over the weekend stating, "I was sickened as I walked through the arena at my 15-year-old son's robotic state competition. At every turn, we were confronted with rainbow flags, kids wearing transgender capes, and LGBTQ buttons. The assault on today's youth was more evident to me than ever before. As I sat in the arena, I prayed hard for these kids – and for my son. Why Lord, is this happening? What will you do, Lord, to cast out this evil and protect our kids? That is when the prayer of Habakkuk came to my mind. The prophet saw the wickedness in his world and pleaded for God to intervene. Habakkuk's sincere concern was a mix of righteous indignation and hopeless impatience with the way things were."
But God's answer to Habakkuk reminds us of the limitations of our perspective. To us, it seems as if wickedness will prosper forever. The transformational truth of God's calculus – His solution to the problem of our sin - is what we celebrate this Resurrection Sunday. It takes us from hopelessness to hopefulness, just as we see in Habakkuk. It's the transformation that awaits each of us when we come to the cross. No matter the evil that surrounds us, we rejoice in the LORD and take joy in the salvation that is ours through Jesus Christ.
PRAY.
Lord, it's so easy to feel like Habakkuk, desperately crying out to You to do something when we see the rapid downfall of the things we hold dear…family, faith, and our nation. You responded to Habakkuk with a declaration that You would do something wonderous and astonishing – something that Habakkuk would not even believe (vs. 1:5) and while the answer wasn't what he expected, You are faithful and just. May we have the same resolve to live by faith (vs 2:4) and trust in You.
ACT.
It's time to bring back the tradition of gathering around the dinner table. "Sunday Dinner" is a welcomed regular occurrence in my household with different generations gathered around a shared meal that includes intentional connection, conversation and good food. Not everyone has relatives nearby but don't overlook the friends that can be your extended family too. Pick a day, keep it simple and just get started. Maybe this Easter Sunday can be the beginning of a new tradition.
---
'Keep the Faith': Arkansas Church Destroyed by Tornado Holds Service
"No damage nor destruction, debris nor devastation could intervene with the message and the mission of Pastor Eddie Miller of the New Commandment Church of God in Arkansas. Miller lost his church in the deadly tornadoes that killed at least 32 people from Arkansas to Delaware. Despite his sanctuary now in shambles, Miller led a lively Palm Sunday service with a passionate sermon, saying, the church was chosen to send a message of hope and healing. 'I didn't want the congregation to feel incomplete or hopeless,' Miller said. 'Even though we was punched, we didn't go out. We're here.'" read more at News Nation
THINK.
A quote attributed to Elizabeth Elliot says, "To pray 'Thy will be done', I must be willing, if the answer requires it, that my will be undone." This church is just one example of that attitude in the aftermath of last weekend's deadly tornadoes. Their trust in God is even more impactful considering that they just paid off their mortgage four weeks ago.
When Arkansas Governor Sarah Huckabee Sanders visited the church, she was struck by the fact that the crosses on the sanctuary wall still stood amid the ruins. Her picture of the scene was met with cynicism by Twitter users. Some asked why God could save the crosses but not the people who died. Others suggested that God was punishing the states hit by the storms.
Why does the cross fill us with hope, particularly when we are suffering? Tragedies and disasters remind us that the world is not what it should be—it is broken because of Adam's sin. But the cross reminds us that God has not forsaken us. His only Son stepped into our broken world and took our sin upon Himself on the cross, suffered, died, and rose again so we can have eternal life in Him. (1 Corinthians 15:1-4)
The cross reminds us of God's love. Isaiah 53:3 calls Jesus "a man of sorrows and acquainted with grief." It reminds us of God's power, too. Jesus' resurrection guarantees believers a future hope when God will put an end to suffering, pain, and tragedies. (Romans 8:18-30)
This is the reality many of our brothers and sisters are holding on to this week as they pick through their ruined homes and mourn those who lost their lives. Please pray for them, and for anyone going through this who does not know our Savior.

PRAY.
Dear Heavenly Father, we know You are compassionate, gracious, and close to the brokenhearted. Please provide for those who are suffering. Bring peace, strengthen their faith, and let them know they are not alone. Give grace and wisdom to volunteers, first responders, and government officials who are bringing relief. Let us be the hands and feet of Jesus and bring glory to Your name. In Jesus' name, amen.

ACT.
Christian aid organizations have been quick to respond to the multi-state disaster. One of them is Convoy of Hope, which distributed provisions to almost 13,000 people over the weekend. Consider giving to their Crisis Relief Fund to help provide help in Jesus' name.

---
My Faith Votes—is a nonpartisan movement that motivates, equips and activates Christians in America to vote in every election, transforming our communities and influencing our nation with biblical truth. By partnering with national faith leaders, My Faith Votes provides resources to help Christians Pray, Think, and Act to create an America where God is honored in the public square.
Website | www.myfaithvotes.org Twitter | @MyFaithVotes Facebook | My Faith Votes
---
React
---
Comments