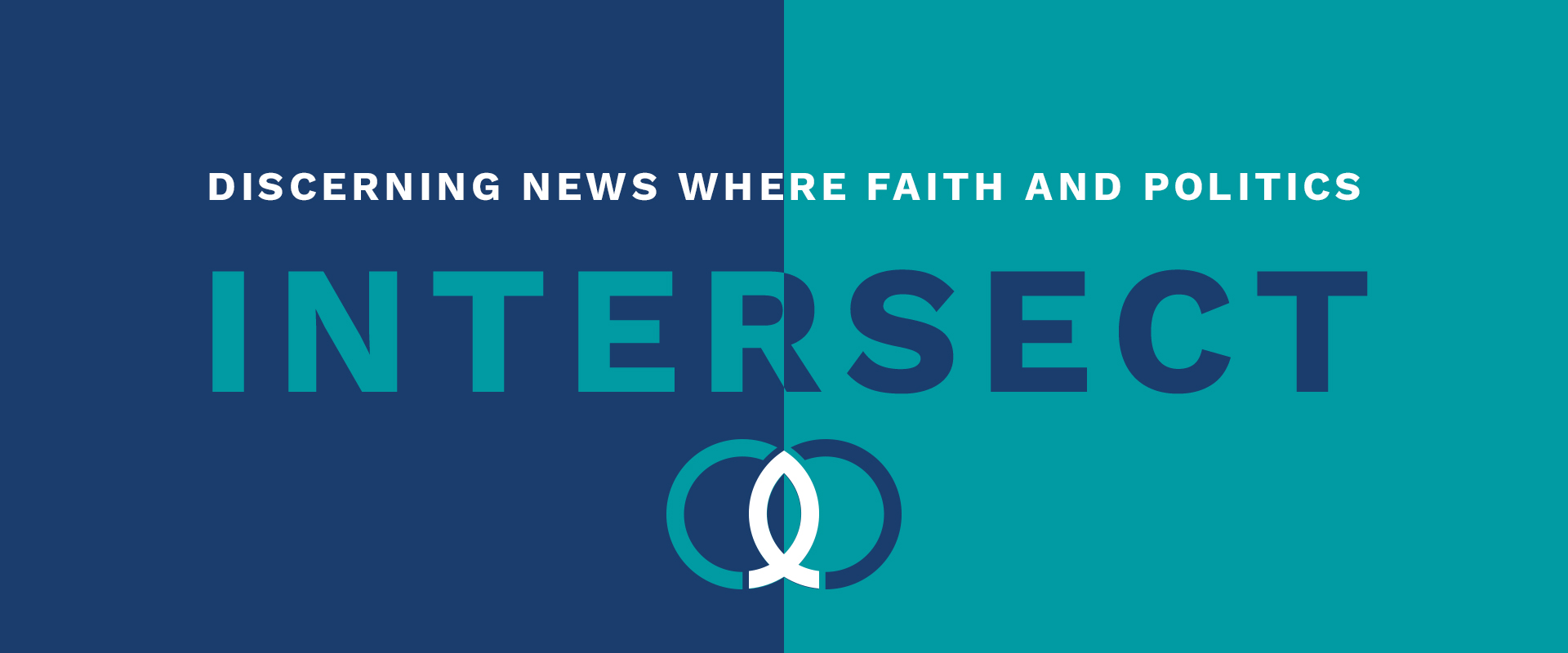 WEEKLY NEWS SUMMARY - APRIL 21, 2021
In this week's Intersect, read about:
---
Democrats Kick off Push to Pack Supreme Court with Four New Justices
"A group of Democrats Thursday formally launched a legislative effort to pack the Supreme Court by adding four new justices, in a move that was hailed by progressive activists but quickly met with fierce GOP opposition and skepticism by Democratic leadership. Sen. Ed Markey, D-Mass., along with House Judiciary Committee Chairman Jerrold Nadler, D-N.Y., and Judiciary Committee members Mondaire Jones, D-N.Y., and Hank Johnson, D-Ga., stood outside the Supreme Court Thursday to announce their new legislation to expand the high court from nine to 13 justices. 'We're here today because the United States Supreme Court is broken,' Markey said, flanked by the Democratic lawmakers and activists. 'It is out of balance. It needs to be fixed. Expanding the Supreme Court rights the wrongs the Republicans have done to this great court,' Markey added. 'Expanding the Supreme Court is equal justice and will ensure equal justice is dispensed to all Americans.' The Democrats said the far-right has hijacked the court thanks to 'norm-breaking' moves by Senate Leader Mitch McConnell, R-Ky., and expanding the number of justices is necessary to restore balance and integrity to the highest court in America. Nadler rejected the notion that Democrats were trying to pack the court with liberal justices and insisted it was Republicans who packed the court with maneuvers such as blocking the confirmation of Merrick Garland, former President Obama's Supreme Court pick, and ramming through Amy Coney Barrett's confirmation just before the presidential election. 'We're not packing [the court],' Nadler said. 'We're unpacking it.'" read more at Fox News
THINK.
Is this legal? Since 1869, nine seats have made up the Court. Article III of the Constitution allows Congress to determine the number of seats, so the proposal to expand the Court is Constitutional. The problem is the motivation, and its ramifications. Looking back at our history, the last serious effort to pack the court came from President Franklin Roosevelt, who grew irritated with the justices striking down his executive overreach. He proposed a plan to pack the court with six new justices who would be agreeable to his liberal interpretation of the Constitution and give him more power. Using rhetoric similar to President Biden, who recently created a commission on how to "reform" the court system, Roosevelt said his plan sought to "restore the Court…and to have it resume its high task of building anew on the Constitution 'a system of living law.'" In other words, the words of the Constitution would be interpreted not according to what their framers meant, but according to the current justice's interpretation. If this new court-packing plan succeeds, the fundamental effect will be to change our country from a nation ruled by laws to a nation ruled by sheer power. The current majority of justices believe in interpreting the Constitution according to its original intent. If they are outnumbered by justices who believe in a 'living Constitution' that changes with the times, almost any attack on our God-given rights will be justified, and we will have no judicial appeal. What is the status? House Speaker Nancy Pelosi has said she does not plan on bringing the bill up for a vote on the House floor. Court-packing is not the only effort to expand power right now, however. On Thursday, the House will vote on a bill to grant D.C. statehood, which would likely expand the Democrat's majority in both chambers by adding Congressmen and Congresswomen from the newly-formed state. This effort is likely to fail in the Senate, however, since only 44 Democratic Senators have signed onto the bill. As a constitutional matter, the Justice Department under both Democratic and Republican administrations has consistently agreed that statehood for the District requires a constitutional amendment; it cannot be done by mere majority vote in Congress. Let's pray that the rule of law will be upheld.
PRAY.
Pray that we will return to being a nation that recognizes that our rights come from God; and pray for the protection of religious liberty. Pray that our current Supreme Court, Appellate Courts, and state justices will rule according to God's laws.
ACT.
Our friends at First Liberty created a helpful website dedicated to exposing the dangers of packing the Supreme Court with action steps you can take. We encourage you to visit SupremeCoup.com.
---
Jury Finds Derek Chauvin Guilty of Murdering George Floyd
"The jury has reached a verdict in the trial of former Minneapolis police officer Derek Chauvin for his role in the death of George Floyd, finding Chauvin guilty on all three counts, including the murder of Floyd. Floyd died last May after Chauvin, a white officer, pinned his knee on or close to the 46-year-old Black man's neck for about 9 1/2 minutes. Chauvin has now been determined guilty on three charges ranging from second-degree murder, also known as felony murder, to second-degree manslaughter, which would mean Floyd's death occurred due to culpable negligence. The jury reached its verdict Tuesday after deliberating about 10 hours over two days in a city on edge against another outbreak of unrest. Both sides gave their closing arguments Monday, the prosecution insisting Floyd did not pose a threat to the officers on the scene and pushing the point that the entire profession is not on trial, just this one former police officer. The defense argued that the entire episode should be seen in context and that the cause of Floyd's death was drugs and heart disease. The jury consisted of a diverse group made up of five men and seven women, four of whom are black, six white, and two identifying as multi-racial." read more at CBN News
THINK.
As of press time, reactions ranged from the celebration of justice to disdain that it wasn't a fair trial. An appeal in the case is a virtual certainty but the odds are difficult, considering some 90 percent of appeals are denied across the US. The most likely avenue of appeal is the massive publicity given to the case and the judge's denial of repeated requests by lead defense attorney Eric Nelson to move the case out of Minneapolis or sequester the jury throughout the trial to shield them from any and all news or mention of the case. The Minneapolis Mayor, the Minnesota Governor, California Representative Maxine Waters, and President Biden all publicly spoke of Chauvin's presumed guilt before the jurors had reached a verdict, which was a concern from politicians and legal experts alike. Chauvin's defense attorney had requested a mistrial (a trial rendered invalid due to an error in the proceedings) due to Waters' comments. Though Hennepin County District Judge Peter Cahill denied the motion for a mistrial, he stated, "Well, I'll give you that Congresswoman Waters may have given you something on appeal that may result in this whole trial being overturned." No matter what the outcome of the trial was going to bring, we grieve for a life lost, a life facing prison and for a nation searching and screaming for man's justice while turning their backs to God's justice. Justice is a term used for what is right or "as it should be." Justice is one of God's attributes and flows out of His holiness. Justice and righteousness are often used synonymously in the Bible and since righteousness is the quality or character of being right or just, it is another attribute of God and incorporates both His justice and holiness. We cannot begin to understand God's justice unless we first understand sin. Sin is lawlessness and iniquity. It embodies everything contrary to God's holy nature and is offensive to Him. Thus, sin is a crime against God, and justice demands a penalty of death and separation from Him for it. But God sent His Son, Jesus Christ, to earth to pay that penalty for us and made salvation available to all who believe in His name.
PRAY.
One of the greatest human desires is for peace: peace between nations, peace between neighbors, and peace within our own minds. Yet our experience confirms the biblical assessment: "The way of peace they have not known" (Isaiah 59:7-8). The Band-Aids humanity has tried cannot treat the gushing wounds of a world ravaged by conflict and contention. There is a reason that most people in the world cannot even begin to understand the peace offered by God: They have been blinded and deceived (2 Corinthians 4:4; Revelation 12:9). But the Christ-follower has a peace that is abundant, available in every situation, and unlike anything that the world has to offer (John 14:27). The alternative is to be filled with alarm, filled with doubt, filled with foreboding, or filled with anger. There will be true peace in the world one day when Christ returns to earth and sets up God's Kingdom. Until then, we can trust in God, the solid rock.
ACT.
A very common term heard in today's culture is "social justice." But what does it mean and how does it compare to biblical justice? Voddie Baucham, pastor, author and Dean of Theology at African Christian University gives a lengthy but worthwhile message to help us navigate this important understanding called "Biblical Justice vs. Social Justice." You can watch it here.
---
TN Church Sees Over 1,000 Baptisms in Four Months–'Prayer Births Revival'
"Over 1,000 baptisms have happened in four months at Long Hollow Baptist Church in Hendersonville, Tennessee. The church's senior pastor, Robby Gallaty, said in an interview with Faithwire.com that he has 'never seen anything like this before in my life' after seeing 1,051 people baptized over the last 16 weeks. Out of that number, 201 of those baptisms happened on Easter weekend alone. Many of the baptisms were spontaneous rather than planned. Pastor Gallaty said, 'They heard the gospel and responded.' There has been a steady increase in baptisms at Long Hollow over the last couple of years; 2018 saw approximately 125 baptized and in 2019 about 250. The pastor said, 'This is nothing I've coordinated, or a sermon series has brought about.' Years ago, Gallaty read a quote from Leonard Ravenhill: 'The problem with the American church today is that pastors don't pray.' Gallaty said he took offense to that and asked, 'What do you mean I don't pray?' That is when the Lord began to convict Gallaty of his personal prayer life. He was convicted that he wasn't pressing into God for hours at a time." read more at ChurchLeaders.com
THINK.
In related news, the Christian evangelistic ministry, Pulse, reports that over 1 million people reached out to them after their worldwide Good Friday broadcast this year. The book of Acts records that before the Day of Pentecost, the early church devoted themselves to prayer. When the Holy Spirit came and the gospel was preached, over 3,000 people believed in Jesus and were baptized right away. What is the significance of baptism? When we received Jesus as our Lord and Savior, the Bible says our old self was crucified with Him, so now we consider ourselves dead to sin but alive to God in Christ Jesus. (Romans 6:1-11) Paul expressed this beautifully in Galatians 2:20: " I have been crucified with Christ; and it is no longer I who live, but Christ lives in me." Baptism is a physical picture of this spiritual truth, and it is a testimony to believers and unbelievers of a person's faith in Jesus. It seemed to be common for new believers in the early church to be baptized as soon as they believed in Jesus. What led up to many people from fifteen different states coming to be baptized at Long Hollow Baptist Church? Pastor Gallaty said he began to spend 20 minutes each night in prayer, which turned into one, sometimes two, hours. "I went to the porch every night to sit with the Lord thinking that He was going to fix the problems in my church," he said. Then the Lord started convicting him of his own sin, showing him that he was the problem. A few key components of the Lord's prayer are for forgiveness of our sins, as well as a desire to see God's will accomplished. If we would devote ourselves to prayer according to God's will, what might He do? The Holy Spirit helps us pray, and we are instructed to pray "at all times in the Spirit," and for all the other believers. (Ephesians 6:18) In light of this, the 2021 Religious Freedom Report by Aid to the Church in Need (ACN) found that at least two-thirds of the world's population live in countries that do not uphold religious freedom, and the most persecuted religious group is Christians. As you pray, remember that our God is able to do "far more abundantly beyond all that we ask or think, according to the power that works within us." (Ephesians 3:20)
PRAY.
Father, we bow before you, asking according to the riches of your glory that you will strengthen us with power through your Spirit, so that Christ would dwell in our hearts through faith. Help us and our brothers and sisters all over the world to be rooted and grounded in love, and have strength to comprehend the breadth, length, height, and depth, and know the love of Christ, that we would be filled with all the fullness of God. The fields are ready for harvest; send us out to bring the gospel to our neighbors, communities, and countries. To you be the glory!
ACT.
Walk Through the Word, an organization dedicated to igniting a passion for God's Word, has a great podcast where guests share about how God has intersected their lives with His Story, the Bible, and how the Bible changes everything. You can find the inspirational podcast to listen to here.
---
College of The Ozarks Sues Biden Administration For Forcing Men In Women's Dorms, Bathrooms
"College of the Ozarks in Hollister, Missouri is suing the Biden administration over a directive from the U.S. Department of Housing and Urban Development forcing religious institutions to permit students of the opposite sex in the same bathrooms, dorm rooms, and dormitories. The White House announced in February that "it will administer and enforce the Fair Housing Act to prohibit discrimination on the basis of sexual orientation and gender identity." Religious liberty legal group Alliance Defending Freedom filed suit on behalf of the Missouri college, asserting Biden's decision "requires private religious colleges to place biological males into female dormitories and assign them as females' roommates." "The government cannot and should not force schools to open girls' dorms to males based on its politically motivated and inappropriate redefinition of 'sex,'" attorney Marie Blake said. Blake said women shouldn't be forced to share showers and dorm rooms with males. "Religious schools shouldn't be punished simply because of their beliefs about marriage and biological sex. Government overreach by the Biden administration continues to victimize women, girls, and people of faith by gutting their legal protections, and it must be stopped," she said. Currently, College of the Ozarks has separate dormitories for male and female students. This upcoming fall, the college is regardless planning to separate students by their biological sex, which they believe cannot be altered." read more at the Federalist
THINK.
How did we come to the place where a common-sense policy by a Christian college is opposed by the executive branch of our federal government? At the heart of this is a fundamental disagreement over reality itself. The present administration is operating under vastly different policies than the previous one because those in charge hold to a completely different worldview. This ideology is described by Christian author Carl Trueman as "expressive individualism." It is the belief that we can determine our own identities apart from God, and our identities must be affirmed, even at the cost of reality. This worldview is also present in major institutions like the NCAA, which announced its refusal to hold any tournaments in states that do not allow biological males to compete in women's sports. This policy would apply to Idaho, Mississippi, and Arkansas, which have all passed bills to keep fairness in women's and girls' sports. The NCAA's board of governors stated their commitment is "grounded in our values of inclusion and fair competition." One must look no further than Connecticut, where two biological males have edged out high school girls from track and field titles, to see the irony of this statement. As we stated last week, ideas have consequences, and bad ideas have victims. The Bible often refers to Christians as strangers and exiles, so it is no surprise that our beliefs are ridiculed in our increasingly secular culture that rejects God's authority. Oral Roberts University men's basketball team scored several stunning victories during March Madness yet was condemned in a recent USA Today op-ed for its Christian standards on marriage and sexuality. Their beliefs were labeled, "wildly out of line with modern society and the basic values of human decency." How are we to respond? First, we, especially our young people, need to know why God designed marriage and sexuality the way He did so we can communicate these wonderful truths to others. Second, we must stand with those who are experiencing opposition for Biblical faithfulness. And lastly, we can maintain our joy through it all by remembering that while we may be rejected by our culture, we are "a people for God's own possession, so that you may proclaim the excellencies of Him who has called you out of darkness into His marvelous light." (1 Peter 2:9)
PRAY.
Father, our society is lost: "Professing to be wise, they became fools," and "exchanged the truth of God for a lie and worshiped and served the creature rather than the Creator, who is blessed forever". (Romans 1:22,25) We also used to be Your enemies, but You rescued us in Your grace through the sacrifice of Your Son, Jesus. Help us now to proclaim Your love and truth, standing in obedience to You as You draw people to yourself. In Jesus' name, Amen.
ACT.
One way you can act on behalf of religious freedom is to urge your U.S. Senators to stand against the deceptively named Equality Act. Among other things, it would allow boys and men to compete in sports with girls and women, thus unfairly altering women's athletics. The "Equality" Act is disguised with positive words that will seek to destroy sex and gender as God defined (Genesis 1:26-28) and it will cost you the ability to freely live out your faith. Contact your Senators through our website and urge your friends and family to do the same.
---
My Faith Votes—is a nonpartisan movement that motivates, equips and activates Christians in America to vote in every election, transforming our communities and influencing our nation with biblical truth. By partnering with national faith leaders, My Faith Votes provides resources to help Christians Pray, Think, and Act to create an America where God is honored in the public square.
Website | www.myfaithvotes.org Twitter | @MyFaithVotes Facebook | My Faith Votes
---
React
---
Comments