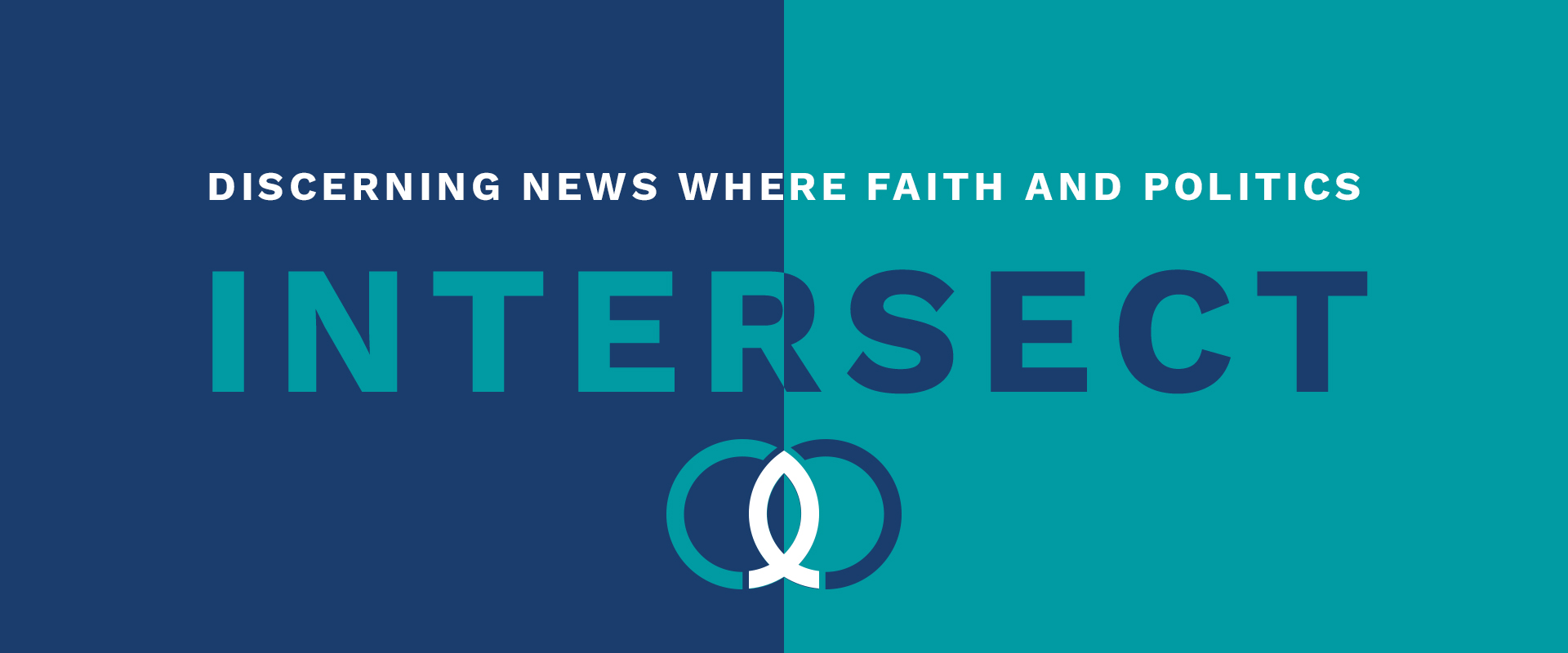 WEEKLY NEWS SUMMARY - APRIL 15, 2020
In this week's Intersect, read about:
---
Storms Tear Through South Amid Pandemic; More Than 30 Dead
Storms that killed more than 30 people in the Southeast, piling fresh misery atop a pandemic, spread across the eastern United States on Monday, leaving more than one million homes and businesses without power amid floods and mudslides. In Alabama, people seeking shelter from tornadoes huddled in community shelters, protective masks covering their faces to guard against the new coronavirus. A twister demolished a Mississippi home save for a concrete room where a married couple and their children survived unharmed, but 11 others died in the state. About 85 miles (137 kilometers) from Atlanta in the mountains of north Georgia, Emma and Charles "Peewee" Pritchett laid still in their bed praying as a suspected twister splintered the rest of their home. "I said, 'If we're gonna die I'm going to be beside him,'" the woman said Monday. Both survived without injuries. Nine died in South Carolina, Gov. Gov. Henry McMaster said, and coroners said eight were killed in Georgia. Tennessee officials said three people were killed in and around Chattanooga, and others died under falling trees or inside collapsed buildings in Arkansas and North Carolina. With a handful of tornadoes already confirmed in the South and storms still raging up the Eastern Seaboard, forecasters fanned out to determine how much of the widespread damage was caused by twisters. Mississippi Gov. Tate Reeves said the storms were "as bad or worse than anything we've seen in a decade." "We are used to tornadoes in Mississippi," he said. "No one is used to this." Georgia Gov. Brian Kemp said some storm victims already were out of work because of shutdowns caused by COVID-19. "Now they have lost literally everything they own," he said. read more
THINK.
The devastation from the tornados has not received any coverage in comparison to the coronavirus. Yet, these recent storms took the lives of 30 people and brought destruction to communities that will take years to rebuild. One victim who lost everything in the storm, Andrew Phillips, said "I'm just going to let the insurance handle it and trust the good Lord." Our friend Dr. Jim Denison wrote, "One of the tragedies of the coronavirus pandemic is that other tragedies are still just as tragic. From heart attacks and strokes to storms and car accidents, life goes on in this fallen world. The pandemic adds a dimension of fear and uncertainty to the present and future, making our lives feel even more fragile. But Andrew Phillips is right: no matter what happens on this broken planet, the Lord is still good." Read the rest of Dr. Denison's article here. In the aftermath of the storm, one powerful image was shared, reminding believers that God is still faithful and sovereign over all. Lawler Missionary Baptist Church in Alabama shared a photo of a cross that was left standing after the tornadoes swept through. The two other crosses standing with it were destroyed, but the one cross remained. You can view the picture here.
PRAY.
Pray for the people who lost loved ones in this storm, that they would rely on the Lord for peace and comfort. Also, pray for the people who lost their homes and physical possessions. Pray for the body of Christ to surround them and help care for them during this crisis.
ACT.
Team Rubicon is an incredible organization that provides help after natural disasters. They serve communities by mobilizing veterans to continue their service, leveraging their skills and experience to help people prepare, respond, and recover from disasters and humanitarian crises. We encourage you to learn more about their efforts and consider helping the organization here.
---
'If Beer Is Essential, So Is Easter': Judge Overturns Ban on Drive-In Church Service
A federal judge's decision halting a ban on drive-in church services is being applauded by Christian leaders. Louisville Mayor Greg Fischer last week said drive-in church services wouldn't be allowed during the COVID-19 pandemic, but On Fire Christian Church – a local congregation – quickly filed suit in federal court. On Saturday, federal judge Justin R. Walker issued a temporary restraining order against the mayor's prohibition, saying the church had demonstrated a "strong likelihood" to win the case on the merits. "On Holy Thursday, an American mayor criminalized the communal celebration of Easter," Walker wrote. "That sentence is one that this Court never expected to see outside the pages of a dystopian novel, or perhaps the pages of The Onion. But two days ago, citing the need for social distancing during the current pandemic, Louisville's Mayor Greg Fischer ordered Christians not to attend Sunday services, even if they remained in their cars to worship – and even though it's Easter. "The Mayor's decision is stunning. And it is, 'beyond all reason,' unconstitutional." First Liberty Institute represented the church. On Fire Christian Church held its drive-in Easter service Sunday. Members parked their cars and rolled down their windows to listen to the pastor's sermon in the parking lot over a loudspeaker system. The church followed CDC guidelines "to keep everyone safe," the congregation said in a statement. Cars had to be parked at least six feet apart, and windows rolled down only halfway. Walker, in his decision, noted that Louisville's order labeled a liquor store's drive-through service "essential" but didn't carve out such an exception for drive-in churches. "If beer is 'essential,' so is Easter," Walker wrote. read more
THINK.
Mayor Fischer loosened his directives after the court's decision, yet still issued an address on Saturday discouraging drive-in services, saying it hurts him to ask churches to cancel services but "I'm doing it because I don't want people to die." As concerning as this case is, it isn't an isolated incident. Two churches in Greenville, Mississippi were also visited by the police last week. The members of both the King James Bible Baptist Church and Temple Baptist Church were fined $500 dollars for attending drive-in services. The city had issued an executive order banning drive-in church services. Pastor Arthur Scott of Temple Baptist Church told Todd Starnes most of his congregation is elderly and doesn't have smartphones to be able to watch an online service. Instead, they tuned in to a radio frequency in their cars to listen to the sermon from the church parking lot, in full compliance with social distancing rules. Still, the pastor was told that he might go to jail if he kept holding his services. "If it means going to jail and if it takes that for me to keep preaching, I'll be glad to go to jail", he said. Alliance Defending Freedom, who is representing Temple Baptist Church, said they receive roughly 100 calls a day from churches and ministries asking for help understanding how to comply with COVID-19 orders. In an interview with John Stonestreet, Kristen Waggoner, Vice President of ADF, said the most important thing to remember is that our First Amendment rights cannot be suspended permanently, as New York City Mayor Bill de Blasio has threatened. Any temporary restriction on religious liberty must advance a compelling governmental interest (like protecting public safety during a pandemic) and must be done in the least restrictive way possible. The order by the Greensville city council certainly does not meet those requirements. The U.S. Attorney General's office has declared that they are monitoring the regulation of church services, and will take action against local governments if necessary, tweeting, "While social distancing policies are appropriate during this emergency, they must be applied evenhandedly & not single out religious orgs. Expect action from DOJ next week!"
PRAY.
Pray for wisdom for First Liberty Institute, Alliance Defending Freedom, and other organizations who are defending our religious liberty and advising churches and ministries in these unprecedented times.
ACT.
For more information on the situation in Kentucky, watch this video by Viva Frei, a lawyer and popular YouTuber.
---
Michigan Governor Backtracks After Pro-Lifer Files Lawsuit Against Her for Punishing Demonstrators
Gov. Gretchen Whitmer (D) is backtracking after pro-life Michiganders filed a lawsuit against her and the Detroit Police Department. On March 31, a group of pro-life activists led by Andrew Belanger were holding signs outside the Scotsdale Women's Center when at least eight police officers showed up at the abortion clinic to threaten the peaceful demonstrators with jail time if they didn't leave. The Detroit officers claimed the activists were violating Whitmer's stay-at-home order put in place to blunt the spread of COVID-19, the disease caused by the novel coronavirus. Michigan — like many other states — has deemed abortion an essential service. While being outside is not a crime, though, the police officers explained to the pro-lifers that their demonstration at the clinic was not essential. During his interaction with the police, one activist asked if he could pray for the officers. Three of them walked away, but two appeared to bow their heads. Eventually, the officers left, after handing out tickets to the pro-life activists. But one week after the altercation, Whitmer had a change of heart. On April 3, Whitmer stood by the officers' citations, explaining she was "confident that these actions are lawful and necessary to protect the health and safety of Michiganders during this unprecedented public health emergency," according to The Detroit News. By early last week, though, her opinion had changed. On Tuesday, Whitmer's office clarified that "persons may engage in expressive activities" as long as they practice social distancing. read more
THINK.
Governor Whitmer is also requiring all Michigan residents to remain in their homes and refrain from traveling between their own residences, even if it's to see family members. She also banned stores from opening their garden sections during this pandemic. She provided one exception where leaving home is allowed to provide medical assistance to a relative or friend. Many people view her actions as being some of the most extreme in the country and a movement to have her recalled already has over 200,000 signatures. Some responses to COVID-19 have not only threatened religious freedom but are also attacking the sanctity of life. Over a dozen House Democrats have asked the Trump administration to remove restrictions on federally-funded research that uses fetal tissue from abortions. Democrats claim that the research would help find a possible treatment for COVID-19. Democrats wrote the current restrictions, "are preventing federally-funded scientists from advancing important studies that could potentially prevent, treat, or cure the 2019 novel coronavirus disease (COVID-19)." How ironic to proclaim the importance of saving human life and yet advocate for the taking of it through abortion! We believe every human life is created in the image of God and therefore valuable. We pray that President Trump continues to stand strong and keep his order in place relating to the use of human fetal tissue in vaccines.
PRAY.
Pray for all human life to be valued and protected. Pray for medical professionals as they work tirelessly to give care to those fighting COVID-19 and pray for pro-life advocates who are working to save the lives of unborn babies.
ACT.
While some states have taken action to halt abortions during the COVID-19 crisis, most states are still allowing abortions to continue, deeming them "essential." And even if you live in one of the states where your governor has taken action, they still need to be encouraged to follow through and enforce their order. We have partnered with Faces of Choice to launch a powerful campaign, #NotADisease, which urges governors to protect life. Please send a message to your governor using our easy tool right now.
---
China Bans Churches from Streaming Services, Even during Pandemic
Churches around the world are staying in contact online during the COVID-19 pandemic, but such an action remains illegal in China. The watchdog Bitter Winter reported April 5 that very few organizations, and "only those that hold state-issued licenses," can stream religious services online in China. "We can't get together because of the pandemic," an underground house church pastor in the province of Jiangxi told Bitter Winter. The pastor tried to stream a sermon February 9 through an app, but was stopped. "Our first and only online gathering was blocked by the government soon after it started," the preacher said. That same day, another house church pastor, in the province of Shandong, also tried to stream online services. "The meeting was stopped less than 20 minutes after the start," Bitter Winter reported. A 2018 Chinese law bans streaming services. "No organizations or individuals will be allowed to live-stream or broadcast religious activities, including praying, burning incense, ordinations, scripture chanting, holding Mass, worshipping or receiving baptism online in the form of text, photo, audio or video," the law says. On February 23, the government-approved Two Chinese Christian Councils of Shandong Province issued a notice "demanding all churches in the province to stop live-streaming their services immediately," Bitter Winter reported. On February 28, the United Front Work Department of the Nanhu district in Jiaxing, a government organization in Zhejiang province, said it would investigate all online activities by state-approved churches. read more
THINK.
China's communist government also removed crosses on numerous churches amid the coronavirus epidemic. They claimed that the crosses violated the law that religious symbols cannot be displayed higher than the national flag. They have even removed these crosses from government-approved churches. When many governments paused to help people struggling with the virus, China was instead cracking down on Christians. One believer in China wrote, "The government does not provide enough help during the epidemic but instead demolishes crosses." And it is not only Christians in China experiencing severe persecution amid the coronavirus. In Pakistan, 100 Christian families were denied food aid that was supposed to be distributed to all deserving families of the village. Instead, it was withheld from all Christian families and only given to Muslim families. And Open Doors reports that in an undisclosed country in Asia, Christian nurses were specifically assigned to the coronavirus cases because it is dangerous work and Muslim nurses didn't want the risk. Yet they said, "Even though we are frightened, we sense His love in us for the patients." John 15:18 reminds believers, "If the world hates you, know that it has hated me before it hated you." And 1 Peter 4:12-13 says, "Beloved, do not be surprised at the fiery trial when it comes upon you to test you, as though something strange were happening to you. But rejoice insofar as you share Christ's sufferings, that you may also rejoice and be glad when his glory is revealed. If you are insulted for the name of Christ, you are blessed, because the Spirit of glory and of God rests upon you."
PRAY.
Our brothers and sisters around the world are enduring extreme persecution for their faith, and they need our prayers. Pray for their protection and provision today and for God to use the persecution they endure to further the Gospel.
ACT.
Will you commit to pray for persecuted Christians daily? Often we feel like there is nothing we can do to help in these dire situations, but that is simply not true. You can pray. And your prayers have power! Open Doors has a great app that you can download on your phone that will allow you to read real prayer requests from persecuted Christians around the world. They will send you regular, specific prayer requests submitted by Christian leaders, field staff and partners living out their faith in the world's most difficult places. This app allows you to quickly scroll through the prayer request from one screen and then click "Pray" to let persecuted Christians know that you're standing with them in prayer. Click here for more information.
---
My Faith Votes—is a nonpartisan movement that motivates, equips and activates Christians in America to vote in every election, transforming our communities and influencing our nation with biblical truth. By partnering with national faith leaders, My Faith Votes provides resources to help Christians Pray, Think, and Act to create an America where God is honored in the public square.
Website | www.myfaithvotes.org Twitter | @MyFaithVotes Facebook | My Faith Votes
---
React
---
Comments