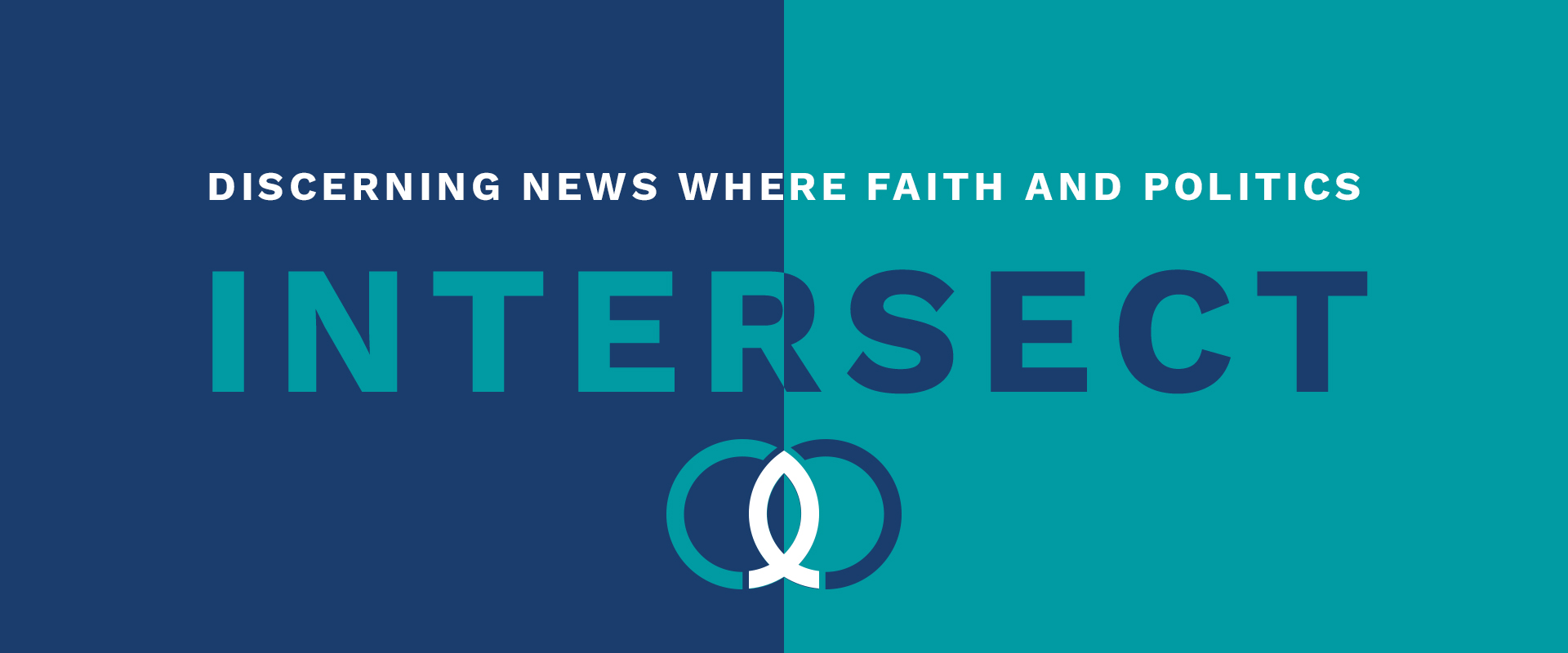 WEEKLY NEWS SUMMARY - APRIL 14, 2021
In this week's Intersect, read about:
---
Hundreds of Transgender California Inmates Request Transfers to Women's Prisons
"The California prison system has received 261 applications since January 1 from transgender, intersex, or non-binary inmates to transfer to facilities that match their preferred gender identity, the Los Angeles Times reported on Monday. The requests were filed after a state law came into effect allowing transgender inmates to transfer to different prisons. Around 1 percent of prisoners in California, 1,129 inmates in total, have notified the California Department of Corrections and Rehabilitation that they are transgender, intersex, or non-binary. The transfers have been welcomed by transgender women who reported suffering sexual violence while incarcerated at men's prisons. However, inmates at Central California Women's Facility in Chowchilla told the Times that staff have warned them of potential sexual violence from men who may try to take advantage of the transfer system. Guards said "that if we think it's bad now, be prepared for the worst. That it's going to be off the hook, it's going to be jumping," inmate Tomiekia Johnson told the Times. 'They say we're going to need a facility that's going to be like a maternity ward. They say we're going to have an inmate program where inmates become nannies.'" read more at National Review
THINK.
As the saying goes, ideas have consequences. Bad ideas have victims. For California, Connecticut, and Massachusetts, which have similar laws, the victims are female inmates and prison staff. The victims of this rejection of biological reality also include female athletes who will be forced to compete against males if the Equality Act passes. Tragically, it also includes children who are not protected from harmful medical procedures in the name of affirming their gender identity. How did it come to this? Romans 1 describes how when people suppress the truth about God, they reject his rule over creation, including His purpose for our bodies. For all of history, humans have followed the way of our ancestors, Adam, and Eve, in placing our desires over God's will, reaping the consequences, and wreaking havoc on our fellow humans. Government was instituted by God to restrain evil (Genesis 9:6, Romans 13:1-6) and if it fails to do this, people suffer. The victims are often women and children. What can Christians do? Jesus commanded us to be salt and light. One of salt's functions is to preserve food, slowing down its decay. We can be salt for our culture when we acknowledge God's authority in every area of life, including public policies. If Christians are not present in the prisons, schools, and statehouses, others will fill those roles who do not necessarily acknowledge God's commands. Thankfully, the Arkansas state legislature overturned Governor Asa Hutchinson's veto of a bill banning child gender modification. Over thirty states are currently considering legislation that would ban boys and men who identify as female from participating in girls' and women's sports. Just as the California policies essentially erased the concept of women's prisons, the Equality Act would, among other things, erase the concept of women's sports. If you have not already, please contact your U.S. Senators and urge them to vote NO on the so-called Equality Act. At the end of the day, can we look the victims of our culture's bad ideas in the eye and tell them we did all we could to protect them?
PRAY.
Father do not let the children in this nation continue to be deceived about their gender or identity. May Your Word and Truth be louder than the lies that are being spread to the younger generations about this topic. We pray for each young person who is struggling with all the complexities of maturing. Help them find their identity in the You alone Lord. Help them sort out their emotions and separate fact from illusions, misinformation, or worldly philosophies that are counter to Your design.
ACT.
This year's Wilberforce Weekend, May 21-23, will delve into the meaning of the Imago Dei—the identity that can help Christians make sense of everything else. Be equipped to answer the question, "Does Christianity have meaningful answers to questions of gender?" And, most importantly, "how are we supposed to live in these times?" You can attend in person in Ft. Worth, Texas or watch remotely online. Learn more here.
---
Biden Proposes Summit with Putin After Russia Calls U.S. 'Adversary' Over Ukraine
"U.S. President Joe Biden called on Russian President Vladimir Putin on Tuesday to reduce tensions stirred by a Russian military build-up on Ukraine's border and proposed a summit of the estranged leaders to tackle a raft of disputes. The White House and the Kremlin reported only the second conversation between the two since Biden took office in January, after Western officials urged Moscow to end the build-up and Russia, in words recalling the Cold War, said its 'adversary' should keep U.S. warships well away from the Crimea region. Russia seized Crimea from Ukraine in 2014 and fighting has increased in recent weeks in eastern Ukraine, where government forces have battled Russian-backed separatists in a seven-year conflict that Kyiv says has killed 14,000 people. In a sign of concern about tensions spinning out of control in the Ukraine crisis, Biden phoned Putin to propose they meet in a third country while underlining U.S. commitment to Ukraine's sovereignty and territorial integrity." read more at Reuters
THINK.
In Biden's first major foreign policy test, Putin is massing 50,000 troops on the Ukraine border, raising fears that Russia is preparing for "full-scale war." Given that Putin is such a close ally with the Iranian regime, how the Biden administration handles this crisis could say a great deal about whether Washington is going to pursue the Ronald Reagan strategy of "peace through strength" or the Neville Chamberlain model of peace through appeasement. But it is not just Russian tensions that hang in the balance. Iran's top nuclear negotiator Abbas Araqchi announced on Tuesday that the Islamic Republic will begin enriching uranium to 60% purity, which greatly exceeds its current level of 20%, placing one of the world's biggest state sponsors of terrorism within reach of the 90% enrichment required for weapons-grade capabilities and way beyond the 3.67% limit required by the 2015 Iran nuclear deal. The move is the latest escalation between Iran and Israel after multiple alleged attacks complicated upcoming talks with the Biden administration to salvage the 2015 nuclear deal. On Sunday, Iran's Natanz uranium enrichment site was allegedly sabotaged by an explosive device smuggled into the facility. While Israel did not claim responsibility, Israeli public radio reported that Mossad, Israel's security force, played a "central role." Iran vowed revenge on Israel for the alleged attack, reportedly firing a missile at an Israeli-owned ship on Tuesday. US Defense Secretary Lloyd Austin met with Israeli Defense Minister Benny Gantz on Sunday as part of an official visit. "The Tehran of today poses a strategic threat to international security, to the entire Middle East, and to the State of Israel," Gantz said while meeting with Austin. "And we will work closely with our American allies to ensure that any new agreement with Iran will secure the vital interests of the world, of the United States, prevent a dangerous arms race in our region, and protect the State of Israel." Such potentially volatile situations, of which we have little control, should call us back to the command of 1 Timothy 2:1-8 to pray for leaders and all who are in high positions so that Christians can lead a peaceful life which is pleasing to God and draws others to Him.
PRAY.
Lord, in these complex situations we pray Your Holy Spirit would move in ways deeper than we can imagine and beyond our own understanding. Isaiah 45 points us to the power of God to use the least likely and to stir world events in most surprising ways. Almighty God give clear answers to our nation's leaders for the problems they are facing. And give all of us humility as citizens to trust that You are working, that You work in surprising ways. Save us from fear, and open our nation's leaders and citizens to trust, seek and be open to your Holy Spirit in all the affairs of this world.
ACT.
Over the last three decades, individuals from the Islamic world have been reporting a remarkable number of Muslim conversions. During the season of Ramadan, the most holy period for the Islamic calendar, a group of Christians led by a prayer guide have together prayed for Christ to draw Muslims to Himself. Ramadan, which began yesterday, is an important time to keep Muslims around the world in prayer. There is an international movement that calls on "the church to make a deliberate but respectful effort to learn about, to pray for, and to reach out to our Muslim neighbors." Join 30 Days of Prayer for the Muslim World and follow along in prayer for the next 30 days here.
---
Overwhelming Police Presence Descends on Canadian Church as Protesters Tear Down Barricade
"Officers with the Royal Canadian Mounted Police came out en masse Sunday as protesters descended on GraceLife Church in Alberta, Canada, where police barricaded the worship center last week, barring congregants' access to the church. In a statement issued to the media Sunday, the RCMP said it was on the scene in Edmonton to preserve 'peace' and 'maintain public safety,' claiming — as it has been barring the free exercise of religion — that it recognizes 'everyone has a right to peaceful freedom of expression.' One video circulating on social media showed what appeared to be a great deal of RCMP officers at GraceLife on Sunday. California-based Pastor John MacArthur commended the members of GraceLife as they have begun meeting privately amid a continued government crackdown on their freedom to hold worship services. In an email to Faithwire Monday morning, GraceLife Associate Pastor Jake Spenst confirmed the church is meeting at an undisclosed location and broadcasting its services on YouTube. "Amazing to have an underground church in Canada," said MacArthur, pastor of Grace Community Church in Sun Valley. 'This because the government of Alberta triple-fenced the church in and locked it so people couldn't get there.'" read more at CBN News
THINK.
All things, including government, were created by Christ and for Him (Colossians 1:16-18). He is the head of the church, and we are commanded to be subject to the government for the Lord's sake (1 Peter 2:13). When government demands obedience to its rules over submission to Christ, the church must obey its head, Christ, despite opposition. After encouraging those who suffer for righteousness to keep doing good while trusting God, Peter exhorts church elders to faithfully shepherd the flock of God entrusted to them. (1 Peter 5:1) GraceLife Church has decided to conduct their meetings in the manner they believe best enables them to remain obedient to Christ, even though it cost their lead pastor one month in jail. While some Christians disagree with their position, we should all be concerned with the clear violation of their religious liberty. While Grace Life did not participate in the public protest on Sunday, between 300-400 people showed up to protest their building's closure. The church is alleging that the Alberta health orders violate Canada's constitution. "Freedom of conscience and religion is the first fundamental freedom listed in the Canadian Charter of Rights and Freedoms," argued John Carpay, president of the Justice Centre for Constitutional Freedoms, the law firm representing the church. "The government has, so far, refused to justify the limits on worship and gathering. Health orders are...arbitrarily created by one public health official who is under no obligation legally to advise the legislatures of the science and rationale which supposedly are the basis of the orders." As of April 9th, outdoor gatherings are restricted to no more than 10 people, and worship services must remain at 15% capacity, and are completely prohibited from being held in a house. Such restrictions are similar to a California order prohibiting religious gatherings of more than three households in private homes. Thankfully, the U.S. Supreme Court overturned the restrictions on Friday. Over the last year, government officials in various countries have used the pandemic to justify infringing on religious liberty. We must remain faithful to Jesus no matter the cost, and that means relying on His grace for obedience in private as well as in public. Samuel Sey, a Christian blogger, writes, "How many of us are unwilling to privately defy Satan? For instance, how many of us are unwilling to fight against porn?...If our faith isn't strong enough to make us say "no" to porn, we shouldn't be so sure our faith would be strong enough to make us say "yes" to prison. Strong faith starts in our private rooms, not in public court."
PRAY.
Sovereign Lord, may we live out the words of Ephesians 6:18, where Paul instructs believers to be alert and always keep on praying for Your people. Lord, may we also heed the words of the next 2 verses, praying to live like Paul when facing persecution. "Pray also for me, that whenever I speak, words may be given me so that I will fearlessly make known the mystery of the gospel, for which I am an ambassador in chains. Pray that I may declare it fearlessly, as I should."
ACT.
Pastor James Coates of GraceLife Church, who recently spent 35 days in a maximum-security prison for holding church services, preached a message on Psalm 2 to his church on Sunday from an undisclosed location. He opened with "They can take our facility, but we'll just find another one." The worship leader began by stating, "Did you ever think you'd be part of the underground church?" You can watch the church service here.
---
FDA Lifts Curbs on Dispensing Abortion Pills During Pandemic
"The Biden administration is lifting restrictions on dispensing abortion pills by mail during the Covid-19 pandemic, reversing a Trump administration policy that the Supreme Court backed in January. Acting FDA Commissioner Janet Woodcock informed the American College of Obstetricians and Gynecologists in a letter Monday that her agency concluded that allowing patients to receive the pills via telemedicine and through the mail will not increase risks and will keep people safe from contracting the virus. The decision marked the latest turn in a battle over longstanding FDA rules on the drug mifepristone that require people seeking medication abortions to obtain the pills in-person from a medical provider. ACOG challenged the requirement last year but a short-handed Supreme Court following the death of Justice Ruth Bader Ginsburg in October declined to intervene. That allowed abortion clinics to continue dispensing the pills remotely, which they say has kept patients and staff safer during the pandemic. The justices in January granted the Trump administration's request to reinstate the rules, in a 6-3 decision that broke along ideological lines and marked the high court's first major action on abortion since Justice Amy Coney Barrett was confirmed." read more at Politico
THINK.
Medication abortion is used for about 40 percent of all abortions in the U.S., up from 5 percent in 2001, according to the Guttmacher Institute. Jeanne Mancini, president of March for Life, condemned the move stating, "With this action, the Biden administration has made it clear that it will prioritize abortion over women's safety. Allowing unsupervised chemical abortions via telemedicine, without requiring timely access to medical care, will put women in grave danger. Data released in 2018 by the FDA shows thousands of adverse events caused by abortion pills, including 768 hospitalizations and 24 deaths since 2000. Chemical abortions should have more medical oversight not less." In a bit of irony, yesterday the FDA and CDC paused the administration of the Johnson & Johnson COVID-19 vaccine out of an "abundance of caution" over rare blood clotting concerns. "As of [April 12], 6.8m+ doses of the J&J vaccine have been administered in the U.S. CDC & FDA are reviewing data involving 6 reported U.S. cases of a rare & severe type of blood clot in individuals after receiving the vaccine. Right now, these adverse events appear to be extremely rare," the FDA Twitter thread stated. Why is it the FDA can push a drug that knowingly kills babies and harms mothers, yet suspend a vaccine they conclude "no clear causal relationship has been established between these rare events and the Janssen Covid-19 vaccine"? The COVID-19 pandemic has given Planned Parenthood and other online abortion businesses a way to promote and expand dangerous at-home, do-it-yourself abortions with drugs anyone can order online. Heartbeat International has established an "Abortion Pill Rescue Network" which has helped to answer more than 150 calls a month from women who regret their abortion decision after taking the first pill. This is a resource every pro-life Christian should know about. Statistics show that more than 2,000 lives have already been saved through their abortion pill reversal protocol. A new ban on telemedicine abortions in Ohio that was set to take effect on Monday was blocked by a state court, while other bans are still advancing in Indiana, Arkansas, Iowa, Alabama, Texas, Oklahoma, Wyoming, and West Virginia.
PRAY.
Pray for those in a pregnancy crisis, that they will choose life for their children and not abortion. Pray that boyfriends, husbands, friends, and family members of the women will hear God's truth and aid in saving the lives of the preborn. Pray that women will find help from churches, family, friends, pregnancy help centers, and other pro-life agencies so that they are not alone in the decision they are making. Pray that any desperation they experience will cause them to turn to God and find hope and strength in Him for all things. Pray for a change of perspective, that they would have the love necessary to put the child before themselves, their own convenience, desires, and plans.
ACT.
Our friends at The Moral Outcry, operating under The Justice Foundation, have for years aimed to see Roe v. Wade overturned. While that goal is still in progress, the group is now looking to achieve one million signatures on a petition to uphold an Arkansas law that protects nearly every preborn child from abortion in the pro-life state. You can add your name to the petition here.
---
My Faith Votes—is a nonpartisan movement that motivates, equips and activates Christians in America to vote in every election, transforming our communities and influencing our nation with biblical truth. By partnering with national faith leaders, My Faith Votes provides resources to help Christians Pray, Think, and Act to create an America where God is honored in the public square.
Website | www.myfaithvotes.org Twitter | @MyFaithVotes Facebook | My Faith Votes
---
React
---
Comments