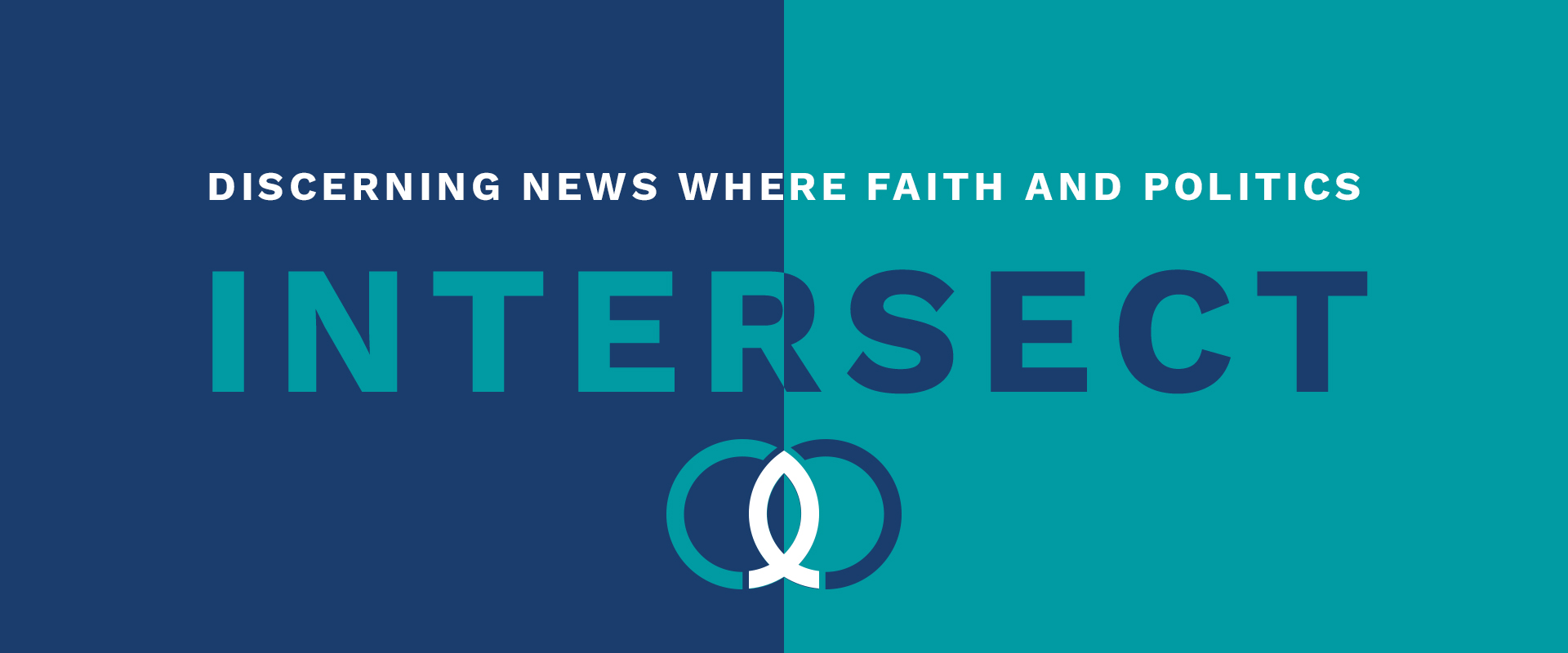 WEEKLY NEWS SUMMARY - APRIL 13, 2022
In this week's Intersect, read about:
---
Shanghai COVID Lockdown Lifted for Some, but Millions Remain Trapped as China Sticks to Strict "Zero-COVID" Policy
"The U.S. State Department has ordered all non-emergency consular staff to leave China's largest city, Shanghai, as the global business hub enters its third week of lockdown in response to a surge in COVID-19 cases. The U.S. Embassy in Beijing said it was ordering the departure because of the outbreak in Shanghai and as American diplomats had raised "concerns about the safety and welfare of U.S. citizens" in the city. "It is best for our employees and their families to be reduced in number and our operations to be scaled down as we deal with the changing circumstances on the ground," a statement from the embassy said, according to The Associated Press. Shanghai officials reported more than 23,000 new coronavirus cases on Tuesday. The vast majority of them are asymptomatic, but despite that, and some limited easing of the restrictions, the government has largely stuck to its strict lockdown and isolation measures — even as it battles public anger, food shortages and a major impact on business. read more at CBS News

THINK.
As of April 9th, there were no reported COVID deaths in the city of over 25 million residents, and most cases were asymptomatic, according to official figures. Instead of living with COVID, as most countries are learning to do, China is still pursuing its "zero-COVID" policy with disastrous consequences for its citizens. As one journalist in Shanghai commented, "They are using a 2020 method for the 2022 virus." Oppressive draconian measures include separating children who test positive from their parents if the parents test negative. Anyone who tests positive is required to go to a quarantine facility. Testing is mandatory and is often the only time most people are allowed outside. Food must be delivered, but fewer delivery personnel has caused food shortages and some people to go hungry. "Parks are not open. Shops are not open. We haven't experienced a horror like this even when the Red Sun, Mao Zedong, died in 1976," one man lamented in a video. "Now I don't go out and I'm stuck in prison all day." Physical freedom isn't all that is restricted in China. Even more distressing are the new regulations on sharing religious content online. ChinaAid reports that the "Measures for the Administration of Internet Religious Information Services," which took effect March 1st, are interfering with the ability of Christians to edify and teach each other. The word "Christ" was censored for violating regulations. Anyone wanting to provide "religious information service" on the internet must obtain permission from the government. In addition, China is also attempting to turn members of registered religious schools against the faith by allowing them to conduct "Information Censorship" training, which will teach people how to post religious content that conforms to the government's political interests. Just when lockdowns and isolation have heightened the need for online Christian fellowship, the Chinese Communist Party is squelching it. They not only desire to make their own people dependent on them, but the rest of the world as well. Forbes magazine noted, "The Shanghai lockdowns stifle supply chains heading to the U.S. and Europe, proving that China is "the indispensable nation." This is a lesson that dependence on the government for things outside its role to provide leads to slavery. The U.S. should be wary of its economic dependency on China, and U.S. citizens should be wary of dependence on our own government for our daily needs.

PRAY.
Let us pray that Jesus will keep our brothers and sisters strong in their faith. He is able, for after spending 40 days in isolation, hunger and temptation, He still bowed the knee to no one except God. (Matthew 4:1-11) Pray for provision for the people of China, and that many would turn to God amid their oppression. Pray that Christians here in America will be wise and hold our government to its lawful powers under the Constitution, so we can preserve the freedom we still have.

ACT.
Given the gravity of the situation in China, the administration and Congress must step up efforts to hold the CCP accountable for its violations of religious freedom. Continuing to shine a spotlight on the shared, bipartisan priority of advancing religious freedom in U.S. foreign policy is an important first step toward doing so. Former Secretary of State, Mike Pompeo, is one of the fiercest advocates for religious freedom in the world. Watch our conversation which includes his comments about China here.
---
Largest Teachers Union Spent Twice as Much on Politics as on Member Needs
"The National Education Association, the country's largest teachers union, spent more than twice as much money on politics-related expenditures than on its membership, an analysis of the union's filings shows. The data, compiled by the right-to-work nonprofit organization Americans for Fair Treatment, shows the teachers union donated $66 million to political activities and another $117 million to 'contributions, gifts, and grants' that were primarily political donations. The data reviewed by Americans for Fair Treatment, which was provided exclusively to the Washington Examiner, showed that the political activities donations totaled 18% of the union's $374 million budget for 2020-2021. The 'contributions, gifts, and grants' totaled 32% of expenditures. Meanwhile, only 9% of the NEA's budget was spent on direct assistance to its members, who pay an annual fee of $200 to maintain their membership in the union." read more at The Washington Examiner
THINK.
Rebecca Friedrichs was a public-school teacher in California for 28 years and throughout her entire career she was forced to fund unions. When discovered that her teachers union dues were actually funding a political agenda that intentionally indoctrinates kids and goes against Judeo-Christian virtues, she took action. And her case went all the way to the Supreme Court. Rebecca found herself serving as a plaintiff with nine other California teachers and sued the California Teachers Association and the National Education Association. Their goal was to end forced unionism for all government employees in the United States of America. And in June 2018, they won their case. Because of it, did you know that no government employee, including teachers, must fund a union anymore? Most teachers have no idea. With more parents becoming aware of the issues facing our schools through the attention being brought to school boards and the curriculum being pushed, our conversation with Rebecca looks at the surprising power that the teachers unions have and the need for teachers to be aware of where their dues are really being used and how they can opt out.
PRAY.
Lord, remind each of those who chose to be teachers of the incredible ability they have to make a difference in the life of a child, every single day. Give them a fresh vision that what they do is so important. Give them encouragement in the times when they are battling weariness or defeat. We pray that you will draw every teacher closer to you; and fill them with your Spirit each morning. Give them all that they need for each day, Lord - your grace, your calling, your compassion, and love.

ACT.
Are there bad teachers in America? Yes. Are there even more great teachers in America? Yes! Yet, many teachers have no idea their dues are being used to fund a highly divisive political agenda. Parents can help support good teachers using the AdoptATeacher principles created by Rebecca Friedrichs. Learn more and "adopt a teacher" here.
---
Clergy From 104 Ohio Congregations Unite Against Radical Education Agendas
"Clergy from 104 diverse Ohio congregations say their state's public schools have sidelined parents from decision-making for their kids' education and have instead pushed radical agendas that many parents oppose – issues like Critical Race Theory and gender identity curricula. Now, these clergy members are banding together in support of a state bill that would put education dollars in the hands of parents, giving them choices for their children's education." read more at CBN News
THINK.
There are two main avenues for protecting our children: (1) Elect good people to gradually improve the current system. (2) Reform the system so parents are empowered to immediately improve their child's educational situation. Ohio's House bill 290, the "Backpack Bill," is an example of the second option. It would create educational scholarship accounts (ESAs) that parents can use for their child's public, private, or homeschool education. In response to one Ohio high school assigning a book to ninth graders where the main character rejects Christianity and is sexually promiscuous, Aaron Baer, president of the Columbus-based Center for Christian Virtue, stressed the need for school choice. "The reality is that public schools have no meaningful accountability measures in place to stop the sexualization and harm to children," he stated. "When a public school is failing and ignoring parents, they get more money from the taxpayers and government. So, there is no incentive structure to stop schools from doing this level of harm to children." If the money is in the parents' hands, however, schools will be incentivized to serve the best interests of the children, not lobbyists, unions, or organizations like Planned Parenthood, which has produced and lobbied for Comprehensive Sexuality Education (CSE), teaching kids that they have a right to sexual pleasure. Pro-abortion Guttmacher Institute calls CSE the "gold standard" for sex education. For more information about the dangers of Comprehensive Sexuality Education, I urge you to read this disturbing exposé by Monica Cline, a former sex education teacher for Planned Parenthood. Many of the state officials you will vote for this year have the power to effect education policy–for good or bad. For example, the New Jersey Board of Education adopted a new sex education curriculum that will take effect in September. One of the lesson plans for first graders teaches them to define their gender based on what they feel. The New Jersey Board of Education is appointed by the governor with the advice and consent of the state senate–all elected by voters. In contrast, Virginia governor Glenn Youngkin just signed a law requiring public schools to notify parents if they assign their children sexually explicit content. Whether reforming the current system, or altering its structure to give parents more power, midterm elections are crucial.

PRAY.
Praise God for clergy who care about the wellbeing of children in their state! As shepherds of God's flock, they have a responsibility to follow the example of the Great Shepherd, who will "gather the lambs in his arms…and gently lead those that are with young." (Isaiah 40:11) Pray for all Christians to be concerned about the souls and wellbeing of the children in our midst, whose lives are greatly affected by educational content–and by extension, education policy.

ACT.
Sex education that preaches the values of the sexual revolution and LGBTQ movement is often generally referred to as "Comprehensive Sexuality Education" (CSE). Do you know what your state laws regarding sex education are? How can you combat harmful "Comprehensive Sexuality Education" in your state? StopCSE.org has information and tools to equip you.
---
Holy Week…So What?
"This past weekend has been known as Palm Sunday weekend. So what? It's a fair question. In our culture, the significance of sacred days and times has long been forgotten. We live our lives on the surface of frenetic activity, seldom adding depth to any given moment. We surf and skim over a body of information but rarely dive into the depths of knowledge, much less wisdom. There are no 'thin times,' as the ancient Celts would have observed; times when the separation between the eternal and the temporal was thin enough to walk the soul between both worlds. But without that sensibility, we are lesser people. So here's the 'so what.'" read more at Church&Culture
THINK.
This week, we remember and celebrate the final week of Jesus's life and ministry before his death and resurrection, the cornerstone of the Christian faith. It is often called Passion Week (also known as Holy Week), and the events leading up to his death are often called the Passion of the Christ. The first records of the term Passion Week come from the 1300s. In this context, the word Passion is used to refer to the period of trials and suffering that Jesus experienced before his death, or the biblical account of these events. As Romans 5:8 says, "But God shows his love for us in that while we were still sinners, Christ died for us." He died to set us free. For that reason, we should be passionate in our worship of Him and in our proclamation of His Gospel! Watch this special message from Jason Yates, CEO of My Faith Votes. We hope that you can rejoice in the freedom we have in Christ and his resurrection. From all of us at My Faith Votes, we celebrate with you that Christ is Risen, He is Risen Indeed!
PRAY.
Father, we are living in a day unlike anything we have ever seen before. Chaos, confusion, and turmoil is in the hearts of so many people. We trust that justice belongs in Your hand, but we also trust that You have a great plan for us to see hearts transformed and lives changed. Jesus, thank You for Your mercy that was displayed upon the cross that has given those who call upon Your name and trust in Your forgiveness and new life. Help us fix our eyes on You when we are tempted to only look at the problems around us. We ask You to give us boldness to proclaim the only solution to what our world is experiencing and that is Your glorious Gospel. In the name of Jesus, amen.

ACT.
We all need second chances in life. The Mulligan reminds us that the "ultimate mulligan" is the most important second chance we can get. That's when we put our trust in Jesus Christ and begin anew. My Faith Votes is honored to partner with the upcoming movie The Mulligan to extend that message to more people throughout this great nation. The Mulligan is a beautiful reminder of the importance of second chances in our lives—mulligans. And Pat Boone, who plays a retired golf pro, helps point a successful businessman who is far from God (Eric Close from the TV show "Nashville") toward what really matters in life and where we can find the Ultimate Mulligan for our lives. Get your tickets here to see the limited release on Monday, April 18 and Tuesday, April 19.
---
My Faith Votes—is a nonpartisan movement that motivates, equips and activates Christians in America to vote in every election, transforming our communities and influencing our nation with biblical truth. By partnering with national faith leaders, My Faith Votes provides resources to help Christians Pray, Think, and Act to create an America where God is honored in the public square.
Website | www.myfaithvotes.org Twitter | @MyFaithVotes Facebook | My Faith Votes
---
React
---
Comments