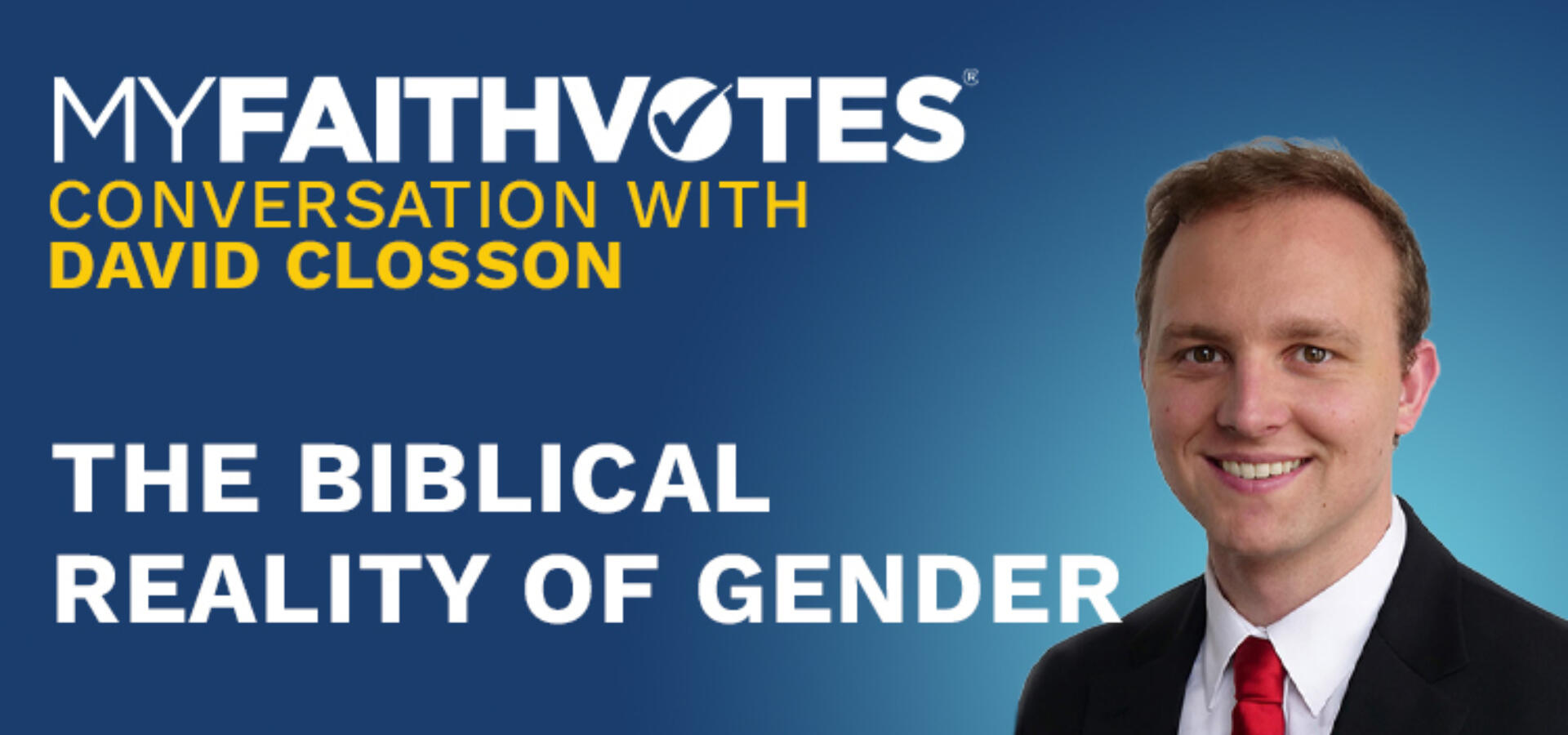 Understanding Harmful Gender Ideology with David Closson
David Closson is the Director of the Center for Biblical Worldview at the Family Research Council, and an expert on fighting against the dangerous gender ideology pushing its way into our school systems, workplaces, doctor's offices, and so much more. Recently, Matthew Thrower—pastor and My Faith Votes' Social Media and Digital Content Manager—sat down with David to discuss how we got here, what the Bible says about gender, and what the church can do to combat this going forward. Below are a few highlights from our conversation with David, but you can find the full video conversation here.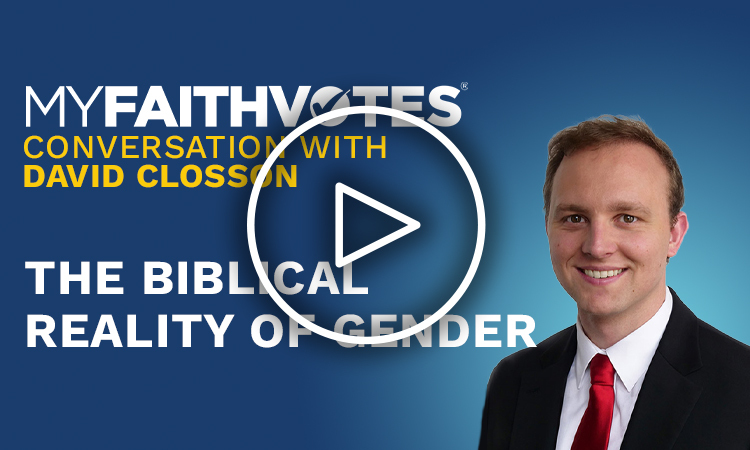 It seems like the idea of what the Left calls "gender affirming care" has only developed in the last few years. What led us to this point?
I think there's a whole host of issues we could look at, but in these conversations, invariably, the sexual revolution of the 1960s will come up. And I think that is important because what happened in the 1960s is you began to have sex and procreation severed—think the introduction of technologies like the pill. For generations, the impulse to have extramarital liaisons was held in check by not wanting to get pregnant. Well, with the introduction of contraceptives, technology, and the pill, all of a sudden sex and procreation were separated. Then, in 1973, all of a sudden abortion is also introduced. So, even if you get pregnant, well, that doesn't mean you have to carry the child to term. So, societal changes, social mores, that all began to change—I would argue culminating in the introduction of so-called same sex marriage.

All of a sudden, marriage no longer meant this lifelong covenant between a man and a woman. Marriage is something that we can define with two genders. It's now no longer ordered towards reproduction. It's no longer ordered for the good of society or what's good for children. It's really ordered towards adult pleasure, and adult fulfillment. So, in 2015, in the Obergefell v. Hodges decision, when the Supreme Court imposed same sex marriage on all 50 states, that law—I would argue—is inherently pedagogical.

And so all of a sudden, this was in our culture, this was now the law of the land, that marriage was something that we could rewrite. It had nothing to do with biology. It had nothing to do with reproduction. And then what happened right after that was Bruce Jenner comes out and introduces himself to the world as Caitlyn Jenner. That's 2016. And so, if we can change the definition of marriage, why not change the definition of our gender?

And I think what we've seen now in the last couple of years is that the velocity of that moral revolution has really just entered almost like warp speed.
What do parents need to do about this agenda being pushed on their kids in schools?
Just a couple of weeks ago, I was with a woman who I think is a hero. Her name is Chloe Cole out of California. She got a double mastectomy when she was 15 years of age. She was pumped with cross-sex hormones. And now that she's an adult—18 or 19 years old—coming out of that lifestyle and she's telling anyone that'll listen to her, "I was lied to," she says. "My parents were lied to." Her doctors told her parents, "Would you rather have a transgender son or a dead daughter?" Well, you know, what are you going to do with that? And it just shows that the professions, whether it's the education profession, whether it's the medical profession, they are pushing this agenda. And so, again, it's time for Christians—and pastors as well—to realize we need to start speaking up about these issues and speaking truth to power.
How do you speak the truth? What should we say? That is the challenge many of us find ourselves facing. We know that the ideology promoted by radical leftists is harmful, but we don't know how to clearly, comprehensively advocate for our convictions. Thankfully, David—along with his co-authors—have written an 8-week study on this very issue. It is called Male and Female He Created Them: A Study on Gender, Sexuality, & Marriage. The book looks deeply at Scripture and answers the question, "What does the Bible say about gender?" After reading the book, and taking advantage of its supplemental resources, the reader will come away knowing how to speak up and what to say when we do. You can find this resource here.

Learn about candidates, see your ballot, and get election reminders so you never miss. Get your FREE My Voter Hub account, My Faith Votes' online election resource that equips you to vote intelligently in every election. Visit: www.myfaithvotes.org/myvoterhub to get started today!

###
My Faith Votes—is a nonpartisan movement that motivates, equips and activates Christians in America to vote in every election, transforming our communities and influencing our nation with biblical truth. By partnering with national faith leaders, My Faith Votes provides resources to help Christians Pray, Think, and Act to create an America where God is honored in the public square.
Website | www.myfaithvotes.org Twitter | @MyFaithVotes Facebook | My Faith Votes
---
React
---
Comments