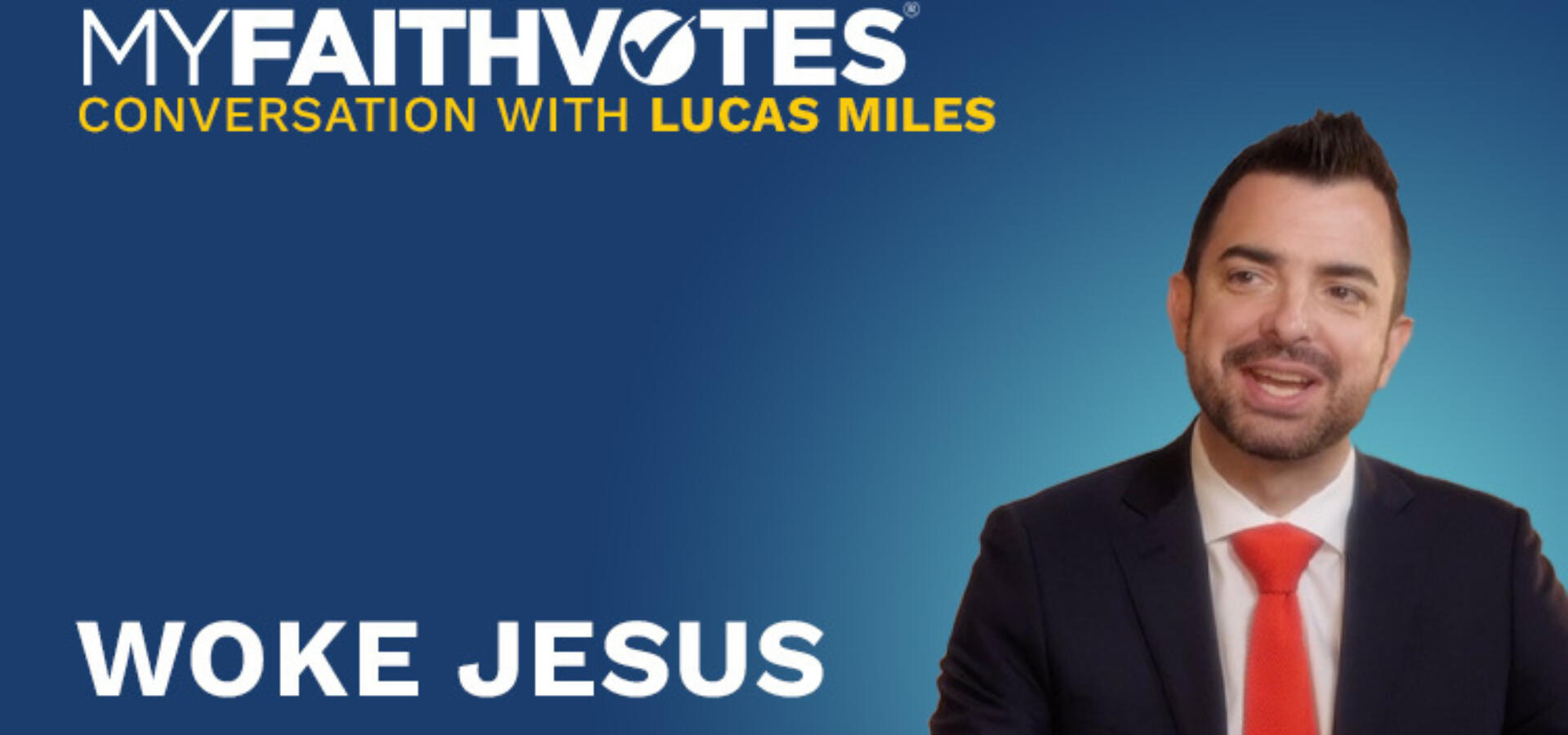 The American Pastor Project with Lucas Miles
Lucas Miles is the lead pastor of Nfluence Church in Granger, Indiana, President of The Nfluence Network, host of the Epoch Times' Church & State with Lucas Miles, and author of the book Woke Jesus. Having boldly made a commitment to preach God's Word no matter the cost in his own church, Lucas started the American Pastor Project to encourage other pastors to make the same commitment. My Faith Votes, believing it is important for all Christians to know what God's Word says about the issues of our day, is partnering with Lucas and the American Pastor Project because we desire to see pastors unapologetically committed to preaching God's Word in every pulpit across America. Recently, we sat down with Lucas at the National Religious Broadcasters Convention in Orlando, Florida to discuss the American Pastor Project and how you can be involved in it.
What is the American Pastor Project?
It's really first and foremost a place where pastors can go to sign a commitment to biblical orthodoxy—something we define on AmericanPastorProject.org. It aligns with the Nicene Creed and the Apostles' Creed. It's very historic Christianity. It should work across all denominational lines, and it's really a way to unify the church on primary doctrines. There's room for various interpretations on secondary issues, but there are primary doctrines that have held the Christian faith together: lordship of Jesus, the Trinity, heaven and hell, repentance, depravity, etc. These are primary Christian beliefs that the church needs to be united on.

The second part of this is that it is a commitment to eradicate Wokeism from the pulpit in America, and to do our part as local pastors.
Who can participate in the American Pastor Project?
We define pastors as anybody who's handling Christian doctrine and has a pulpit, whether it's a digital or physical pulpit. We want everybody who handles any Christian doctrine to make this commitment with us.
If I am not a pastor, what role can I play in the project?
We have a church locator on our website where you can see if there's a pastor at a church near you who has signed the digital signatory. If your pastor hasn't signed this yet, we encourage people to take this to their pastor. It's a great litmus test to know where your pastor stands on these issues. If they look at this and you ask him, "Hey, did you look at it? Were you willing to sign that?" and they say, "No," then it probably tells you something. This should be a home run for pastors, an easy thing to address.
What is the goal of the American Pastor Project?
Our goal is to have literally thousands and thousands of pastors that take a stand for Christian orthodoxy. And we know when these pastors make a commitment to those principles, those theological, foundational elements, to teach and preach around those, that in turn is going to help the congregation stand, even at the ballot box.

I think one reason why a lot of pastors are not more bold on these issues is because they don't understand them fully. It's why I wrote my book Woke Jesus. And this is going to be part of the call of the American Pastor Project—to create educational opportunities for pastors so that they can feel more confident.

I know when I first started looking at this, I didn't feel ready to address the fallacies of critical race theory, and you tend to be silent about things that you're afraid of maybe misspeaking on or not understanding fully. So I really believe that pastors and their congregations are going to be better as a result of the work of the American Pastor Project.
To listen to my full conversation with Lucas, click here.
Learn about candidates, see your ballot, and get election reminders so you never miss. Get your FREE My Voter Hub account, My Faith Votes' online election resource that equips you to vote intelligently in every election. Visit: www.myfaithvotes.org/myvoterhub to get started today!
###
My Faith Votes—is a nonpartisan movement that motivates, equips and activates Christians in America to vote in every election, transforming our communities and influencing our nation with biblical truth. By partnering with national faith leaders, My Faith Votes provides resources to help Christians Pray, Think, and Act to create an America where God is honored in the public square.
Website | www.myfaithvotes.org Twitter | @MyFaithVotes Facebook | My Faith Votes
---
React
---
Comments