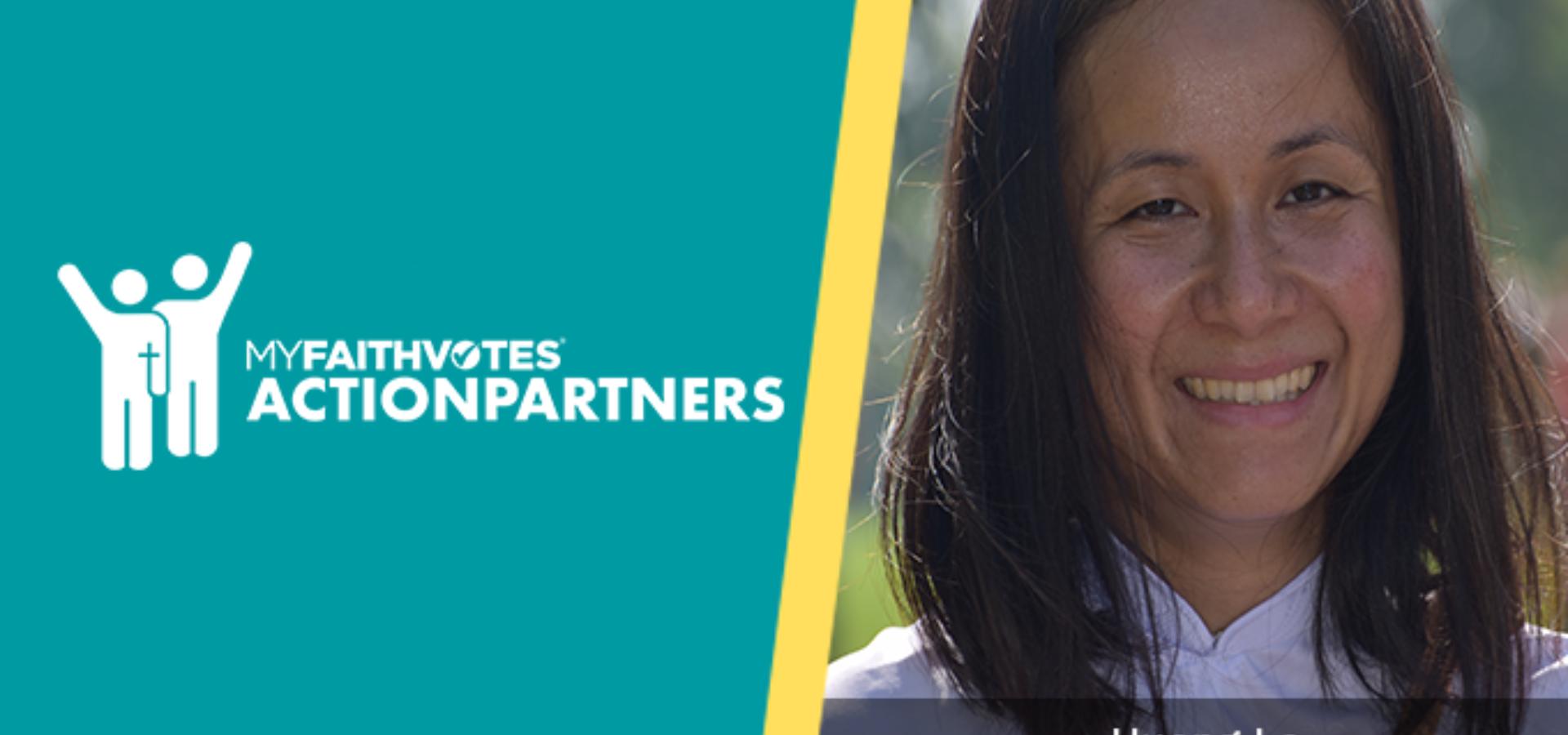 Meet one of our Action Partners, Huong Le
Meet one of our Action Partners, Huong Le. Huong is a consistent prayer partner on the My Faith Votes "United. We Pray." Weekly Prayer Calls. She moved to the US from Vietnam when she was 9 years old and her family sacrificed so much to become American citizens.
Huong has often mentioned how concerned she is to see things going on in America that they worked hard to leave behind when they left her birth country. Huong has been a citizen of the United States since 2003.
In a recent conversation, she shared this:
"During the crisis of 9/11...I thought: This cannot happen in a civilized country with a constitutional tradition of protecting freedom, basic human rights, the right to life, and the pursuit of happiness. I always ask myself why 9/11 happened?!...What was their goal? How did they orchestrate using the aircrafts to attack their targets? Flight 93 left a mark in my mind: I need to be awake in my duty as a citizen. I often think of the acts of the forty passengers and crew members, united in prayer to God, using their own lives to protect our constitutional values, to protect our country and ensure its unending existence. This awakening reminded me to reminisce about the more than 58,000 aunts and uncles who were the American soldiers, who served and courageously sacrificed on the Vietnam battlefield for the goal of protecting freedom and the right to life of humanity that was given by God. Constitutional values and our country's preservation are connected with hearts that are always conscious to protect the legacy we inherited from our ancestors. This thought led me to the Vietnam Veterans Memorial to learn more. In my civic duty, I cannot fail to recognize the tragedy of our country's state of near-chaos in recent times. I have to do something. I believe that it is by grace that I am given the opportunity to pray online, and to recognize that My Faith Votes has shared and given me many opportunities to further cultivate and grow in Biblical values. Jesus is the way, the truth, and the life. Amen!"
You can join with Huong and the hundreds of others who gather, virtually, every Monday on our nationwide prayer calls. Prayer is the most significant action you can take to impact a confused and hurting nation. And if there was ever a time for Christians to STAND together in prayer for America, it is right now.
Join us every week, to pray for our nation and encourage others. When you do, you become part of the My Faith Votes Action Partner community. Action Partners are Christians who want to "do something" to bring Christ-centered impact to our communities and country. And it starts with prayer. Learn more and sign up to receive the prayer call information here.
Interested in Becoming a My Faith Votes Action Partner? Join our grassroots community so that our voices will be heard in the halls of government across the land. Learn more here: www.myfaithvotes.org/actionpartner
###
My Faith Votes—is a nonpartisan movement that motivates, equips and activates Christians in America to vote in every election, transforming our communities and influencing our nation with biblical truth. By partnering with national faith leaders, My Faith Votes provides resources to help Christians Pray, Think, and Act to create an America where God is honored in the public square.
Website | www.myfaithvotes.org Twitter | @MyFaithVotes Facebook | My Faith Votes
---
React
---
Comments