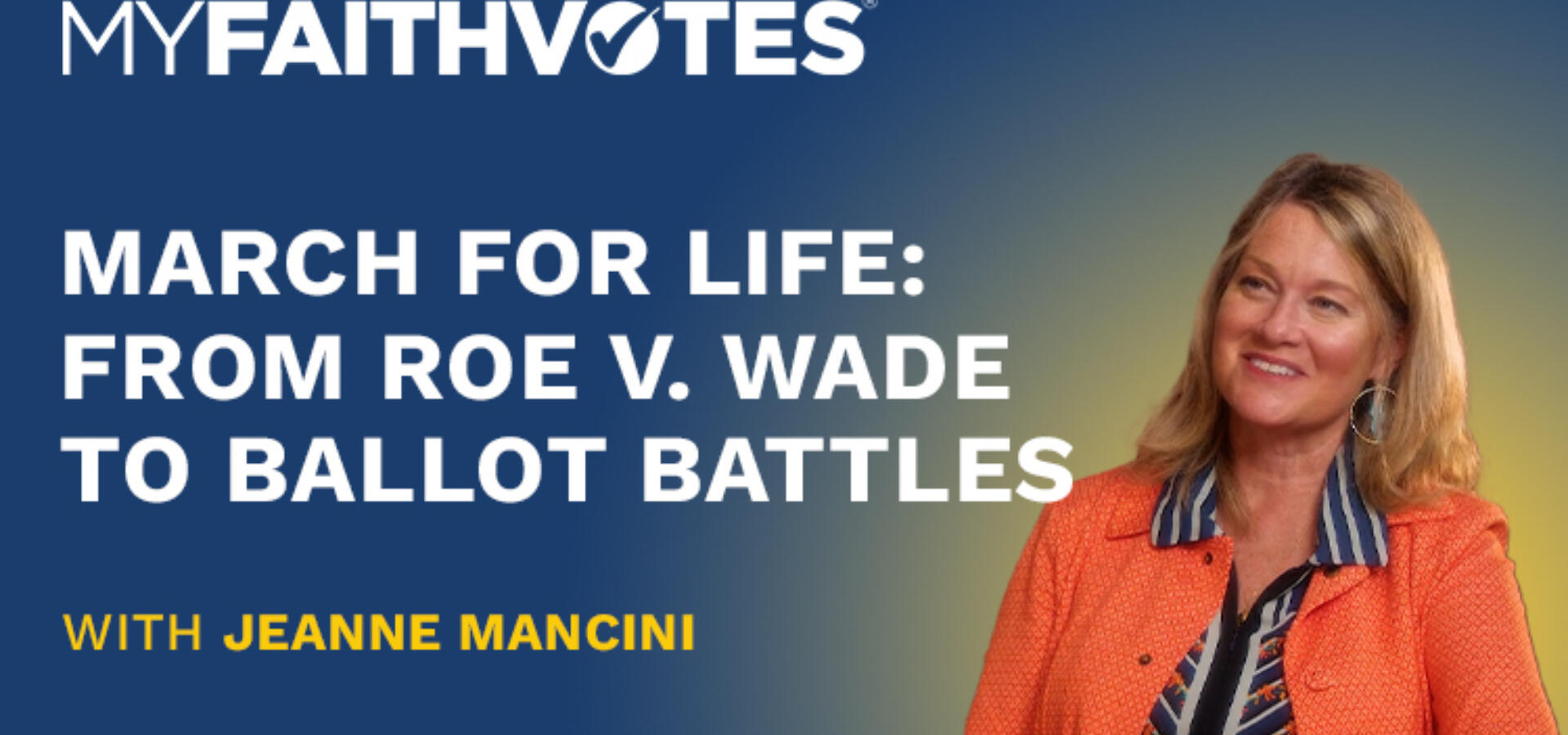 March for Life: From Roe v Wade to Ballot Battles with Jeanne Mancini
In 1973, the Supreme Court sent shockwaves across the nation when it ruled that abortion was constitutional. In 1974, the March for Life began with a group of people who believed in the sanctity of every human life leading the charge. They did not intend the March for Life to become an annual event but, today, the March for Life has been going on for 50 years. What began as a small demonstration has become the largest, longest running, annual human rights demonstration worldwide. According to Jeanne Mancini, President of the March for Life, that annual demonstration contributed to the overturning of Roe v. Wade in 2022.
We recently sat down with Jeanne to discuss Roe v. Wade, everything that has happened since, and the battles for life that are still being fought in states across the nation. While parts of our conversation are included below, you'll want to watch the full conversation here so you don't miss anything.
In 2022, we saw the Supreme Court overturn Roe v. Wade in the Dobbs decision. For those of us who recognize that God values and intricately designs each human life, it was a day of celebration, a day that we had waited to see for over 50 years. When asked how we got to that point, Jeanne Mancini said this:
I truly believe it's a spiritual battle first and foremost… But, of course, an election also led to the overturn of Roe—the election of President Trump—and then the appointment of three specific Supreme Court justices who were true constitutionalists. And so, all of those things, and I think many other things that we can't even begin to understand, led to that overturn.
Unfortunately, as many of us celebrated the Supreme Court's ruling that the Constitution did not support a right to abortion, there were many who did not join in the celebration, and others who just wished we could find middle ground on the issue. We asked Jeanne what she would say to those seeking middle ground and she said the following:
I think sometimes when people are saying, "Let's find middle ground," what they're really deeply saying is, "Let's find peace," because they sense so much conflict in our culture and a lot of polarization… They long for peace. They long for order. But you don't get to peace and order by denying what is real, true, and good.

First and foremost, we have to be very clear about what we're talking about here. Abortion takes the life of one and wounds the life of another. Abortion is never good. It never bears good fruit. It's not good for culture. Abortion begets violence, a violent culture. So, it's important to have that at the center.

And yet... It's unrealistic to think that California is going to pass a heartbeat law right now. And so, could our national legislators pass a 15-week life protective law that would then have that limit in California? That would be great. [Now] a purist maybe wouldn't like that because it's not protecting all life, but it would save some lives. So, we have to look at some of those opportunities and be willing, at times, to do that without compromising our right values and our stand for truth.
While Roe v. Wade was overturned, it ultimately gave states the power to control abortion laws. As a result, many states have passed or attempted to pass legislation that would either legalize abortions or regulate them. This November, in Ohio, radical special interest groups are pushing a ballot measure that would amend the state's constitution to allow for abortion at any time, by any method, for any reason. It is a radical expansion of Ohio's abortion laws, and if passed, Issue 1—the official title of the ballot measure—will be virtually irreversible. March for Life has been engaged with Ohio since the measure was introduced.
Ohio is the next battleground, and that's in November of 2023. It's just around the corner. And what I've seen is that all of the different groups are coming together in a way that hasn't happened since the Dobbs decision came down about a year ago. They're putting a lot of money into this, a lot more than I remember ever in a state initiative. You've got national groups and local groups coming together. The ground game is really good. Ohio March for Life is one month before this ballot initiative.

But the bottom line is that our people are not educated about what these things would do in Ohio. If this ballot initiative is enacted into law, parents will lose all sorts of rights over knowing if their daughter is going to have an abortion to possibly even giving permission for gender transition surgeries and what have you. It's written so broadly that reproductive decisions can be analyzed and evaluated in different ways…

And so we have to fight with everything that we have to make sure that this ballot initiative is not passed in Ohio. If we can win Ohio, we will have at least a blueprint for how to handle these other states that, as you say, will likely be coming down the pike in 2024.
While we have gained significant ground in the battle for life in our country since the Roe v. Wade decision in 1973, we still have more work to do. One abortion is one too many. As the body of Christ, we have to stand united for the sanctity of life in Ohio and in every other state across the country. We can no longer sit on the sidelines and be passive. We must take action. Lives depend on it.
Learn about candidates, see your ballot, and get election reminders so you never miss. Get your FREE My Voter Hub account, My Faith Votes' online election resource that equips you to vote intelligently in every election. Visit: www.myfaithvotes.org/myvoterhub to get started today!
###
My Faith Votes—is a nonpartisan movement that motivates, equips and activates Christians in America to vote in every election, transforming our communities and influencing our nation with biblical truth. By partnering with national faith leaders, My Faith Votes provides resources to help Christians Pray, Think, and Act to create an America where God is honored in the public square.
Website | www.myfaithvotes.org Twitter | @MyFaithVotes Facebook | My Faith Votes
---
React
---
Comments