My Faith Votes Sunday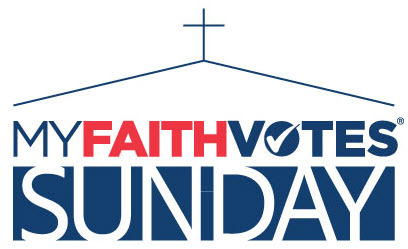 When Christians Vote, Biblical Values Win
Encourage Your Church to Vote Their Faith in the Midterm Election
About 2/3 of your congregation will heed God's call to be salt and light (Matthew 5:13–14) by voting according to biblical principles in the midterm elections. Tragically, about a third of them will miss this opportunity by staying home on election day. But you can change that. Make sure your church is "all in" by participating in My Faith Votes Sunday on November 6.
It's easy and it will make a difference.
During your worship service(s) on November 6, play the "Do Good. Go Vote." Video from My Faith Votes. In just 30 seconds it explains the importance of Christians voting their biblical values and the difference they'll make when they do.
After the video, ask the people in your congregation to commit to voting according to their faith in the election on November 8.
Finally, invite your congregation to watch the My Faith Votes Prayer Event Monday evening November 7 at 8PM ET / 7PM CT / 6PM MT / 5PM PT.
Click below to download everything you'll need. There's no cost. You'll get the video, a sample script for requesting the congregation's commitment, information on the Sunday Prayer Event, and more. Use as much or as little as you like.